Impeachment Day! Wonkagenda For Wed., Nov. 13, 2019
popular
November 13, 2019 09:05 AM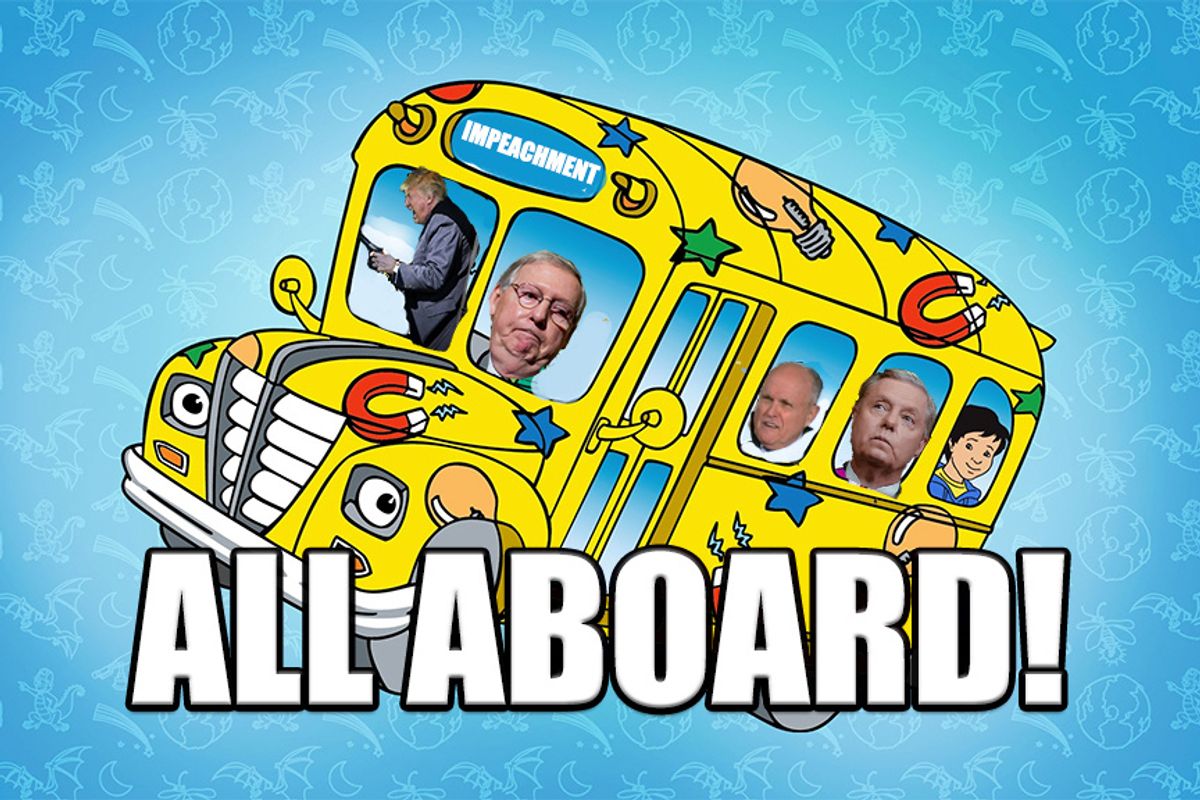 Happy Impeachment Day, Wonketariat! Here's some of the things we may be talking about today!
---
If you need a solid rundown of what witnesses have said to impeachment investigators so far, LawFare has a great read. Evan will have a liveblog up shortly, but here's the live feed C-SPAN will use to cover the impeachment inquiry starting at 10:00 Eastern. Erik Wemple writes C-SPAN was able to get seven cameras (as opposed to the usual three) set up inside the hearing room because they're fucking C-SPAN; every cable and broadcast network has to use the C-SPAN pool feeds.

LIVE: House Impeachment Inquiry Hearingwww.youtube.com

Democrats and Republicans are expected to offer competing narratives on the Ukrainium One scandal during the House Intel Committee's televised impeachment hearings today. Democrats are expected to ask today's witnesses, acting ambassador to Ukraine Bill Taylor and Deputy Assistant Secretary of State for European and Eurasian affairs George Kent, how Trump pressured the Ukrainian government to investigate his 2020 rivals in exchange for congressionally appropriated military aide. Republicans are widely expected to strap on tinfoil MAGA hats and recite clips of Sean Hannity making fart noises in an effort to defend Trump from himself.
Senate Republicans SAY they aren't going to watch the impeachment hearings because they have better things to do. Lindsey Graham even went so far as to call it "bullshit" twice. Politico gossips that Democrats know they're making one hell of a gamble with impeachment, but they're confident they'll be able to pull this one out.
Rudy Giuliani has a very sober op-ed in the Wall Street Journal this morning where he says "[his] client" did nothing wrong, and he's been searching for the REAL criminals: the people who snitched on Paul Manafort in the 2016 election, and also Joe Biden (and his kid). Rudy says Trump didn't "demand" an investigation, he "requested" one, and that this is all a "liberal media" conspiracy. Axios gossips today the GOP's strategy may be to just embussen Rudy Giuliani, and blame the whole imploding Ukrainium One scheme on him. Meanwhile, Politico gossips Trump World is begging The Boss to re-frame impeachment as a partisan witch-pursuit-thing as that seemed to work last time.
It's Called DARVO - South Park - "Season Finale" - s23e06youtu.be
Former national security mustache John Bolton will tell you all about his time in the Trump administration if you pay him enough. While the rest of us have to wait for Bolton to pen/ghostwrite his $2 million dollar book, last week Bolton bitched to a bunch of super rich folks that the only thing Trump and his family cared about was making a quick buck. NBC reports people in attendance say Bolton doesn't like the Trump family running the country like their failed real estate business, that he thought Trump's idiotic moves in Turkey were motivated by personal or business relationships, and that he kept a resignation letter in his desk for three months. Bolton opined that, if Trump is reelected, he thinks he would go full isolationist and withdraw the US from international alliances.

SMILE MORE! The only Californian Republican on the House Judiciary Committee, Rep. Tom McClintock thinks impeachment could trigger a "red wave" in 2020, and that he doesn't care if Trump is "a jerk." McClintock suggests Trump should "summon his inner Ronald Reagan, and develop a more cheerful and sunny disposition," to make people hate him less. There's some choice quotes here, including a rather convoluted reading of presidential authority.
Maggie Haberman gossips Trump has thought about "You're Fired"-ing the intel community's inspector general for letting the whistleblower complaint make its way to Rep. Adam Schiff's desk.

The Supreme Court has ignored an appeal from Remington Arms Co. to a lawsuit brought by surviving family members of the 2012 Sandy Hook massacre, opening the door for the families to drag Remington to court. In a related story, a credit-focused hedge fund has quietly been lending Remington shitloads of money, suggesting that hedge funds have essentially become "shadow banks."
Mina Chang will likely be remembered as just another grifter who hitched their wagon to the Trump train. In April, Chang was "You're Hired" to the State Department's Bureau of Conflict and Stabilization Operations as a deputy assistant secretary, and was even being considered for a senior post at USAID's Asia bureau, but her nomination was quietly yanked after people started poking into her background. It now appears Chang bullshitted rather glaring portions of her résumé and background, including educational history, non-profit work, even a fake Time magazine cover with her face on the front. Here's the promo video for her 2014 holiday album, back when she was an aspiring musician.
A handful of minions on the outskirts of Trump World have got a $2.5 million contract to provide "strategic communications" support for Centers for Medicare and Medicaid Services Administrator Seema Verma, and brag about how great a job she was doing as the administration tries to screw poor people out of their healthcare.

The Sacramento Bee reports Elizabeth Warren is packin' her truck and movin' out to Californy, opening up new offices in Oakland and Los Angeles, while similarly headhunting for full-time staffers. The moves comes after both Joe Biden and Warren got called out last week for their decision to skip the state's party convention, while Bernie Sanders and Pete Buttigieg expand their own respective operations.
A new Monmouth poll has Pete Buttigieg leading in Iowa, but notes a lot of people are holding off on their commitments until election day. In other polling news, The Indianapolis Star is reporting that Pete Buttigieg is having a hell of a time winning over people in his home state. Remember, it's still (very) early, and anything can happen before now and Feb. 3.
A Tale of Two Early States, Polling Edition: 🌽IA @MonmouthPoll | 🍁NH @QuinnipiacPoll Buttigieg: 22% | 15% Biden:… https://t.co/HwJOZ4zaK2

— Julia Jester (@Julia Jester) 1573585233.0
The Philadelphia Inquirer has a truly lovely story about how Elizabeth Warren found her groove learning and teaching law school as a young mom.
Kamala Harris has a new convo with Cosmo about some of the hard choices she's been making in 2020, some of the topics driving young people and women, and her personal skincare regiment on the campaign trail.
Joe Biden has named a state director for his campaign in Texas, according to the Texas Tribune. The most recent polls show Biden leading the Democratic field in the Lone Star state, but trails Trump by seven points.
Disgraced former Republican Sen. Mark Sanford has already dropped his primary challenge to Donald Trump, surprising nobody. If he's lucky, the obituary of Sanford's less than two-month presidential campaign will note he polled in the single digits, raised no money, and Trump World has strong-armed state Republican parties -- including Sanford's home state of South Carolina -- not to hold a primary. In a 16-minute address, Sanford complained (as he held a trillion dollar check) that he was fucking off back up a mountain because "the impeachment noise" was overshadowing his goal of reminding Republicans they were the party of penny-pinching cheapskates.

During an interview with one of the bajillion BBCs, Hillary Clinton said there were a lot of people asking her to run in 2020, but #ShesNOTrunning. Clinton ultimately concedes, "Look, I think all the time about what kind of president I would've been and what I would've done differently and what I think it would've meant to our country and our world. So of course I think about it. I think about it all the time, being able to do that. Whoever wins next time is going to have a big task trying to fix everything that's been broken ... that is absolutely not in my plans." [Full Interview]

🗣️"Never, never, never say never" @HillaryClinton refuses to rule out running again to be President of the USA T… https://t.co/TO8vEwIwUC

— BBC Radio 5 Live (@BBC Radio 5 Live) 1573561508.0
The Fort Worth Star-Telegram reports city officials in Dallas and Fort Worth have decided to eat the cost of Trump's recent visit rather than send the campaign (or the Secret Service) a bill for extra security, a potential FEC violation. In all fairness, Dallas Mayor Eric Johnson says the city "doesn't charge for head of state visits, so there isn't a 'bill.'"

A new report from the American Society of Civil Engineers has graded Puerto Rico's infrastructure a D-. Puerto Rico is in desperate need of as much as $23 billion over 10 years, to start rebuilding roads, dams, ports, power grid, and drinking water systems. That's in addition to all the things still needed for hurricane recovery two years after Hurricane Maria. [Report]
A woman in Los Angeles was attacked by a transient man who poured a bucket of "hot" diarrhea on her. The victim tells NBC, "Paramedics who came to treat me said there was so much of it on me, that it looked like the man was saving it up for a month." Records show the man suffers from "schizophrenia and psychotic disorders," and was recently treated for mental health issues, but was sent by a judge to a specialized residential facility. The victim will need to receive regular testing for infectious diseases every three months.
There's a new gin in South Africa that's infused with elephant poop, and gin snobs seem to love it, describing the botanical flavoring as "lovely, wooded, almost spicy, earthy." No shit. [Video]
Stephen Colbert has set up his impeachment tree, complete with a star transcript, a quid-pro-snowflake, and Lindsey Graham's balls.

Trump Teases Release Of "Tantalizing" First Phone Call With Ukrainewww.youtube.com
And here's your morning Nice Time:IT'S PRINCE MICHAEL!

Are You My Mother?www.youtube.com
Follow Dominic on Twitter and Instagram!
We're 100% ad-free and reader-supported, so consider buying us coffee, or get a subscription!
Dominic Gwinn
Dominic is a broke journalist in Chicago. You can find him in a dirty bar talking to weirdos, or in a gutter taking photos.