Revenge Of The Nerds. Wonkagenda For Thurs., Nov. 14, 2019
popular
November 14, 2019 09:03 AM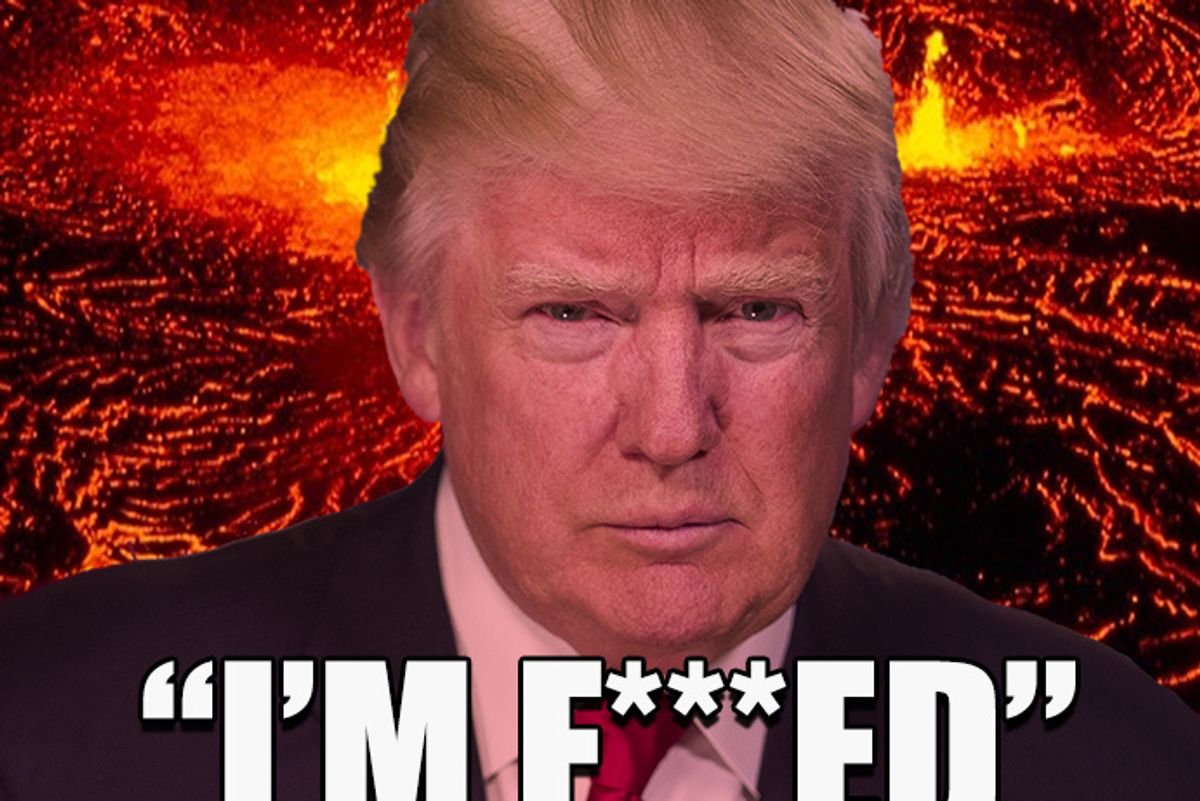 Morning Wonketariat! Here's some of the things we may be talking about today.
---
By most accounts the impeachment hearings have been a success for Democrats. Politico says the whole thing has a lot of parallels to the Watergate hearings -- there's even a bowtie! -- because it shows how Republicans were intent on screwing around with chalupas while Democrats (and their lawyer) laid out the basic facts of the case with career civil servants. Nevertheless, the rightwing media concocted their own story in order to make it seem like Trump wasn't directly implicated in a high crime and/or misdemeanor.
Acting ambassador to Ukraine Bill Taylor's revelation that Trump was shouting through EU Ambassador Gordon Sondland's phone about Joe Biden in a restaurant in Kyiv has freaked out national security officials. Most security nerds note that Russia has a hard-on for this kind of stuff, and it's really stupid for an official to just pick up the phone and call a president.
Trump's Impeachment Hearings Aren't Going Well...If You're Trump | Full Frontal on TBSwww.youtube.com
The rightwing media machine went totally batshit in their attempts to defend Trump and discredit Bill Taylor and George Kent. Brian Stelter writes that Hannity called the hearings a "joke," while the reanimated corpse of Lou Dobbs sat down with Trump's TV lawyers to jerk each other off. Rush Limbaugh OK boomer'd that Kent and Taylor were "professional nerds who wear their bow ties and they have their proper diplo-speak." How dare these "self-important" nerds, with their college degrees years of experience in civil service know more than some obnoxious prick behind a microphone!
While everyone was focused on the impeachment hearings, Trump and five Republican senators were awkwardly dicking around in the Oval Office with Turkish dictator President Recep Tayyip Erdogan. The New York Times reports Trump has gone out of his way to make the meeting seem like it wasn't a bit of a disaster. In one bad sign, Erdogan gave back Trump's foolish letter. Axios gossips that at one point Erdogan took out a tablet and made everyone watch a propaganda video that depicted the (once) US-backed Kurdish allies as terrorists. After the video, Sen. Lindsey Graham strapped on his balls and said, "do you want to go get the Kurds to make one about what you've done?"
Of course, shortly after meeting Erdogan, Graham blocked a resolution already passed by the House, 405-11, to formally recognize the role Turkey (then the Ottoman Empire) played in the genocide of 1.5 million Armenian people between 1915 and 1917.
A federal appeals court has ruled that Congress can have eight years of Trump's taxes, setting up an inevitable SCOTUS fight about the separation of powers. [Ruling]
The jury in the trial of Roger Stone heard final arguments where prosecutors called Stone a lying liar who lied to protect Trump from the House Intel Committee's 2017 investigation into Russian fuckery. Stone's attorney argued that Trump won the election, and that even if Stone had lied to Congress about what he knew about the Russian fuckery, "So what?" The prosecutor then argued, "Truth still matters. Mr. Stone came in, lied to Congress, obstructed that investigation … That matters, and you don't look at that and say, 'So what?'"
The rumor mill off the Hill is that Trump will hold a tinfoil MAGA hat rally in Shreveport-Bossier City, Louisiana, later today in order to distract everyone from his impeachment, and rally support for Republican gubernatorial candidate Eddie Rispone. Rispone has been lagging just behind Democratic Gov. John Bel Edwards in most recent polls. A run-off election will be held this Saturday, Nov. 16!
The maker of Smith & Wesson boomsticks says it will split into two companies sometime next year in order to combat lagging sales across the industry.
Due to a remarkable scheduling coincidence, a pet lobby brought some very fluffy and very good bois to the Hill yesterday to help people relieve some stress. [Video]

Woof, impeachment hearings are stressful. We have a solutionwww.youtube.com
Arizona Rep. Paul Gossar, a conspiracy peddling jackass who is hated by his own family, spent yesterday shitposting more tinfoil hat bullshit about aliens and Jeffrey Epstein because he clearly has nothing better to do. When asked about the shitposts, a spox for Gossar re-sent the shitposts, according to Politico, "font and all."
Sen. Bernie Sanders has rebooted more than just his campaign. Sanders tells the New York Times that he's living a much healthier lifestyle after his heart attack. Sanders adds that he no longer eats at a popular chain of steakhouses on the campaign trail, instead opting for a more modest soup and salad. Later today Sanders and Rep. Alexandria Ocasio-Cortez are sent to announce a "Green New Deal" for public housing.
Montana Democratic Gov. Steve Bullock thinks he can make his 2020 run so fetch if he wins fourth or fifth in New Hampshire and/or Iowa. Bullock admits he has no organization in New Hampshire, but he still thinks there's a chance.
Former Massachusetts Gov. Deval Patrick says #HesRunning. Yesterday CNN reported Patrick called friends and family to warn them about the announcement. Patrick is believed to be announcing his candidacy today as the deadline to appear on the New Hampshire primary ballot is Friday. Political geeks think Patrick could have a chance at being something like Obama 2.0, but nobody's holding their breath.
In what's possibly another sign #HesNOTrunning, people close to former New York mayor Michael Bloomberg say the super rich Democrat-turned-Republican-turned-Democrat won't appear on the ballot in New Hampshire, and will instead focus on Super Tuesday contests (if he decides #HesRunning). In related stories, Bloomberg's history of misogyny is resurfacing, and some people think Bloomberg should just buy a damn sportsball team if he really wants to be "King of the World" and "live forever." It's certainly cheaper.
One of the 2020 Tim Ryans, John Delaney, spent $40,000 for a half-hour informercial on Iowa TVs Sunday. It worked for Ross Perot, didn't it? [Infomercial]
Five Thirty Eight has a thingy on everyone who's qualified for next week's debate.
Polling nerds are raising their eyebrows this morning after a new Atlanta Journal-Constitution poll showed Trump lagging eight points behind Joe Biden in a head-to-head-match up. The poll is noteworthy as Trump won Georgia by 5.7 points in 2016.
The Minneapolis Star-Tribune reports that election officials in Georgia are investigating two critics of the state's new touchscreen voting machines. The two critics, a transparency advocate and a cyber security expert, say they're being targeted for pointing out the state's new voting machines are just as shitty as their old machines.
Internet talking head Cenk Uygur has filed to run for Congress in the California 25th, former Rep. Katie Hill's old district. [Filing]

To all reporters: No comment.

— Cenk Uygur (@Cenk Uygur) 1573684069.0
Today Kentucky will recanvass votes from last week's gubernatorial election. The re-canvass comes after horribly unpopular Republican Gov. Matt Bevin made up a conspiracy theory to claim he didn't lose.
The Charlotte News and Observer reports North Carolina legislators could soon approve a new 2020 congressional map. Legislators are currently asking the public to weigh in on proposed maps. Most of the maps can be found here, and the rest can be found on the 2019 Joint Select Committee on Congressional Redistricting's website under the "Documents" tab. Local transparency advocates say the Republican-controlled legislature is getting better at not screwing people, but they're still "a long way from what it should be." Republican state Rep. David Lewis argues, "I don't know who could possibly claim that a room in which all the map-drawing occurred live over the internet has not been open. There are people who would complain if someone was walking in here handing out free candy." Clearly he's in the pocket of big candy and diabetes.
Shady Oak, a brewery in Santa Rosa, California, has been getting criticized on social media for a new beer called "Fuck PG&E," whose power lines have been blamed for causing California wild fires, along with intentional blackouts. The Sacramento Bee reports the California Public Utilities Commission voted unanimously, 5-0, to open an investigation into PG&E and other utilities about whether utilities "prioritized safety."
The Wall Street Journal reports Google is teaming up with Citigroup to create checking accounts next year. Details are still scant, but the idea would be to tie everything to a Google account, and be run by bank(s) in order to make the most of an increasingly mobile user base in and outside of the US. Nerds think this is a shot across the bow as Apple's controversial Goldman Sachs credit card comes under scrutiny from geeks and US regulators.
Myrna Blyth, an AARP executive who was upset about the trend of young people shaming wealthy and out of touch elderly people with the phrase, "OK, boomer," complained about the phrase to Axios, saying, "OK, millennials. But we're the people that actually have the money." Blyth noted that the AARP's target audience is people over 50 who drive "$7.1 trillion in annual economic activity each and every year." After the comment went viral, AARP's media arm claimed the comment had been taken out of context and tried to clean it up by saying the group wasn't trying to "contribute to an intergenerational feud," adding, "Americans age 50 and over are a significant enough source of spending power that advertising executives should not overlook us or dismiss us." OK, boomer.
Narwhal, an almost 10-week-old rescue puppy in Jackson Mississippi, was born with what looks like a tail on his head. Aside from looking a little like a unicorn, Narwhal seems fine. The rescue shelter, Mac's Mission, says it is hanging onto Narwhal for now to make sure the tail doesn't cause any health problems. [Video]
Samantha Bee 'splained Paula White, Trump's spiritual advisor and resident religious grifter.

It's Paula's White House | Full Frontal on TBSwww.youtube.com
And here's your morning Nice Time:PANDAS!

Best of Bei Beiwww.youtube.com
Follow Dominic on Twitter and Instagram!
We're 100% ad-free and reader-supported, so consider buying us coffee, or get a subscription!
Dominic Gwinn
Dominic is a broke journalist in Chicago. You can find him in a dirty bar talking to weirdos, or in a gutter taking photos.