Master Of Disguise! Wonkagenda For Thurs., Nov. 15, 2018
Russia
November 15, 2018 09:00 AM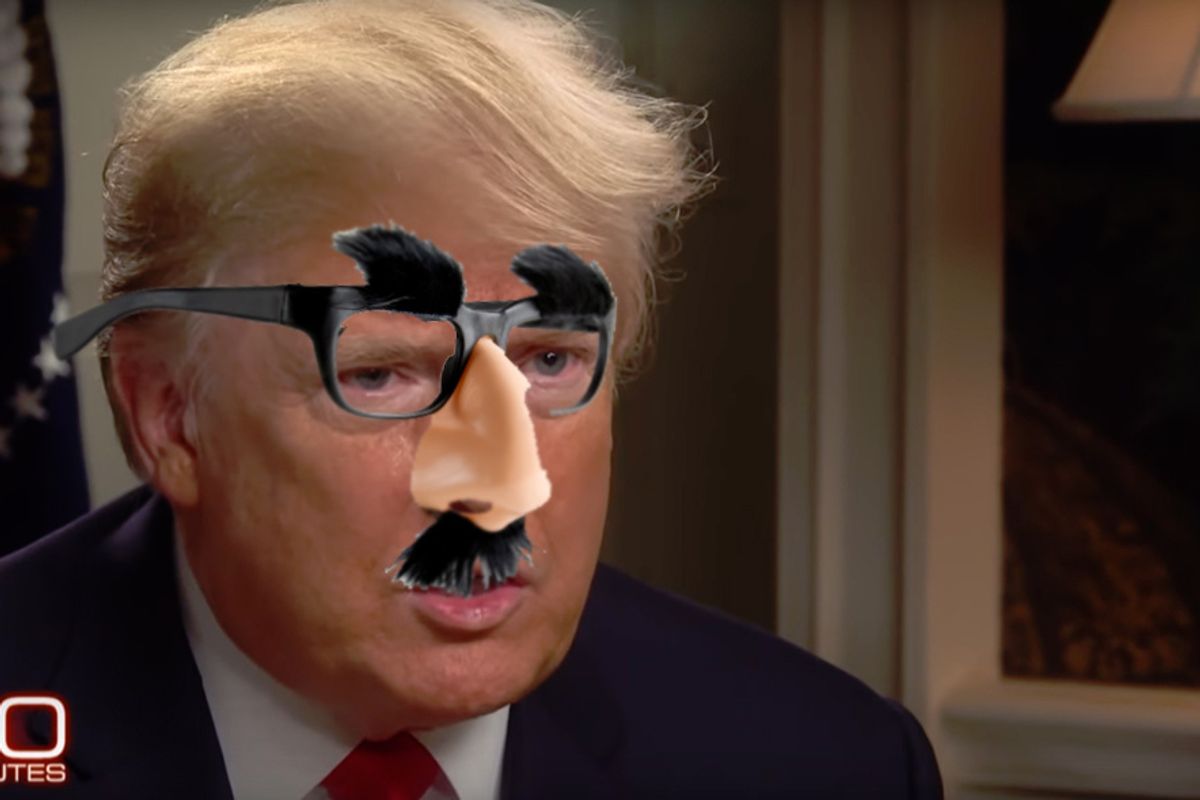 Morning Wonketariat! Here's some of the things we may be talking about today.
---
Trump gave a rambling interview to the Daily Caller and said people in Florida were committing voter fraud by wearing disguises and silly hats. Trump says only the totally not-racist voter IDs can solve the problem, adding, "If you buy a box of cereal — you have a voter ID."

The anti-Pelosi progressives and blue-dog Democrats in the House think they'll be able to stop Nancy Pelosi's run at the Speaker's gavel, but they seem to forget about her battle-tested army of chiffon-wearing soldiers!
Rick Gates apparently has a lot more juicy details to dish on Trump-Russian fuckery, so Robert Mueller has decided to delay his sentencing. It's been awfully quiet lately...
Defense One reports the Pentagon has been keeping military and civilian officials away from the public as much as possible in order to avoid pissing off our Mad King. This way the DOD can keep running on autopilot without any oversight, but it's still better than playing nuclear football with Trump.

Trump is going all-in on Jared Kushner's white collar prison reform bill before any more Republicans get indicted for criming, grifting, scheming, or treason.
Instead of "You're Fired"-ing Mira Ricardel, National Security mustache John Bolton seems to have convinced Trump to stick her in an empty hole somewhere far away from Melon Trump and her infinite sadness.

In response to a lawsuit by CNN stemming from the suspension of of Jim Acosta's press creds, Trump's White House is arguing in court that it has "broad discretion" to ban journalists from the White House. They say CNN could replace Acosta with just about any lifeless dildo more willing to chortle Trump's ego (like Jonathan Swan).
The Daily Beast reports that Trump is now talking shit about Sean Hannity because his constant bootlicking gives Trump nothing to scream about on Twitter. SAD.
Michael Avenatti got arrested for felony domestic violence after a woman claims he beat her like Ralph Kramden. Avenatti calls the charge "bullshit," and he's probably right as rat-fucking wanabe Jacob Wohl has appeared to take credit on Twitter.
Facebook has been going above and beyond traditional corporate fuckery to fend off bad press and government regulations. Aside from ignoring Russian fuckery for months, Facebook hired a smarmy conservative oppo firm to call its haters anti-Semites who are paid shills of George Soros. (Yes, it's a doozy.) And Chuck Schumer helped!
Page Six says that Trump's 2020 campaign team is actually being paid to workshop nicknames for his likely Democratic opponents. I'm not sure if that's a joke, but it makes my brain bleed.
The Annapolis, Maryland, Capital Gazette, which was shot up earlier this year, has formed a union. The move to unionize started before the shooting as many reporters simply wanted an honest wage and a voice against corporate fuckery. SOLIDARITY!
Trump has nominated Mar-a-Lago member and handbag designer Lana Marks as ambassador to South Africa. Marks speaks two of the 11 official languages of South Africa, and many of her bags use dead animal materials found in Africa, like ostrich leather, which makes her more qualified than most Trump nominees.
British Prime Minister Theresa May's Brexit deal may be falling apart. Two pro-Brexit cabinet ministers quit this morning and made whiny statements just before May was set to get bitched out by the House of Commons. Well-spoken, tea drinking lads tell us May's hastily announced Brexit plan is unlikely to pass Parliament because both liberal and conservative members think her plan is just not cricket. May told MPs, "We can choose to leave with no deal. We can risk no Brexit at all. Or we can choose to unite and support the best deal that can be negotiated. This deal." OOOO! OOO! No Brexit! Pick "no Brexit"!
French President Emmanuel Macron told a French TV station that he does not "do policy or diplomacy by tweets," after Trump used his "Executive Time" to shitpost on Twitter about how France should let Nazis invade (again).

Saudi Arabia says that Crown Prince Mohammed bin Salman did nothing wrong, and that it's going to pin the state-sanctioned murder of journalist Jamal Khashoggi on a couple of random dudes -- who will also be murdered.
Icelandic President Gudni Johannesson is (finally) saying he's sorry for talking shit about Hawaiian pizza, and telling a bunch of kids it should be banned. Johannesson tells the CBC he didn't "flip-flop," rather he's "revised" his opinion, and suggests people try seafood on their pizza. That's exactly the kind of sick crap someone in the pocket of big fish would say! #TeamPineapple.
And here's your morning Nice Time! Kitty Adventures!

CATch Me If You Canwww.youtube.com
Follow Dominic on Twitter and Instagram!

We're 100% ad-free and reader-supported, so consider buying us coffee, or get a subscription!
Dominic Gwinn
Dominic is a broke journalist in Chicago. You can find him in a dirty bar talking to weirdos, or in a gutter taking photos.