The Gloves Come Off. Wonkagenda For Fri., Nov. 15, 2019
popular
November 15, 2019 08:33 AM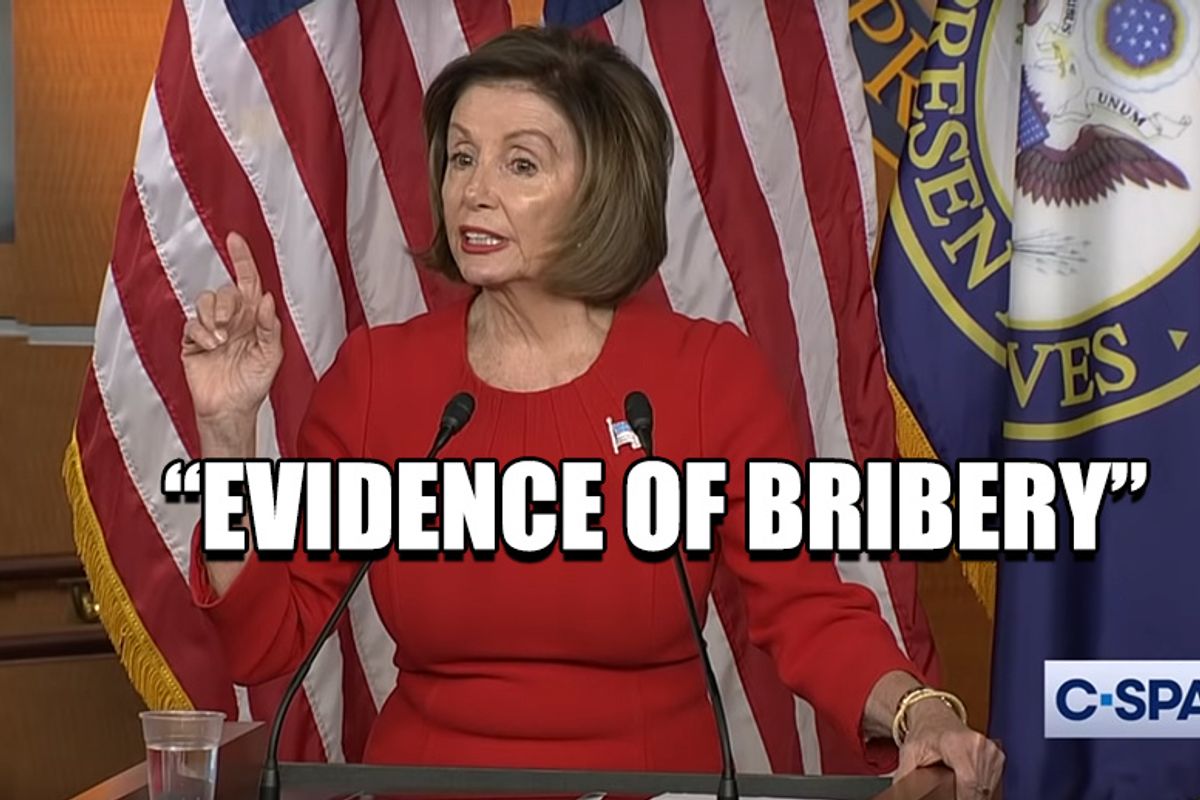 Morning Wonketariat! Here's some of the things we may be talking about today.
---
This morning former US ambassador to Ukraine Marie "Masha" Yovanovitch will appear before the House impeachment inquiry to talk about how the Trump administration suddenly "You're Fired" her for standing in the way of his Ukrainium One scheme. The Washington Post writes that it's likely Trump will shitpost something gross about Yovanovitch seeing as he feels threatened by strong, powerful women. As usual, here's C-SPAN's livefeed, and as usual Evan will be liveblogging.
The Daily Beast reports that as Rudy Giuliani was working to get Yovanovitch "You're Fired," he was trying to get former Republican Rep. Pete Sessions to replace her as the ambassador to Ukraine -- or possibly Raul Mas Canosa, a South Florida businessman. The rumors about Canosa have reportedly been floating around for months, and Rudy has been thick as thieves with Sessions for decades; Sessions even wrote a letter to Secretary of State Mike Pompeo trying to oust Yovanovitch back in 2018.
Oddly enough, Trump has been remarkably quiet about Republicans who are critical of his Ukrainium One scheme. Politico reports that senior Republicans have been begging Trump to keep his mouth shut, especially about those Republicans serving on the House Intel Committee.

Nikki Haley seems to be jumping on Trump's sinking ship, telling CNN's Wolf Blitzer that Trump should have appointed Rudy Giuliani as a special envoy to Ukraine "so that everyone knew what his role was." Of course, Haley's glossing over the fact Rudy's role seems to have been to shake down countries for Trump and the Rooskies.
A very sober Rudy Giuliani told reporters from The Guardian he has "very very good insurance" if Trump and the Republicans try to embussen him. Rudy's attorney later clarified that Rudy was "joking." Rudy says that he "did what a good lawyer is supposed to do," and "dug up evidence" to show that there was NO COLLUSION between Trump and Russia in the 2016 election. Rudy slurs that he "stepped on the number one minefield, which is Joe Biden, who is heavily protected by the Washington press corps."
The rightwing media has been beside themselves with grief now that their God-Emperor is facing impeachment. Laura Ingraham actually said "attempted bribery" isn't a constitutionally impeachable offense; MEATBALL squinted and sweated to Neil Cavuto that he knew "the criminal code," and that "abuse of power" wasn't a crime. The Daily Show has a supercut of the right wing's laughably silly argument that Trump's impeachment is a "show trial," unlike Benghazi.

Fox News on Impeachment Hearings: Where's The Sex? | The Daily Showwww.youtube.com
House Speaker Nancy Pelosi is jumping into the impeachment brawl with her fists wrapped in American flag scarfs. Yesterday Pelosi said the testimonies of witnesses in the impeachment inquiry "corroborated evidence of bribery ... and that the president abused his power and violated his oath by threatening to withhold military aid and a White House meeting in exchange for an investigation into his political rival — a clear attempt by the president to give himself an advantage in the 2020 election." [Video]
During a rant with disgraced TV talking head Eric Bolling, House Minority Leader Kevin McCarthy said he knows Rep. Adam Schiff is lying about not knowing the identity of the whistleblower, "and you can tell in his body language that he's lying in the moment." I could make the same assessment about Trump, Rudy Giuliani's sobriety, and McCarthy himself, but that would be journalistic malpractice.
Two teenagers are dead and three others are wounded following a shooting at a Saugus High School in Santa Clarita, California. As news of the shooting broke yesterday, Democratic Sen. Richard Blumenthal was standing on the Senate floor demanding some kind of gun control legislation.
California shooting highlights Senate gun control debate in real timewww.youtube.com
The FBI is asking people in communities large and small to come forward if they hear about potential acts of domestic terrorism as we head into 2020. Uncle Sam needs you to put white supremacists, sovereign citizens, and violent assholes on the radar!
White supremacist apologist Steven Menashi, a man with no judicial experience, was confirmed by Senate Republicans for a seat on a federal appeals court.
Once again the RNC will hold its annual meeting at a failing Trump trash palace. The RNC says the lucrative deal to hold their winter retreat at Trump's Doral golf course was inked ages ago, and that the media is blowing the appearance of impropriety out of proportion.
Conservative-leaning news outlets are reporting that the Trump administration has built 78 miles of new WALL, but SURPRISE that's not true. In a press conference, (acting) Customs and Border Protection Commissioner Mark Morgan admitted that every one of those miles is actually an area where there was an existing barrier. Morgan rationalized this by saying, "Every mile of wall that's being built is a new mile of wall." In a related story, The Washington Post reports Jared Kushner wants to set up web-cams to livestream construction of Trump's tortilla curtain, against the wishes of senior US Customs and Border Protection officials and the Army Corps of Engineers. Later today Kushner is expected to try to rationalize seizing private land to build more chunks of Trump's latest monument to impotence. [Video]

Trump official admits 70 miles of 'new' wall is replacing old barrierswww.youtube.com
Dr. Colleen McNicholas, the chief medical officer at Missouri's Planned Parenthood clinic in St. Louis -- the last clinic in the state! -- testified before Congress. McNicholas testified that she was "not sure who cried more: the physicians, the staff, or the patients," after the state instituted its new abortion laws.
New legislation would establish a grant program to pay for the medical bills of retired military service dogs.The Military Times reports the proposed grant would "cover costs incurred from veterinarian appointments, medical procedures, diagnostic tests and medications," which can cost around $3,000 a year.
The House Ethics Committee says it's extending investigations of three House members, Rep. Rep. Bill Huizenga, Rep. Ross Spano, and Rep. Rashida Tlaib. Spano is under investigation for $180,000 in loans he got from friends towards the end of his 2018 campaign, dumping the cash into his campaign coffers and reporting it as a loan. Huizenga is under investigation for spending thousands in campaign funds, and failing to accurately report them. Emails show Talib was "struggling financially" during her campaign, and asking her campaign manager for a "loan" from the campaign. The OCE is still investigating, but says there's "substantial reason" to believe Tlaib used campaign funds for personal use after the 2018 election. [OCE Statement]
The House Ethics Committee also announced it's investigating Democratic Rep. Alcee Hastings over his longtime relationship with a staffer following the passage of the 2018 House rule barring relationships between legislators and their staff. Hastings tells the South Florida Sun Sentinal that he's cooperating with the committee. CNN notes that Hastings is the latest lawmaker to be ensnared in the House's post-#meToo sexual harassment rules following the resignation of former Rep. Katie Hill.
Julian Castro is tired of mucking about in Iowa, literally one of the whitest states in the country. In a blistering statement, Castro's campaign said the Democratic Party shouldn't "defend a caucus system that actively diminishes the voices of African Americans and people of color." Castro's argument has long been the subject of debate among political geeks who hate explaining Iowa's complicated caucus systems, and the rather ironic hooey about its "first in the nation" status. The New York Times reports some Iowa Democrats will quietly complain their process is ridiculous and stupid, but also notes Iowans tend to be very engaged voters who are willing to give underdogs (like Barack Obama) a chance.
The 2020 Democrats will be invading California this weekend. The most important thing is the California Democratic Party's 2019 Fall Endorsing Convention, but a number of the 2020 candidates will also participate in a presidential forum hosted by Univision. You should be able to watch the forum via the Long Beach Press Telegram.
Kentucky Republican Gov. Matt Bevin has conceded to Democrat Andy Beshear following a recanvass of votes in last week's gubernatorial election. Bye, Felicia!
Three Milwaukee suburbanites are suing to kick 234,000 people off state voter rolls they suspect may have moved. Naturally the three men are being backed by the Wisconsin Institute for Law and Liberty, a conservative lobby group. The Milwakuee Journal-Sentinel notes state officials have been reluctant to kick people off voter rolls, and have tried to slow walk efforts to purge voter rolls instead of immediately booting people if they don't respond to a a mailer after 30 days.
The big hits to legalizing marijuana are slowly fading away after five Democratic states in the Northeast mellowed out and came to a broad agreement that includes tax policy, limits for businesses, and criminal justice reform programs for ex-offenders. Legislators aren't exactly passing the peace pipe yet -- rolling up of a unified policy is a heavy lift -- but they're not too far out.
Trump is demanding South Korea pay 500% more in 2020 in order to keep US troops in the country. The shakedown has caught the Pentagon off guard, and comes right as other countries criticize North Korea's renewed missile launches, which Trump says are "not at all" a big deal. Yesterday North Korea claimed that the US had proposed new nuclear talks next month, and prattled its usual rhetoric. Reuters reports they rejected the talks.
Yesterday Kellyanne Conway went off on Wolf Blitzer for bringing up her tortured marriage to Trump World and her husband, George. Gabe Sherman has some sad and juicy gossip about George and Kellyanne, but I really don't give a fuck about their failing marriage. That's their business.
And here's your morning Nice Time:WOMBATS!

Cute baby wombat finds some food | Seven Worlds, One Planet | BBC Earthwww.youtube.com
Follow Dominic on Twitter and Instagram!
We're 100% ad-free and reader-supported, so consider buying us coffee, or get a subscription!
Dominic Gwinn
Dominic is a broke journalist in Chicago. You can find him in a dirty bar talking to weirdos, or in a gutter taking photos.