Unusual And Inappropriate. Wonkagenda For Tues., Nov. 19, 2019
popular
November 19, 2019 08:35 AM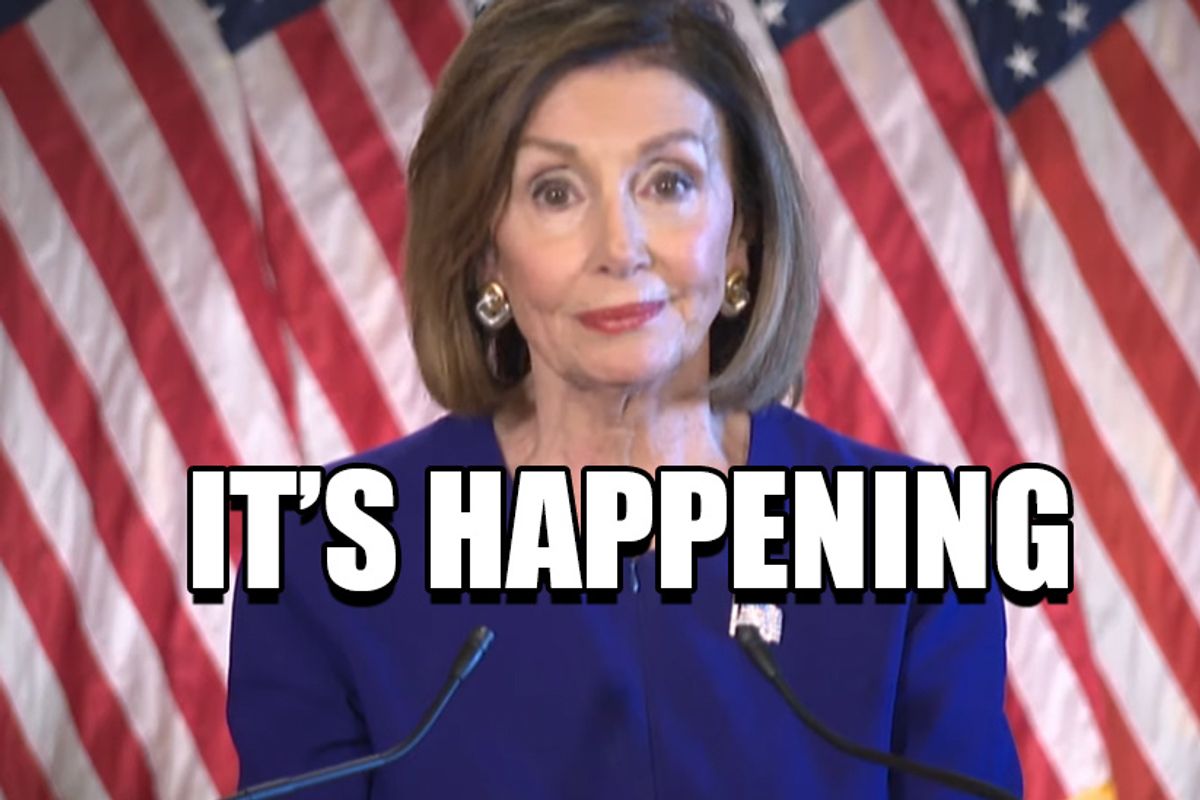 Morning Wonketariat! Here's some of the things we may be talking about today or may not be because you know most of the day's going to be liveblog, right?
---
Impeachment proceedings will continue this morning as Lt. Col. Alexander Vindman heads to the Hill to say how Trump's attempt to blackmail Ukrainian President Volodymyr Zelenskiy freaked him out so much that he warned White House lawyers within an hour. Vindman will be joined by Jennifer Williams, a top aide to Mike Pence, who is expected to say Trump's call was "unusual and inappropriate." Later, the US special envoy to Ukraine, Kurt Volker, and senior national security aide Tim Morrison, will appear in the afternoon. Volker is expected to act deaf, dumb and blind, and claim he was out of the loop in the Ukrainium One scheme.
Republican Sen. Ron Johnson, chair of the Senate Homeland Security Committee and the Senate Foreign Relations Committee's European subcommittee, has scribbled a letter claiming that all the career government officials saying Trump's actions were messed up are all DEEP STATE Never Trumpers who hate MAGA country.
The editor of Just Security has a 60-page side-by-side of Ambassador Kurt Volker's testimony with that of other witnesses, and it sure seems like Volker might have lied to Congress.
Secretary of State Mike Pompeo is pushing back against claims he allowed Trump World to embussen Marie Yovanovitch, saying Bill Taylor was a mean SOB to Trump, but he's still got a job. Pompeo adds that everyone at the State Department loves their job so much that they're still swinging their dicks with "swagger."
The House thinks Trump might have lied to Robert Mueller when when he wrote he knew nothing about Roger Stone's COLLUSION with Wikileaks during the 2016 election. Yesterday House lawyers took issue with the DOJ holding onto testimony from Paul Manafort, arguing before the US Court of Appeals for the District of Columbia Circuit that Manafort's testimony was relevant to the case. The judges seemed to scoff at the DOJ death grip on Manafort's grand jury testimony, with one judge wondering why the DOJ was holding it so close to the chest if it TOTALLY EXONERATED the president.
Republican Sen. Lindsey Graham announced a hearing with DOJ Inspector Michael Horowitz about the origins of the FBI's probe into the 2016 Trump campaign. The hearing will be held Dec. 11 and comes amid speculation that the Horowitz investigation into the FBI's investigation of Trump-Russian fuckery in 2016 could drop any day.
Kashyap "Kash" Patel is suing Politico and its reporter Natasha Bertrand for reporting Fiona Hill's testimony that Patel, a top adviser on the NSC, had a back channel to Trump to feed him stories about Ukraine. In his former job as Devin Nunes's HPSCI lackey, Patel was reported to have done the same thing in 2018 over the surveillance of the 2016 Trump campaign. Patel's lawyer, Steven Biss, is the same guy repping Nunes in his suit against all the fake cows mocking him on social media.
Trump's doctor released a memo saying Trump's super secret trip to Walter Reed National Military Center was a "routine, planned interim checkup," and had nothing to do with "any chest pain, nor was he evaluated or treated for any urgent or acute issues." Stephen Colbert thinks Republican members of Congress got their heads stuck in Trump's "quid-pro-hole," forcing him to make a secret visit to the doctor.

Trump's Doctor Holds Press Conference After Mysterious Hospital Visitwww.youtube.com
House and Senate leaders (finally) hammered out a deal to fund the government for another few weeks, temporarily avoiding a(nother) government shutdown over Trump's goddamn wall. The continuing resolution rolled out by House Democrats would kick the can of government funding down the road until Dec. 20, give another 3.1 percent raise to the military and cash for the Commerce Department to get ready for the 2020 census, avoid cuts to state highway programs, and reauthorize some PATRIOT Act surveillance provisions. A vote in the House is expected later today.

The Trump administration is expected to announce a new rule that would send asylum-seeking immigrants passing through Guatemala, El Salvador, or Honduras back to those "shithole countries" to claim asylum there instead of in the US. NBC reports immigration advocates and people inside DHS are pissed, and are quietly saying the the policy condemns some refugees to death.
Yesterday the administration reversed four decades of US foreign policy and declared that the US no longer gives a damn if Israeli settlements in the West Bank are in violation of international laws. The move is seen as effectively dooming any chance at fostering a peace agreement between Israel and Palestine.
Mina Chang, the senior State Department staffer who bullshitted large parts of her resume to get a job in the Trump administration, has been quit-fired. Chang argues she never lied about her credentials or created a fake copy of Time magazine with her face on the cover, and complains that nobody at the State Department wanted to defend her.
The race to unseat Democratic Rep. Sharice Davids in the Kansas Third District is getting interesting. A three-way fight is being waged between Republicans, with the likely frontrunner holding billions in federal healthcare contracts.
If you're mulling over your own leap into national politics, here's a handy 'splainer, infographic, and some general tips about how to run for Congress! In a related story, the New York Times has a lovely piece on reps Abigail Spanberger and Lois Frankel and what it's like being in Congress.
Wisconsin Republicans think they can hold their red rurals AND brainwash swingable suburbanites in Milwaukee and Madison by claiming Trump never committed all the crimes he's already admitted to, and reminding everyone that the economy hasn't fallen off a cliff (yet) and that brown people are bad.
A new NPR/PBS News Hour/Marist poll shows Americans are pretty set in their opinions on impeachment. Additionally, a new poll by the University of Texas at Tyler shows ONLY 43 percent of Texans approve of Trump's overall job performance, and are almost evenly divided over impeachment. [NPR poll]
While the rest of the 2020 Democrats run around Iowa, California, Nevada, and South Carolina, Marianne Williamson talked to some people at a library and nobody seems to have cared enough to bother with a write up. Light a salt candle for her fledgling campaign, she hasn't hit one percent in recent polls.
A network of bots appears to be responsible for a social media campaign to drive public opinion about the political turmoil in Bolivia. Following a contested election, Bolivia's controversial socialist president Evo Morales was forced out of office, and a hard right conservative with a history of racist statements against indigenous people seized power as interim president. While people outside of the country debate the validity of claims that Morales was ousted in a "coup," people in Bolivia have taken to increasingly hostile protests.
Russia's disinformation campaign in Syria is ramping up, claiming that US-backed "bandit formations" are blocking aid to refugee camps. The Pentagon and foreign policy nerds say this is complete bullshit, and claim the Russian and Syrian government forces are purposefully creating humanitarian disasters by scaring the hell out of refugees.
An American and an Australian held by the Taliban for the last three years have been freed as part of a prisoner exchange. The exchange is being called a gesture of good will. It might not seem like it, but this is a very big deal.
There's a dirty rat in the mouse's house as multiple outlets report Disney's new streaming service has been hacked due to poor security features. An investigation by ZDNet has found that within hours of the service's launch Russian hackers were stealing log-ins, fiddling with account credentials, and then selling the hacked accounts at a steep discount (when they weren't just being given away for free) on the dark web.
CNN has a profile on Jimmy Finklestein, the owner of The Hill, and his proximity to Trump World's conspiracy peddlers.
South Dakota is combating its problem with meth with a new slogan, "Meth. We're on it." Public relations nerds are shaking their heads and wondering if state leaders were high when they agreed to the campaign.

South Dakota has launched a campaign to combat meth. With this new logo. https://t.co/u5l7HF7mK9 https://t.co/OvRjkCqlHl

— Mike Baker (@Mike Baker) 1574110296.0
Seth Meyer took A Closer Look at how Trump World has already admitted all the crimes they haven't been convicted of (yet).

The Impeachment Evidence Against Trump Is Overwhelming: A Closer Lookyoutu.be
And here's your morning Nice Time:ECHIDNAS! TIL they have a four-headed peen.

Echidnas are very lazy lovers | Seven Worlds, One Planet | BBC Earthwww.youtube.com
Follow Dominic on Twitter and Instagram!
We're 100% ad-free and reader-supported, so consider buying us coffee, or get a subscription!
Dominic Gwinn
Dominic is a broke journalist in Chicago. You can find him in a dirty bar talking to weirdos, or in a gutter taking photos.