'Very High Levels of Intelligence.' Wonkagenda For Wed., Nov. 28, 2018
News
November 28, 2018 09:02 AM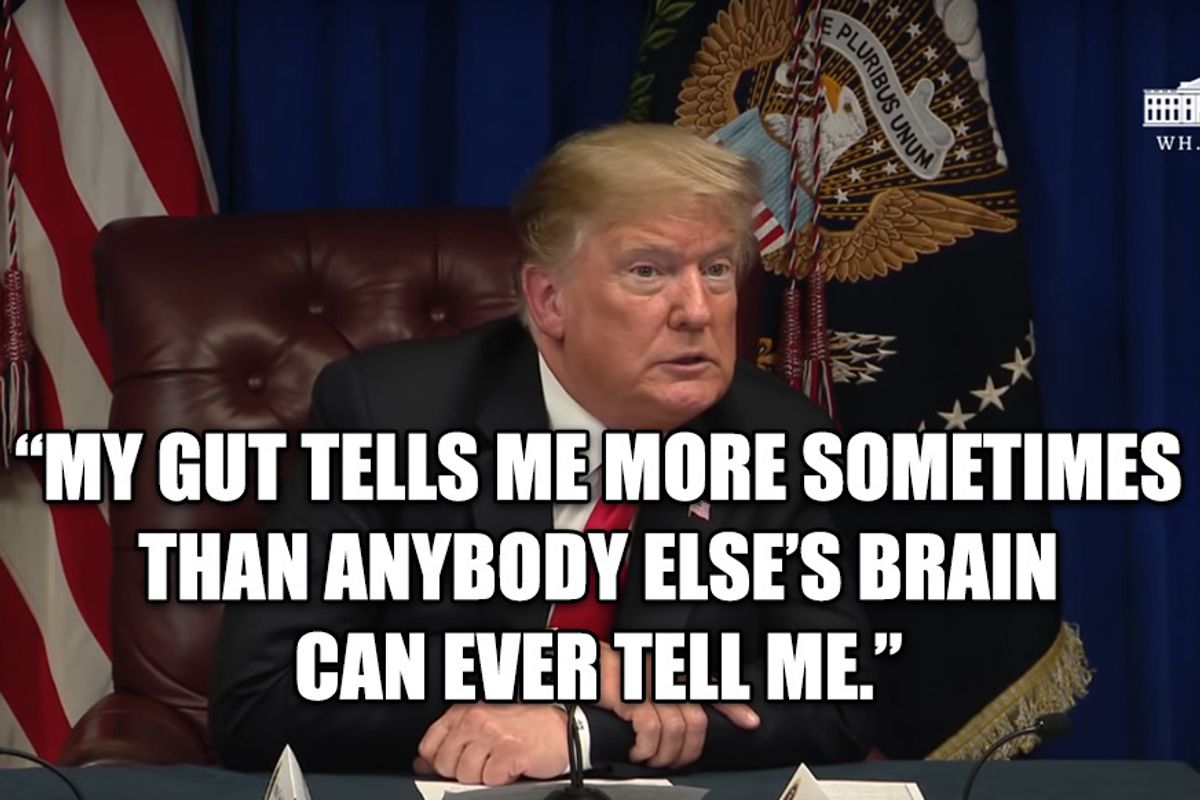 Morning Wonketariat! Here's some of the things we may be talking about today.
---
Paul Manafort was apparently playing both sides in an attempt to save his own ass. After cutting a plea deal with Robert Mueller, Manafort was reporting back to Trump's TV lawyers as part of a joint defense agreement, presumably as a way to increase his chances of getting a presidential pardon. [Morning Maddow]

NBC News has draft documents from Mueller to Jerome Corsi that include a list of crimes he ALLEGEDLY committed, and a plea agreement that Corsi has rejected. According to the documents, Roger Stone told Corsi to get in touch with Wikileaks in August of 2016, but Corsi's a lazy sum'bitch and sent Ted Malloch, a conservative writer already in the UK, instead. After the election, Corsi deleted HIS EMAILS, and then conveniently forgot everything he wasn't already lying about ... until Mueller's team brought out a binder full of HIS DELETED EMAILS. [Morning Maddow]
An investigation by ProPublica has found the Trump administration is still kidnapping children at the border. They simply changed the name of their "zero tolerance" policy, and carried on like nothing happened. The AP is also reporting that the Trump administration has waived FBI fingerprint and background checks for caregivers and mental health workers at one of Trump's baby jails, and similarly allowing one mental health worker for every 100 children. NOTE: These stories will break you. :(
Apparently there's a "Plan B" if Trump doesn't get Congress to give him billions of dollars for his big, beautiful wall. Translation: Trump doesn't have a fucking clue what he's going to do now that nobody wants to pay for it.
In a new interview with WaPo, Trump rambles on about being a very stable genius that makes decisions with his gut, like knowing the environment is at "a record clean," why the Saudis are great customers, and how we're screwing around in the Middle East to protect Israel (it's definitely not about the oil). Trump also denied the US is slipping into a recession, criticized the Fed for raising interest rates to fight inflation, and blamed recent US economic failures on Democrats, the Chinese, and the central banking system. #MAGA [Transcript]
Trump is now threatening to kill all government subsidies for GM after it announced that it was laying off 15 percent of its US workforce. He doesn't seem to be aware that those subsidies are for consumers who actually buy cars.
Trump's TV money dingus, Larry Kudlow, says Trump's trade war might not get resolved over two scoops and some chocolate cake at this weekend's G20 meeting. Before running away mid-sentence during yesterday's White House Press Briefing, Kudlow said talks with the Chinese had stalled, but Trump was still swinging his dick and hoping for a breakthrough.
Betsy DeVos says the federal student aid program is a "looming crisis in higher education," but she's blaming the Obama administration as opposed to the private lenders that operate like loan sharks, stagnant wage growth, and the rising cost of college. Don't worry though, Betsy created an app, and is monopolizing the student loan industry into an even more volatile trillion dollar bubble.
Slack-jawed racist yokel Cindy Hyde-Smith survived her runoff election against former Democratic Rep. Mike Espy for the Senate seat vacated by Thad Cochran.
The New York Times has a "meh" story about how the incoming House progressives could become the "Tea Party" of the left (because they use Instagram?) and become a headache for Nancy Pelosi. Roll Call expands on that a bit in a story about how today's secret vote in the Democratic caucus isn't the best test for support of Pelosi, but it's a start.
The North Carolina state board of elections has refused to certify the results from the 9th Congressional District after an election board member said there were "unfortunate activities" that have not been investigated. The local Republicans are pissed! (And the Republican, Mark Harris, is NIGHTMARE TOWN.)
RUH-ROH! Martha McSally might not be a US Senator after local Republicans started pressuring Arizona Republican Gov. Doug Ducey not to appoint a pro-Trump loser who could lose again in 2020. There's also the problem of Sen. Jon Kyl, who was appointed by Ducey to fill the seat of the late Sen. John McCain. Kyl might not want to go back to his cushy K Street gig as a lobbyistlawyer. WOMP WOMP!
The FEC says that Bob Ritchie could not run for Senate under his alias, "Kid Rock," so he technically didn't break any laws when he sold merch with slogans like, "Kid Rock for Senate '18" as a publicity stunt. Government watchdogs had argued that the spoiled rich kid from the Detroit suburbs should have created a campaign committee, but the FEC found the white trash wannabe never even bothered to file the initial paperwork.
The US still plans to pull out of the landmark Intermediate Nuclear Forces Treaty with Russia, but DNI director Dan Coats is telling the WSJ that the US isn't in any hurry to start another nuclear arms race (yet).
Here's a good 'splainer on all the trickery North Korea uses to skirt shipping sanctions on the high seas. IRL spy stuff and international fuckery is actually kind of boring.
A shady Chinese geneticist claims to have secretly created the first gene-edited human embryos using Crispr, a gene-editing software that scares the piss out of ethicists. Science bozos are still combing through the data he presented to back up his claims, but they remain skeptical about him creating Chinese X-men.
Outgoing Mexican President Enrique Peña Nieto plans to reward Jared Kushner with the Order of the Aztec Eagle, the nation's highest civilian honor, on Thursday for helping to kill NAFTA. Critics are calling it the "perfect ending for Peña Nieto's term: an insuperable illustration of the indignity of his government's position regarding Trump. It's the final kick in the crotch for Mexicans."
Ivanka Trump says you shouldn't LOCK HER UP for her emails because she's, like, totally different from Killary, and not at all doing the exact same thing. Hillary Clinton sent messages from a government account that were retroactively marked classified by national security officials, Vanky immediately began violating federal records laws by using personal accounts to do government business. Tomato, Toma-toe!
Sinclair Broadcasting forced its affiliates to air another "must-run" commentary segment by Boris Epshteyn defending the Trump administration for firing tear gas at babies on the Southern border. Epshteyn said migrants were "attempting to storm" the border, and "attacked US border enforcement by throwing rocks and bottles." #MAGA
Butthurt over critical media coverage forced Trump to rant about creating his own TV channel; luckily nobody told him about Voice of America.
In a not at all shocking turn of events, a former Facebook manager says Facebook has been "failing" black employees and is biased against black users. A recent memo from Mark Luckie says Facebook's lack of diversity disenfranchises black and brown users, and that Facebook has more Black Lives Matter posters than black people.
Members of nine different countries tore Richard Allan, Facebook's VP of global public policy, a new asshole in the UK Parliament during a rare joint hearing on privacy abuse and misinformation campaigns. MP Damian Collins, who convened the hearing, said Facebook had a "consistent pattern" of hiding its massive fuckups and data mining practices, to which Allan responded by saying, "It's right there in the name ... social."
The creator of beloved cartoons Rocko's Modern Life and SpongeBob Squarepants, Stephen Hillenburg, has died. He was 57.
And here's your morning Nice Time! RED PANDAS!


Red Panda Awesome-nesswww.youtube.com
Follow Dominic on Twitter and Instagram!

We're 100% ad-free and reader-supported, so consider buying us coffee, or get a subscription!
Dominic Gwinn
Dominic is a broke journalist in Chicago. You can find him in a dirty bar talking to weirdos, or in a gutter taking photos.