The GOP's War On Voters. Wonkagenda For Tues., Dec. 04, 2018
popular
December 04, 2018 09:03 AM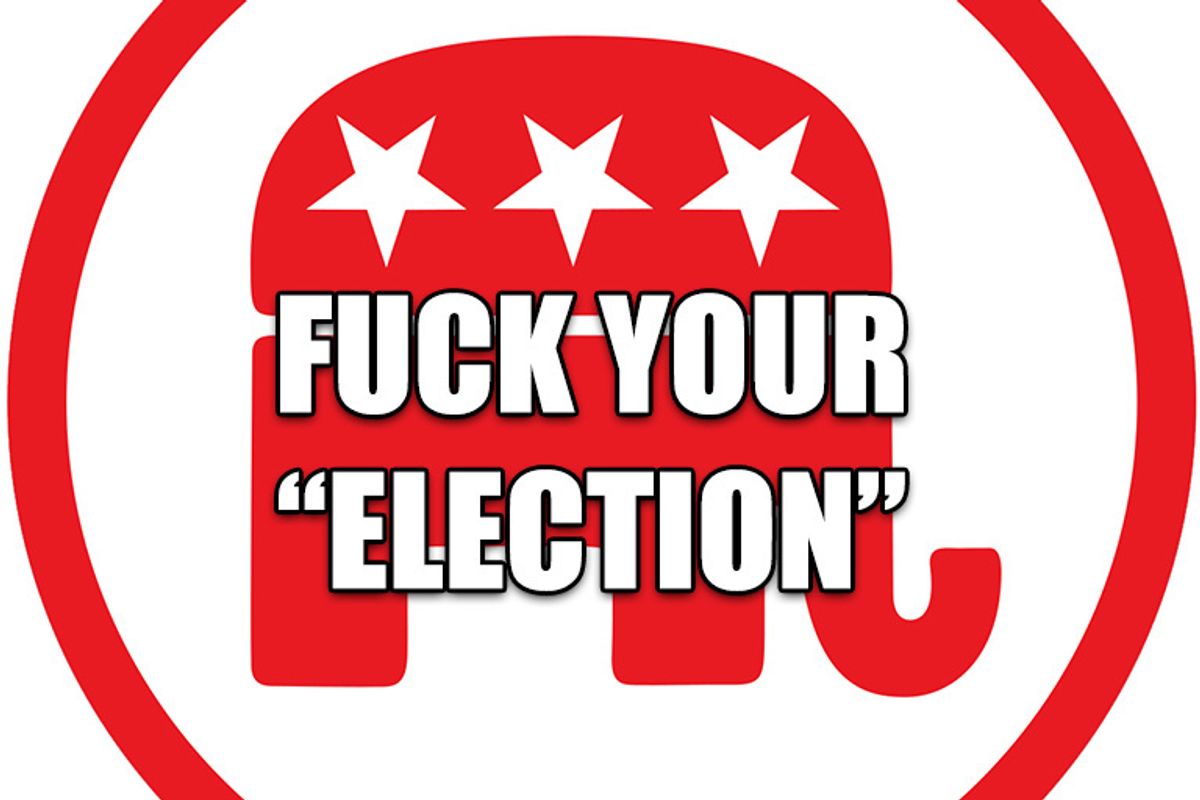 Morning Wonketariat! Here's some of the things we may be talking about today.
---
Yahoo's Michael Isikoff reports Robert Mueller is "tying up loose ends" in the Trump-Russia investigation and could potentially wrap the case within the next few weeks. Mueller is expected to make sentencing memos public for Michael Flynn, Paul Manafort, and Michael Cohen by Friday, and is asking some ongoing congressional investigations to hold off on interviewing potential witnesses, suggesting Mueller still has a few surprises left. OH BOY, OH BOY, OH BOY!

Later today Mueller is expected to release a sentencing memo detailing all the ways disgraced former national security advisor Lt. Gen. Mike Flynn has been snitching on Trump and Co. Flynn has reportedly been singing the blues in order to avoid dancing to the jailhouse rock.
The New York Times is reporting that in 2017 Paul Manafort tried to cut a deal between Ecuador and China in exchange for the US retrieving Julian Assange. Manafort had almost convinced China to invest in Ecuador's struggling electric utility in return for Ecuador handing over the world's worst couchsurfing freeloader, thus netting Manafort a big, fat check for more ostrich leather. Then Robert Mueller started poking around and ruined everything!
Congress agreed to kick the can of government funding down the road for another two weeks so that they can figure out how to tell Trump he's not getting Wall for Christmas. With the new deadline for a government shutdown set for Dec. 21, it's entirely possible Trump throws another tantrum and ruins the holidays.
After Trump started shitposting on Twitter about all the great concessions China ALLEGEDLY agreed to over two scoops and some chocolate cake at the G20, Trump's TV economist Larry Kudlow led an army of Trumpkins in walking back the administration's official line. Kudlow and Treasury Sec. Steve Mnuchin called the agreements "commitments" (which literally means nothing) after realizing Trump neglected to get anything in writing (again). Trump has also named neo-nationalist Robert Lighthizer to lead negotiations with Beijing, which is the equivalent of letting a simple-minded fox watch the hen house.
Kudlow also said Trump wants to kill subsidies for electric cars, but economic and legal nerds note those subsidies were the result of legislation, and Trump can't just pass economic policy into a toilet like last night's fried chicken.
One of the biggest winners this past weekend was Trump's gambling buddy Steve Wynn, whose stock saw large gains following Trump's "deal" with China. HMMMMMM!
Trump's FDA head was supposed to make a cheaper, generic EpiPen hit pharmacy shelves, but the new competitor isn't much cheaper than the original EpiPen. Both brands are owned by the same company; surely it's just a hell of a coincidence.
The Pentagon is giving the go-ahead for thousands of green-card holders to enter military service following expanded background checks as mandated by the Trump administration. Provided recruits make it through Boot, they'll probably get sent to the southern border to stand around the desert and protect us from the Mexican-Muslim taco truck militia threatening to invade with their anchor babies.
Kirstjen Nielsen saved herself from being "You're Fired" (for now) by launching tear gas canisters over the Mexican border, and showing a willingness to throw babies in jail. Nothing says "cold blooded" like calling women and children "human shields."
Still untouched by the spoils of Washington, freshman Democrats in the House have delivered a letter to Nancy Pelosi saying they should focus on legislation for healthcare, immigration, gun control, and investigating Trump and Republican fuckery. YA THINK?
Mitch McConnell was speaking with a bunch of filthy rich slobs last night when he said Trump should probably work with Nancy Pelosi and House Democrats to avoid a government shutdown. McConnell also said Democrats' planned campaign finance, ethics, and election-security legislation is "not going to go anywhere in the Senate," and reflected upon the past two years stating, "If you're an American who likes the country right-of-center, you don't have a better two year period than this."
Fun Fact: According to the United States Election Project, Montana had the highest turnout of eligible voters! You can thank your Editrix for some of that, she spent much of the electoral season knocking on doors even when she didn't want to. Retail politics works!
Anger over electoral losses has lit a fire under the ass of Republicans in Michigan and Wisconsin who are terrified that Democrats might use their new authority to unfuck gerrymandered districts. They're not alone either, WaPo reports that this is part of a larger strategy by the GOP across the country.
Led by the Chicago Teachers Union, charter school teachers in Chicago are set to go on strike this morning. Among other reforms, teachers are fighting for smaller classroom sizes and sanctuary school status. Not only is this the first time a major public school union joined forces with a massive charter school network, but it's also the second major teachers strike under the leadership of Mayor Rahm Emanuel.
A private autopsy has found that police responding to a shooting at the Riverchase Galleria in Hoover, Alabama, on Thanksgiving shot 21-year-old Emantic Bradford Jr. in the back, the back of his head, and the back of his neck as he was trying to help other shoppers get to safety.
Mike Pompeo went to Brussels to spew some ignorant bullshit about multilateralism, international diplomacy, and the sprawling bureaucracy that has kept aspiring burger kings from rising to power (again). According to Pompeo, Trump is, "returning the United State to its traditional central leadership in the world," by turning us into xenophobic isolationshits too scared to leave their McMansions.
The Advocate General of the EU Court of Justice Manuel Campos Sanchez-Bordona says the UK could just walk away from Brexit if it wanted, but that's, like, his opinion, man. This comes as Parliament is expected to begin deliberations on Theresa May's Brexit deal, negotiations which are widely expected to lead to a "no deal" outcome, and a vote of no confidence in May's leadership.
France has suspended the controversial fuel tax that was spurring yellow jacket riots on the streets of Paris. The taxes were intended to reduce carbon emissions and greenhouse gases, but protesters feel French President Emanuel Macron is out of touch with poor and rural residents, which far-right nutters have used as an excuse to riot.
Rodrigo Duterte, the murderous dictator of the Philippines, joked that he smoked weed during last month's important ASEAN summit to stay awake. Duterte has admitted to taking Fentanyl in the past. It's funny because weed usually puts people to sleep, and official records suggest Duterte's war on drugs has killed at least 4,000 people, though human rights groups think the actual number is much higher.
Later today CIA Director Gina Haspel is expected to brief senators about how Saudi Crown Prince Mohammad bin Salman asked Dr. Bonesaw to make a house call to the Saudi embassy in Turkey for journalist Jamal Khashoggi. The former head of a secret US torture jail, who also speaks more than just American, it's entirely possible Haspel listened to the purported tape of Khashoggi's murder and understood it more clearly than Trump's national security mustache, John Bolton.
Trump wants to make Stormy Daniels pay almost ONE. MILLION. DOLLARS for telling the world about his post-pregnancy teeny weeny adventures with a copy of Forbes and Shark Week -- six times their initial hush money agreement -- in an effort to silence all the other porn stars and prostitutes who've seen his toad penis. Last night, Daniels was at DC's famed Politics and Prose for a rare interview where she joked about Trump's broken promises.
After being cast out of the conservative echo-chamber and shunned into obscurity, Glenn Beck's TheBlaze will merge with Mark Levin's CRTV to create Blaze Media, a Voltron of white nationalist propaganda. The Hollywood Reporter reports that "talent" like that hobo from Duck Dynasty, Michelle Malkin, and Gavin McInnes may join the new Nazi media party.
And here's your morning Nice Time! TREE KANGAROOS!

A Life Among the Clouds: A NATURE Short Filmwww.youtube.com
Follow Dominic on Twitter and Instagram!

We're 100% ad-free and reader-supported, so consider buying us coffee, or get a subscription!
Dominic Gwinn
Dominic is a broke journalist in Chicago. You can find him in a dirty bar talking to weirdos, or in a gutter taking photos.