He Knows When You're Awake. Wonkagenda For Fri., Dec. 7, 2018
Guns
December 07, 2018 09:03 AM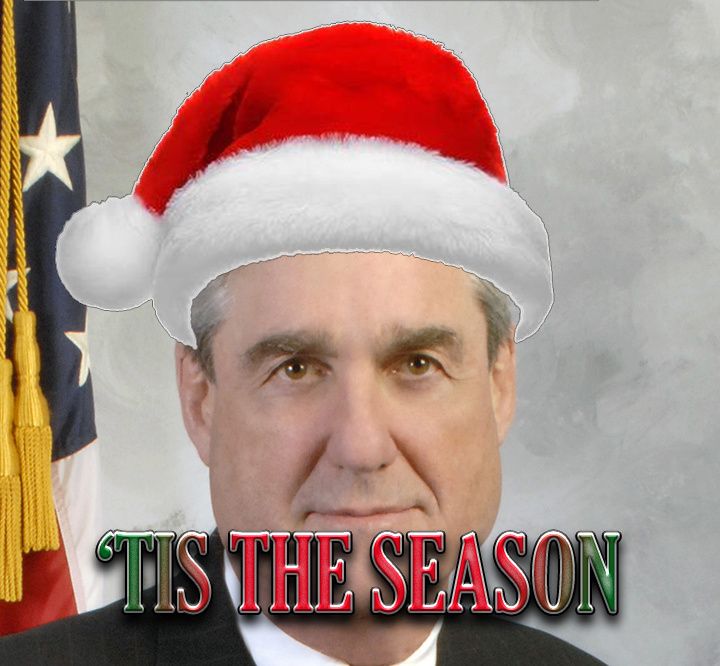 Morning Wonketariat! Here's some of the things we may be talking about today.
---
The Trump administration is going absolutely BA-NAN-AS this morning with the expected release of sentencing recommendations from Robert Mueller. It started with this piece in the Atlantic where Giuliani kinda-sorta started to distance himself from Trump, and admitted that they have no plan to fight the onslaught of investigations coming down the pike. It got worse last night when Giuliani started running his mouth to a WaPo reporter on the Acela train, and he groused that it took two or three weeks to answer Mueller's written questions, adding, "It could have taken me two days if he was a normal client." At 6:00 AM, Trump went batshit on Twitter, and just started shitposting about everyone and anyone remotely involved in Trump-Russia.

Later today, former FBI director James Comey will be grilled by House Republicans about HER EMAILS (again) behind closed doors. The rare joint sessions with members of the House Judiciary and Oversight and Government Reform committees will likely be the last time Republicans can Benghazi anyone ... unless they steal another election.
CNN is reporting that then-Acting FBI Director Andrew McCabe started an obstruction of justice investigation immediately after Comey was "You're Fired," before Mueller was even appointed special counsel. The rumor mill on the Hill is that an obstruction investigation was even considered BEFORE Trump dumped Comey, and his being "You're Fired" crossed the red line.
SCOTUS seems poised to knock down a challenge to the 170-year-old dual sovereigns doctrine. Curiously, a couple of the more super-Republican justices complained that it might be double-jeopardy to charge someone for the same crime at the state and federal level, a very convenient opinion for a person like Paul Manafort. HHMMMMM!
CNN is reporting that John Kelly is expected to resign within the next few days. Mike Pence's chief of staff, Nick Ayers, is supposed to kill what's left of Kelly's career. LOL! Bye, Felicia!
Meatball seems to have left a bad taste in Trump's mouth, so he's RUMORED to be considering the AG of Bush 41, William Barr, for the job. A lifelong Republican and corporate lawyer, Barr has been critical of the Trump-Russia investigation, bought into Sean Hannity's admittedly fake Uranium One hoax, and has likened Iran-Contra to a witch hunt. He'll be a perfect fit.

BREAKING: 9:34 am - Trump just nominated Barr. SO that's a thing.
Former Fox and Friends co-host-turned-State Department spox Heather Nauert will reportedly be tapped to replace Nikki Haley as UN Ambassador. Like Haley, Nauert has no experience in foreign policy, but she can read a cue card and a teleprompter.
BREAKING: 9:44 am - Trump just nominated Nauert. So, that's a thing too.
Jared Kushner's white-collar prison reform bill is dead (for now) after Mitch McConnell told Trump's White House he doesn't really feel like going through the whole rigamarole. A Republican donor tells WaPo McConnell just, "doesn't like the bill," adding, "He's a Jeff Sessions-style, lock-them-up-and-throw-away-the-key kind of guy." Some Republicans are still holding out hope, especially after Hope Hicks and Fox News started dropping op-eds reminding everyone that now might be a good time to start helping non-violent offenders.
While he was still skull fucking Mother Earth at the request of the Trump administration, Scott Pruitt took a $50,000 cash bribedonation from mega rich Wisconsin business woman, Diane Hendricks. Nobody is sure WHY Hendricks gave Pruitt the money, if he still has it, or why Pruitt tried to hide the donation until AFTER he was "You're Fired," but Pruitt's lawyer says the financial disclosure report "speaks for itself." It sure does!

Grifty bastard and Interior Secretary Ryan Zinke wants to open up nine million acres for drilling and mining by stripping protections for the sage grouse, a kind of fuzzy desert chicken native to the American West. You may remember Zinke promised to protect the fuzzy desert chicken during his confirmation hearing.
Environmental groups are suing the Trump administration for failing to respond to a request to add giraffes to the endangered species list. When asked why the Interior Department has taken almost two years to do what every other administration has done in 90 days, Ryan Zinke threw a handful of challenge coins at reporters, and fled on horseback.

Trump's trade war has now begun to hit every sector of the economy, effectively doubling the cost of many raw materials. Trump officials are even beginning to worry that the economy may slip into a recession, making it exponentially harder for Trump in 2020. The joke here is Trump still thinks tariffs are good because people haven't started losing their jobs (yet).
As usual, Congress is officially kicking the can of government funding down the road in order to set up a budget fight before Christmas. This morning Democratic Sen. Minority Leader Chuck Schumer has an op-ed in WaPo saying if Trump wants Democrats in the Senate to play along with his plots and schemes, he needs to cough up some cash to clean up the environment and rebuild fly-over country.
With everyone screaming about gerrymandering, it seems like a good time to take a look at Missouri! In 2022 Missouri will be the first state to use a mathematical formula to engineer "partisan fairness" and "competitiveness" in local elections, potentially ending Republican supermajorities by creating some REALLY bizarre districts that mix urban and rural voters.
To the Republicans in North Carolina's 9th, voter fuckery in Bladen County is one of those "known-knowns," and Leslie McCrae Dowless is the guy you go to if you've got a couple thousand dollars and absolutely need to win. Following the revelations that his opponent, Republican Mark Harris, hired Dowless to lie, cheat and steal the election for Harris, last night Democrat Dan McCready went on Rachel Maddow to unconcede. [Morning Maddow]
How messed up is the Trump administration's immigration policy? The father of a 13-year-old Guatemalan girl who was kidnapped and murdered has been denied a visa to attend his daughter's funeral. #MAGA

The Trump administration plans to use the detention of Huawei CFO Meng Wanzhou as a bargaining chip in Trump's trade war with China. Geeks have long screamed that the Chinese government uses Huawei to spy on people, and they're worried Trump just made things exponentially worse. Again.
The Vermont National Guard is disputing a seven-part investigative series by VTDigger that calls the Vermont National Guard a "flying fraternity" with a "Top Gun" culture, complete with games of grab-ass, boozy shenanigans, and bro bullshit, like the head of the Vermont Air National Guard flying an F-16 to DC in a snowstorm to get his dick wet. Strap in, this series is cray-cray!
The Iraq-Syria border near Jordan has been one of the last ISIS/ISIL/whatever holdouts, and a US-led coalition base is one of the only means of defense for a small border town. Russia proposed dumping the existing security forces in favor of a joint US-Russian base, but US-led coalition forces didn't even bother telling them to go fuck themselves because they were too busy.
CNN was evacuated again last night after ANOTHER bomb threat was called in to the Time Warner building in New York, according to the NYPD. Coincidentally, Trump was shitposting more attacks on the press just an hour before, calling reporters "the enemy of the people." Shortly thereafter, a photographer and survivor of the mass shooting at the Capital Gazette offered a heartbreaking rebuttal.
It took a while, but Trump finally read a teleprompter containing words that condemned anti-Semitism and said something nice about the Jewish people massacred at the Tree of Life synagogue. Merry Jewish Christmas, Jews.
Dear Baby Boomers, millennials didn't fuck up the economy, you did. We're drowning in debt, and we laugh at the dream of buying cars and houses with stagnant wages that might afford us a shitty $1 beer during Happy Hour. There's more than 80 million people who've been screwed over so that one rich prick can buy a second home, do you really want to get on our asses about personal finance and family values during the office Christmas party?
Ammon Bundy is riding off into the sunset from the Militia Movement over Trump's Mexican baby jails. In a video, Bundy defended immigrants and denounced the conspiracy theory that George Soros was funding caravans of immigrants. They may be batshit, but they are very principled in their batshittery.
Looking out the window of her palatial apartment at the ants scurrying about Central Park, Dame Peggington sobbed into a red velour pillow about the virginal innocence of America's youth. Gone were the days when elder statesmen used regal pomp to project an air of superiority over subordinates. She threw the pillow across the room and into the now-empty bar cart, sending a cacophony of gin bottles crashing to the floor. It reminded her of the Berlin Wall, and of Malta, when a young and dashing Poppy Bush cradled a drunk Boris Yeltsin into democracy's bosom with his own hands. So what if he dropped blanket pardons for treason, started a cowboy's war in the Middle East, and used the CIA to execute liberal revolutionaries in un-American shitholes, things were different back then! "He made sacrifices to be who he was," she wrote, slugging back the last three fingers of gin with a sigh.
And here's your morning Nice Time! Tiger Cubs!

Tiger Cubs' First Exploration Attempts | Dynasties | BBC Earthwww.youtube.com
Follow Dominic on Twitter and Instagram!

We're 100% ad-free and reader-supported, so consider buying us coffee, or get a subscription!
Dominic Gwinn
Dominic is a broke journalist in Chicago. You can find him in a dirty bar talking to weirdos, or in a gutter taking photos.