All The President's Lawyers. Wonkagenda For Fri., Dec. 13, 2019
popular
December 13, 2019 08:54 AM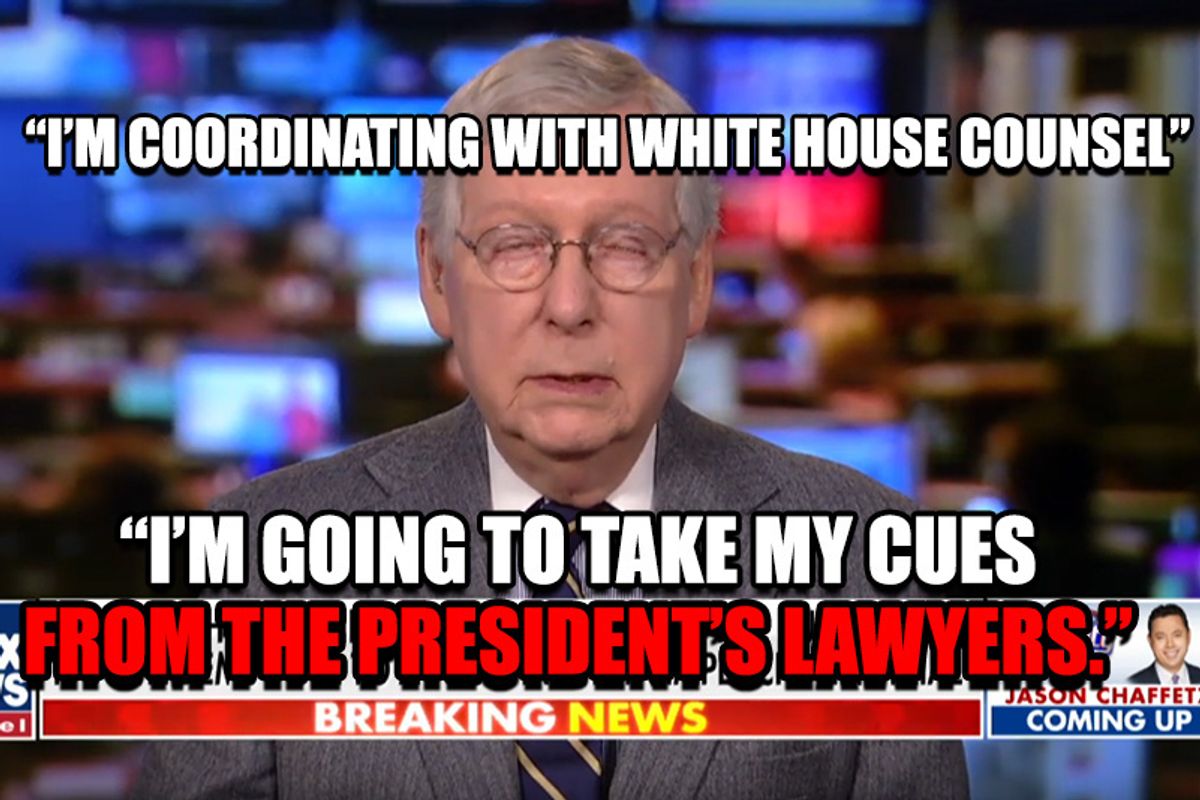 Morning Wonketariat! Here's some of the things we may be talking about today.
---
The House Judiciary Committee's 14-hour talk-a-thon showed the Republicans' cold-blooded loathing of anyone and everything on the left, especially Joe Biden. Lawmakers traded barbs, bullshit, and even some personal insults against their colleagues well into the night. Committee chair Rep. Jerry Nadler eventually postponed the committee's vote on articles of impeachment to 10 a.m. Friday. Nadler's move to kneecap the inevitable GOP talking point that the vote was held in the middle of the night chapped the asses of Republicans who immediately whined about missing flights and fancy trains, and accused huddling Democrats of trying to get on TV cameras as they themselves literally ran to a gaggle of weary reporters to bitch about why people "don't like us."
Senate Majority Leader #MoscowMitch McConnell went on Hannity last night and said he was "coordinating with the White House counsel" to make sure there was "no difference between the president's position and our position as to how to handle this." McConnell then added, "I'm going to take my cues from the president's lawyers," and predicted, "We know how it's going to end. There's no chance the president is going to be removed from office." [Full Interview]

The Wall Street Journal is reporting that Rudy Giuliani is doubling down on his fake Ukrainium One bullshit, scribbling a 20-page report that's probably been sketched out on cocktail napkins.

Fun Fact: One of the primary arguments Republicans have against impeachment is that Ukraine got the money Trump dangled over their head, but the LA Times reports Ukraine is still waiting on $20 million in military aid that's been delayed by the Trump administration. The money is part of $250 million from the Pentagon, and administration officials are dodging reporters asking why the money is still sitting in US accounts and being delayed.
House Speaker Nancy Pelosi tweeted out a two-minute video of former Republican congressmen (and yes, they're all men) supporting impeachment.
Rep. Adam Schiff sat down with Stephen Colbert and accused SOME legislators of behaving shamefully, saying that one day they'll have to look their little brats in the eye and say they licked so much ass that a president became a king. [One / Two / Three]

Rep. Adam Schiff: Trump Risked National Security For His Political Gainwww.youtube.com
Maggie Haberman gossips that Trump keeps flip-flopping between whether or not he loves being impeached. On the one hand, Trump is about to become part of an exclusive club, and his base is gobbling up whatever shit he sells. On the other hand, the club has no perks, and history will probably call him a real piece of shit. Consequentially, Trump wants to "You're Hired" more TV lawyers, like Alan Dershowitz, and is not-so-quietly losing his shit. The latter is most evident on social media where he's been relentlessly shitposting, now at an average of 60 times a day.

Trump has declared a potential cease-fire in his trade war with China conveniently before the US was set to drop another $160 billion in taxes tariffs on Chinese goods. The deal still needs to get signed, which could happen as soon as today.
Roll Call reports Senate Republicans are pissed they're not going to get a chance to review the final draft of the new NAFTA 2 deal, but the White House thinks it can drag them all over the finish line so Trump can declare a victory.
Congress might have reached a tentative $1.3 trillion agreement to keep the government's lights on through 2020, but now comes the hard part of actually hammering out the deal and convincing Trump to sign it. Trumpists are demanding the deal include more money for his Tortilla Curtain and ICE, but the Washington Post reports that (probably) ain't happening.
The War on Christmas is really real; the US is suffering from a shortage of Christmas trees. A combination of factors has led to the shortage, including (of course) climate change, but bean counters say the primary reason is hippy poors keep recycling fake trees. Meanwhile, deep within the halls of Congress, there's an arms race, and now members are sabotaging each other's artillery.

The real war on Christmas: Who unplugged Perlmutter's snowman?www.youtube.com
British Prime Minister Boris Johnson's conservative Tory party has won in a landslide victory in snap elections. Labour Party leader Jeremy Corbyn says he will fuck off from his leadership position after a "period of reflection." Jo Swinson, leader of the more moderate anti-Brexit Liberal-Democrats, immediately resigned as head of the party after losing her seat in Parliament. Interestingly, the anti-Brexit Scottish National Party won a decisive victory, renewing calls for a second referendum on Scottish independence. Bean counters report share prices of industries Corbyn wanted to nationalize surged overnight. Across the pond The Washington Post has a great postmortem, while Axios writes the results of this election should be a "warning" for US Democrats in 2020. At least we'll have some lovely photos of doggos at polling stations to look at when the United Kingdom crashes spectacularly out of the European Union.

Forbes has released its 2019 list of "The World's 100 Most Powerful Women." German Chancellor Angela Merkel sits at number one, President of the European Central Bank Christine Lagarde is number two, House Speaker Nancy Pelosi is number three, and Greta Thunberg rounds out the list at 100.
Fair Warning: The first hastily conceived cash grabs of Baby Yoda are rolling out. It's mostly ugly toys, dolls, and bootleg swag, so make sure those winter holiday lists aren't getting updated.
The security guard poking Dame Peggington with his nightstick had no idea who she was, and he didn't care. As far as he was concerned she was a demonstrably out-of-place wino who'd passed out in front of Shotgun Betty's during the scramble of last call. With a sigh, the guard shook his head and squawked into his radio that he had a live one who needed a lift to the drunk tank. He stared at the woman slumped over on the bench with an empty bottle of gin and cigarette hanging from her mouth. He hated Iowa; the elections always attracted these clueless, proselytizing old farts who think they can parachute in with the rest of the Ivy League-Acela assholes who kiss the ass of geriatric farmers and machinists, then drink and smoke and schmooze their way through the honky tonks and dives full of horny 20-somethings. Dame Peggington began shouting when two cops arrived, hoisted her up by the collar of her soiled furs and heaved her into the paddy wagon with the rest of the drunks in Des Moines. "How do we stop him, Ronnie," she slurred at the guard. "Fucking Iowa," the guard grumbled and rolled his eyes.
The Daily Show 'splained how Trump has no chill, and the whole family is a bunch of "cartoonishly villainous" assholes who would probably grab every cent in the the Take-A-Penny tray.

Look At These Assholes: Trump Family Edition | The Daily Showwww.youtube.com
And here's your morning Nice Time: LULU AND FRIENDS!

Cats vs Footwww.youtube.com
Follow Dominic on Twitter and Instagram!
We're 100% ad-free and reader-supported, so consider buying us coffee, or get a subscription!
Dominic Gwinn
Dominic is a broke journalist in Chicago. You can find him in a dirty bar talking to weirdos, or in a gutter taking photos.