Maybe Mexico Won't Pay For It? Wonkagenda For Wed., Dec. 19, 2018
Elections
December 19, 2018 09:23 AM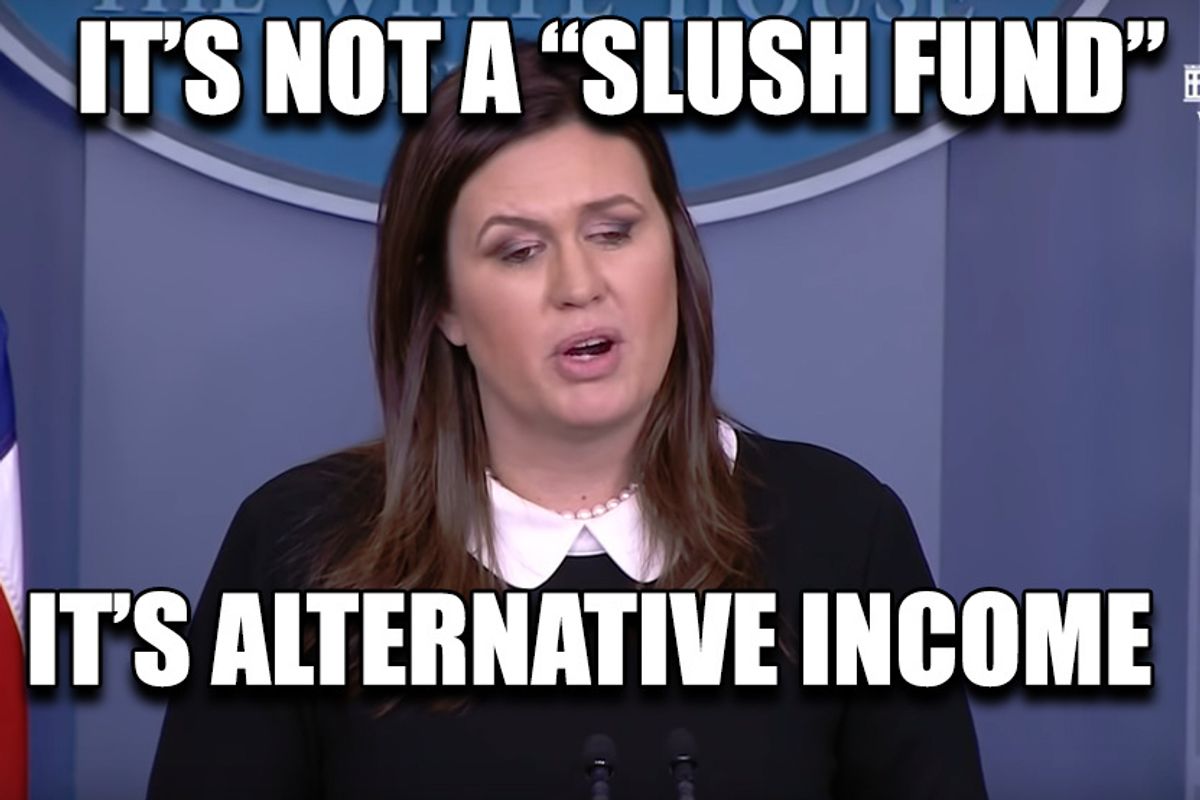 Morning Wonketariat! Here's some of the things we may be talking about today.
---
As we inch closer to the season finale of The Washington Apprentice, Trump's sycophants are (AGAIN) attempting to blame a government shutdown on Democrats. After failing to get Congress to just give him $5 billion for his goddamn wall, the Trump administration is floating the idea of a presidential "slush fund," but lacking votes from within their own party (let alone Democrats), last night senators started whispering their willingness to punt a government funding bill into next year with yet another continuing resolution. Chuck Schumer is standing firm with a $1.3 billion border security offer, but Politico notes some Republicans think Democrats are bluffing about letting Trump drag the government into a shutdown before he fucks off to Mar-a-Lago and millions of Americans trudge shoeless through TSA checkpoints in airports across the country. After his scheduled "policy time" with Mick Mulvaney, Trump seemed to be blinking (again), a suggestion that he may not actually be "proud" to shut down the government over his goddamn wall.
BONUS: Look at the White House press pool as Sarah Huckabee Sanders bullshitted her way through yesterday's rare press briefing. Priceless!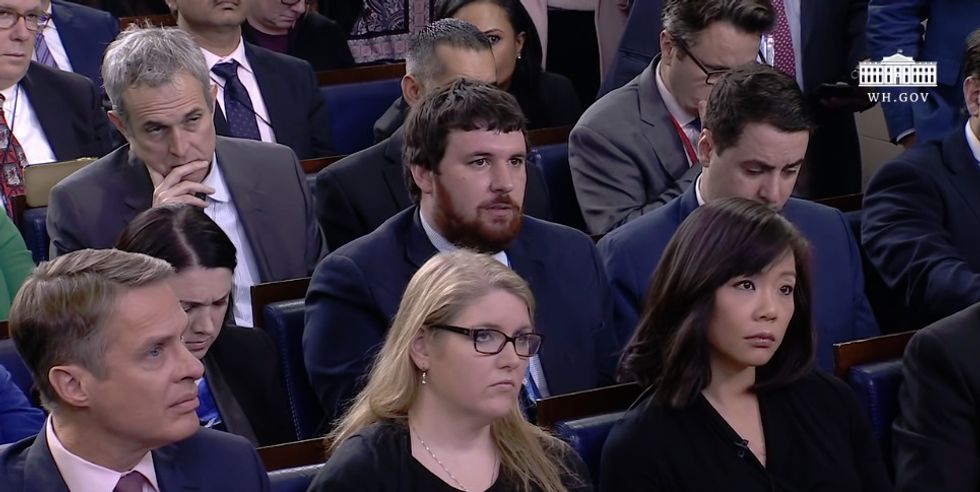 Following an interview on NPR with Lynn Johnson, the assistant secretary at Health and Human Services' Administration for Children and Families, the Trump administration appears poised to send thousands of kidnapped migrant children home for the holidays. However, because the administration has been fingerprinting children and sponsors, there's a fear that undocumented relatives may be hesitant to take charge of the children without risking their own deportation. The proposed rule change would reportedly affect 1,300 migrant children held in Trump's baby jails and tent cities.

The Senate sent Jared Kushner's white collar prison reform bill to the House after an 87-12 floor vote yesterday. According to Senator Dick Durbin, the "poison pill" amendments from Republican senators Tom Cotton and John Kennedy were overwhelmingly rejected, as was a "faith-based" grift from Senator James Lankford. In announcing her support of the so-called "First Step Act," Sen. Kamala Harris called it a "compromise of a compromise," echoing lukewarm sentiments from other senators. Cue the bipartisan backslapping.
Trump signed an executive order establishing the US Space Command. In an announcement at Kennedy Space Center, Mike Pence squinted and spewed rhetoric about Russian and Chinese space weapons hurting our ability to watch crappy reality television. Politico notes that this could be a signal that the DOD and Congress have the White House cornered, and will block anything that tries to make the Space Force its own branch of the military.
Trump also signed another executive order banning so-called "bump stock" devices that jerry-rig semi-auto rifles into fully-auto killing machines. The order states that people will have through March 21 to turn in or destroy the devices, but gun nuts are standing their ground and defending their right to murder shitloads of people home invaders.
Republicans on the House Rules Committee are expected to railroad MORE tax cuts (for the super rich) through the lame duck session by jumping onto legislation aimed at averting a government shutdown. Most of the porktastic spending measures would be in the form of tax credits, like fulfilling Paul Ryan's wet dream of making donations to college frats and sororities for housing improvements tax deductible. SICK, BRO!
Colorado Republican Senator Cory Gardner is super bummed that Senator Chuck Grassley pissed all over his pro-pot law. Gardner has vowed to reintroduce his bill to give states the green light to spark the budding marijuana industry in the not-too-far-out future.
Yes, there's still a congressional election working its way through the courts! Maine Republican Bruce Poliquin is (still) contesting the results of the state's awesome new ranked-choice voting system that helped elect Democratic congressman-elect Jared Golden. Republicans like Poliquin complain the growing trend of ranked-choice voting sweeping local elections around the country is unconstitutional, and that the only legal electoral mechanism is the more familiar plurality voting system (AKA "first past the post"). Political scientists and the court system think Poliquin is a bitter fossil desperately clinging to his old horse and buggy.
The Fed is expected to raise interest rates a quarter of a point this afternoon, no matter what Trump tweets. Economists are fearful that the stock market's recent roller coaster ride, coupled with constant drama in Washington, could exacerbate issues of inflation and wage stagnation. In an interview with Bloomberg, Treasury Secretary Steve Mnuchin blamed the volatility in markets on the Volcker Rule and robots.
Despite the constant bloviating from Pennsylvania Avenue, Wall Street seems more likely to get what it wants, even if that means shaming Trump into ending his stupid trade war with China.
Maryland will try and one-up Republican efforts to kill Obamacare by bringing a case to an Obama-appointed judge in Baltimore that argues the state will be harmed if healthcare markets aren't enforced. It's kind of the opposite of what just happened in Texas over the weekend.
A bunch of women will be heading to the Senate next year, and six states will have all-female delegations after the announcement that failed Republican Rep. Martha McSally would be appointed to fill the seat of Senator Jon Kyl after he decided to fuck off back to K Street.
Since Iowa Republican Rep. Rod Blum was "You're Fired" by voters last month (YAY, congresswoman-elect ABBY FINKENAUER!) we'll never get to see the results of the House Ethics Committee investigation into Blum's scheme to promote his personal involvement in a company that uses Google bombs to hide safety violations and warning letters from the Food and Drug Administration.
A federal court has ruled that as many as 83 complaints against Justice Rapey McPrivilege must be dismissed without determining their merits because he now sits on the SCOTUS. No joke, that's the legal ruling!
Some historically crazy right-wing jackoff in New Orleans just scribbled out his intention to join Jerome Corsi's conspiracy complaint against Robert Mueller. ¯\_(ツ)_/¯
This morning Jim Sciutto tweeted that the Trump administration is planning a "full" and "rapid" withdrawal of US troops in Syria. This is BAD as it hands Syria to Putin's little green men and mercenaries, screws the Kurds AGAIN, and signals to the rest of the world that nobody in the US gives a fuck if dictators murder children with chemical weapons, or drop barrel bombs on journalists.
In case you thought Turkey was your friend, Turkey is continuing with plans to buy missile-defense systems from both NATO and Russia. The US had offered to sell Turkey the weapons to keep it from getting too chummy with Russia, but our continued support for Syrian Kurds keeps chapping the asses of autocrats in Ankara.

Even though their respective governments have all signaled their rejection, Theresa May is begging Ireland, Scotland and Wales to back her Brexit deal. Additionally, May has scheduled a series of votes in Parliament for MPs to put forth alternative proposals in an last ditch effort to salvage what's left of her deal and political career. LOLOL, Good luck!
Elite hackers from China's People's Liberation Army have been snooping on the EU's diplomatic comms network FOR YEARS, according to a report in the New York Times. They also got into networks belonging to the United Nations and the AFL-CIO, where they read about Europe's growing confusion with the Trump administration, the EU's intention to work directly with members of Congress, the UN effort to wrangle North Korea, and hilariously worthless reassurances from White House officials just prior to Trump's Helsinki semi-secret meeting with Vladimir Putin. The hack was discovered by security firm Area 1, and not some basement dwelling troll who weighs 400 pounds. This is BIG!
In an effort to make even MORE money at the expense of user privacy, Facebook has been letting other tech companies hoover up your personal data so they could target you with more obnoxious ads and services. In a new bombshell report from the New York Times, Facebook let Microsoft see your friends list; Apple see your calendar entries; Netflix, Spotify, and the Royal Bank of Canada read private messages; Yahoo see your friends' posts; and Amazon see your contact information. Some of this happened as recently as this summer, despite Facebook swearing up and down that it doesn't do that (anymore). In a nutshell: This is bigger than Cambridge Analytica, and even more damning as it shows Facebook may have violated FTC agreements by lying to users about their information being shared, even if users explicitly denied access. Many of the companies are in damage control mode this morning, and shareholders coming for Facebook CEO Mark Zuckerberg with pitchforks and torches.
Tucker Carlson's money problems are growing after MORE advertisers started running away from Fox News's resident white supremacist. Tuck-Tuck has been hemorrhaging financial support in recent days following a segment where he implied immigrants arriving in Tijuana, Mexico, were making America "dirtier and poorer." In a statement, Fox News says it's standing behind the white power hour and "will not allow voices like Tucker Carlson to be censored by agenda-driven intimidation efforts."

New York AG Barbara Underwood announced that the Donald J. Trump Foundation has agreed to shutdown amid allegations the non-profit engaged in "persistently illegal conduct" as far back as 1987. Underwood stated there was a "shocking pattern of illegality ... including unlawful coordination with the Trump presidential campaign, repeated and willful self-dealing, and much more." Like a seven-dollar "donation" to the Boy Scouts when DJTJ was 11 -- the same price as enrolling a child in the Scouts.

One of the creepy Russians named in THE DOSSIER won a decisive court victory against Buzzfeed News. The court ruled that shady Russian businessman Aleksej Gubarev isn't a public figure, paving the way for a libel suit against Buzzfeed that will inevitably allege that Gubarev was just casually connected with Russia's pee hooker plot and the mysterious computers at Alfa Bank that were talking with the Trump Organization, not directly involved.

CNN's Chris Cuomo got his hands on a letter of intent signed by Donald Trump to build a Trump Tower in Moscow. Wait a minute, didn't Rudy Giuliani JUST SAY that never happened? RUH-ROH!
Fun Fact: There's an adorable little Disneyland-style subway car that ferries members of Congress around the Hill, and it got a slight safety upgrade with an "omnipotent voice" door-closing announcement. You don't want Joni Ernst getting her bread bags caught in the door as she swish-swooshes her way through the Russell building, do you? [C-SPAN Tour!]
And here's your morning Nice TimeIT'S PENELOPE, THE PYGMY HIPPO!!!

Penelope The Pygmy Hippo With Dracaena Leafwww.youtube.com
Follow Dominic on Twitter and Instagram!

We're 100% ad-free and reader supported, so consider buying us coffee, or get a subscription!
Dominic Gwinn
Dominic is a broke journalist in Chicago. You can find him in a dirty bar talking to weirdos, or in a gutter taking photos.