'Tell The Truth.' Wonkagenda For Fri., Dec. 27, 2019
popular
December 27, 2019 08:53 AM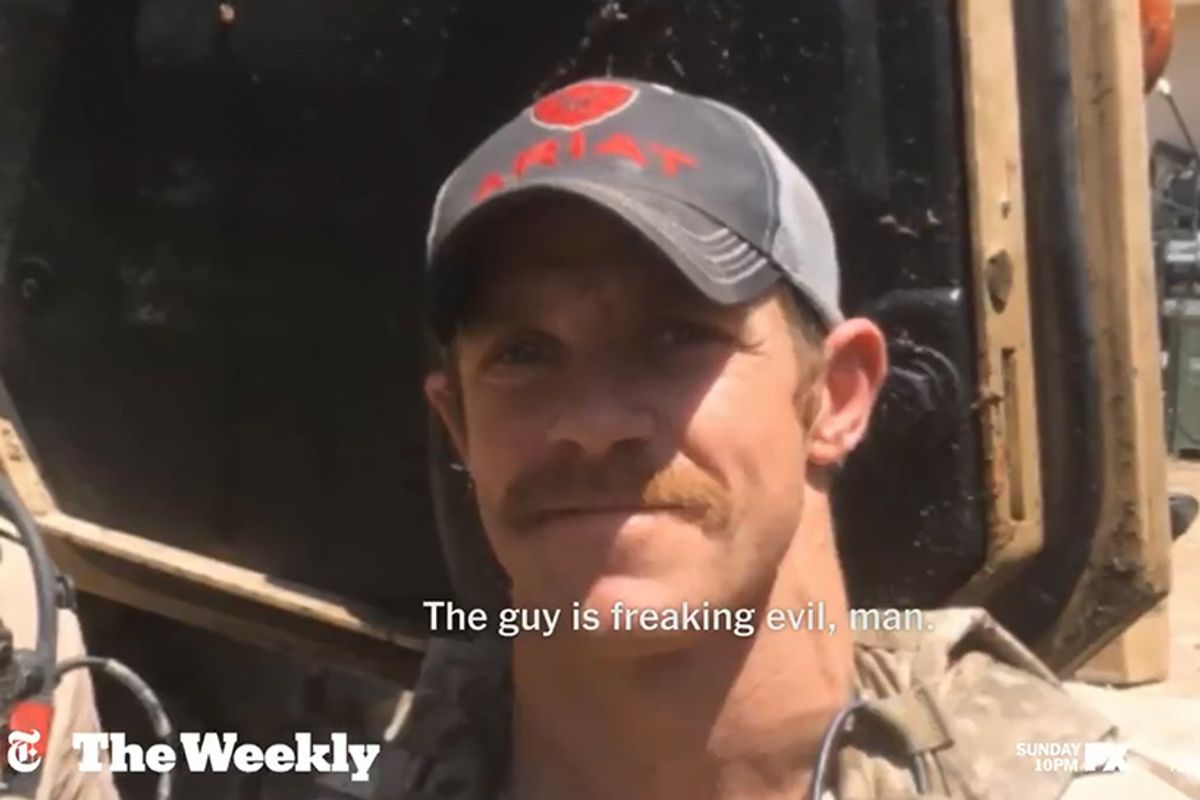 Morning Wonketariat! Here's some of the things we may be talking about today.
---
The New York Times has first-hand accounts from Navy SEALs who served with Special Operations Chief Eddie Gallagher. The grisly details described in tapes and hundreds of text messages stands in dramatic contrast to Donald Trump's portrayal of Chief Gallagher as a patriotic super soldier. Gallagher continues to maintain the allegations are false, and part of a "smear" campaign. Text messages obtained by the Times show members of Gallagher's platoon resisting threats of retaliation and violence and encouraging one another to "tell the truth, don't lie or embellish" so that "he can't say we slandered him in anyway." Interviews between Navy investigators and members of the platoon show service members claiming Gallagher targeted women and children, bragging that "burqas were flying," with one special operator saying, "I think he just wants to kill anybody he can." Over the weekend, Gallagher visited Mar-a-Lago and thanked Trump for pardoning him and restoring his rank and pay after Gallagher was convicted of posing with the corpse of a teenage ISIS fighter.
A new documentary from #TheWeeklyNYT now on @Hulu: Videos reveal new details about the case of Edward Gallagher, a… https://t.co/zUCanwRJrK

— The Weekly (@The Weekly) 1577448000.0
CIA Director Gina Haspell may have to choose where her loyalties lie sooner rather than later. Attorney General Bill Barr's Ukrainium-sniffing dog, John Durham, has been barking at the CIA's door in an effort to dig up dirt about the January 2017 Intelligence Community Assessment that concluded Russia did engage in election fuckery.
In an effort to distract people from his impeachment, Trump retweeted a shitpost from his campaign's "war room" that contained the name of the alleged whistleblower who told Congress Trump was was trying to extort the Ukrainian government for military aid.
Reuters reports administration officials tried to keep from officially designating Mexican drug cartels as foreign terrorist organizations, in part because it would increase the ability for immigrants to claim asylum, and open a potential gateway for US military action. Foreign policy nerds have cautioned that the labeling of criminal organizations as FTOs would similarly raise questions about other international criminal groups in Brazil, China, and (of course) Russia.
The Washington Post's Josh Rogin gossips Trump World is hunting for a replacement secretary of State in the likely event that Mike Pompeo decides #HesRunning for Kansas's open Senate seat in 2020. Rogin also gossips that Pompeo is already kicking the tires on a presidential campaign bus for 2024. At the top of the list to replace Pompeo are National Security Adviser Robert O'Brien, Treasury Secretary Steve Mnuchin, Ambassador to Germany (and alt-right cheerleader) Richard Grenell, Jared Kushner's BFF Brian Hook, and Senators Marco Rubio and Tom Cotton.
The FAA has proposed new rules for drones that would make the majority broadcast a tracking signal for authorities to ID and locate operators. The new rules are an attempt to lessen potential mid-air collisions, and prevent the robopocalypse from raining down robot blood (for now). Don't forget: If you got a drone over the holidays you probably need to register that little pet terrorizer with the FAA.
The Post has a brutal feature on how farmers are getting destroyed by Trump's trade ware. In what's potentially an ominous warning, one dairy farmer tells WaPo, "We're supposed to be feeding the world, and we can't even put food on our own table."
Over the next two decades around 125 pension plans that are backed by Uncle Sam are set to go bust. So far there hasn't been a fire lit under the ass of Republican members of Congress, but Blue Dog Democrats are grabbing torches and hurling them at Senate Majority Leader Mitch McConnell. Ironically, Republicans complain taxpayers shouldn't have to foot the bill for pensions from dying or distressed industries, and warn that bailouts for pension funds could trigger a cascade affect that leads to the bailouts of other industries.
Former Massachusetts governor and 2020 Democratic presidential candidate Deval Patrick won't appear on the March 10 Michigan primary ballot after failing to meet the required 11,345 valid petition signatures. State elections officials found 474 signatures of "dubious authenticity," noting, "where one individual signed three times using the exact same name, address and date of signing for each entry, and another individual signed under the identical name and address two times." This is probably the last time you'll hear anything about Patrick.
ProPublica has a good piece about how Alabama sheriffs have the option to saddle inmates with medical debt while being incarcerated.
While we're on the topic of healthcare, don't be surprised if you get a bill for abortion next month. It's all part of a new Trump administration rule that says insurers have to issue a separate invoice for who-ore services. If I could afford health insurance I'd brag about how much money I was paying to help women get abortions, but that's me.
In between rounds of golf and impeachment-induced tantrums, Trump shitposted that Russia, Syria, and Iran were killing civilians in Syria -- and that "Turkey is working hard to stop this carnage." It was Trump's order to withdraw US forces and US support for Syrian Kurdish fighters that allowed Russia, Iran, and Turkey to invade Northern Syria. Meanwhile, the independent Moscow Times reports Russia has just taken over a third US base in Syria.
FACT CHECK: No, Canadian Prime Minister Justin Trudeau didn't order the CBC to edit a holiday movie to remove a scene with Donald Trump to spite him. The CBC edited eight minutes of the film to make sure it would run within a two-hour time slot; sometimes that means throwing long-winded and unnecessary crap in the trash. The scene has been edited out of broadcasts since 2014.
The bartender sighed at the mess of sagging flesh slumped in a stool at the crook the bar. A patchwork of missing sequins on her dress was magnified under the dim light, but it was the army of empty martini glasses that drew the eye. Anyone who's worked a bar knows the holidays bring out the weirdos, but an aging, depressed debutante squeezed into a red, white, and blue dress was ... different. This bottomless pit of gin bottles had spent the night chain smoking and rambling about America, the commies, smooth talking liars, dead presidents, and what sounded like an ex-boyfriend. "You owe us something for that," Dame Peggington bellowed into the smokey ether, "You owe us your loyalty." The bartender grunted, took a swig of stale coffee, and flipped on the house lights. With an icy leer colder than the coffee, the bartender walked over and snarled, "Last call, Boomer."
Samantha Bee's holiday special has a special appearance by FROST BEE THE SNOWWOMAN!

Frost Bee | Full Frontal on TBSwww.youtube.com
And here's your morning Nice Time: MEERKATS!

Meerkat Beach Partywww.youtube.com
Follow Dominic on Twitter and Instagram!
We're 100% ad-free and reader-supported, so consider buying us coffee, or get a subscription!
Dominic Gwinn
Dominic is a broke journalist in Chicago. You can find him in a dirty bar talking to weirdos, or in a gutter taking photos.