2010 Weeping Eagles: Help Choose History's Worst Political Twitterers!
News
July 02, 2010 11:21 AM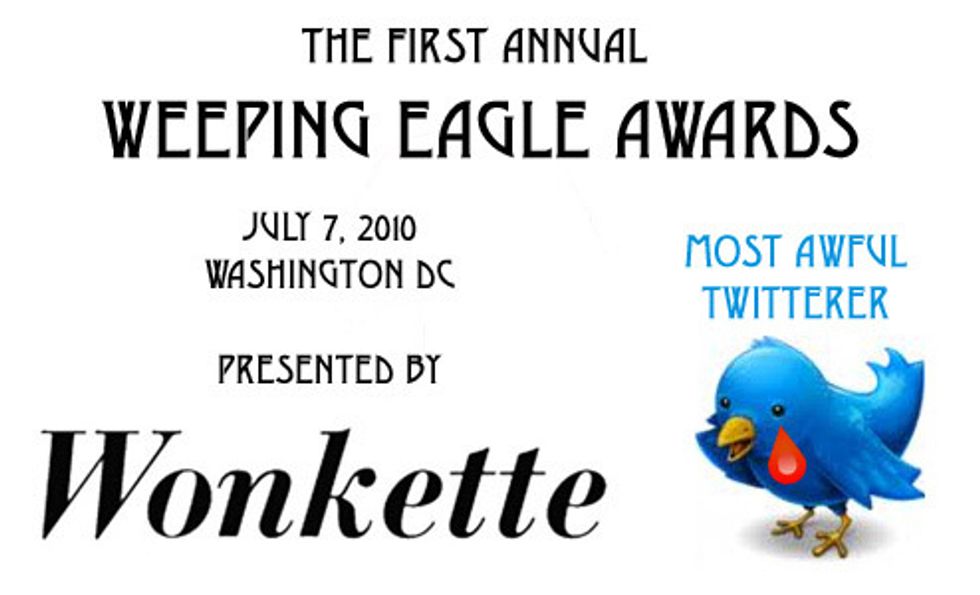 Did you help America choose the very worst Washington Post op-idiot? That was so patriotic of you, to help choose the very special winners of the First Annual Inaugural 2010 Wonkette Weeping Eagle Awards -- the Weagles™! Now it's time to get dirty and pick the worst of the worst from the worst form of media ever: Political people, on the Twitter!
---
Wonkette requests that you actually click the actual Twitter account next to each nominee's name -- which will open in a new window -- so you can truly experience the buttload of awful these people and their banal thoughts bring to Twitter.
This year's Weagle Award nominees for History's Worst Political Twitterer also makes history by featuring two generations of mind-numbingly stupid, self-obsessed Twitter Users. See if you can find the two nominees who share a last name and a complete lack of personal shame:
[poll id="7"]