2017: A Year In Damn Good Journalism
Culture
December 31, 2017 05:00 PM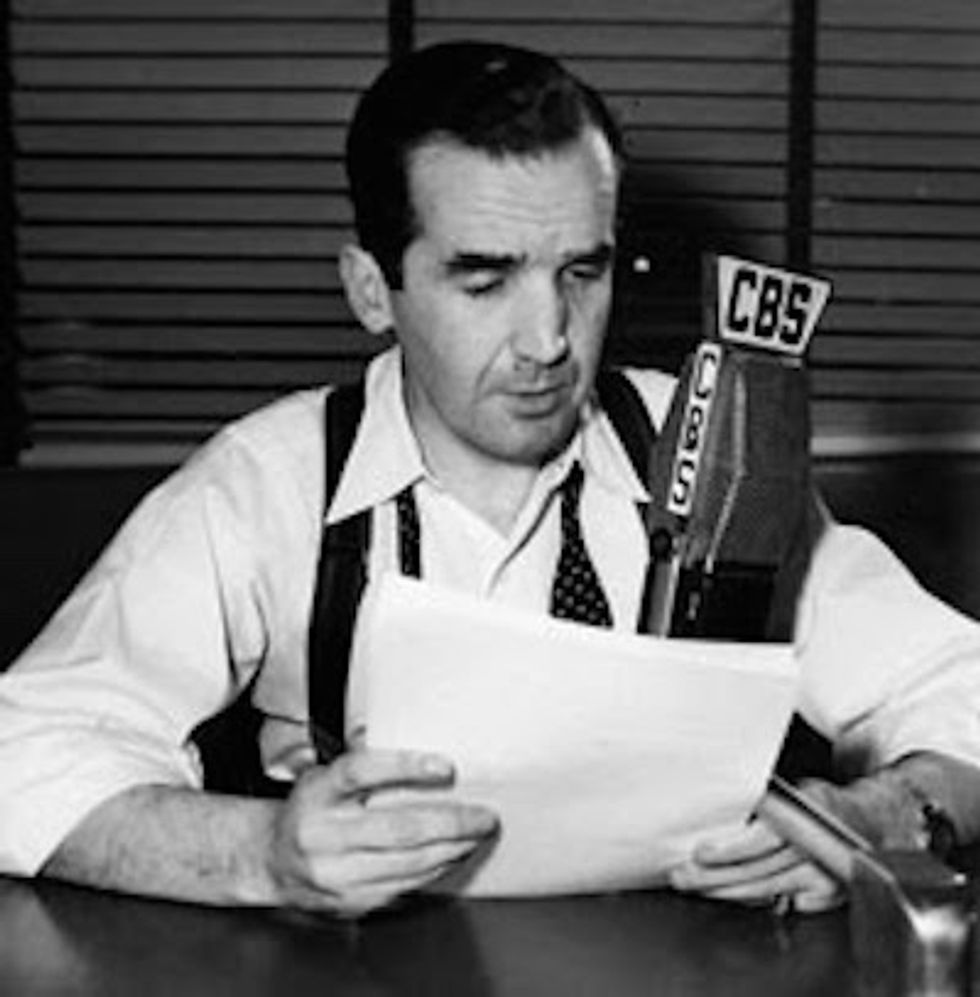 This year, in between the punching of neo-Nazis and environmental catastrophes, a lot of great stories were told by people who opened up their worlds to curious outsiders. Consider this a hat tip, a smile and nod to the people who went the extra mile, raged against the machines, and weren't afraid to get dirty. They are your servants, except Maggie Haberman: the members of our Fourth Estate.
---
Harvey Weinstein falls so hard he takes other perverts with him.
After dozens of women came forward to tell detailed horror stories of sexual assault and abuse from media mogul Harvey Weinstein, an adviser commented to the New York Times that Weinstein was "an old dinosaur learning new ways." Shortly thereafter, we learned Weinstein literally hired spies and PIs to track nosy journalists, and that he had secretly bought his victims' silence. The results of these stories empowered people, not just men and women, and created the opportunity to address the obscene habits of sexual abuse and torture at the hands of some of the most powerful people in the world, and hold them accountable.
Roy Moore hates gays, minorities, Muslims, liberals, Jews, and women, but he LOVES kids.
On the morning of Nov. 9, polls showed Roy Moore crushing Democrat Doug Jones, but everything changed when WaPo dropped a bombshell story about Roy Moore's molestation of a 14-year-old girl in the 1970s. Over the following days, more women came forward with similar stories. As reporters dug into Moore's past, they found it was "common knowledge" Moore preyed on teenage girls during the 1980s, and that he was banned from the Gadsden Mall. With polls growing tighter, the wingnut-o-sphere went into overdrive, using robocalls, lie detector tests, and Trump tweets. It all backfired when WaPo hilariously exposed a Project Veritas cos-player attempting to bait reporters with bogus stories.
R. Kelly has a sex cult, and he used to hold it in Trump Tower
When Jim DeRogatis broke the story about R. Kelly's secret sex cult it seemed to confirm decades of rumors that the singer was was more than just a pedophile and pervert. Kelly tried to keep his dirty laundry trapped in the closets of Trump Tower by denying everything, but then another woman came forward and confirmed that Kelly maintains a secret brainwashed harem of barely legal sex slaves. In an interview after the initial story was published, DeRogatis noted, "...If it had been one white girl, this would have been a different story. But it continues to be young African-American women that he's preying on, and I can't think of anybody who the media cares less about. It's horrifying to me."
Neo-Nazis are even worse than you thought.
The "Unite the Right" protest saw tiki-torch-wielding neo-Nazis marching down the streets of Charlottesville, VA, to profess their love for Donald Trump, and their hatred of everyone and everything else. They left three people dead, including two police officers, and scores of counter-protesters injured before the alt-right darlings retreated to their spider holes. Vice reporter Elle Reeve and her crew were able to get chilling footage and interviews that have to be seen to be believed.
Mexico and America's horrible, no good, very bad drug and border wars.
America's opioid crisis is bad, and it's not getting better, but the side effects have left even more victims in Mexico. These photo essays show how the drug war has led to the rise of cartels in Acapulco and border towns. In turn, the cartels have left Mexicans struggling to deal their own drug addictions. While illegal migration may be down, and Trump mulls funding for his Tortilla Curtain,  illegal border crossings look all too similar.
Your mother loves you very much, go call her right now!
Earlier this year, ProPublica and NPR started investigating the high number of pregnancy-related deaths in the US. The ongoing series is both thought provoking and gut wrenching, telling the personal stories of mothers who died, showing how hospitals and doctors have failed black mothers, and how there is little to no data collection on maternal deaths. Again, since this investigation is ongoing, you can help by telling your story.
Dear Mike Pence, Thanks for all the dead bodies. Love, Chicago.
Forget everything you've heard about the post-apocalyptic murder maze known as Chicago: There's a good chance none of it is true. Chicago's NPR affiliate, WBEZ, has spent the past year analyzing the minute details of Chicago's gun violence and put together a multimedia project that walks you through how guns get to Chicago, the politicians who carry, even the booming funeral industry. [Full Disclosure: I contributed to this investigation.]
Do we really need the pee-hooker tape? (LOL, hell yes!)
One day we'll have a clear, comprehensive and condensed version of the Trump-Russia scandal, but that is certainly not today. While we could talk about the pee-hooker tape, Russian fuckery, and THE DOSSIER forever, we'll have to settle for Frontline's two hour crash course, and Rachel Maddow's special report on THE DOSSIER (in six parts).
Somebody needs to cut Puerto Rico some slack.
Puerto Rico was suffering long before Hurricane Maria decimated its infrastructure. In These Times put the tiny island under a microscope and found that there were storm clouds gathering for a century. Right now, as the people of Puerto Rico continue struggle to survive in Maria's wake, debt-collecting corporate vultures are circling, waiting to pick at the bones.
The UN flips the script on America.
While Congressional Republicans were slashing taxes for the wealthy, a UN special rapporteur on extreme poverty and human rights was touring the homeless encampment in Los Angeles commonly known as "Skid Row." His job was to document the 41 million Americans living in poverty, from the West Coast to the Deep South, and from Appalachia to Puerto Rico. He found drug abuse, open sewage systems, and rotten teeth. At the start of his investigation he commented, "Washington is very keen for me to point out the poverty and human rights failings in other countries. This time I'm in the US."
BONUS NICE TIME!
In January, as a constant stream of breaking news alerts left us all a jittering and over-caffeinated wreck, a premature baby hippo named Fiona was born. Fiona reminds us that the world isn't an awful place, and sometimes the best thing in the world is a silly little animal without teeth that noms on your leg until you smile.
Wonkette loves you and wants you to be happy. Now give us money.
Dominic Gwinn
Dominic is a broke journalist in Chicago. You can find him in a dirty bar talking to weirdos, or in a gutter taking photos.