2017: The Year Those Stupid Fucking Lawyer Jokes Finally Died
Elections
December 31, 2017 08:00 PM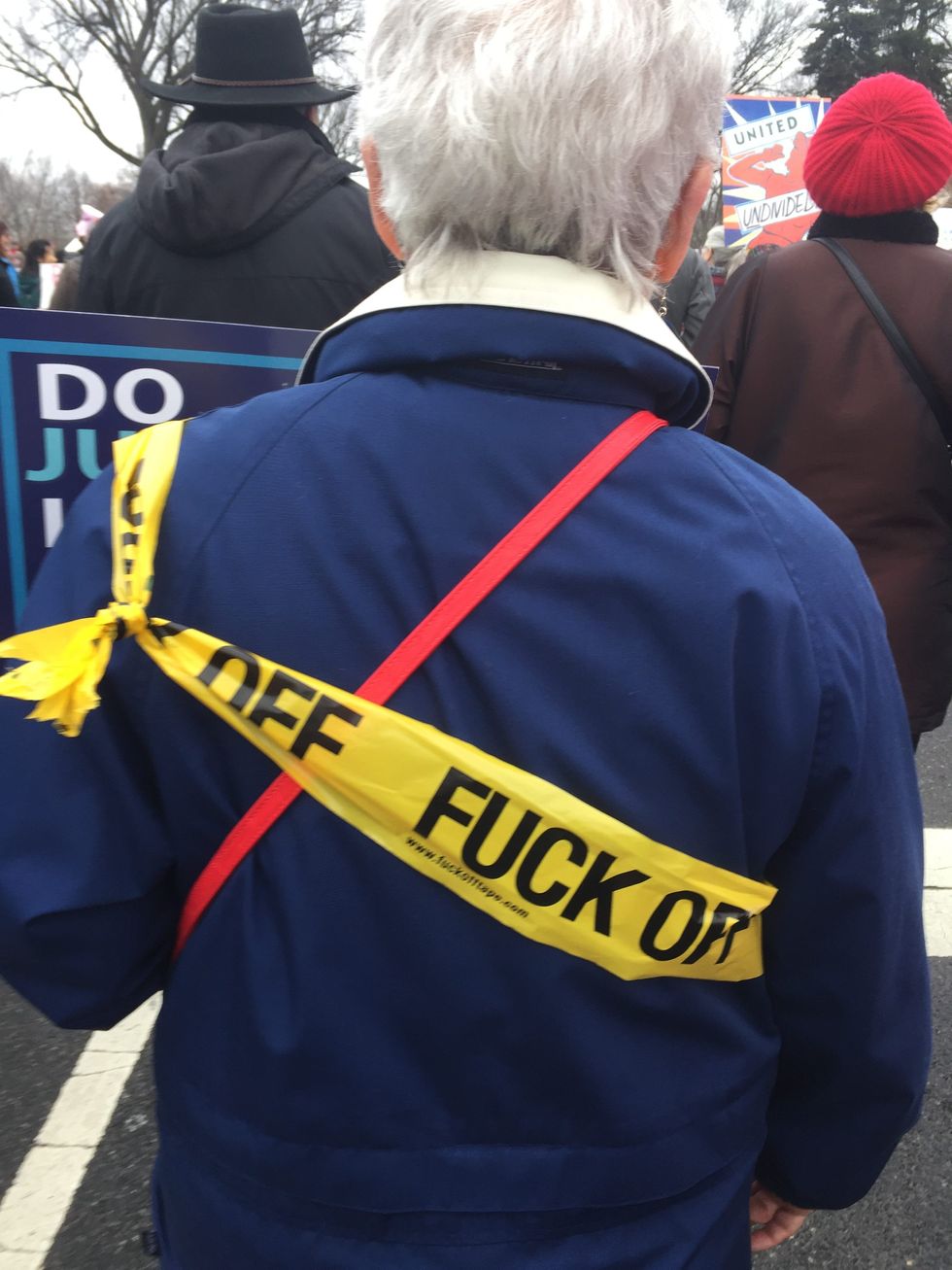 ---
See that lovely lady? That's my mom at the Women's March in DC in January. That's what a VERY PISSED OFF lawyer looks like. If Donald Trump's election did anything, it transformed a whole lot of us from armchair liberal lawyers to out in the fucking street lawyers. We might not have marched in a Black Lives Matter protest in 2016 (and shame on us!), but we're here now. In 2017, the lawyers SHOWED UP. So let's remember four of the many, many, MANY legal stories this year. This shit was crazy, and it almost killed us dead.
JK! WE LIVE FOR THIS STUFF, AND THERE'S NO PLACE WE'D RATHER BE!
The Travel Ban
In the beginning was the Word. And the Word was with Trump. And the Word was Trump. And the Word was BANNON. That's right, brothers and sisters and other non-binary siblings. Cast your minds back to January, at the very beginning of this nightmare when Steve Bannon and that flunky Steven Miller were drafting those gonzo Executive Orders.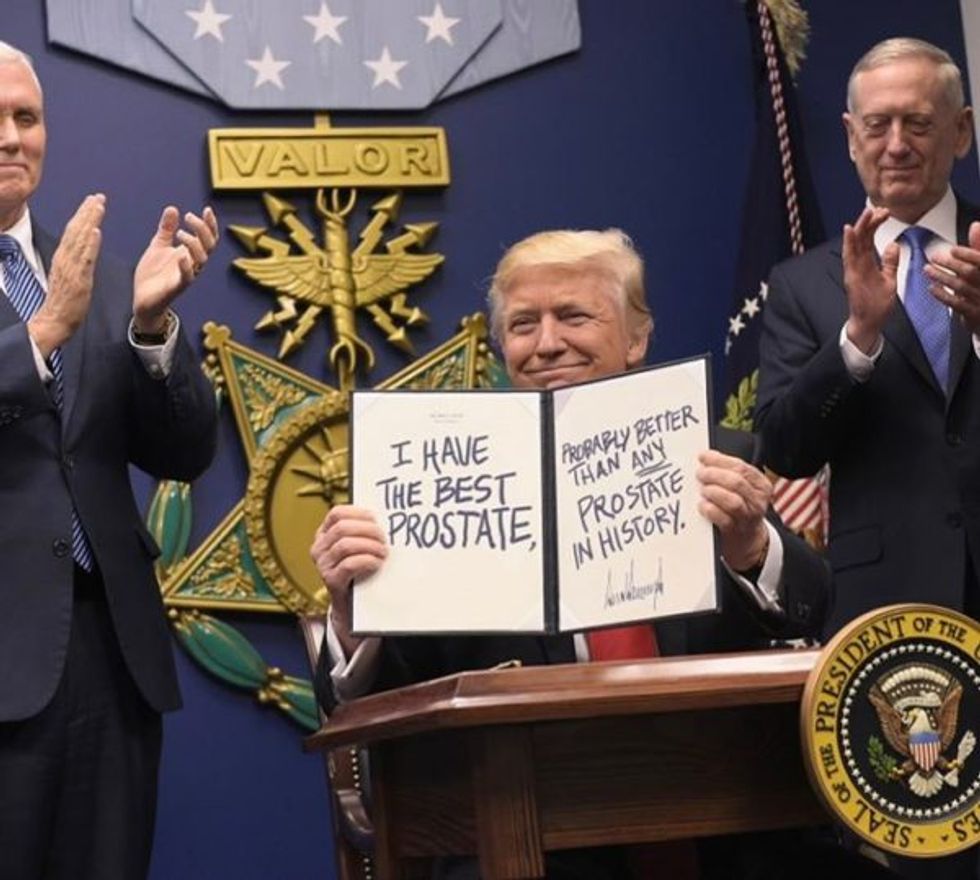 On January 27, Donald Trump signed that first piece of crap Muslim Ban, barring all refugees and any non-US citizens from Iran, Iraq, Libya, Somalia, Sudan, Syria and Yemen from entering the country. There was immediate pandemonium at the airports, as legal US residents and visa-holders were detained and expelled from the country, huge numbers of protesters massed, and thousands of lawyers came out swinging WITH LAPTOPS.
Lawyers are stationed at airports across U.S. If you know someone entering country, tell them not to sign anything before talking to lawyer

— ACLU (@ACLU) January 28, 2017
It was the primal scream of the professionals, AND IT WORKED.
Trump fired Acting Attorney General Sally Yates because she said his order was an illegal piece of crap. But by January 30, courts in Brooklyn, Boston, Virginia, Seattle and Los Angeles had issued Stop Enforcing This Illegal Piece of Crap Orders.
Naturally Trump responded with a bunch of tweets that wound up being used against him later in Court.
The opinion of this so-called judge, which essentially takes law-enforcement away from our country, is ridiculous and will be overturned!

— Donald J. Trump (@realDonaldTrump) February 4, 2017
People, the lawyers and the courts can call it whatever they want, but I am calling it what we need and what it is, a TRAVEL BAN!

— Donald J. Trump (@realDonaldTrump) June 5, 2017
The Justice Dept. should have stayed with the original Travel Ban, not the watered down, politically correct version they submitted to S.C.

— Donald J. Trump (@realDonaldTrump) June 5, 2017
And then on February 4, the White House tapped out. Muslim Ban 1.0 was dead. We did it! And yeah, we're still fighting it out. Bannon's gone, but that rancid little weenus Miller is still there trying to keep out the browns. But this original confrontation set the tone for the whole year, and your FDF has never been prouder of her tribe.
(I'm not crying! You're the one who's crying!)
Sanctuary Cities
Time for another Steve Bannon special! This time he huddled up with the weenus and cooked up a plan to punish those librul cities who refuse to hand over all the undocumented immigrants to the ICE shock troops. It was hella illegal, but they stuck it in front of the Old Man and he signed it anyway.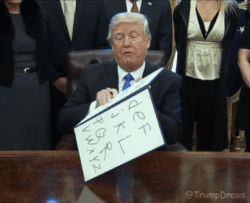 The Order vested the DHS Secretary with subjective discretion to label a "sanctuary city" and explicitly conditioned receipt of all federal funds on cooperation with DHS. Which violates the Constitution four different ways and also Karma, who piped up to remind them that red states had successfully sued the Obama administration for trying to withhold money for not complying with the ACA.
DOJ lawyers argued that despite the plain language of the law, it wasn't a threat. And they weren't going to withhold money for education and Medicaid, just, ummmm ... law enforcement stuff. But then Trump sat down with Gropey O'Reilly and cleared the whole thing up.
I don't want to defund anybody. I want to give them the money they need to properly operate as a city or a state. If they're going to have sanctuary cities, we may have to do that. Certainly that would be a weapon. […] I'm very much opposed to sanctuary cities. They breed crime. There's a lot of problems. If we have to we'll defund, we give tremendous amounts of money to California . . . California in many ways is out of control.
BUH-BYE. No, for serious, BITCH, BYE!
Courts Tell Trump to GTFO With His Transgender Military Ban
After courts kicked the Trump administration in the nuts about 40 times, they stopped letting Bannon write Executive Orders and started letting IRL lawyers look at laws before they had a big signing ceremony. But they couldn't stop Commander Twitterfingers!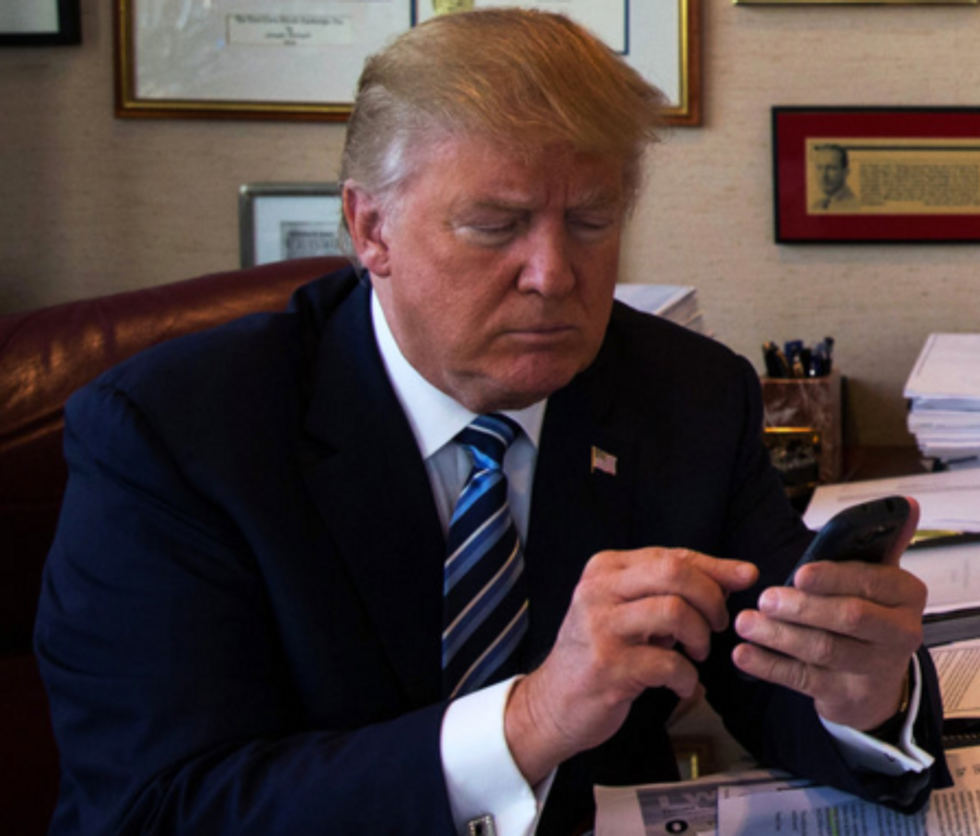 After Congresswoman Vicky Hartzler (R-Bigot) told Trump he was getting no pesos for his Wall until the military stopped funding gender reassignment surgeries, the old fool tweeted,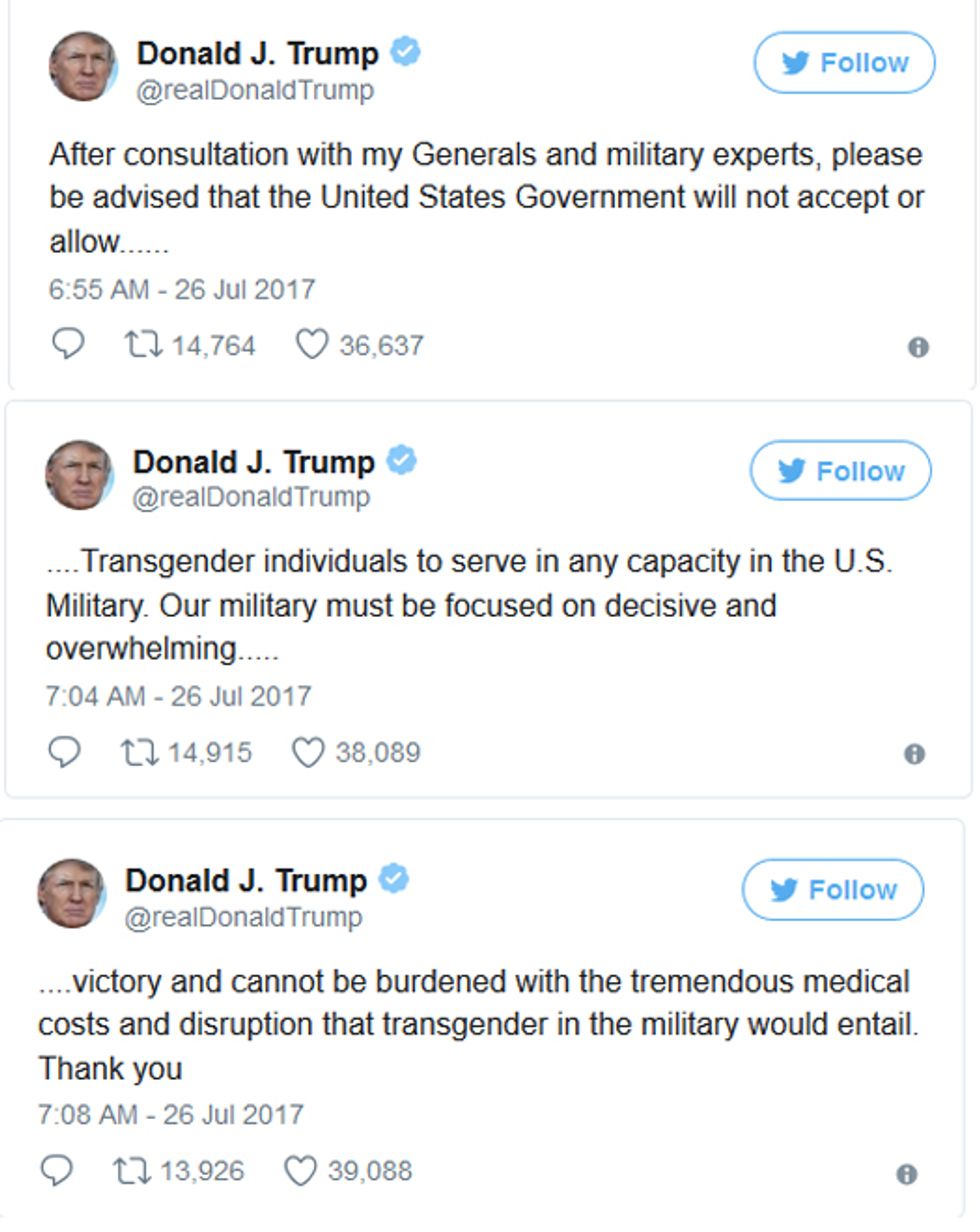 Of course he hadn't consulted with his generals, there is zero harm to military readiness from trans troops, and the medical costs related to their care is negligible. Which is why General Mattis had told Vicky Hartzler to go pound sand in the first place. At first the military tried to ignore the old man -- tweets aren't orders. But in August he signed a directive delegating authority to Mattis to implement the new ban.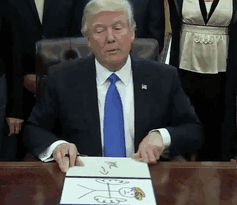 At every turn, courts have told the Trump administration NO! and SHUT UP! and finally GET THE FUCK OUT OF HERE! People came out of the closet, enrolled in ROTC, and planned their lives in anticipation of the ban being lifted, and it violates due process to take away their rights because of a presidential tweetstorm. So next week, the military will begin accepting openly transgender recruits. Which is NICETIMES, since basic human decency is something we're congratulating ourselves for in this Trumpian hellscape.
Even better, the DC Circuit ruled that discrimination against trans people IS sex discrimination, which is huge! Other courts have held that discrimination against gays and trans people violates the 1964 Civil Rights Act -- you can't fire someone for being a lady, thus you can't fire someone for being the wrong kind of lady, i.e. one who sleeps with other ladies, or was born with a penis. But this is far from settled law, and if Trump's stupid trans tweets end up bolstering this legal standard, it will be fucking beautiful.
Looking Ahead: Gerrymandering
As it stands now, partisan gerrymandering is totally kosher as long as you don't use race as a basis for drawing your districts. It's perfectly legal for Republicans to try to dilute the power of urban Democrats by slicing them up into a hundred districts; they just can't use race to figure out where to do the slicing. In the past, Republican mapfuckers have generally used "black" as a proxy for "Democratic," which is why districts in Texas and North Carolina got tossed this year. But with granular voting data and better computers, the mapfuckers will soon be able to do the cutting without leaving a mile-wide trail that says, PUT THE BROWN PEOPLE HERE! And then we are all screwed, because the GOP will be able to gerrymander the country even more to shit.
This fall, the Supreme Court heard a challenge to Wisconsin's ridiculous districts, which ensure that Republicans will continue to take 60% of the seats while receiving 50% of the votes. Does this violate Democrats' First Amendment and Equal Protection Rights?
IT SURE AS SHIT DOES! YOUR WONKETTE FOR SUPREME COURT JUSTICE!
Sadly, Your Wonkette will probably not be nominated for a seat on the Court any time soon. So it's all down to Justice Kennedy now. You can read our award-winning dramatization of the Supreme Court argument in the gerrymandering case right here. Perhaps there's a chance, however small, that the Supreme Court will do the right thing?
We're taking it as a good sign that this month the court agreed to hear a Maryland case where the mean Democrats are gerrymandering to repress Republican votes. Your FDF can confirm, Maryland is hilariously rigged to make sure that shitweasel Andy Harris is the only Republican in our Congressional Delegation.
Is this the companion case that will allow the Court to make a Both Sides argument? Let's just say YES. Because it's New Year's, and we choose to be optimistic. Because this year could have been SO MUCH WORSE if the Trump administration weren't so shockingly incompetent. Because in 2017, the lawyers held the line. So, thanks for letting me Lawsplain to you this year, Wonkers! And a very Happy New Year to you all!
Love,
Did you know it is good luck to money Your Wonkette on New Year's Eve? Science Fact!
Liz Dye
Liz Dye lives in Baltimore with her wonderful husband and a houseful of teenagers. When she isn't being mad about a thing on the internet, she's hiding in plain sight in the carpool line. She's the one wearing yoga pants glaring at her phone.