He'll Cry If He Wants To. Wonkagenda For Thurs., June 14, 2018
Elections
June 14, 2018 09:04 AM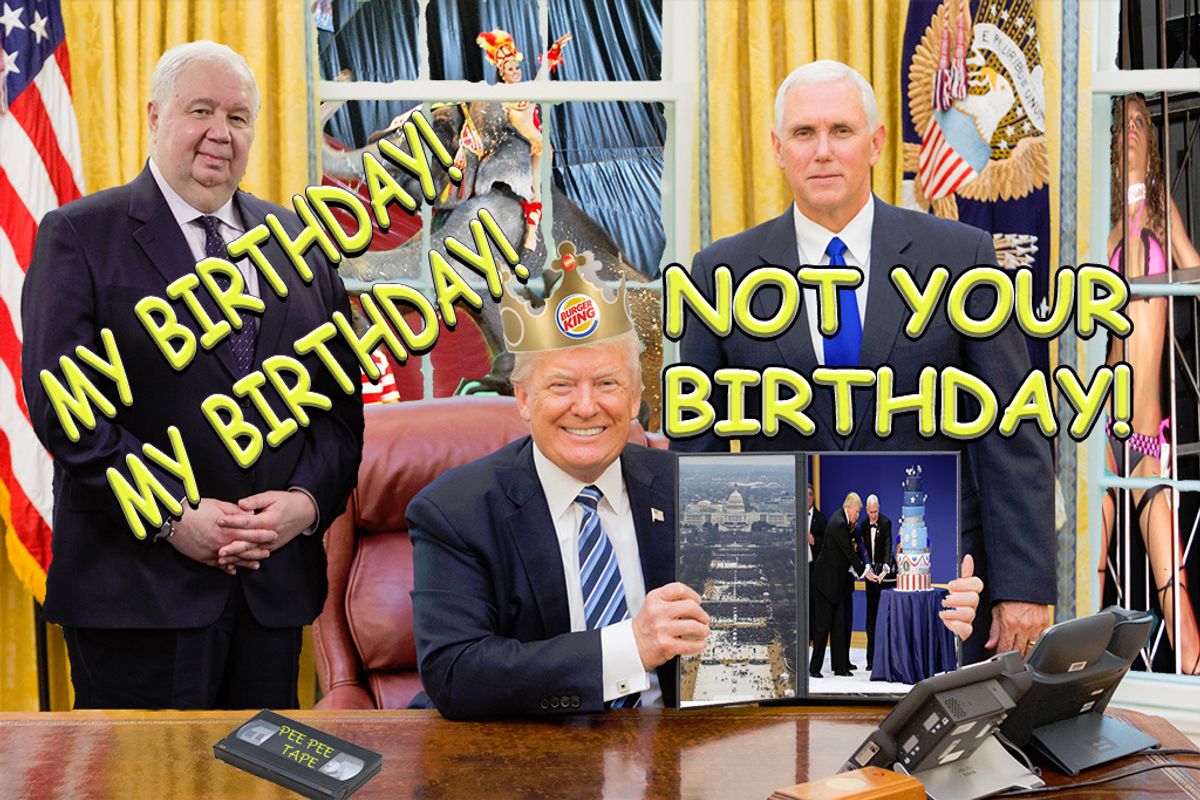 Morning Wonketariat! Here's some of the things we may be talking about today.
---
Trump's White House Counsel Don McGahn recused everyone on his staff from Trump-Russia stuff last summer as most of them are all involved in some way. LOLOLOL.

Rudy Giuliani says that Michael Cohen is "not cooperating" with Robert Mueller, and adds that he won't cooperate because if he cooperates there won't be anything to cooperate on.
Trump sat down with Fox News' Bret Baier to brag, boast and build up Kim Jong Un, praising the North Korean dictator as a "very smart guy" and "great negotiator" who wasn't such a bad hombre. Trump also advocated for Russia to rejoin the G-7 (again), shrugging off Baier's obnoxious reminder that Russia's invasion of Ukraine was the reason it was expelled.
Mike Pompeo is trying to clean up the steaming load Trump dropped in Singapore by claiming that North Korea won't get sanctions relief until it submits to complete denuclearization. When pressed about how we could verify North Korea had "deNuked," Pompeo bitched out a reporter. [Archive]
Later today the Justice Department is expected to release the IG report on James Comey's handling of HER EMAILS.
CBS is reporting that Sarah Huckabee Sanders and Raj Shah are trying to leave Trump's White House with the rest of the rats fleeing Trump's sinking ship, and that the exodus of staffers is expected to grow.
Good news, funemployed politicos! Trump's White House will be having a job fair to fill the giant staffing holes! No experience necessary!
Now that the National Review and Laura Ingraham are calling on Scott Pruitt to resign, Senate Republicans want to hold a hearing into all of Pruitt's grifty scandals.
A new poll by PPP finds people trust the (actual) news outlets more than Trump by a wide margin, Trump's approval ratings and 2020 chances are dismal, Democrats are leading on 2018 ballots, and nobody likes the Trump tax cuts (for the super rich).
McClatchy is reporting that the military judge in the trial of Khalid Sheikh Mohammed, the alleged 9/11 mastermind, has scheduled 16 weeks of pretrial hearings at Gitmo in 2019, right around Ramadan.
The National Guardsmen Trump sent to reinforce the US Border Patrol are literally shoveling horseshit so that Border Patrol agents can reenact their favorite episodes of "Walker, Texas Ranger."
MSNBC got inside one of Trump's detention centers, reporting that 1,400 children are locked inside an old Walmart for 22 hours a day. WaPo has even more expansive story on the center the government calls "Casa Padre."
White House basement troll Stephen Miller met with GOP legislators yesterday and told them that their immigration bill is probably their last chance to pass any kind of conservative immigration reform. They responded by asking for a Trump tweet to cover their asses before a vote. [Archive]
Devin Nunes's congressional neighbor, Rep. David Valadao, had his family dairy farm seized by Uncle Sam for failing to repay $8 million in loans. He's blaming "burdensome government regulations" for his failure to pay back the bank.
Behind closed doors, Bob Corker has become the newest pariah of the Republican party for his disapproval of Trump's trade war.
Trump's trade war is expected to make things like birth control, beer, and TVs more expensive; now red state conservatives are being forced to choose between Trump and free-trade principles.
Some Republicans are throwing up their hands in defeat, declaring they've lost control of their party to Donald Trump and his cult of conspiracy nuts.
Georgia Secretary of State Brian Kemp can rest easy tonight knowing that the federal government has withdrawn its challenge to a state law that purges voters after a narrow SCOTUS ruling found a similar law in Ohio was totally fine.
The National Democratic Redistricting Committee is suing to create new majority-black congressional districts in Alabama, Georgia, and Louisiana by 2020 based on the states' histories of disenfranchising black voters through GOP-led "packing" and "cracking" efforts from 2011.
Down-ballot Republicans who can't afford Trump are settling for his disgraced former minions to gin up support and money from the sad, old fuckers who clamor for selfies with the Mooch, Spicey, Mike Flynn and Reince Priebus.
With polls showing convicted felon Michael Grimm neck and neck with Rep. Dan Donovan in the GOP primary for the New York 11th District, Rudy Giuliani will campaign for Donovan. What could possibly go wrong?

Dennis Hof, an actual pimp, won a GOP primary for a state House seat in Nevada, and the local Republican establishment is NOT happy.
Tim Draper, a crazypants rich guy, has a plan to split California into three states, and he just got enough signatures for it to appear on California ballots this November.
Chicago Mayor Rahm Emanuel's dream of getting to and from the airport without dealing with hipsters, poors, or the homeless on the L is one step closer now that Elon Musk has been given a green light to build a high-speed rail system to downtown Chicago.

Federal prosecutors are accusing an Indian couple in Chicago of human sex trafficking. Prosecutors allege they lured aspiring Indian actresses to the US and imprisoned them in a two-story apartment, whoring them at conferences throughout the country.
London Breed has become San Francisco's first African-American lady mayor! Hurray!
On top of being ranked dead last by FIFA, economists think that Russia's hosting of the 2018 World Cup will be a financial boondoggle, and will only plunge the country deeper in debt. Luckily, Putin's sanctioned stooges are expected to make a killing along with US companies like Coke and Visa. Have a riot, ya brass neck bastards. [Archive]
Just like the US, Europe is going through its own immigration crisis as refugees fleeing war-ravaged countries are met by violent right-wing neo-nationalists espousing the same racist rhetoric as Donald Trump. [Archive]
The UN has condemned Israel for its use of excessive force against Palestinians, and rejected a US attempt to blame the violence on Hamas.
Samantha Bee 'splainered the garbage people behind "crisis actor" conspiracy theories. [Part 1 & Part 2]
The House passed a bill banning child sex robots. It's called the CREEPER Act.
After a new report suggested that the price of Bitcoin was manipulated to inflate its value last year, the price of the Internet's magic money sank further into the toilet. [Archive]
And here's your morning Nice Time! A goat kid stampede!!!
We're 100% ad-free and reader supported, so consider buying us coffee, or getting a subscription!
Follow Dominic on Twitter! and Instagram!
Dominic Gwinn
Dominic is a broke journalist in Chicago. You can find him in a dirty bar talking to weirdos, or in a gutter taking photos.