The 154th Mass Shooting. Wonkagenda For Fri., June 29, 2018
News
June 29, 2018 09:10 AM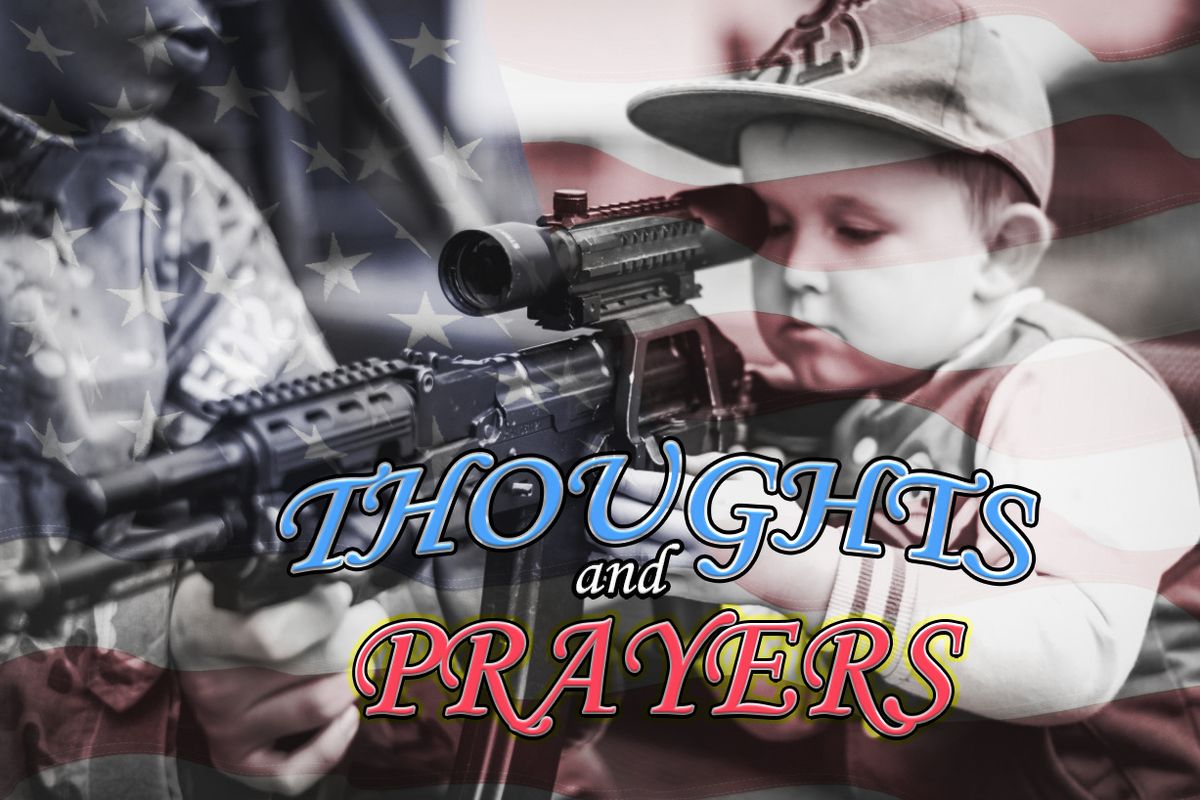 Morning Wonketariat! Here's some of the things we may be talking about today.
---
First, let's start off with some red panda cubs!

Five people are dead and several others wounded after a disgruntled man stormed the newsroom of local Annapolis, Maryland, newspaper, the Capital Gazette, with a shotgun. This marks the 154th American mass shooting of 2018.
NPR has a brief obit, but we recommend heading to the Capital Gazette:
Gerald Fischman, 61; Rob Hiaasen, 59; John McNamara, 56; Wendi Winters, 65; and Rebecca Smith, 34.
As the Trump administration offers "thoughts and prayers" and credits first responders, many are criticizing far-right rhetoric espoused by Trump and his supporters inciting attacks on journalists.
Early this morning Milo Yiano-whatever refused to apologize for encouraging people to "start gunning journalists down on sight" the other day, and instead doubled down. How edgy.
Ties between Russia, Brexit leaders, and the 2016 Trump campaign were deeper than originally thought, according to a new WaPo report on the "Bad Boys of Brexit."
Lawyers for Paul Manafort are asking a federal appeals court to release him as he faces charges by Robert Mueller. They complain that Manafort is "locked in his cell for 24 hours per day," and that allegations he was tampering with witnesses are "thin." Somebody is homesick at sleepaway camp.
Michael Cohen is trying to re-brand himself as a not-bad guy by posting selfies with Tom Arnold and telling people how mean Trump has been.
The House voted to give the DOJ seven days to turn over a bunch of documents on Trump-Russia and HER EMAILS. The vote doesn't mean anything, it's just House Republicans screaming with diapers full of shit. Again.
The House Republicans SWEAR they're going to have another vote on immigration after the July Fourth recess, but nobody expects it to pass since it's the same damn stuff.
A former ICE spox who resigned in protest sat down with CBS to talk about how spin turned to lies -- and ICE decided to pay him a visit during the interview.

Mike Pence went to Guatemala City to tell leaders from Honduras, El Salvador, and Guatemala to "come legally, or don't come at all," before receiving tributes to Trump. Very Christ-like.
Republican Rep. Carlos Curbelo is feeling burned by House Republicans who took money from his pro-immigration PAC, and then stabbed him in the back. Poor baby.
The Senate passed the farm bill 86-11, so now we get to spend the rest of the summer arguing with wingnuts in the House trying to kill food stamps. Hurray....
Three of the most vulnerable Senate Democrats were invited to Trump's White House for some policy-minded schmoozing. Also in attendance, Susan Collins and Lisa Murkowski. Fun fact: they're all swing votes for the upcoming The Heritage Foundation Trump policies and SCOTUS pick.
Mitch McConnell says he grew a warm rubbery one when his wife yelled at student protesters, telling reporters, "I loved it. It went viral on the Internet, and I've got one tough wife."
Evil trolls Nick Ayers and Mick Mulvaney are being considered to replace John Kelly as Trump's chief of staff. The WSJ reports Kelly is expected to be quit-fired in July.
NBC reports that planning is underway for Trump's parade, but there's no money to pay for it, and resources are already stretched thin. According to one senior US official, "There is only one person who wants this parade."
The House passed a bill to restore coverage for so-called Blue Water veterans suffering from the effects of Agent Orange.
There's a big shortage of long haul truckers right now, and it's expected to get worse in the coming years, potentially upending the US economy.
During a DNC fundraiser last night Obama told people to wake the fuck up and stop dreaming of a savior, noting, "You are right to be concerned," before adding that it's time to get off couch, get dirty, and get out the vote.
Democratic Rep. Sean Patrick Maloney says he tried to buy tampons for his office, but the House Administration Committee denied his request, allegedly stating in an email that tampons are "not an office supply but a personal care item," before telling the congressman to shell out $37.16. The HAC denies Maloney's claim.

Utah Republican Rep. Mia Love is just barely holding onto her lead over Salt Lake City Mayor Ben McAdams, 45-39.
A new poll shows Mike Sherrill, the Democratic candidate for New Jersey's 11th District, leading Republican Assemblyman Jay Webber 40-38, but it's still way too early to make a call in this traditionally Republican district.
A separate poll shows Democratic Candidate Tom Malinowski with a similarly narrow lead over five-term Republican Rep. Leonard lance in the New Jersey 7th, 47-45.
New Jersey is facing a government shutdown over a proposed tax on the super rich being pushed by Democratic Gov. Phil Murphy.

Axios reports that Trump wants to pull the US out of the WTO, and frequently complains, "We always get fucked by them." Aides do try to talk sense into him and ignore his nationalist rants, but they're constantly worrying he'll run off to shitpost on Twitter.

Ahead of the NATO summit in Brussels next month, many European officials fear they're now on their own as Trump tries to rip up international peace and trade alliances, and plays right into that hands of US adversaries by defending Vladimir Putin and denying Russian aggression and cyber fuckery.
EU leaders have signed off on an outline for a migration deal meant to curb the flood of asylum seekers risking their lives to cross the Mediterranean.
NBC is facing criticism over the potential spiking of a #MeToo story on entertainment mogul Russel Simmons that alleges Simmons raped and/or sexually assaulted two women in 1994 and 2006 being investigated by Joy Reid, echoing similar treatment of stories involving Harvey Weinstein and Donald Trump.
Politico has the weird story of the failed "Trump City" in Manhattan, and how Trump ultimately pocketed millions.
Jeff Flake apparently wants to be a TV talking head and has been quietly making the rounds at MSNBC and CNN.
The FEC is having a hell of a time trying to create new rules for political ads on the Internet, so don't expect anything before the midterms.
ICYMI: Wired reported a marketing firm in Florida had left open a two terabyte database of 340 million Americans and businesses. Instead of drivers licenses, credit cards or social security numbers, this database contained highly specific information like personal interests, habits, gender, pets, religious affiliation, clothing taste, and specific information about children (in addition to phone numbers and addresses). No biggie.
Legislators in California just passed one of the strongest data privacy laws in the country. Similar to the European GDPR, the law is set to go into effect January 1, 2020 and could fundamentally change the internet by making companies tell consumers if their personal information is collected and/or sold, and gives people the right to opt-in/out of the sale of their data.

A 32-year-old Wisconsin man is being treated for injuries after a camera on his foot exploded while he tried to take upskirt videos.
A struggling rapper in LA shut down the 110 Freeway for hours after he climbed atop a highway sign and unrolled anti-pollution banners in a publicity stunt/music video shoot. Social media posts show him shouting from a megaphone, dancing, rapping and taking the occasional vape break.

Finally, Jon Stewart made a special appearance on Colbert to spit some hot Jewish and had some words for Trump...

And here's your morning Nice Time!

We're 100% ad-free and reader-supported, so consider buying us coffee, or get a subscription!
Follow Dominic on Twitter and Instagram!
Dominic Gwinn
Dominic is a broke journalist in Chicago. You can find him in a dirty bar talking to weirdos, or in a gutter taking photos.