A Belated Happy Birthday To Jimmy Carter, Peace Be Upon Him, It's GODDAMN FUCKING NICE TIME!
US of America News
October 02, 2017 05:05 PM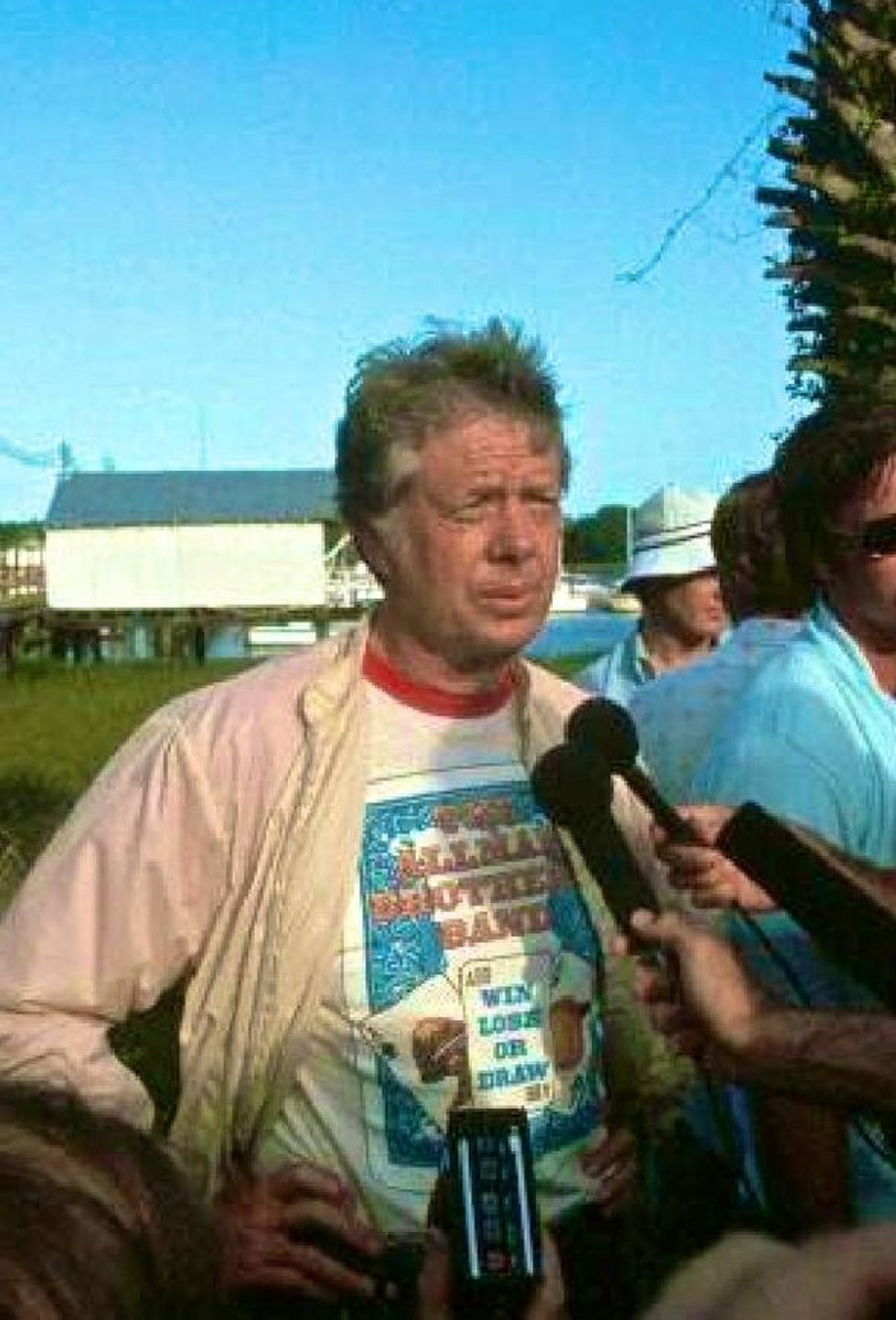 Trouble No More
---
Yesterday was Jimmy Carter's 93rd birthday. (Peace be upon him.) He celebrated it by teaching Sunday school at his church in Plains, Georgia, as he does most Sundays. He didn't go on Twitter to tell the world what a great Sunday school teacher he is, and he says maybe now that he's 93, he and Rosalynn might start thinking about putting in fewer hours at the Carter Center, just a little bit. At least, the subject has come up:
"We thought about this when I was 80. We thought about it again when I was 85; we thought about it again when I was 90. So this is a propitious time I think for us to carry out our long-delayed plans."
Or maybe he'll wait until the Guinea Worm, a nasty parasite the Carter Center has been trying to send into extinction, is finally eradicated.
The Wall Street Journal reports Carter didn't actually talk about his birthday during Sunday school either -- he stayed focused on the first chapter of Paul's letter to the Galatians (we understand that has nothing to do with Galactus, incidentally), but after Carter resumed his seat, things got a little more festive:
For the offertory hymn, David Osborne, dubbed "the pianist to the presidents," showed up to play a medley that blended John Lennon's "Imagine," Mariah Carey's "Hero" and the 19th-century hymn "I Surrender All"—on a Steinway piano brought in specially from Atlanta. "You're my hero," Mr. Osborne said, turning to Mr. Carter.

Paul Stubblefield, a Las Vegas-based R&B singer, serenaded Mr. Carter with a tune that meandered from "What a Wonderful World" to "Georgia on My Mind" and, finally, to "Happy Birthday."

"You have given us a saint that we don't deserve," the pastor, Brandon Patterson, said in prayer.
liver cancer.
Instead, Carter took only a few months to
kick cancer's ass,
and along the way, he and Rosalynn
sucked face on the Kiss Cam
at the Atlanta baseball stadium, as one does when one is being treated by the power of love (and the best doctors available to former presidents):
Frankly, if the former president decides he'd like to live forever, we're just fine with that. He's kind of inspiring that way.
Oh, yes, and WSJ also reports the former nuclear engineer spoke Sunday about North Korea, saying that the government of that country is paranoid and dangerous, and noting that the fate of Libya's Muammar Gaddafi, who gave up nukes altogether and then was killed in civil war, made it unlikely North Korea will ever give up its nuclear weapons. And other current saber-rattling worries him, too: "Now, they see the nuclear-weapons agreement with the Iranians and its doubtful status." But maybe it's not all gloomy?
Even so, Mr. Carter reiterated his hope that the U.S. would return to talks with North Korea, as the former president has long urged, in hopes of securing some kind of a deal to freeze its weapons program and subject it to international scrutiny.

He said he was pleased by Secretary of State Rex Tillerson's remark on Saturday that the U.S. has "a couple, three" channels through which it directly engages with the North Korean government.
Well, an outbreak of peace would be an awfully nice birthday present for Jimmy Carter, wouldn't it?
Also on Sunday morning, Donald Trump tweeted that Tillerson should STFU: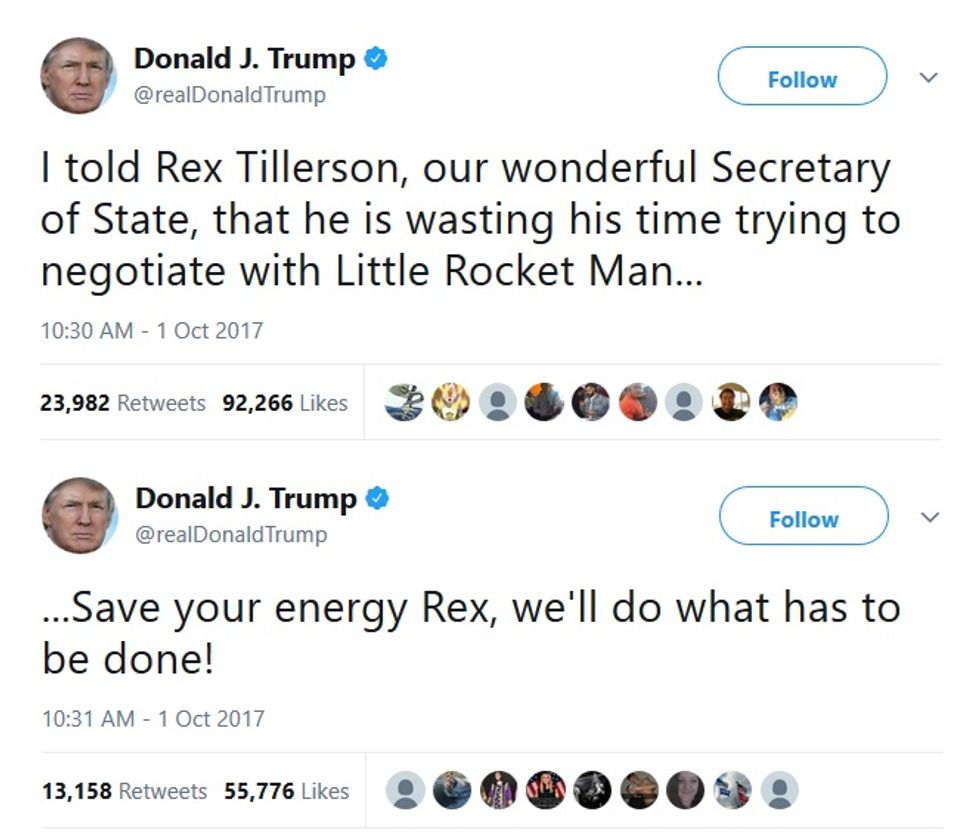 Hmm. No cake for that guy, that's for sure. Now it is your OPEN THREAD.
Yr Wonkette is supported by reader donations. You can click here to help us out, or maybe today would be a nice day to help out the Carter Center or maybe Habitat for Humanity. Jimmy and Rosalynn need to stay busy.
[WSJ (if paywalled, try the Twitter link) / News4Jax.com]