A Children's Treasury Of Important Lines From Sarah Palin's Speech To Hong Kong Money People [UPDATE]
News
September 23, 2009 12:03 PM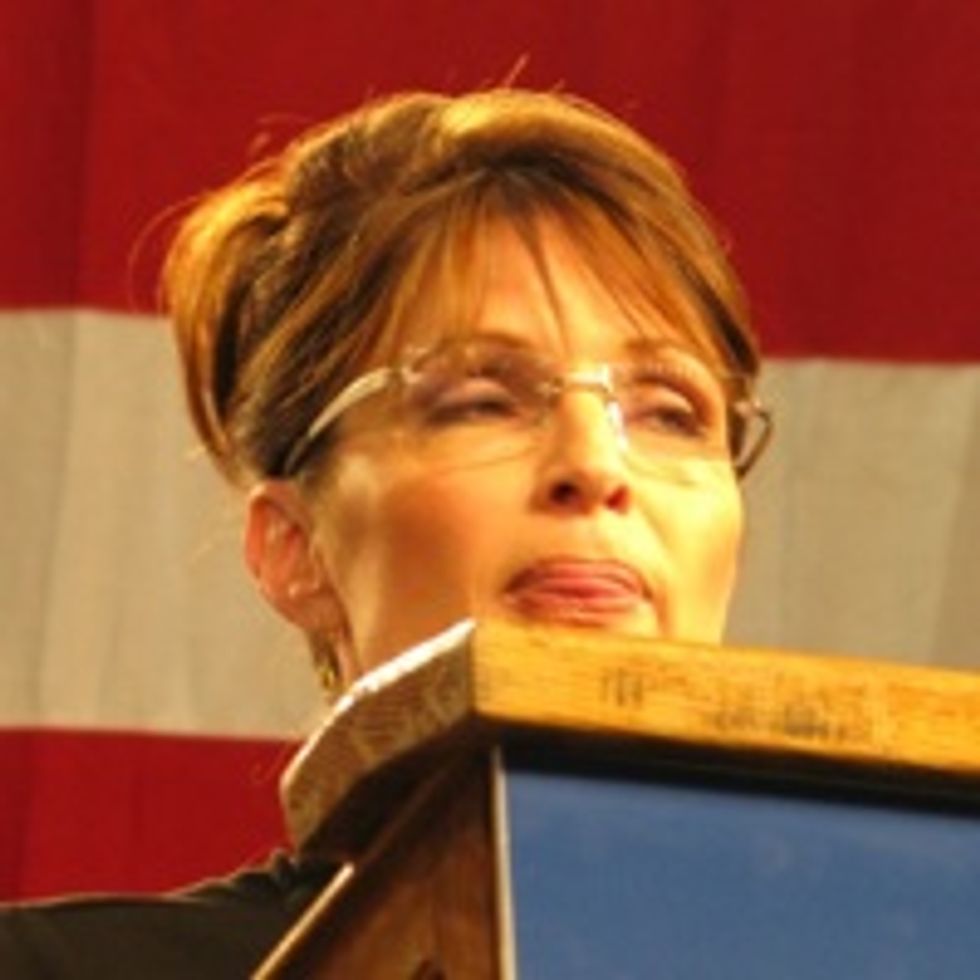 Win o' the morning goes to the fancifulWall Street Journal banking pamphlet, for its journalism! "Former Alaska Gov. Sarah Palin delivered her first major international speech today in Hong Kong at an investor conference. The speech was closed to the media, but The Wall Street Journal reviewed a recording of the event." And published excerpts! That's right, these aren't your grandfather's lame-o pre-released excerpts from the planned speech -- they're the hot hot hot transcriptions of Sarah Palin's delivery! Oh boy.
---
"And we have a special place in our hearts in Alaska for the Pacific Rim... Personally, I've always been really interested in the ideas, too, about the land bridge. Ideas that maybe so long ago, had allowed Alaska to be physically connected to this part of our world so many years ago." Indeed, the land bridge from Alaska to Hong Kong. This is a geological thing she thinks about constantly. Why did Jesus destroy this friendly friendship bridge with the Oriental bankers?
"So for Alaska, which is the air crossroads of the world, to this prosperous dynamic force in the world, Hong Kong, I bring good tidings, wishes for more blessing and vibrant life and even more freedom." Aww, she came all the way from "the air crossroads of the world" to bring these friendly people many more buckets of freedom!
"Now I know that many of you, maybe you're hoping to hear me discuss the derivations of the formula for effective rate of protection, followed by a brief discussion of the monetary approach to the balance of payments. If time allows, a quick summary of factor price equalization. Maybe some thoughts on quantitative easing, but that's for next time. Because I have spent my life closer to Main Street. That's what I want to talk about is that view from Main Street." USA! USA!
"You can call me a common sense conservative." Hey, don't steal Willow's title!
"What happened to that Reagan legacy, the Reaganism that worked what happened to that?" Yeah c'mon wtf where is it, the Reagan whatever?? WHERE DID THE REAGAN THING GO? Todd did you flush the Reaganomics down the Porta-John again? Why do you keep doing that Todd!
"Our message, that we thought we were providing a real change, it didn't take hold. The other ticket's message of, I think a vague change, it was kind of nebulous, utopian sounding, but it did take hold. Now 10 months later though, a lot of Americans are now asking: 'More government? Is that the change that we wanted? Oh, I see.'" We've got nothing.
"The marketplace didn't fail. It became exactly as common sense would expect it to." !!!!!!!
"The marketplace didn't fail. It became exactly as common sense would expect it to."
"The marketplace didn't fail. It became exactly as common sense would expect it to."
"The marketplace didn't fail. It became exactly as common sense would expect it to."
"Common sense tells you that when you're in a hole, you have to stop digging!" Come on guys!
"I can't wait until we get that Reaganomics sense supplied again because we are going to survive, and we're going to thrive and expand and roar back to life." That is, unless *Todd* stops fucking up.
Excerpts From Palin's Speech to Investors in Hong Kong [WSJ]
UPDATE: Hmm, that is bizarre, the link no longer seems to work. Perhaps the Wall Street Journal had a journalistic change-of-heart! Losers. Anyway, everyone hated her: "Several audience members reportedly walked out of Ms Palin's speech 30 minutes before the end, citing 'more important things to do' or describing the talk as 'too partisan and too much like a speech at the Republican convention.'"