A Children's Treasury Of (Poorly) Translated Comments About Mark Sanford From An Argentinian Newspaper
News
June 24, 2009 06:20 PM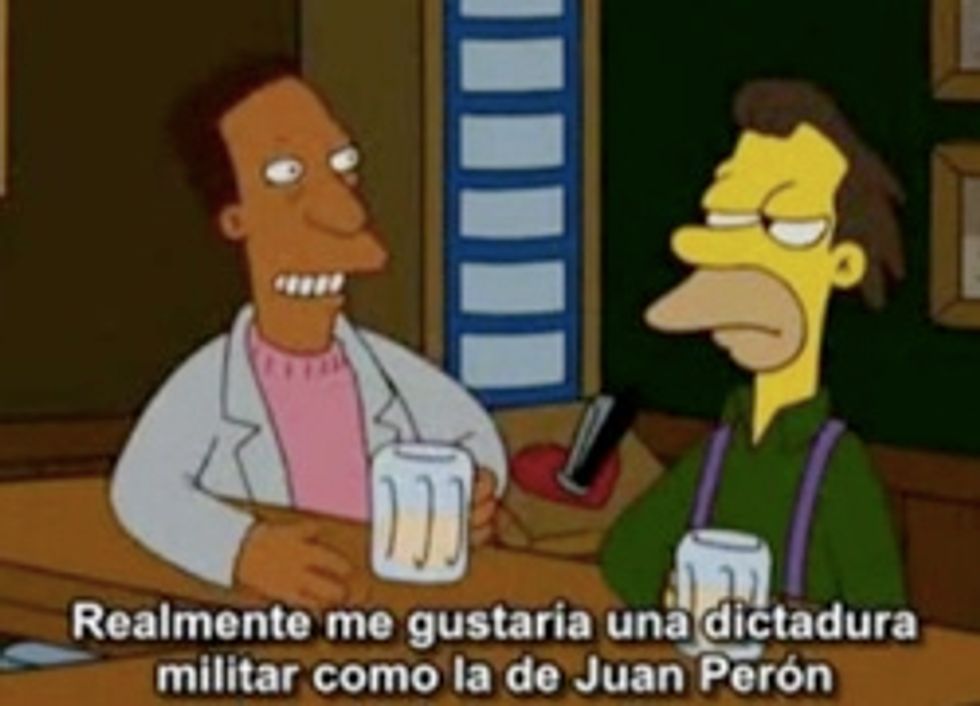 One or more of you commenter people have linked to anarticle about crying sex person Mark Sanford in an Argentinian newspaper, La Nación. "Argentina" is very proud to have had an American slave state leader come to its big city and sex its women! Maybe? It's hard to tell, because we do not speak Spanish. The Internet does, though, and has translated for us some of the article's comments. Are the Argentinian Internet's commenters as erudite as the "Real American" commenters? Perhaps even more!
---
We're using Google Translate and just copy pasting whatever it spits out. If any of you people speak Illegal, maybe you could clarify some.
"¿Y si estuvo con un travesti?" American: "What if he was with a transvestite?"
"Carne, Argentina, la mejor carne ..." American: "Meat, Argentina, the best meat ..."
"parece q tuvo u affear, con una argentina muy conocida." American: "seems u had affear q, with a well-known argentina."
"Pobre tipo que tiene tener una amiga ARGENTINA durante 8 años..eso es una AMISTAD! segun el dijo a la CNN que cuando la conocio los dos estaban en una crisis matrimonial y pegaron tanto que se pasaron los mails..y despues vino a visitar a su AMIGA, parece que se extrañaban, un INOCENTE total.." American: "Poor guy who has a friend for 8 years ARGENTINA .. this is a FRIENDSHIP! the second told CNN that when he met the two were in a marital crisis and beat both the mails that were passed .. and then came to visit his friend, seems to have missed a total INNOCENT .."
"Las relaciones carnales con USA siguen intactas jejeje." American: "The carnal relations with the U.S. remain intact jejeje" [Is that how they LAUGH on the Argentinian Internet?"]
"Hace años los yankis venía a comer carne argentina. Decían que era de la mejor calidad y muy barata, comparada con lo que pagaban en los EE.UU. Como verán, nada cambia, todo se transforma. Grande Gobernador!!!" American: "Years ago the americans came to eat argentina. They said it was the best quality and very cheap compared to what they paid in the U.S. As you can see, nothing changes, everything changes. Governor Grande!"
"Yo creo que hay que dejarse de embromar con la Soja, el campo la industria , el blanqueo y todo eso. Hay que hacer de la Argentina un gran CABARULO INTERNACIONAL y que vengan a Gastar los dolares y Euros aca. Tenemos las mujeres mas lindas, una de la mejor comida, abramos casinos por todos lados. Lo ponemos al Diego de Relaciones Publicas, se va a sentir barbaro y de joda si que sabe. Los politicos que tenemos estan a tono. Recibimos aca a Berlusconi, Clinton, Mosley, Chavez, a todos esos dictadores Africanos, que vengan todos de joda para aca . En el peor de los casos no seguiran robando como nos roban, pero al menos va a ser divertido." American: "I think you have to stop with the tease Soja, field industry, money and all that. We need to make Argentina one of the great CABARULO INTERNATIONAL and come to spend the dollars and Euros here. We have the most beautiful women, one of the best food, open casinos everywhere. We make it to Diego Public Relations, will feel barbaro and shit if he knows. The policies we are in tone. Berlusconi to get here, Clinton, Mosley, Chavez, all these African dictators, who come here to fuck all. In the worst case will not continue to rob us as stealing, but at least it will be fun."
"Finalmente krisabelita cumple su sueño de insertarnos en el mundo. Mañana vamos a figurar en la tapa de todos los diarios de USA. Que lindo es dar buenas noticias." American: "Krisabelita finally meets his dream of joining the world. Tomorrow we are going to appear on the cover of every newspaper in the USA. How nice it is to give good news."
"Mañana? ya esta en todos los diarios! jajaja." American: "Tomorrow? and this in all the papers! lol"
WAIT. So what have we learned? "jejeje" and "jajaja" are their "hehehe" and "hahaha," which of course makes sense, but only "jajaja" GOOGLE TRANSLATES to "lol."
Meat, Argentina, the best meat...
Un gobernador de EE.UU. confesó que le fue infiel a su esposa en la Argentina [La Nacion]