A Children's Treasury Of Republican M4M Ads In Minneapolis St. Paul
News
September 02, 2008 09:51 AM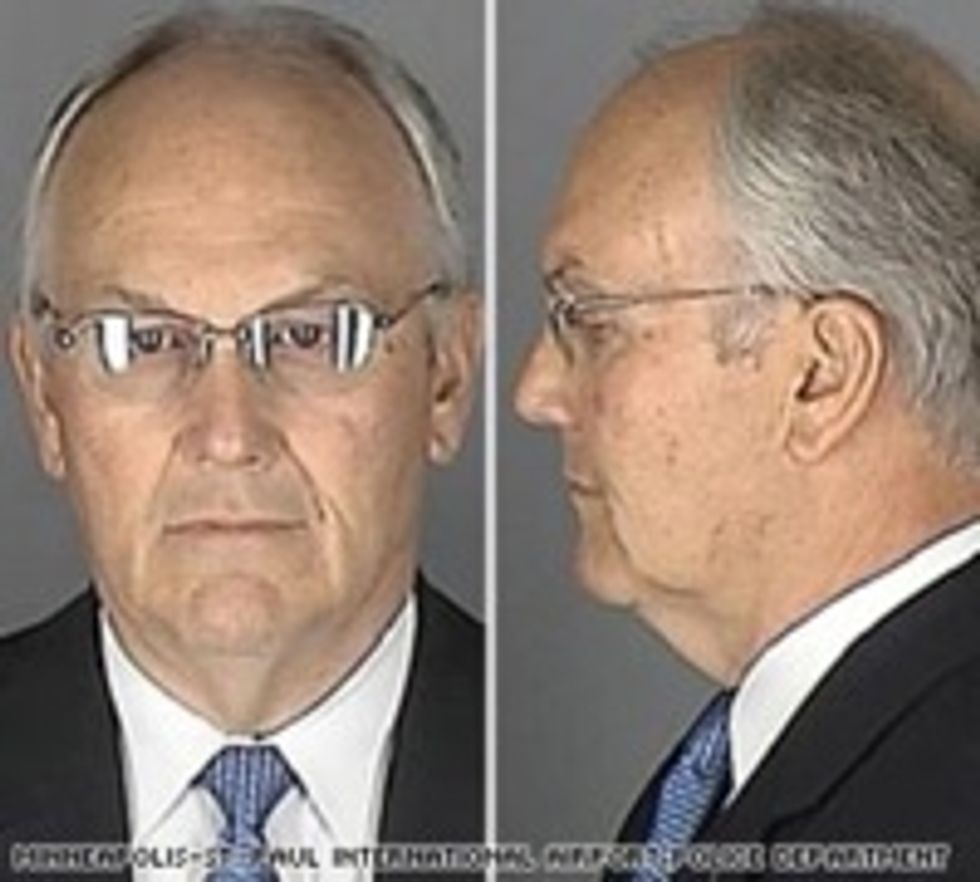 The Republican National Convention has brought truckloads of new visitors to the Twin Cities -- and with every event getting canceled in honor of the poor black people who didn't get killed in the hurricane yesterday, veritabledozens of GOP males were left in their swank hotel rooms with nothing to do. Let's find out what happens when a bunch of closeted, discreet hairless dudes go looking for good clean fun on Craigslist ...
---
Strip searches ... kinky!
Discretion Required - m4mm (Upscale Hotel)

Date: 2008-08-30, 5:19AM CDT

ATTN:

discretion is mandatory. must be willing to submit to background check and strip searches. absolutely no recording devices or wireless communication devices allowed. you will be examined and scrutinized by security before you make contact.

50yo Male looking for VERY discrete four-hour party at local hotel involving more than one male with a maximum age of twenty. hairless preferred. food, drinks, and toys will be provided as necessary.
This one gets points off for redundant headline and first sentence. Otherwise A plus for spelling "discreet" correctly.
young guy in town for the convention, looking for a good time - 25 (near Xcel Center)

Date: 2008-09-01, 6:51PM CDT

Hey guys-

I'm just getting in town for the convention, looking for fellow convention attendees to fool around and have a good time.

No Log Cabin here, nobody knows, so must be discreet.

I'm 5'8, 165 lbs, professional guy, looking for similar. We can grab a beer and talk about why Obama sucks and then get it on.
This one would be funny, if it weren't so obvious that the poster is JESUS:
Seeking Pig Bottom Republican for a Good Pounding - 33 (St. Paul)

Date: 2008-08-29, 9:25AM CDT

Welcome to the Twin Cities, GOP!

After 8 years of taking a hard pounding from you guys in Washington, it's time to return the favor!

I'm looking for a Republican delegate to take for a ride like Bush & Co. have been doing to our country since they took office.

Here's the scene: I come to your hotel room, you're wearing nothing but your convention credentials. You blow me while I berate you for ruining our economy. Then I flip you over and slam your ass like Hurricane Gustav is gonna do to your news coverage. Then I pull out and cum on your face and you learn the real meaning of Trickle Down Theory.

ME: 6'4", 220, Blonde & Blue, hairy, with a 9" uncut viking cock

YOU: Pig Bottom Republican
And last: in lieu of Laura Bush's party, busting a nut will do.
Closeted RNC supporter seeking a masc smooth man this afternoon - 48 (downtown mpls hotel )

Date: 2008-09-01, 12:05PM CDT

am conservative, bi and in the closet.. but love a hard younger body for making out and oral action.

my stats

5-9" - in shape, masc , 6" cut

was planning on the IMS party for Laura Bush today but it cancelled. so would like to bust a nut and have some other fun.

can trade pix

thinking of mid afternoon get together
Happy Convention, everyone! And thanks to "Brett" for suggesting this post topic which, come to think of it, we should have thought of OH YEARS AGO.
Discretion Required - m4mm (Upscale Hotel)
young guy in town for the convention, looking for a good time - 25 (near Xcel Center)
Seeking Pig Bottom Republican for a Good Pounding - 33 (St. Paul)
Closeted RNC supporter seeking a masc smooth man this afternoon - 48 (downtown mpls hotel )