If Justice Roberts Kills The Census, He Should Get Some New Coworkers
SCOTUS
October 14, 2020 11:16 AM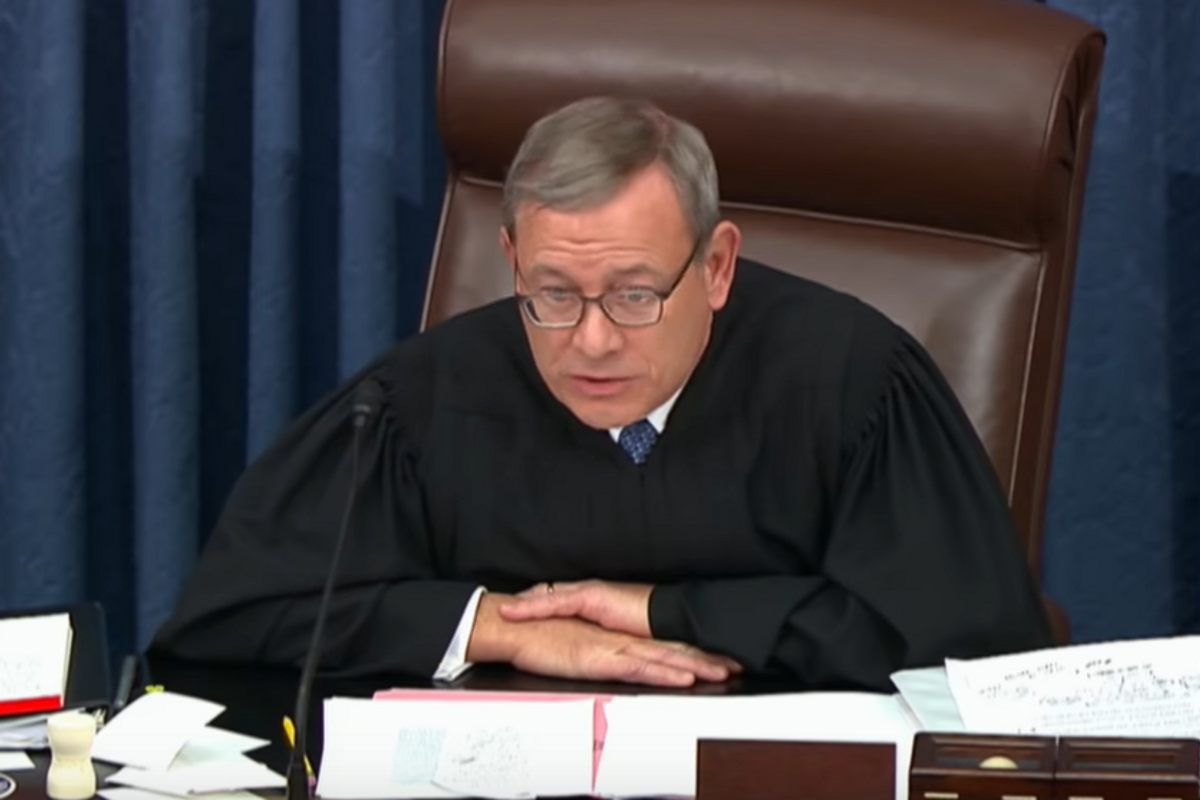 Okay, let's have that conversation about court packing. We'd been hoping to pull a Biden and punt for another three weeks [Liz means Liz specifically, the rest of us had been QUITE HAPPY TO YELL ABOUT IT — ed], but Chief Justice John Roberts has forced our hand by putting his dirty thumb on the scales to thwart majority rule. Again.
Yesterday the Supreme Court overruled lower courts and put an end to the Census count, despite mountains of evidence that COVID-19 has prevented collecting anything close to an accurate tabulation. Originally, the Commerce Department asked Congress to delay the final tabulation to allow it to finish the job. But then it reversed course when it became clear that there's likely to be a President Biden in January, dashing its hopes of certifying a count that excludes non-citizens for the purposes of congressional apportionment. This would result in whiter, older, more Republican districts being overcounted for the purpose of allocating voting clout and congressional dollars. And that is not a coincidence!
In plain English, they're racing to finish so Trump can cook the books before he gets fired. And the Supreme Court is going to let them do it. Then when President Biden tries to fix the problem, Chief Justice John Roberts and his henchmen will barf out some gobbledygook to prevent it, despite the Constitution's clear dictate that the Census count all "persons" within the country, regardless of citizenship.
---
This court doesn't care about "little d" democracy. It will bless every gerrymander, every infringement on voting rights, every absurd assertion that one drop box per county is entirely appropriate — whether it's Harris County, Texas, with 4.7 million people, or Loving County with 134 people. There will never be a polling place where the line is too long, or a congressional district too cravenly constructed to entrench minority rule, or a legislature too unrepresentative of the will of the American people. That is what we're dealing with, even before the Bony Carrot gets confirmed.
And speaking of that unspeakable woman, let's talk about how she got on the bench in the first place. Because it wasn't only Judge Merrick Garland whom the Republicans blocked, promising (out loud!) to shrink the Supreme Court to eight seats for the duration of a Clinton presidency. After the GOP took back the Senate in 2015, they simply stopped confirming Obama's judicial nominees. This was supposedly in response to Senate Majority Leader Harry Reid getting rid of the filibuster rule for judicial nominees, the so-called nuclear option. The GOP conveniently ignores the fact that they themselves had massively abused the filibuster to block Obama's nominees, particularly for the all-important DC Circuit Court, leading to a huge backlog of unfilled seats. The same seats Trump pretends Obama was just too lazy to bother with.
In 2013 Chuck Grassley went so far as to introduce a bill to shrink that court by three judges, accusing Obama of trying to "pack" the court by filling vacancies!
In January of 2016, Obama nominated attorney Myra Selby to the Seventh Circuit. Mitch McConnell never acted on the nomination, just as he blocked dozens and dozens of others. That's the seat they gave to Amy Coney Barrett three years ago as a springboard to getting her on the Supreme Court where she will absolutely gut Roe v. Wade.
During his first four years, Obama had 160 judges confirmed, despite Democrats holding the Senate majority during that time. In the last two years of Obama's term, Mitch McConnell deigned to confirm28 percent of the president's judicial nominees, holding the seats open for "Not Hillary Clinton." In Trump's first four years, he confirmed 208 judges, and counting! Because Mitch McConnell not only blew up the filibuster rule for the Supreme Court, he trashed the blue slip procedure that gave home state senators a veto over nominees in their own back yards.
And now, having harvested all those gains and filled the bench with a bunch of 35-year-old hacks who will shape the judiciary for fifty years, now the GOP insists that it would be the grossest perfidy to increase the Supreme Court from the sacred number of nine seats?
FUCK. OFF.
The entire Article III court system has been rigged by the GOP, exploiting the inherent advantages of the Electoral College and Democrats' relative willingness to adhere to norms. The same norms that the GOP tramples the second they take back the gavel in a naked exercise of raw power.
This is a suckers' game, and we've played it for far, far too long.
Thirteen judges for thirteen federal circuits. Day one. Do it.
[NPR]
Follow Liz Dye on Twitter RIGHT HERE!

Please click here to support your Wonkette. And if you're ordering your quarantine goods on Amazon, this is the link to do it.
Liz Dye
Liz Dye lives in Baltimore with her wonderful husband and a houseful of teenagers. When she isn't being mad about a thing on the internet, she's hiding in plain sight in the carpool line. She's the one wearing yoga pants glaring at her phone.