A Penis May Have Appeared On Fox News the Other Day
News
March 04, 2011 03:49 PM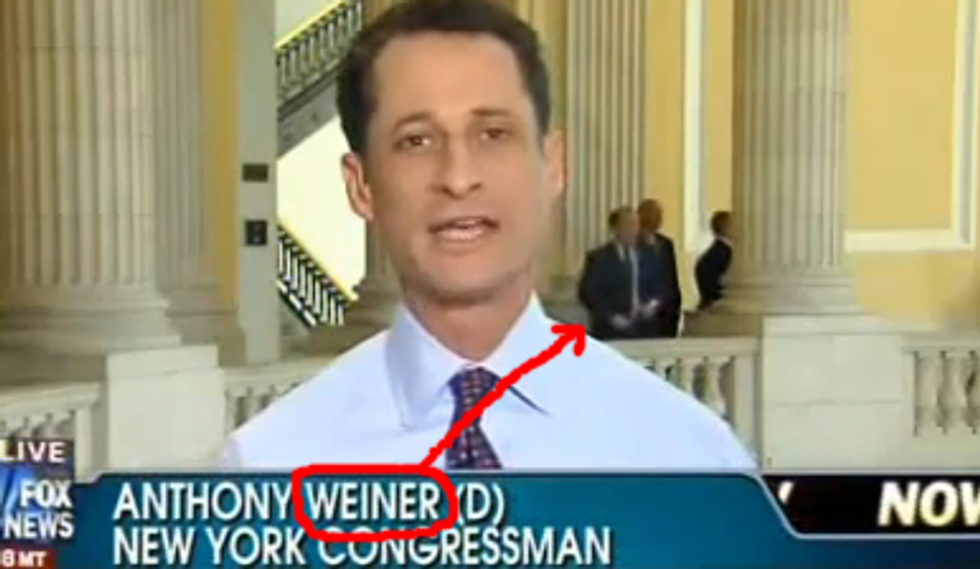 Yes, a lot of dicks appear on Fox News. But it's unusual for a literal, anatomical penis to make to air on this teevee channel for families (70-year-old white people with bloodlust). In the background of that Megyn Kelly interview we posted yesterday, a man in a suit standing behind Weiner across the Capitol Rotunda unzipped his pants multiple times and stuck his hand in, giggling about it with his fellow frat lobbyists.
---
Watch beginning at the 0:50 mark to see this guy set down his folders, turned to the camera, and start rummaging around in his pants. It's a little tough to see if any skin actually emerges. Thankfully. Unless you're one of those people who are into disgusting middle aged men walking around the Capitol.
Keen-eyed Wonkette operative "Kate" writes, "Obviously you can't touch anything in the Capitol, gross." No kidding. Never work there, kids. It may look like white sandstone and marble, but the whole thing is just covered in semen. That's the only reason to work in the Capitol: wanting to feel powerful so badly that you rub your genitals on everything there.
Let us know if you recognize this fellow, though.