Adult President Throws Tantrum Following Mild Criticism From Black Men
popular
August 04, 2018 12:55 PM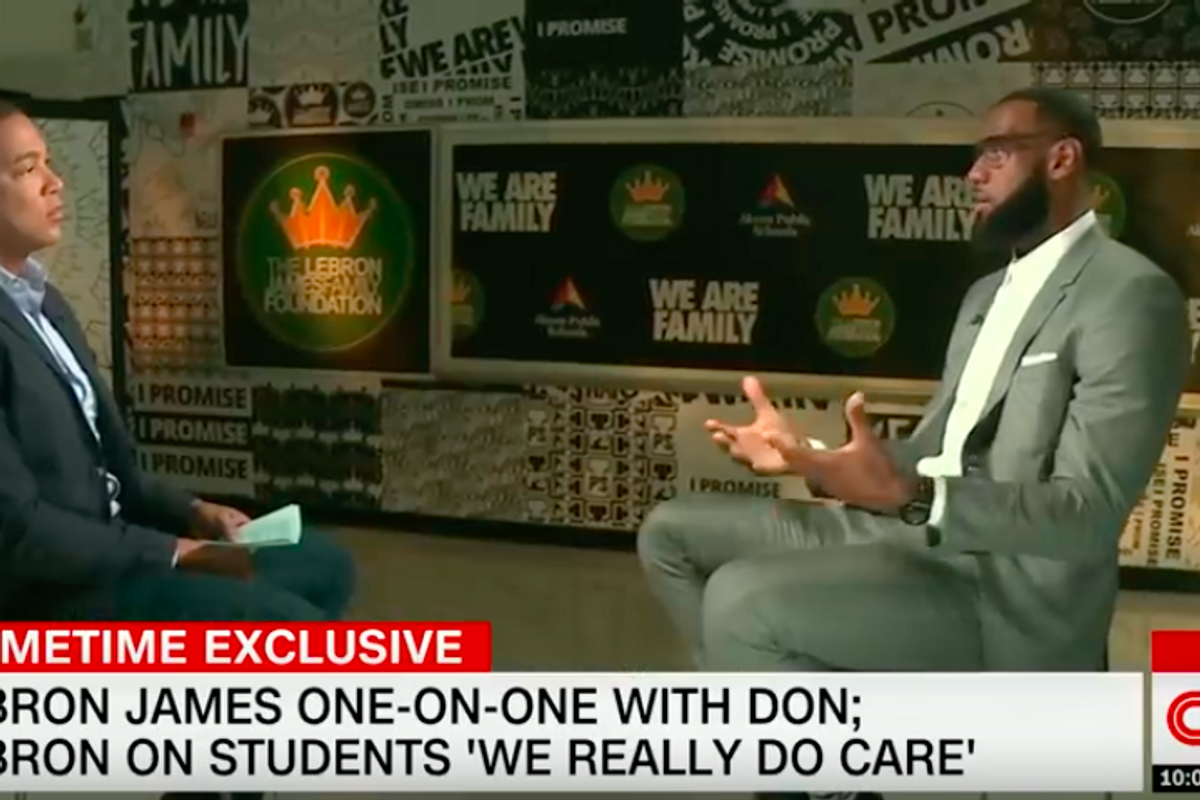 In the middle of the night last night, Donald Trump, our 72-year-old president, tweeted out some insults for CNN anchor Don Lemon and NBA great Lebron James.
Donald Trump, who just the other day failed his 6th grade geography quiz...
"I have great respect for the U.K. United Kingdom. Great respect. People call it Britain. They call it Great Britai… https://t.co/FAqy38y9ZX

— Kyle Griffin (@Kyle Griffin) 1533253808.0
...felt that he, of all people, ought to weigh in on the intelligence of the two men.
Why? Because they hurt his feelings with some incredibly mild criticism of Trump's tendency to scream bloody murder about football players protesting police brutality, during a CNN interview about the public school James is funding in Akron.
Via Mediaite:
"We are in a position right now in America…where this race thing has taken over," James said. "Because I believe our president is kind of trying to divide us."
"Kind of?" Lemon asked.
"Is," James confirmed. "I don't want to say kind of. What I've noticed over the last few months is he's kind of used sport to divide us."

Oh wow, what a sick burn. How horrible of them to say something that is objectively true. Next, they will accuse him of having blond hair and being named "Donald."

LeBron also said that he was not interested in talking to Trump. Oh, the horror.
Lemon asked James what he would say to Trump if he were sitting in the room.
"I would never sit across from him," James replied.
"You would never? You don't want to talk to him?" Lemon asked.
"No. I'd sit across from Barack, though," he said, laughing

While most adult humans, especially presidents, would be able to handle a basketball player not particularly caring for them, Trump clearly could not. Perhaps because he had so hoped they would be friends.
Dear Bron, I wrote you but you still ain't call me... https://t.co/Gcd4hMLqLf

— Tristan (@Tristan) 1533356762.0
Oddly enough, he ended his little conniption fit by saying "I like Mike!" -- ostensibly referring to Michael Jordan. Man, no one better tell him that Michael Jordan has alsospoken out against police brutality and criticized the demonization of sports players who exercise their first amendment rights. He would be devastated. He might never recover.

Now, look. I know fuckall about sports. The only time I interact with sports is when I am annoyed that my regular bar is filled with people or when I find out that the Celtics won a thing and thoughtfully text my dad to say "Congratulations on your sports!" Also I have a very big crush on young Rosey Grier, whom I maintain is the platonic ideal of a non-toxic masculinity (and also way dishy, and with a lovely singing voice). But what I can tell you is that what LeBron James is doing with this school -- with this public school -- is freaking amazing.

Via Quartz:
At the I Promise school, tuition is free for all students, who were randomly selected among all Akron public school students between one to two years behind their peers in reading. Students get free uniforms, free meals and snacks during the school day, and free transportation to school. Every kid also gets a free bicycle and helmet, as James has said that having access to his own set of wheels gave him a way to escape from dangerous parts of his neighborhood and the freedom to explore during his childhood. And in a nod to the realities of the way schoolwork gets done in the digital age, every kid gets a free Chromebook, too.

On top of that, there's help for the parents to get jobs, finish their GEDs, a food bank, scholarships to the University of Akron, psychological help for the teachers, and all other kinds of great things. Like, this is a truly, truly amazing thing that he is doing here.
It says a lot about Donald Trump, as a human being, that he would actually jump all over someone who is doing something this wonderful, just because that person did not kiss the ring. It doesn't say anything we didn't know about him already, but it says a lot.
[Mediaite]

Wonkette is independent and fully funded by readers like you. Click here to tip us!
Robyn Pennacchia
Robyn Pennacchia is a brilliant, fabulously talented and visually stunning angel of a human being, who shrugged off what she is pretty sure would have been a Tony Award-winning career in musical theater in order to write about stuff on the internet. Follow her on Twitter at @RobynElyse