Al Franken Insulted America By Opening With A Mild Joke For Old People
News
July 16, 2009 04:18 PM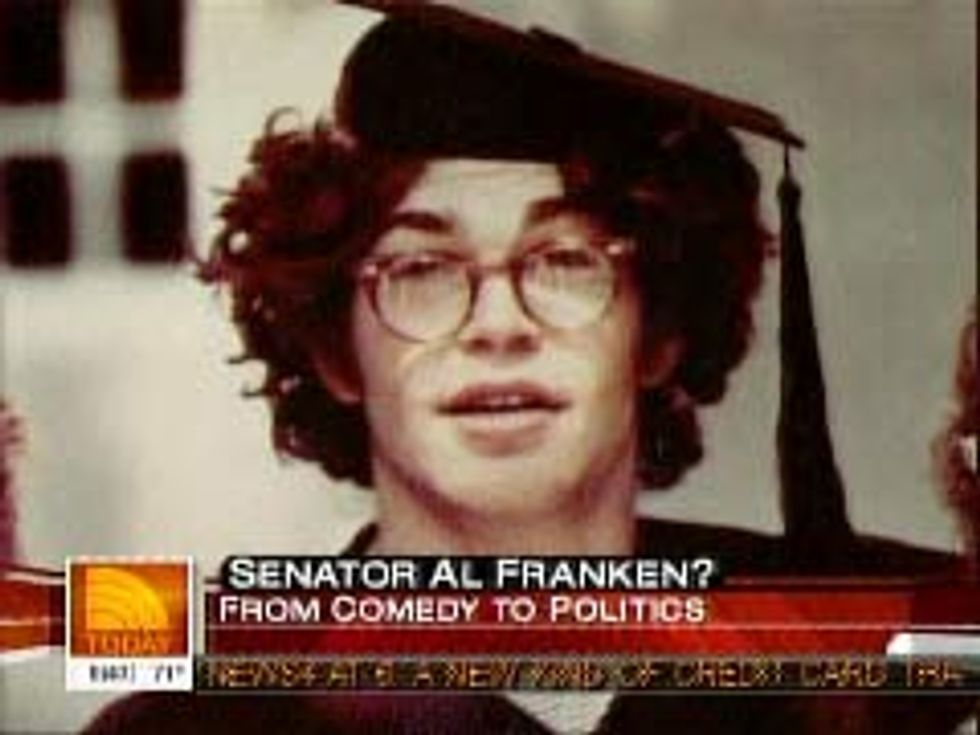 Everyone has been wondering when Al Franken, the comedian who therefore is not smart but gets to be a Senator anyway, would stop pretending to care about "political issues" already -- his 20-year campaign is over! -- and just go nuts shouting insanePlayboy rape jokes, constantly, in Judiciary Committee meetings. And at yesterday's Sotomayor hearing he did, technically, tell his First Joke in the Senate, a snoozy little ice-breaker for the nation's grandmothers about how teevee lawyer Perry Mason was hardly the best lawyer of his time, oh ho ho. Then he asked some serious questions... but it was too late! The world's "most important governing body" is NO PLACE FOR VERBAL HUMOR, some nut writes in The Hill.
---
In a piece titled "No Time For Levity," pundit Armstrong Williams, who seems to think that these confirmation hearings have some sort of important purpose or meaning, roasts the television clown:
Al Franken is in the U.S. Senate, and sadly, he's borrowing more heavily from his former jobs than establishing a level of decorum more befitting of the post he currently holds.

Apparently, when his turn came around at yesterday's hearing for Supreme Court nominee Judge Sonia Sotomayor, Sen. Franken (D-Minn.) reverted to comedian Franken.

I'm sorry, but I don't see how comparisons to Perry Mason and quizzes on which case the fictional prosecutor actually won contribute to the proper vetting process the Senate is required to conduct. I like a tension-breaking splash of humor as much as the next person, but a Senate hearing regarding the qualifications of the first Hispanic to be elevated to the SCOTUS is not the place.

[...]

For a brief moment, Franken made fellow Sen. Roland Burris (D-Ill.) look like a sage, and that had to embarrass the Democrats.
No no, wait, it gets better! Savor this one long and good: "The Supreme Court hearings are a time for deep, probing inquiries into the mind of a very capable and even delightful jurist."
Ha ha ha! It says it right there in his fifth-grade social studies textbook!
GET SERIOUS, JOKE-SLOB. Follow the SERIOUS examples of Chuck Grassley, who constantly cracks jokes about fucking ladies, or Tom Coburn, who thinks it's funny to impersonate Ricky Ricardo when addressing someone of Puerto Rican descent.
No Time For Levity [The Hill]