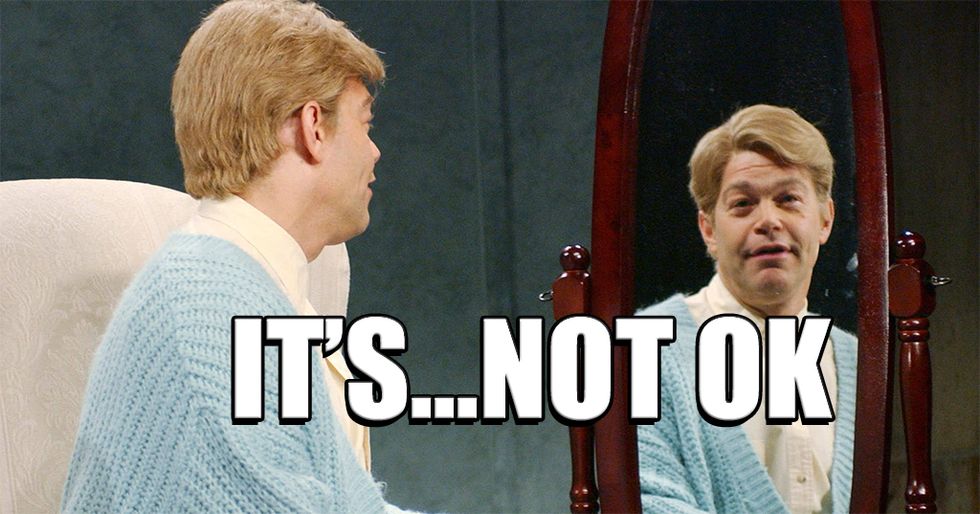 Morning Wonketariat! Here's some of the things we may be talking about today, but first, have some caracal kittens!
---
After photos surface of Al Franken appearing to grop a sleeping radio show host back in 2006 during a USO tour, he apologized, vowed to comply with an ethics investigation amid bipartisan condemnation. GOD FUCKING DAMN IT, AL!
Wait a minute, how/why the fuck did Nixonian ratfucker Roger Stone know about Al Franken hours before the story dropped?
Polls in the Alabama Senate race are showing an eight-point lead for Democratic candidate Doug Jones, but the election is still a month away.
The Alabama GOP is going all in on Roy Moore, effectively closing off any chance to dump him before the election.
Robert Mueller and his team of extraordinary investigators have subpoenaed the Trump campaign for Russia-related documents, and the Senate Judiciary Committee is telling Jared Kushner to cough up a bunch of other emails and phone records he conveniently left out of his other document dumps. [Archive]
Investigators are wondering why Jared may have also had several other undisclosed contacts with Russian officials between April and November of 2016. In his defense, Jared's lawyer says it's hard for him to remember every single call and meeting with people from Not America. There were just so many!
Former Russian ambassador Sergey Kislyak was on Russian teevee and said that he's met to so many Trump officials he can't even name them all. REALLY?
George Papadopoulos says Trump called him to offer a "blank check" to pick any senior administration job to represent his White House in Not America.
The Senate Judiciary Committee wants to have a chat with Trump's old business buddy, Felix Sater since he has a history of snitching on sketchy Russians.
After Congress finishes fucking over all the poors who can actually afford to pay their taxes, Trump wants House Republicans to fuck over welfare recipients too.
The Senate Finance Committee has given the green light to the Trump/Ryan tax cuts (for the super rich) that will kill healthcare and jack up taxes on poor folks in flyover country.
South Carolina Republican Sen. Tim Scott is co-sponsoring a bill on background checks in an effort to close the so-called "Charleston Loophole." Scott also acknowledged that gun control is "not his practice."
More attention is being paid to bills that would overhaul the Office of Compliance, the tiny room where allegations of sexual harassment against members of Congress go to die. The goal is to have wrongdoers, not taxpayers, pay for settlements, stop blaming victims, and to end the practice of making victims sign NDAs in settlements.
Chuck Grassley is ramming judicial nominees through the approval process, and doesn't give a shit about your protests, bullshit, or your blue slips.
The head of the DHS Center for Faith-Based & Neighborhood Partnerships has "You're Fired" himself after audio of him calling black people lazy, anti-Semitic dope fiends who only want to have sexy times.
New polling indicates that Republicans should be worried about 2018 as Democrats begin leaning in to races they normally wouldn't. Clearly this is a subtle hint that you (YES, YOU!) should run for local office.
SCOTUS Justice Neil Gorsuch gave a smug, obnoxious speech to the Federalist society, joking that, "When it's done, everyone who's not a lawyer is going to think I just hate truckers...but so be it."
The Keystone pipeline has burst near Amherst South Dakota. And to think, the Nebraska Public Service Commision was about to issue a permit to connect the Keystone XL portion to the existing pipeline.
The State Department's Foreign Service Officers are "being depleted at a dizzying speed," according to American Foreign Service Association President Barbara Stephenson, so Congress sent a nasty-gram to REXXON, only to get a response that can best be summed up as, "Meh."
Miami Republican Rep. Carlos Curbelo is calling Democrats "bigots" for denying him membership in the Congressional Hispanic Caucus, just because they think he wants to deport lots of Hispanic folks.
The people over at Cards Against Humanity have bought a chunk of land in the path of Trump's Tortilla Curtain with the specific purpose of wasting the government's time.
A bunch of Latino legislators from California are in Not America trying to do something (anything) about climate change, not just the smog hanging over LA.
The Fort Bend County, Texas Sheriff has decided to back off trying to "talk" with the owner of that anti-Trump truck now that he's been made aware of the First Amendment -- so he arrested her for unrelated fraud charges.
Gay hatin' Jesus freak and Ohio State Rep. Wes Goodman has "You're Fired" himself after being confronted about all the homosex he's been having in his office.
A bunch of people in North Carolina are full of sads and butthurt over Trump's "chaotic," "corrupt," "dangerous" and "embarrassing," first year, however some are still "optimistic" that he won't crush their hopes against a rock.
A new invesigation has found a lot of shady money flowing through the Trump Ocean Club in Panama, as well as a grifty scheme to push apartments, not to mention how the Trump Organization didn't have a fuck to give due to its impending bankruptcy.
The US and Russia are are in the midst of a bitter standoff in the UN over investigating whether or not Syria used chemical weapons on civilians, causing the Swedish ambassador to comment, "I hope the victims of chemical weapons are not watching our debate right now." [Archive]
The Freedom of the Press Foundation is about to cut off Wikileaks for being a conspiracy peddling assholes who no longer need their money. There's also Julian Assange's repeated harassment of board members -- and that's besides the allegations that he's a gross sex monster and terrible house guest.
If you needed another excuse not to see your family this Thanksgiving, try using the one about how the DHS successfully hacked the avionics of a 757 and experts are still arguing over the actual extent of the danger.
Here's a long, thinky thing on Andrew Anglin, the neo-Nazi asshat behind the Daily Stormer.
Neo-Nazis have been declaring brand loyalty, and it's making some companies very uncomfortable.
Gene Simmons has been banned for life from Fox after he finished an interview and barged in on a staff meeting, then "pulled open his red velvet shirt to reveal his chest and belly...Then he [started] telling Michael Jackson pedophilia jokes and then bopped two employees on the head with his book, making derisive comments about their comparative intelligence."
And here's your late night wrap-up! Stephen Colbert reminded us that there's sexual harassment on all sides; James Corden talked about butthurt "formerly verified" Nazis on Twitter; Jimmy Kimmel thinks Batman might need the help of the Notorious RBG; Seth Meyers had some talky time with Chris Hayes; The Daily Show had some thoughts on Roy Moore and Al Franken and talky time with Bernie Bernstein Jon Stewart; Jordan Klepper had some talky time with Jon Stewart; and Sarah Silverman had some honest words about and sexual harassment and supporting victims.
Here's something weird for the weekend! Ever wonder what would happen if you staple a radical 80s beat on Tomi Lahren shitfits?
And here's your morning Nice Time! BIRTHDAY KOALAS!
Give us money and we'll give you all the newses! Deal?
Follow Dominic on Twitter; send him cuddly critters pictures!
Dominic Gwinn
Dominic is a broke journalist in Chicago. You can find him in a dirty bar talking to weirdos, or in a gutter taking photos.