Al Gore & Laurie David: Did They Have 2-Year Sexytime Affair?!
News
June 15, 2010 08:59 PM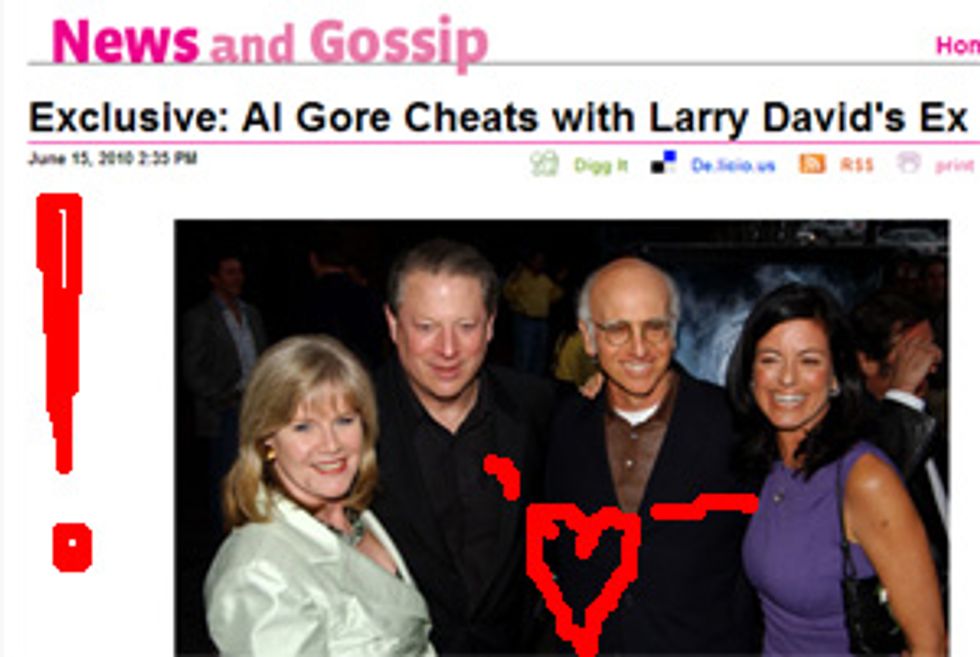 Whoa, forget the oil spill, here is some tabloid sexytime gossip about Al Gore:The Star reports tonight that Gore has been having a sex affair for two years with Laurie David, the environmental activist and ex-wife of teevee grouch Larry David. Is this true? Well it was true about another southern politician who wanted to be president and some lady sort of connected peripherally to the entertainment business, as reported by a different tabloid, two years ago!
---
Here is the promotional announcement from the supermarket weekly:
In the June 28 issue of Star, on sale Wednesday, we report that Al and Tipper's breakup didn't come as much of a surprise to one Hollywood player — Laurie David. Star has learned that Al has been having an affair with Laurie, who divorced Seinfeld creator and Curb Your Enthusiasm star Larry David in 2007 amidst reports she was cheating with the caretaker of their Martha's Vineyard summer home.

"Al and Laurie went from friends to lovers," an insider tells Star. "It couldn't be avoided."
That's right, America: These things can never be avoided. If people could avoid doing bad things, well, it would be like we had free will and were responsible adults instead of bloated children having a tantrum because they can't eat everything in Willy Wonka's factory.
Anyway, if true, this affair would confirm once again why Al Gore did not run for president. So he's smarter than John Edwards, a little bit, at least. [The Star]