Alan Dershowitz Ain't Got No Panties On
News
July 19, 2019 11:06 AM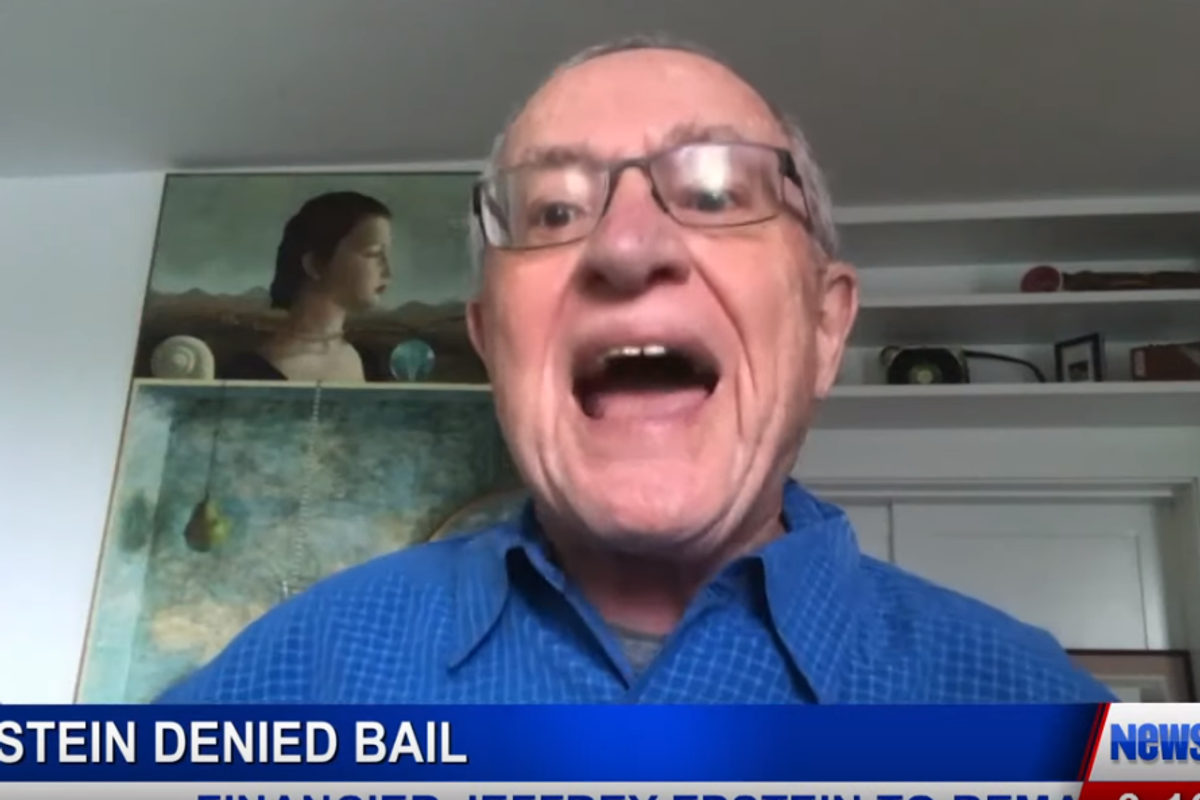 Good news for all the OB-GYNs of America, because Alan Dershowitz has just given you the week of nine months from now off work! How did he do that? It was simple. He just went on Fox News and talked about how good he is at sex, and how exemplary his sexual activities are, and as a result, nobody in America will be in the mood to have sex until approximately two Wednesdays from now, because they keep seeing Alan Dershowitz making coitus in their minds!
But what would make Alan Dershowitz lay his penis right out there on the massage table at Fox News for all to see, in order to show everybody the tree rings on his stump that signify only the most excellent, thoughtful and morally upright orgasmic encounters? Well, he's mad at David Boies, the lawyer for one of Jeffrey Epstein's victims. And maybe there are other Epstein-related reasons, but if there are, Wonkette for sure does not know them!
Whatever it is, Dershowitz felt the need to go on Fox News last night and issue a Fuck Challenge to David Boies, kind of a you show me mine, I'll show you yours-type thing, or however that goes:
Alan Dershowitz: I had a "perfect, perfect sex life during the relevant period of time" https://t.co/MLqWd08ZCK

— Andrew Lawrence (@Andrew Lawrence) 1563504736.0
DERSH: I've issued a challenge to him! Look, I've had sex with one woman since the day I met Jeffrey Epstein. I challenge David Boies to say under oath that he's only had sex with one woman during that period of time. He couldn't do it! So, he has an enormous amount of CHUTZPAH to attack me and to challenge my PERFECT, PERFECT SEX LIFE DURING THE RELEVANT PERIOD OF TIME.
ALAN DERSHOWITZ WAS TOO BUSY PARTICIPATING IN RESPLENDENT HETEROSEXUAL BREEDING RITUALS DURING THE PERIOD IN QUESTION, YOUR HONOR! ALAN DERSHOWITZ HAS ONLY HAD SEX WITH ONE WOMAN SINCE HE MET JEFFREY EPSTEIN, AND PLEASE DO NOT ACKNOWLEDGE THE LAWYER WORDS HE JUST USED OR ASK ANY SASSY SASSAFRAS QUESTIONS LIKE "OH SURE, ONE FULL GROWN WOMAN, TELL US ABOUT THE OTHERS," AS THAT IS NOT FAIR TO ALAN DERSHOWITZ! IF YOU SUGGEST SUCH A THING ABOUT ALAN DERSHOWITZ, HE'LL GO ON FOX NEWS AGAIN TONIGHT AND TELL YOU UNSOLICITED INFORMATION ABOUT THE FIRST TIME HE TRIED ANAL AND IT WAS MARVELOUS.
ALLEGEDLY.
---
Wonkette has noted previously that ever since this Epstein situation started, Alan Dershowitz appears to have lost his goddamned mind. Is it because of allegations that he has also done a shift or two at Jeffrey Epstein's sexual abuse factory? Or does he just need to see a neurologist? Is it simply because he hates David Boies that much, and always has? Does he have a brain tumor? How could we know, we are not the president of knowing the answer to that question. Alan Dershowitz is. Also Alan Dershowitz's neurologist.
Dershowitz has admitted going to Epstein's house, but he says he just got a massage, that he kept his panties on the whole time, and that he doesn't even like massages, which might be part of why his panties stayed affixed to his buttocks and continued cradling his old balls throughout the affair. Allegedly.
(Which is different from how Alan Dershowitz behaves vis-à-vis panties when doing delicious and age-appropriate sex with just one woman! And also different from how he is when he's doing his nudist thing at Martha's Vineyard, that's right he's a nudist, did you think we'd let you forget that? Don't you remember that hilarious and grotesque joke we made up about Alan Dershowitz placing his balls in a tub of hollandaise sauce, which might have been the real reason nobody at Martha's Vineyard was inviting him to their brunches? We don't know if that happened, we are just reporting the gross jokes we make up in our brain, so you can decide whether or not they are plausible. ALLEGEDLY.)
Dershowitz also explains in an op-ed on the normal journalism website "Newsmax" that he's bothered by the fact that the New Yorker, he says, is currently working on a tell-all story that accuses him of sexually abusing two underage girls. Is this actually happening? Who the fuck knows, but Dersh says the New Yorker is full of shit because it only has two accusers, not three, and the New Yorker's magic number for publishing such things is usually THREE NOT TWO. Dersh adds that the two accusers the New Yorker allegedly has are Bitches Be Lyin'. He might add, probably maybe, if he were here right now, that while he may ain't got no panties on right now, he had panties on during all the relevant times in question.
Dersh says the New Yorker is doing this because editor David Remnick hates Israel and wants to silence Alan Dershowitz's pro-Israel panties and also Donald Trump's panties:
I recently learned, from a source close to The New Yorker magazine, that its editor, David Remnick, has commissioned a hit piece against me for the explicit purpose of silencing my defense of President Trump, Prime Minister Netanyahu, and the State of Israel. Remnick despises Trump and Netanyahu, and is well known for his strong anti-Israel bias. Remnick explicitly told people that I must be silenced because mine has been the most persuasive voice in favor of what Remnick feels pose dangers to values he holds dear, and that he will use the credibility of The New Yorker to accomplish this goal.
Are we talking about the same (((David Remnick))) Alan Dershowitz is talking about? The one who married his wife (((Esther Fein))) at Lincoln Square Synagogue? If so, we feel like he might be skipping over one little tiny yet (((crucial detail))).
Also, we are just having a really hard time imagining this purported conversation, where the smart editor of the New Yorker tells ... anyone ... that he feels Alan Dershowitz is the most "persuasive voice" for anything. But maybe, sure, why not!
Oh well, we're sure we'll find out soon enough what Alan Dershowitz has his panties in such a wad about, but we're not talking about the same panties he wears when he's getting massages at Jeffrey Epstein's house, which are also different from the panties Alan Dershowitz does not wear when he turns into Alan Dershowitz, Wizard Of Marvelous Bone-Zones, in order to participate in the magical and legal sexual congress about which he spoke last evening on Fox News.
You know, allegedly.
Anyway, this is the Alan Dershowitz song now, it is about ain't got no panties on:
Wax-A-Million - Ain't Got No Panties Onwww.youtube.com
The end.
Follow Evan Hurst on Twitter RIGHT HERE, DO IT RIGHT HERE!
Wonkette is ad-free and funded ONLY by YOU, our dear readers. If you love Wonkette, SUPPORT WONKETTE.

Evan Hurst
Evan Hurst is the managing editor of Wonkette, which means he is the boss of you, unless you are Rebecca, who is boss of him. His dog Lula is judging you right now.
Follow him on Twitter RIGHT HERE.