Alex Jones And Erick Erickson Feeling #Triggered By Florida #Teen David Hogg, Need #SafeSpace NOW
Guns
February 27, 2018 03:35 PM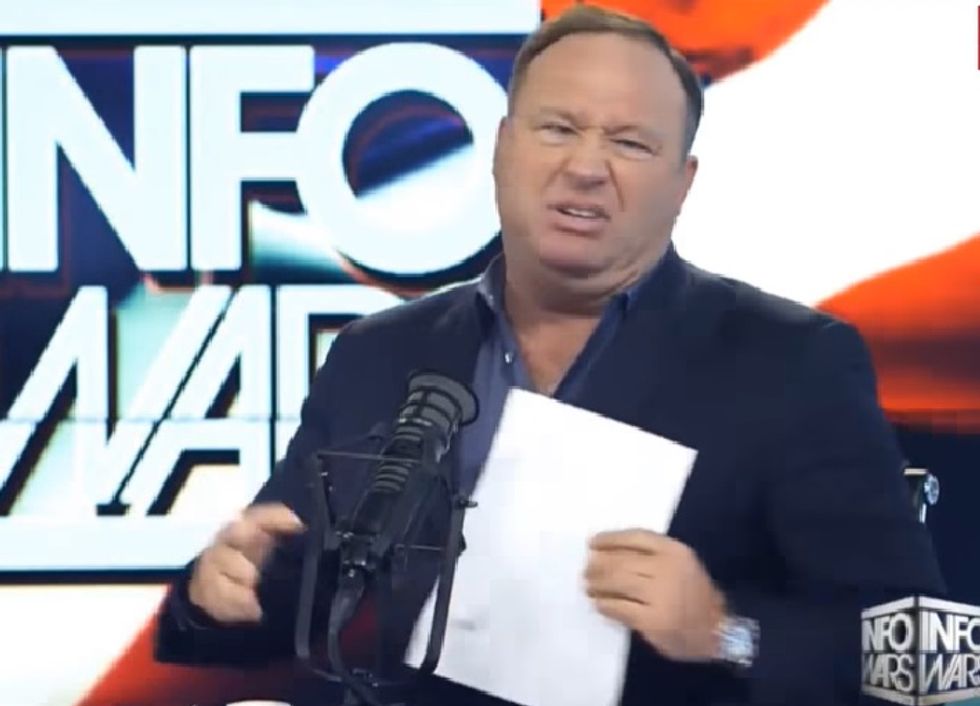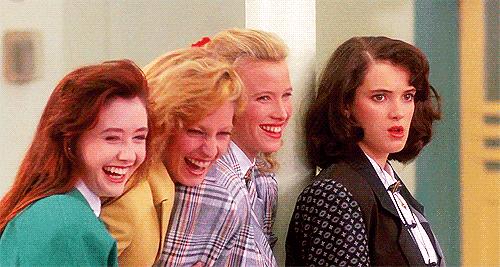 David Hogg
---
There is terrible sadness to report, and is is that Alex Jones is very upset, and alleged goat-fucker Erick Erickson is very upset, because they are being bullied by Florida school shooting survivor David Hogg. Kids these days, right? Hogg is personally giving Alex Jones swirlies after gym class, and he's not gonna take it anymore! Erick Erickson will probably take it some more, because he kinda likes it, allegedly.
First, we have Alex Jones, who is being free speech murdered by YouTube and CNN. The basic gist is that YouTube has a three strikes you're out policy on Alex Jones-type videos where Alex Jones types lie and scaremonger and profit off mass shooting survivors and spread hoaxes saying they are actors and whatnot. Jones got a strike for a video claiming Hogg is a "crisis actor," so then CNN was like "Oh hey, YouTube, we found two more. One plus two equals three strikes, riiiiiiight?" The threat of being banned forever from YouTube, for Alex Jones, is worse than all the False Flag mass shootings in history, because it drives a stake through HIS HAIRY ANIMAL NIPPLES and right into his heart.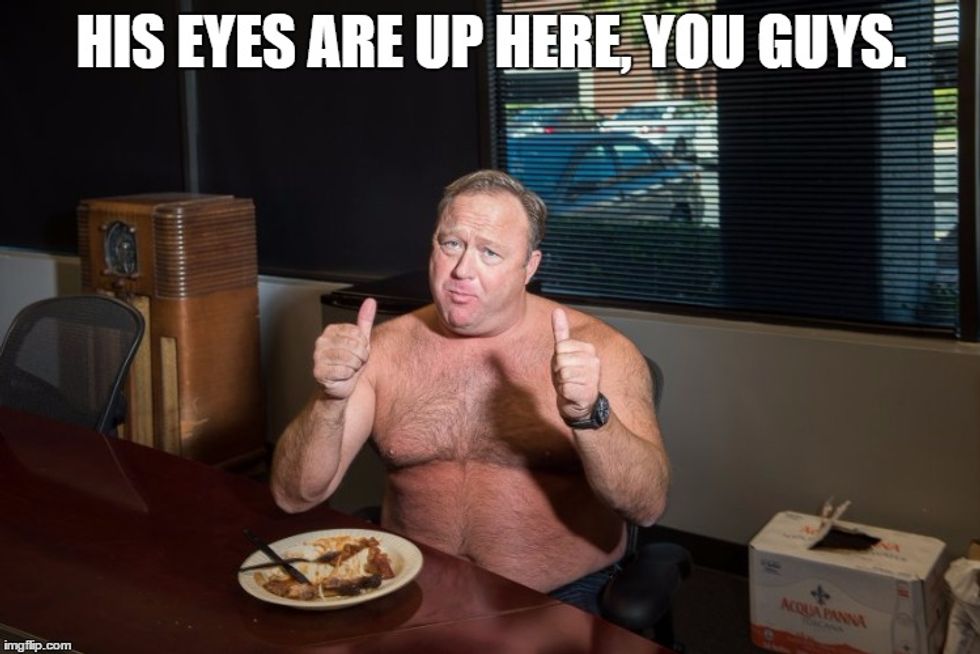 So Jones reached out to Hogg on Tweeter, to beg Hogg to stop using Deep State apparatus organs "CNN" and "YouTube" to hurt his feelings: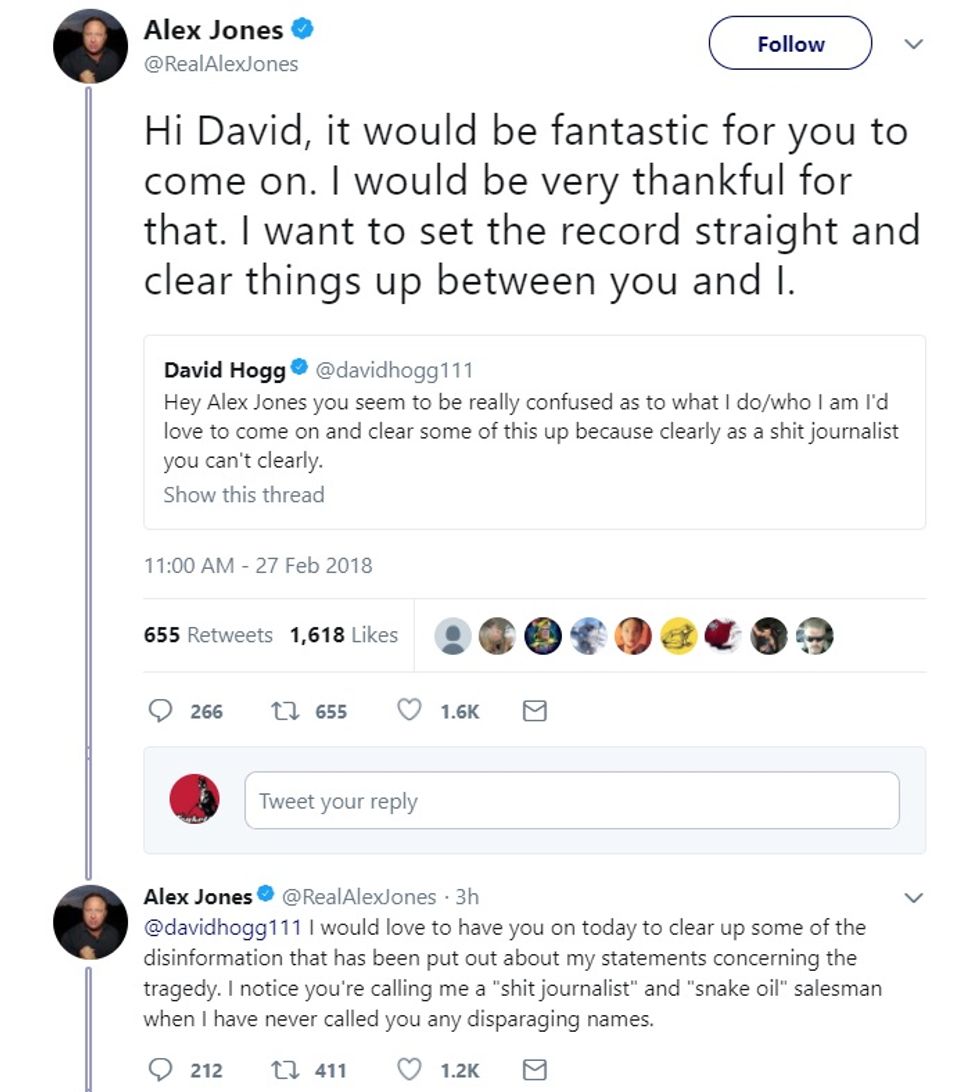 Jones never called Hogg any disparaging names besides "crisis actor," which suggests this child did not in fact just endure a mass shooting at his school. But other than that! Jones did not call David Hogg a "gaywad" or "Little Alex No-Pubes" or any other mean schoolyard names. Of course, "shit journalist" is being too kind to Jones and "snake oil salesman" is just true.
The begging continued: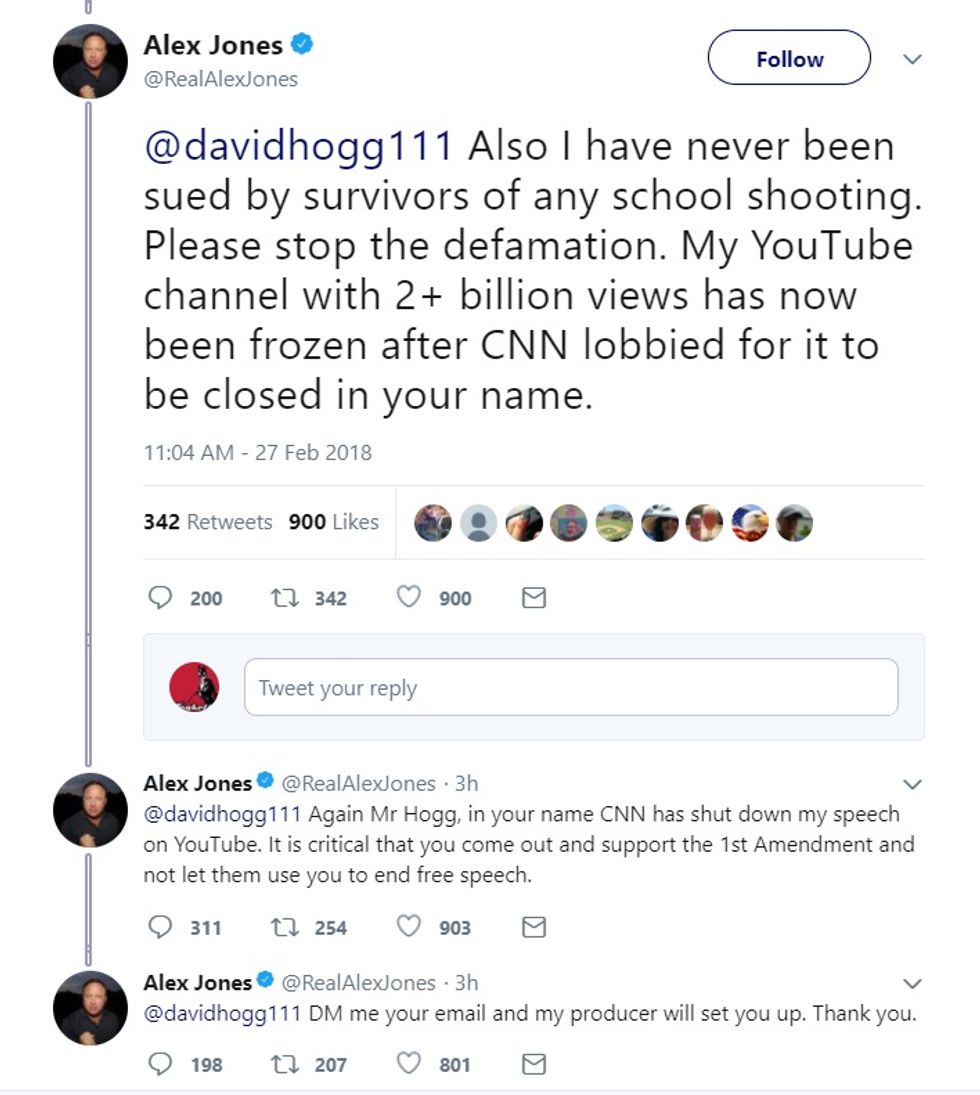 Heavens to Betsy. (To be clear, Sandy Hook families threatened legal action over NBC's airing of a Megyn Kelly interview with Jones, but Jones was not sued by them. He was, however, sued by both pizza and yogurt, to whom he folded like a very hairy taco.)
The begging continued:
Alex Jones Challenges @DavidHogg111 to a Debate pic.twitter.com/8Rob0dOmmt

— Alex Jones (@RealAlexJones) February 27, 2018
That is a video of Alex Jones begging David Hogg to come on his show, and Alex Jones whining that David Hogg has stopped replying to him on Twitter. To those who wish we would transcribe it, we can only say "eat me."
Jones recapped all this on his show today, and also cried about David Hogg calling him a "fat and ugly person." Awwwwwwwwwwww, that is SLANDER, David Hogg! Alex Jones is clearly svelte like figure skater and an erotically appealing beauty at that!
It would seem Alex Jones is at an impasse, and is now being bullied by the deafening roar of David Hogg's silence. In a way it hurts more than getting wedgies after school, because at least in that scenario Alex Jones EXISTS.
Hogg hasn't gone completely silent, of course: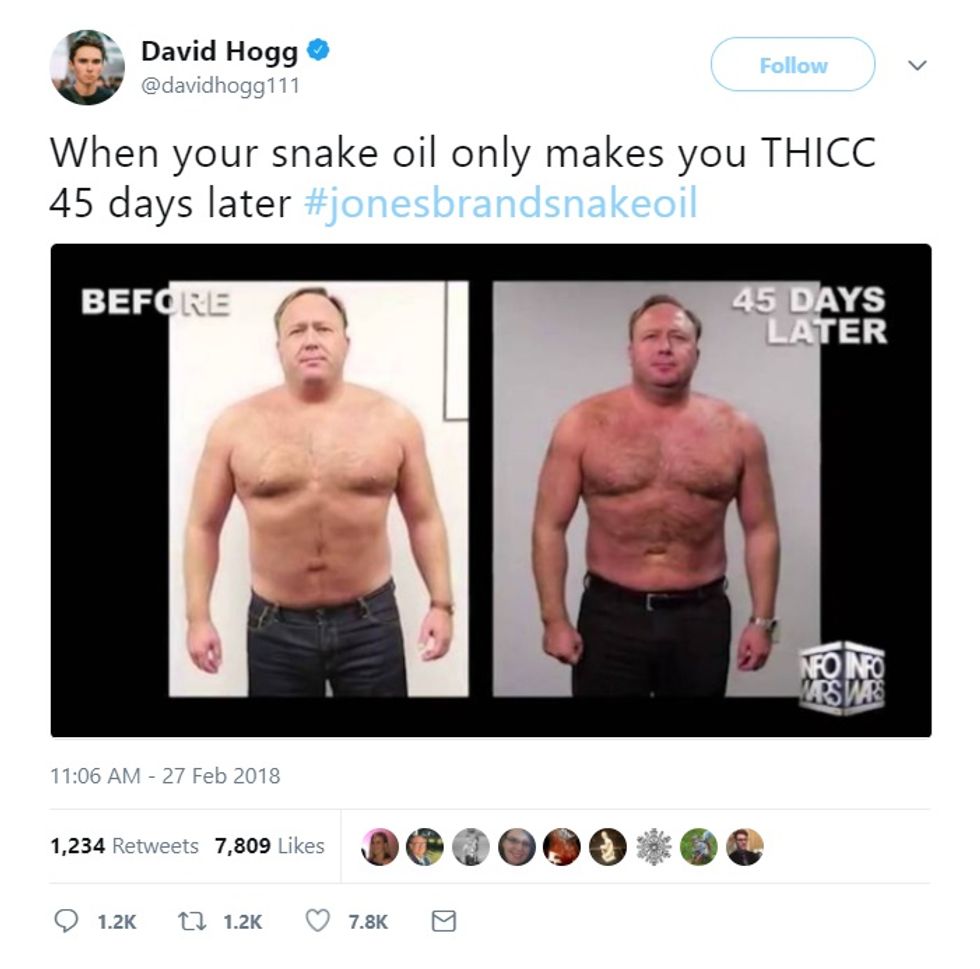 Shall we move on to Erick Erickson? (Must we?)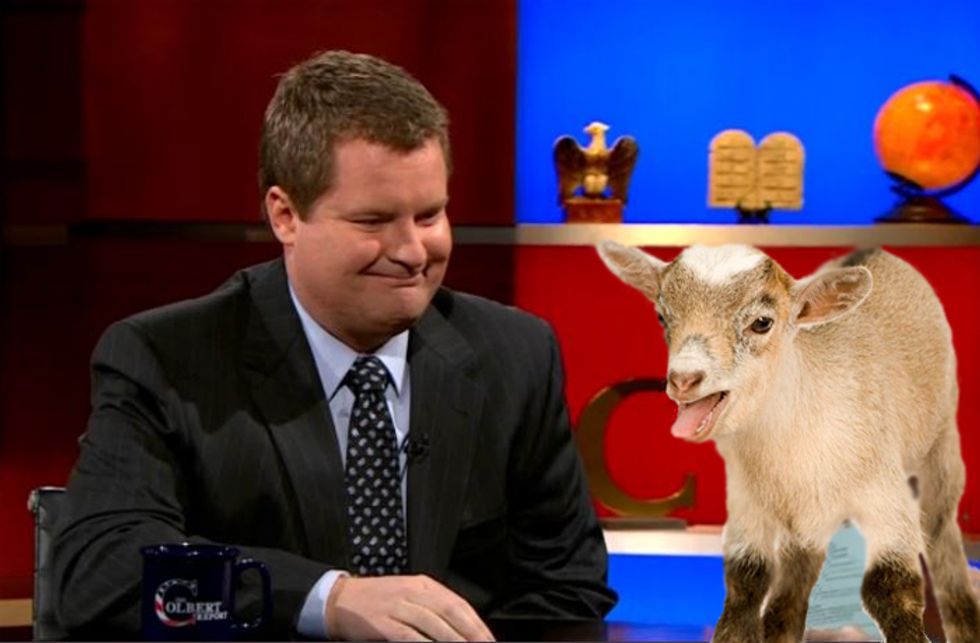 Ugh, we guess. Here, Erick Erickson, un-hump that goat and write us some words:
David Hogg is a bully.
AND THEN DAVID HOGG POURED PIG BLOOD ON ERICK ERICKSON'S HAIR AT PROM!
First, he slandered Dana Loesch on television without challenge. He accused her of a litany of terribles and a failure to support victims. He turns the NRA into murderers.
NO, Erick Erickson, it was Cameron Kasky who called Dana Loesch a vampire! (No for real he did, and it was great.) But Hogg probably was mean to Dana Loesch, too, and we bet it was awesome.
AND NOW DANA LOESCH IS TOO SAD TO EVER GO TO HIGH SCHOOL AGAIN!
Again and again, his attacks are slanderous and without merit. He has a PR crafted Wikipedia page, he gets PR bookings on the news shows, and at some point someone should probably get the kid a grief counsellor instead of a TV gig. Regardless, what we are seeing is that no, high school kids are not people we should take seriously on any subject. If he cannot hold all the people who screwed up accountable because of his agenda and he accuses anyone who disagrees with him of hatred, he is not someone any of us should pay attention to.
DAVID HOGG TOLD ERICK ERICKSON "FETCH" IS NEVER GOING TO HAPPEN, AND BY "FETCH" HE MEANT "FUCKING GOATS"!
Cool story, bro.
Now get back up on that goat, Erickson, it ain't gonna hump itself.
Follow Evan Hurst on Twitter RIGHT HERE. And if you love this article, tweet it and share it on the Facebooks!
Wonkette salaries and servers are fully paid for by YOU! Please pay our salaries, so we NEVER DIE.
Evan Hurst
Evan Hurst is the managing editor of Wonkette, which means he is the boss of you, unless you are Rebecca, who is boss of him. His dog Lula is judging you right now.
Follow him on Twitter RIGHT HERE.