Alex Jones Being Very Reasonable About The Child Porn In His Emails, Hardly Threatening Anyone's Life At All
popular
June 18, 2019 12:52 PM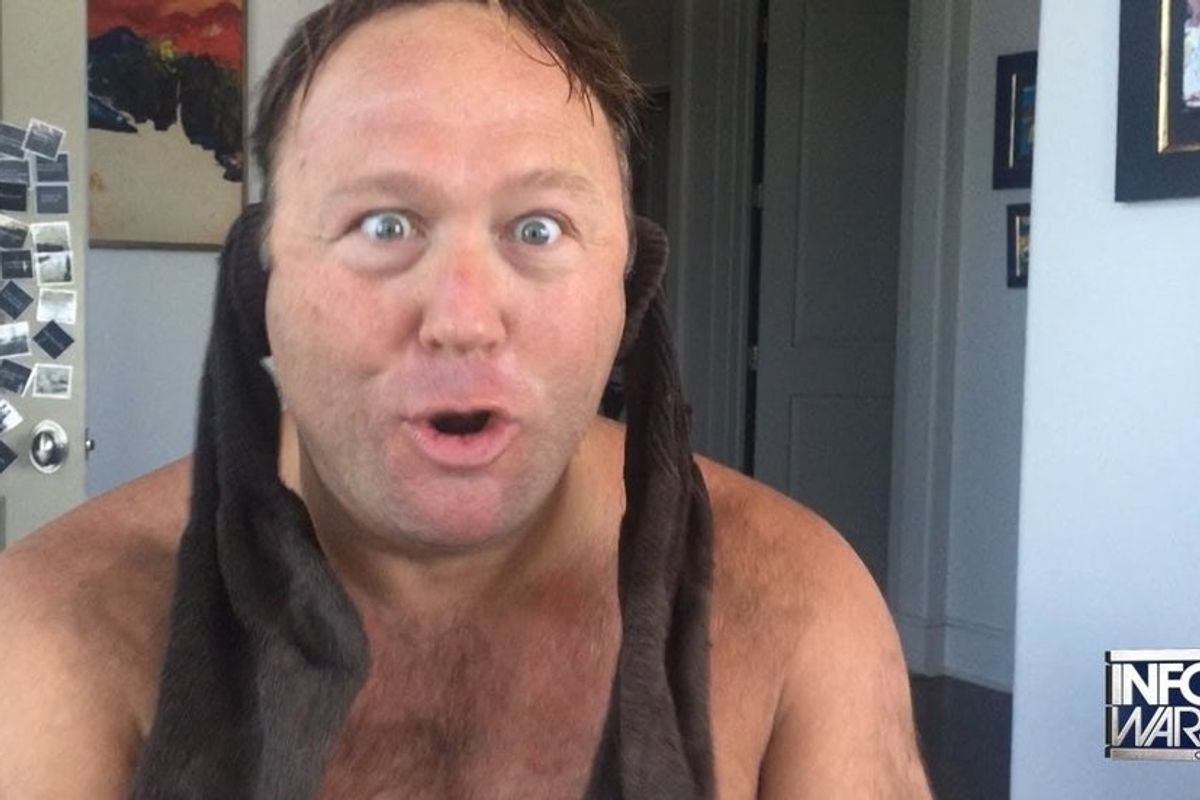 Infowars
On Monday, lawyers representing Sandy Hook families revealed that the emails sent to them for discovery by Alex Jones's defense team contained about a dozen images of child pornography. As soon as one of the emails was discovered, the lawyers sent them to the FBI, because that is the normal thing to do when one finds child pornography (or even Russian offers of electoral assistance) in a trove of emails.
---
No one is saying that Alex Jones somehow solicited the child porn in his emails. In fact, every article on the incident points out that the emails were not opened.
The reason this came out as it did is because this past Friday, Jones claimed that Infowars had been the victim of malware and accused one of the lawyers representing the Sandy Hook families of having been responsible for sending him the images in the first place.
Via Buzzfeed:
"We all know who did it," Jones said on his show as the camera focused on a Wikipedia entry for Chris Mattei, a trial lawyer for the firm Koskoff Koskoff & Bieder, which filed a suit against Jones.

Jones was also seen pounding on the picture of Mattei with his fist.

"What a good American, what a good boy," Jones said of Mattei. "I'm gonna kill..." he said before trailing off.
During the segment, Jones repeatedly denied being being aware of the images and tried repeatedly to link pedophilia and child abuse to Democrats.

"I like women with big giant tits and big asses. I don't like kids like you goddamn rapists," Jones said. "I literally would never have sex with children, I don't like having sex with children, I would never have sex with children. I am not a Democrat. I am not a liberal. I do not cut children's genitals off like the left does."
Following this, the lawyers asked a judge to review the video of his tantrum, accusing Jones of threatening Mattei and his firm. Which he did. In fact, by accusing Mattei of being responsible for this, he put his life in actual danger. Also, he did that explicitly:
"You're trying to set me up with child porn!" Jones said, while announcing a $1 million reward to his viewers to find and prove the material had been planted.

"Imma get your ass," Jones warned. "One million dollars, one million, you little gang member. One million dollars to put your head on a pike."

In a rant this morning on Infowars, Jones proclaimed that all of the outlets reporting on this story were engaged in a vast conspiracy to make him out to be a child pornographer, which he claims is exactly "like saying Jesus is in league with the devil." Again, he yelled and yelled about how liberals and the Democratic Party are the real child molesters.
In light of this, we must note that the reason he is being sued by the Sandy Hook families is because he accused them of being involved in a vast conspiracy to pretend that their children were murdered in order to steal all the guns away from law-abiding American citizens. It's almost as if there is a pattern here, though not of Alex Jones being unfairly persecuted.
Jones is also denying that he ever actually accused Mattei, claiming that he was simply offering a reward for information on whoever actually did send the emails. He now claims that he "knows" the lawyers didn't send the data, but that they only reported it to the FBI to get him in trouble.
"Obviously the lawyers didn't send us this. I'm saying they made— they manipulated the judge to get metadata, knowing it was stuff that was hidden in there that we'd never even opened and, and they were trawling for something. And I'm pissed that all their false accusations against me has now led to them getting all these emails that we never even opened, and I've gotta offer a reward for who's behind it, and it makes my head spin, and that's why we offered the reward. And I don't know why they're so scared of a reward!"
So ... according to Jones they didn't send the emails, but they manipulated a judge to get the metadata, so that they could frame Jones for being a child molester? Because somehow they knew there would be child porn in the metadata? And he's angry that they sent the child porn to the FBI (which is what they are supposed to do), in order to get him in trouble. And he's angry that the lawyers are saying he said they were responsible for sending the emails, just because he very clearly insinuated that they had sent him the emails, and he was obviously only offering a million dollars to put their heads on a pike WITH VOTES.

Jones then compared himself to the protagonist of "The Fugitive," which I guess means we need to start searching for a one-armed man who goes around disguising himself as Alex Jones, accusing lawyers of sending him child porn in order to make him look bad.
[Buzzfeed]
Wonkette is independent and fully funded by readers like you. Click below to tip us!
Robyn Pennacchia
Robyn Pennacchia is a brilliant, fabulously talented and visually stunning angel of a human being, who shrugged off what she is pretty sure would have been a Tony Award-winning career in musical theater in order to write about stuff on the internet. Follow her on Twitter at @RobynElyse