Alex Jones Gets PIIIIIIISSED When You Call His New Wife A Massage Hooker
News
April 21, 2017 01:30 PM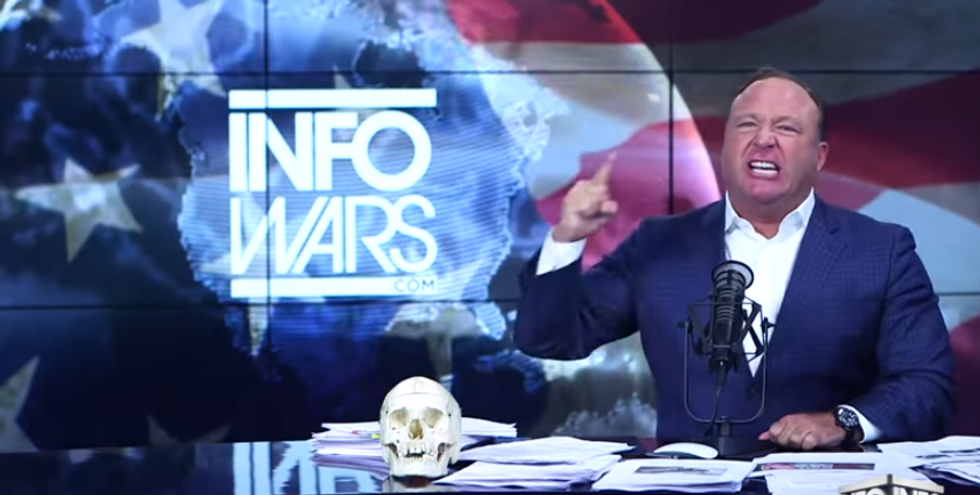 hello Alex Jones
---
Alex Jones's custody hearing with his ex-wife Kelly Jones continues apace! We've learned so many wonderful things about Mr. InfoWars this week, like how he's not ACTUALLY crazy (according to his lawyer), but he IS ACTUALLY CRAZY (according to him, and apparently doctors). He is naked most of the time and he can't remember what his kids look like if he's eaten chili recently, but he really wants to keep his kids, presumably when it's not chili day. His ex-wife, on the other hand, wants 50/50 custody.
Well, Thursday's proceedings got REAL fun, and Huffington Post reports that Kelly Jones's lawyer was finally able to get poor Alex to lose his marbles on the stand, which is quite a feat, considering how mentally stable he is. It all started when Jones was asked about his new wife, Enya (no, not the lady who is all "SAIL AWAY SAIL AWAY SAIL AWAY!" but a different Enya), and whether she used to be a massage hooker:
Jones began to lose his cool when [attorney Bobby] Newman pressed him about his current wife's past, in which she allegedly worked six years ago as a masseuse under the name "Enya" advertising private, discreet services to men in hotel rooms. Jones said Newman mischaracterized her profession and that she worked as a yoga instructor, but Newman responded that she had testified herself in depositions that she advertised the private services.
JONES: Don't call her a massage hooker!
NEWMAN: But she said she was a ...
JONES: THE ILLUMINATI IS THE REAL MASSAGE HOOKER!
Anyway, according to HuffPo, the jurors were able to see Enya's advertisements for "sensuous" massages, which pissed Jones off, but unfortunately Newman was like, "Again, Enya already said this stuff is legit, so shut up."
But THEN he finally got REAL MAD:
Jones finally lost it when Newman walked him through a series of yes-or-no questions, trying to get Jones to say he attempted to keep his teenage son from seeing his mother. Newman was referring to an episode Jones mentioned in the previous day's testimony, in which he tried to drop his son off for a visit with his mother and she refused to see him, and the son returned depressed for several days.

"You sit here and twist it!" Jones said, launching into a diatribe against the attorney, his voice quivering and appearing on the verge of tears. "You have won the award. You have no decency!"

It was the moment Newman had been waiting for. "Is that how you treat your children?" he asked. Then, twisting the knife: "Is that how you treat Enya?"
OUCH. Honestly -- and we are showing grace here, like a common Kellyanne Conway -- that sounds like quite a moment in a custody hearing, about a very personal issue between two divorced parents, and we don't know if Alex Jones is bad to Enya or to his kids, so we're not going to make fun of it.
Other things we learned in Thursday's hearings were that Alex Jones banged another lady while he was with Enya, but it was before they got married, and also he smokes devil reefer once a year, just to see how strong George Soros is making it these days.
Just another day in the life of Alex Jones!
Wonkette is funded by readers like YOU! If you like us, click below, to fund us!
Evan Hurst
Evan Hurst is the managing editor of Wonkette, which means he is the boss of you, unless you are Rebecca, who is boss of him. His dog Lula is judging you right now.
Follow him on Twitter RIGHT HERE.