Alex Jones Knows 'Deep State' Roofies Trump's Diet Cokes, But SHHHH THEY'LL MURDER HIM IF YOU TELL
News
September 11, 2017 03:49 PM
Bringer of secrets
---
WELL, WELL, WELL. Alex Jones, investigator and figure-outer of all the secret truths that exist, has done it again. He has "spoken" to his "sources" and they have told him that every single night, the Deep State sneaks into the Oval Office (yes, the entire Deep State, single file) and puts a roofie in Donald Trump's Diet Coke and one in his iced tea and one in his burnt steak and one in each scoop of his ice cream. Hell, General John Kelly probably hollers, "Who's a good boy! Who's a good boy!" from his office, which makes Trump gallop on all fours toward the voice of the nice chief of staff who says he's a good boy, at which point he sits and shakes and rolls over and plays dead, earning his reward of as many spoonfuls of peanut butter as he wants, all of which are FULL OF DRUGS.
This is a thing that happens. ALEX JONES KNOWS.
ALEX JONES (HOST): Ladies and gentlemen, I was told this by high level sources ...
THE HIGHEST.
... and it was evident and especially after [Ronald] Reagan was shot in his first year in office when he was acting like Trump, and doing the right things, that he never really recovered. They gave him cold blood, and his transfusion that causes brain damage. They slowly gave him small amounts of sedatives.
THEY DID IT.
Who is "they"? THE FUCKING DEEP STATE, DO YOU NOT SEE THEM HIDING BEHIND THE CURTAINS? They are very sneaky.
It's known that most presidents end up getting drugged.
Oh it's not just "most of them," it's ALL OF THEM KATIE. George W. Bush choking on that pretzel? BECAUSE IT WAS LACED WITH THE KIND OF DRUGS YOU'RE 'POSED TO SAY NO TO. Obama being all crazy boners for broccoli and arugula? HE WASN'T PANDERING TO MICHELLE'S LADY GARDEN, IT WAS BECAUSE THEY WERE COVERED IN VERY ADDICTIVE DRUGS THAT ARE NOTHING LIKE ALEX JONES TRUCKER SPEED.
Small dosages of sedatives till they build it up, Trump's such a bull he hasn't fully understood it yet.
BUT ONCE HE FIGURES IT OUT, OH BOY.
But I've talked to people, multiple ones, and they believe that they are putting a slow sedative that they're building up that's also addictive in his Diet Cokes and in his iced tea and that the president by 6 or 7 at night is basically slurring his words and is drugged.
We do remember that time Trump took phone shits all over the Australian prime minister because it was 5:00 PM ZZZZZZZZ PRESIDENTING MAKES HIM VERY SLEEPY. But maybe it was the drugs!
Now first they had to isolate him to do that. But yes, ladies and gentleman, I've talked to people that talk to the president now at 9 at night, he is slurring his words. And I'm going to leave it at that.
Maybe he's just senile. Or maybe that's what THEY want us to think:
So notice, "Oh, he's mentally ill. Oh, he's got Alzheimer's." They isolate him then you start slowly building up the dose, but instead of titrating it like poison, like venom of a cobra, or a rattlesnake, or a water moccasin where you build it up slowly so that you get a immunity to it, you're building it slowly so the person doesn't notice it. First it's almost zero, just a tiny bit and then a little more and then your brain subconsciously becomes addicted to it and wants it and so as the dose gets bigger and bigger you get more comfortable in it. The president's about two months into being covertly drugged.
WHOA. THE FUCK. IF TRUE.
And now the dose is in everything Trump touches or tastes. It's upon Steve Bannon's bosoms (allegedly!), it's on the tip of the Russian ambassador's dick (allegedly!). There is literally no place the Deep State won't hide Trump's mind-control drugs. (NOT ALLEGEDLY.)
Alex Jones knows sharing this information is dangerous:
Now I'm risking my life, by the way, tell you all this.
He better don his invisibility robe and wizard hat, then! Otherwise the Deep State will probably assassinate Jones a bunch of times, just like they've done to Roger Stone. And you might think, well, how can the Deep State drug Trump and murder Roger Stone and Alex Jones all at the same time? The answer is shapeshifting, and also something about gay frogs. OPEN YOUR EYES, YOU IDIOTS.
I was physically sick before I went on air.
Awwwww, that sucks. Doktor Zoom is sick today too. HOPE HE'S NOT GETTING DEEP STATED.
Because I'm smart. And I don't mean that in a braggadocious way. I mean I'm not dumb.
Well ...
In fact, I'm tempted just to let it out now so they don't cut the show off or something before this goes out.
Let it go! Let it go! Iiiiiiiii don't care what they're going to say, let the storm rage onnnnnnnnnnnn!
I mean this is the kind of thing that gets you killed.
The cold never bothered Alex Jones anyway.
They drug presidents because the power structure wants a puppet. The president needs his blood tested by an outside physician he trusts.
Well there's always this guy: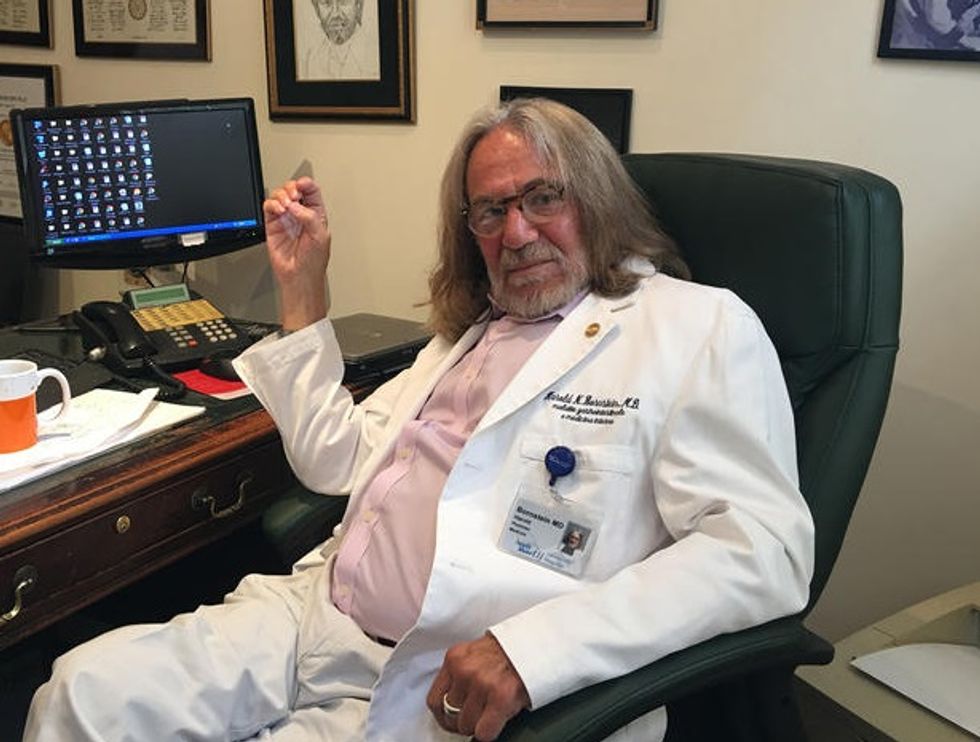 That's the ticket.
But wait, what if Dr. Weirdass up there runs the tests and just finds usual stuff like Adderall, Imodium AD, Heartgard and whatever they use to treat syphilis acquired in the late 1970s?
THEN THAT MEANS THE DEEP STATE IS MAKING ITS DRUGS UNTRACEABLE, OBVIOUSLY, YOU SHEEPLE.
Oh well. Even if they ferret out whatever Trump is almost certainly being drugged with, the Deep State always has Plan B, i.e. that one weird chemtrail that comes out of Air Force One's fanny and goes directly up the president's nose.
Follow Evan Hurst on Twitter RIGHT HERE.
Wonkette salaries, servers, and all of the things are fully funded by readers like you! If you love us, click below to fund us!
Evan Hurst
Evan Hurst is the senior editor of Wonkette, which means he is the boss of you, unless you are Rebecca, who is boss of him. His dog Lula is judging you right now.
Follow him on Twitter RIGHT HERE.