Alexandria Ocasio-Cortez: Happy Christmas, War Is Over
Military
September 24, 2021 10:15 AM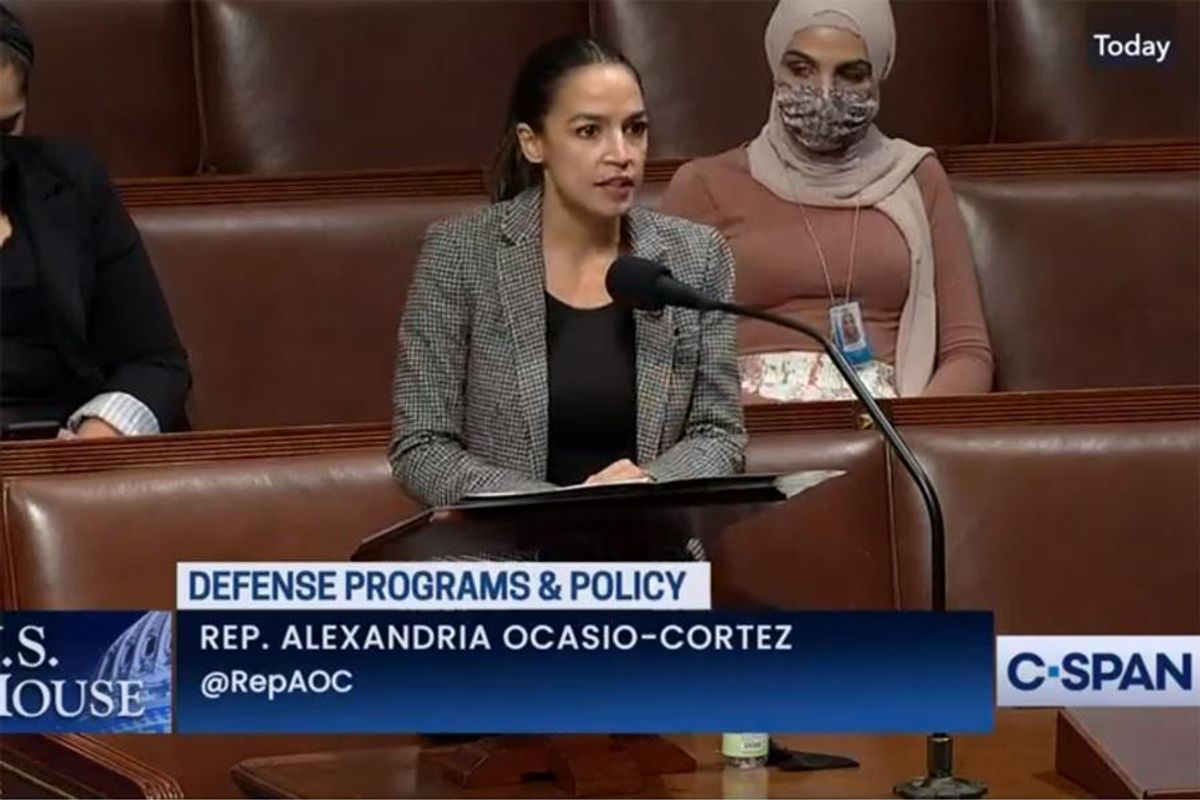 Here's your feel-good video for the morning, with Rep. Alexandria Ocasio-Cortez (D-New York) speaking Wednesday in favor of an amendment to the annual National Defense Authorization Act that would cut 10 percent, or roughly $77 billion, from the defense budget. The amendment was offered by Rep. Mark Pocan (D-Wisconsin), with co-sponsors Ocasio-Cortez and Rep. Barbara Lee (D-California), after the House Armed Services Committee voted earlier this month to add $24 billion to Joe Biden's requested defense budget, matching a similar spending boost by the Senate.
Ocasio-Cortez argued that there are plenty of better things we could be spending that $77 billion on right now:
During a time when our country is withdrawing from foreign wars, when COVID-19 and its fallout is one of the greatest threats that we face, when record levels of unemployment, housing and healthcare crises are among us, the United States should be reducing its military spending by at least 10% and prioritize the very needs of our communities here at home.
But wait! If we cut defense spending, won't that make America less safe? Surely we absolutely need every single dollar to protect America from its many enemies. AOC had some suggestions for stuff we might do without, in this excerpt of the debate posted to Twitter by Rep. Ilhan Omar (D-Minnesota):
Responding to a claim by ranking Republican Rep. Mike Rogers, Ocasio-Cortez said,
---
There's a point brought up that this could potentially threaten our readiness and I would counter that it is not the readiness that cutting the defense budget threatens, it is the profit margins of defense contractors.

In fact, every major defense contractor in the US has had to pay fines or settlements for fraud or misconduct, all while getting $1 trillion in public funding in defense contracts.

I have seen this personally on my work on the Oversight Committee, where we have encountered contractor after contractor gouging the public and draining our resources.

The $77 billion is not that hard to find. The Pentagon could save almost $58 billion by eliminating obsolete weapons, like Cold War-era bombers and missiles designed and built in the last century that are completely unsuitable for this one.
Well yeah, but how are we going to prevent international communism from spreading if we aren't ready to vaporize the USSR?
Ocasio-Cortez then got to one of my personal favorite "why the fuck do we keep doing this?" items, the bizarre "use it or lose it" spending sprees at the end of every fiscal year, to make sure all those "defense" dollars get spent, lest it look like the Pentagon doesn't actually need the same amount of funding — or an increase, please — in the next budget.
We could find $18 billion by preventing the end-of-year spending sprees that leads to contract money being shoveled out the door. The Congressional Research Service has documented these spikes, and set your watch to it each September as offices at the Pentagon go on a last-minute spending spree to justify next-year budget increases.

We have increased our military spending year after year, senselessly and needlessly, and during a time when we have ended an almost two-decade war, there is no reason for us to be increasing our military spending and our defense budget when we are not funding child care, health care, housing priorities, and the climate crisis here at home.
Now, that wasn't all she had to say on the matter; earlier in the debate (you can find the full video at CSPAN), Ocasio-Cortez made the perfectly reasonable point that in the pursuit of "national security," we're blowing billions of dollars on guns at the expense of Americans' basic needs:
We ask Americans and people in this country, year after year, to engage in the magical thinking that defense spending comes at no real cost. It does. It comes at the cost of our security. [...] The degradation and erosion of our social systems here domestically is a threat as well.
AOC's comments certainly horrified a warhead at National Review, who fretted that calling for cuts to defense spending was utterly "unmoored from reality," because America faces "an increasingly belligerent government in Beijing," and how are we supposed to contain the Red Chinese menace if we don't keep shoving more and more money at the Pentagon?
In the end, war enthusiasts didn't need to worry so much, since the amendment was defeated, as was another more modest cut also sponsored by Pocan, Ocasio-Cortez, and Lee. That one would have chopped $25 billion from the NDAA, returning the Pentagon budget to the amount Biden had proposed, but while it did get 142 votes from Democrats, the larger, bloated defense budget will go forward.
We can now rest assured that next September there will once again be some hilarious stories of helicopter pilots being ordered to hover to burn off fuel, or soldiers being sent out to shooting ranges all day, so the Pentagon will get all the funding it "needs." Behold our military might, China, and despair!
[CNN / Truthout / C-SPAN / National Review / War on the Rocks]
Yr Wonkette is funded entirely by reader donations. If you can, please give $5 to $10 a month, and we absolutely promise not to spend it on fighter planes that can't fly in the rain.