All Fun And Games Until President Biden Starts Calling GOP Governors Neanderthals
POTUS
March 03, 2021 04:25 PM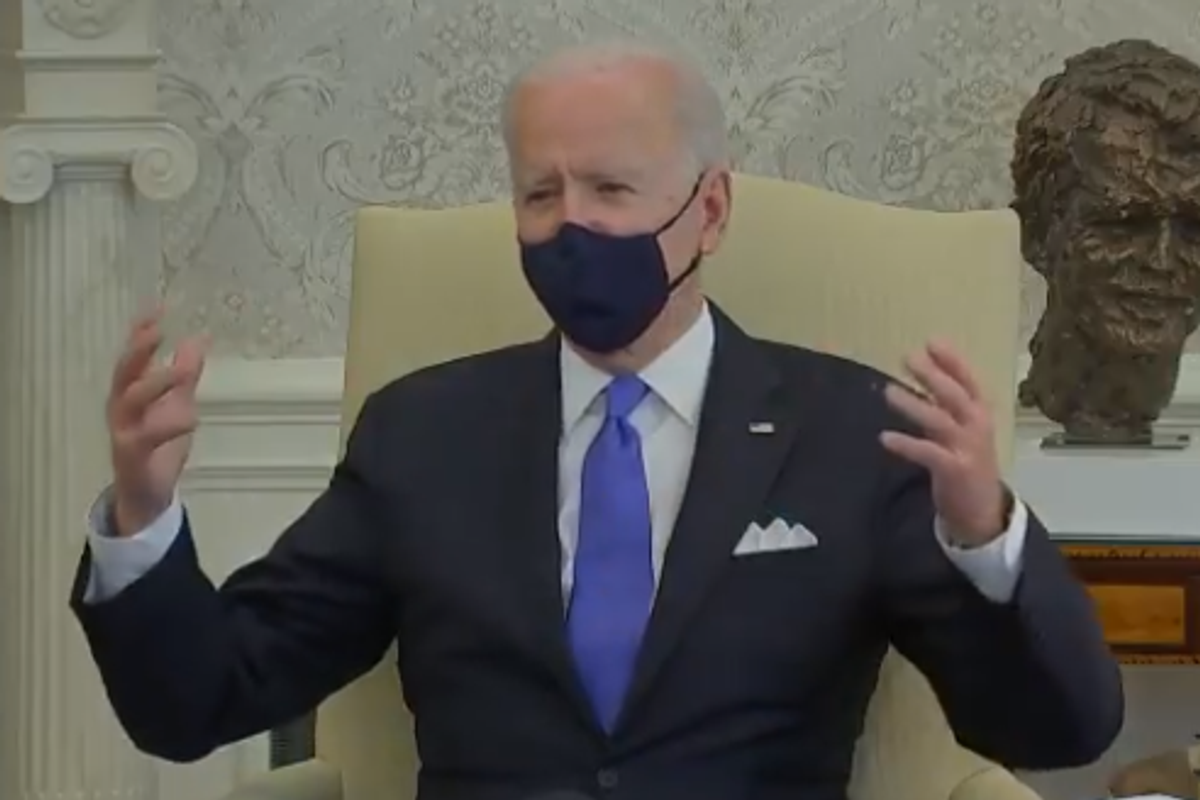 Yesterday, Texas GOP Governor Greg Abbott decided that, even with rising COVID-19 cases, Texans had "mastered" the skills they need — yes, he said that — to keep from getting the virus, and therefore all mask mandates must be uplifted, for freedom! After all, an overwhelming seven percent of the population is vaccinated now, that's probably a good herd immunity number, yeah? (No.)
About five seconds later, Mississippi GOP Governor Tate "Tater Tater Tater Tater Tater Tater Tater Tater Tater Tater Tater Tater Tater Tater Tater Tater Tater Tater Tater Tater Tater Tater Tater Tater Tater Tater Tater Tater" Reeves said Mississippians were also too ready to breathe hot wet viral delta mouthfarts all over each other, in the name of America! Or whatever he said. Point is, he removed all the statewide restrictions.
Here in Tennessee, we're just waiting for our moron GOP Governor Bill Lee to follow suit, ha ha, he can't because there never WAS a statewide mandate, suck on that. (Lee was busy this morning, reading Dr. Seuss to some kids. Double suck on that!)
We were literally thinking last night that we hoped President Joe Biden would be just cold fuckin' MEAN to those GOP governors who, like the brain wizards they are, have decided that it's time to fuck up all the progress we've made and cancel safety measures in the seventh inning stretch.
And surprise, he was! He called them Neanderthals.
OK, to be exact, he called their brain thoughts "Neanderthal thinking," which by extension makes them "Neanderthal thinkers," and if it walks like a Neanderthal and it quacks like a Neanderthal and it thinks like a Neanderthal, it's probably a ... !
---
NEW: President Biden calls Texas and Mississippi decisions to end mask mandates "a big mistake" and criticizes what… https://t.co/wLhVEwrsv5

— NBC News (@NBC News) 1614799003.0
CDC Director Rochelle Walensky saidnot to get complacent right now. The CDC said if we fuck it up now, we can really fuck it up and set ourselves backward on the wrong path. As Biden reminded us, we will now have enough vaccine for all American adults by May. "The last thing we need is Neanderthal thinking," he explained, about Greg Abbott and Tater Tater Tater Tater Tater and any other GOP governors who think they're getting bright ideas right now. (Montana Gov. Greg Gianforte already beat them all to it, because beating people is a thing he loves to do.)
Advice for President Biden: Next time, just call them "some dumbass motherfuckers." We know, we know, you are all "genteel" and "civility," and you are trying to move on from the Trump era of coarse language, WE KNOW.
Just once, though, it would be fine. It would feel great. Also Fox News would probably stop talking about Mr. Potato Head's peenwhistle for five seconds so it could rage about your cusses.
Try it! You'll like it!
OPEN THREAD.
Follow Evan Hurst on Twitter RIGHT HERE, DO IT RIGHT HERE!

Wonkette is ad-free and funded ENTIRELY by YOU. Be the change you want to see in the world! Thank you we love you!
Evan Hurst
Evan Hurst is the managing editor of Wonkette, which means he is the boss of you, unless you are Rebecca, who is boss of him. His dog Lula is judging you right now.
Follow him on Twitter RIGHT HERE.