American Dream Deferred. Wonkagenda for Thurs., August 3, 2017
Elections
August 03, 2017 09:24 AM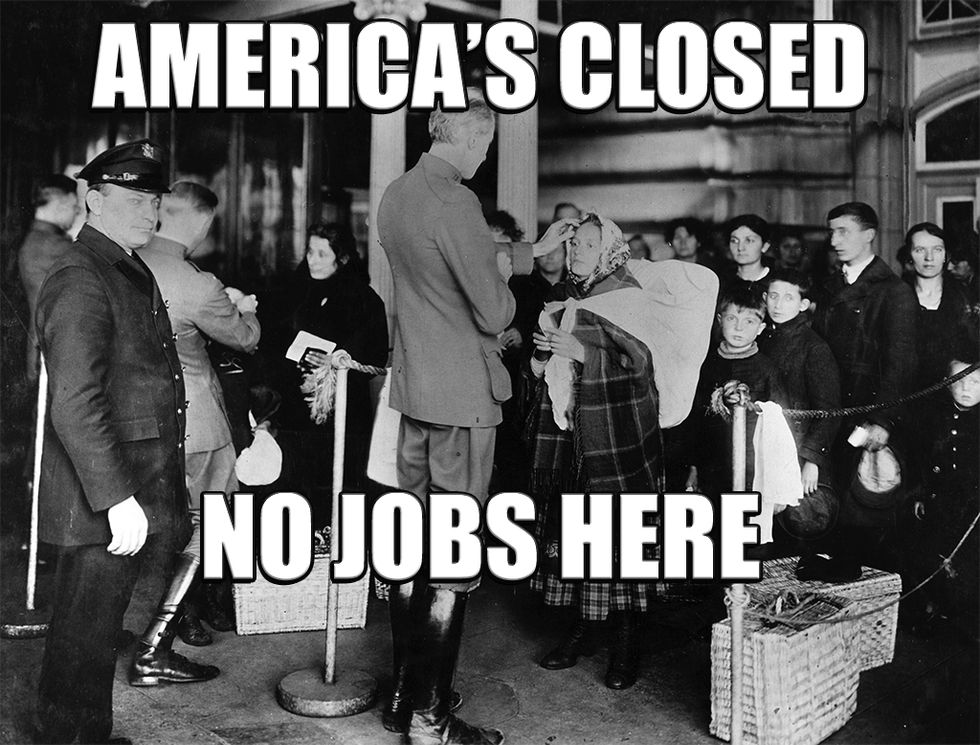 Hello there, Wonketariat! We've got a big day ahead, but here's a few of the things we may be talking about today.
---
Trump's "new" immigration policy (from February) favors the regal, pompous Not Americans, and seeks to push back boats with the huddled masses BECAUSE they're tired and poor.
Jeff Sessions's plan to investigate "intentional race-based discrimination" against white people at colleges is sending the Republican base in to a orgiastic frenzy, which is a little ironic considering how the Republican base regularly criticizes people with a college education.
Senate Republicans don't really care if Trump cuts off their government-sponsored healthcare plans, but their staffers are quietly threatening to revolt if bosses kill their health insurance policies.
The bipartisan band-aid for the ACA from Patty Murray and Lamar Alexander is proving to be a tough sell as many Senators are cautious to approach it head-on and have it branded directly to their foreheads.
An uneasy alliance is forming among Steve Mnuchin, Mitch McConnell, Paul Ryan, and congressional Democrats over the looming debt ceiling, but there's still debate on where to hide the legislation from Ted Cruz and the Freedom crazies.
H.R. McMaster has "You're Fired" ANOTHER Mike Flynn suckup, Ezra Cohen-Watnick. McMaster was apparently pissed after an article about his inability to "You're Fired" Cohen-Watnick ran in a magazine, linking Cohen-Watnick to the Bannon's batshit Breitbart weirdos.
Gay hatin' Rep. Scott Garret has been given a second chance to rescue his nomination to the Export-Import bank, so he's making the rounds on Capitol Hill to explain how his hatred of the Export-Import bank and LGBT people is not really not that big of a deal.
Silicon Valley is sounding off against a proposed online sex trafficking bill, accusing the legislation of unnecessary censorship and for its "whack-a-mole" approach to shutting down specific websites.
George Nesterczuk has withdrawn himself for consideration for the head of OPM after over a dozen labor groups pointed out that he's made a career screwing over federal workers.
Sean Spicer continues to haunt the White House grounds weeks after The Mooch killed both of their political careers, and speculation continues to grow over who will be the the new ex-Comms Director. Look between the bushes!
A US citizen detained by ICE back in 2007 was held for three years before finally being released, and now he's been denied compensation for false imprisonment as it would mean that the ICE has something other than, "papers, please."
Sarah Huckabee Sanders denies that Trump lied when he said Trump received praising phone calls from the Boy Scouts and the Mexican president, stating that those conversations happened in person. Both the BSA and Mexico have denied the White House's denial.
Trump is denying calling the White House "a dump," despite saying it in front of a group of staffers and Bedminster golf club members.
Hardcore right-wing Republicans are sticking with Trump, but the most recent polls show Trump's LOW RATINGS continue to spread.
Kentucky Governor Matt Bevin fired off a couple of mean tweets when a local TV station flew a drone over his house for a story about the state investigation into the value of property Bevin says is worth less than what he paid for it. The station ultimately used the footage; subtly reminding the governor that he's under investigation for sweetheart land deals.
An article in a Vatican-vetted magazine is critical of President Bannon and conservative American Catholics, stating hardcore ultra conservatives are "not too far apart" from jihadists. It's unclear if the article received the Pope's blessing, but considering the last meeting between the Pope and Trump, we can make a few inferences.
Mark Zuckerberg has hired Hillary Clinton's pollster, Joel Benenson for no reason in particular. No reason at all. Nope. Just because.
A judge has greenlit a class action suit against Comcast's hidden fees for broadcast TV, stating that it's entirely possible Comcast breached its own contract when it started jacking up prices and fees without telling anyone.
John Oliver can't talk about the lawsuit filed against him by coal king and "Dr. Evil" impersonator, Bob Murray but the ACLU can, and it's written a nice letter explaining why it's legally cool to tell Bob Murray to "eat shit."
The Mooch will hold an internet thing on Friday to explain why he was "You're Fired" after giving the world the mental image of Steve Bannon sucking his own cock.
And here's your late night wrap-up! Stephen Colbert wondered if Trump's English will be on his immigration exam; Jimmy Kimmel had a message for white people about discrimination with David Alan Grier; Seth Meyers took A Closer Look at how Trump-Russia keeps mutating; The Daily Show talked about affirmative action with Jordan Klepper and Roy Wood Jr.; and Samantha Bee 'splainered how the GOP sabotaged Obamacare, then sang a musical for Kris Kobach.
And here's your morning Nice Time! Lemur babies!
Help us out, will you? Toss a few Ameros our way and we'll keep giving you the newses!
Dominic Gwinn
Dominic is a broke journalist in Chicago. You can find him in a dirty bar talking to weirdos, or in a gutter taking photos.