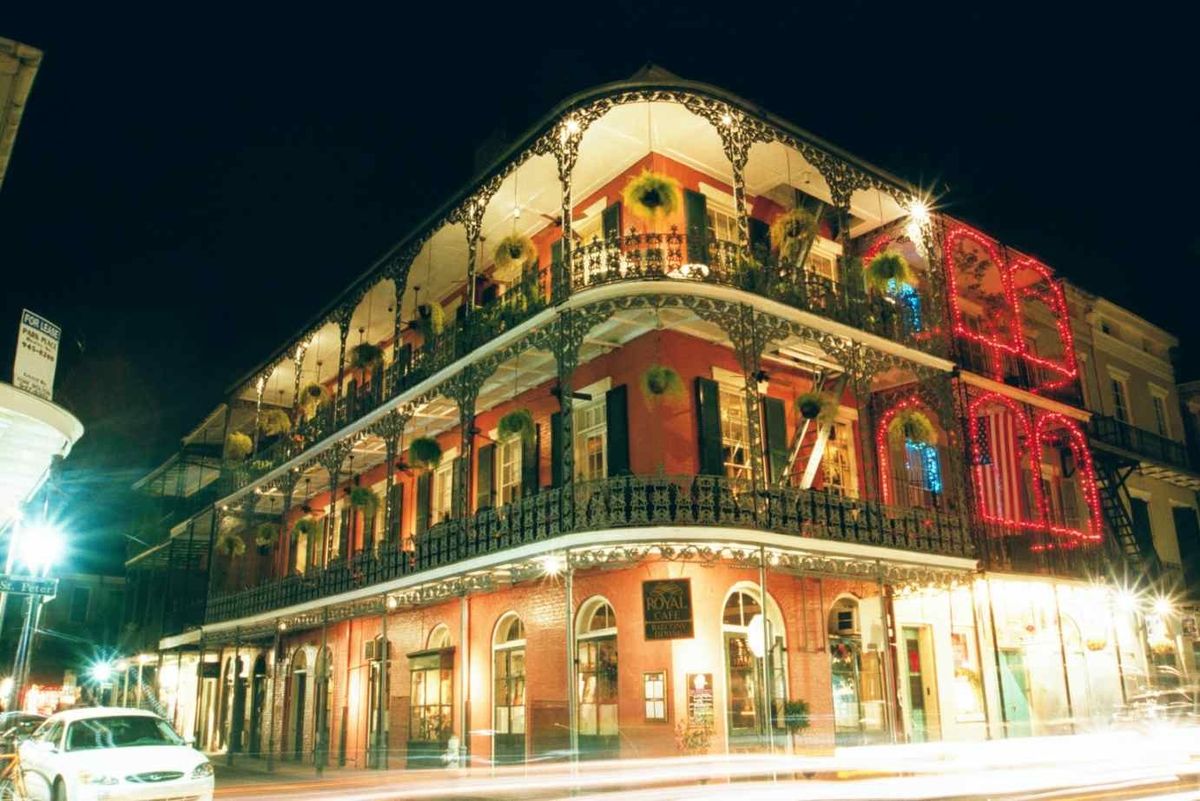 There is something that happens to me every time I cross the state line from Mississippi into Louisiana on Interstate 55, or more accurately, a few minutes later, as I pass through the towns of Hammond and then Manchac, where I see Middendorf's, one of the best seafood joints anywhere, off the highway to the left. Right there begins The Bridge, which you only understand if you've crossed it. From there, you've got 42 miles to New Orleans, and it's about the last time you'll see dry land until you get there, as you roll through swampland along the edge of Lake Pontchartrain. It doesn't matter whether it's daytime, late at night, or, as is most often the case, dusk. It doesn't matter if I'm the only one in the car or, as is most often the case, I'm in a car full of joyful people.
Something in my body, in my soul, just exhales, like I've been holding my breath since the last time I was on that bridge. It's a physical and spiritual reaction. Though I've never actually lived in the city of New Orleans — I dream of one day being able to, at least part-time — there is something about that city and that region that just whispers, "You're OK now. You're here." (There are bits of evidence in our family tree that maybe there is a deeper connection with the city running through our genes, if you believe in that sort of thing.)
Cafe Du Monde, Decatur Street, French Quarter, New Orleans… | Flickrlive.staticflickr.com
New Orleans, as you might have heard, is fast becoming a frightening new epicenter for coronavirus in the United States. New Orleans, a city that's been through disaster too many times before, and that still bears the scars of Hurricane Katrina in 2005.
According to the Johns Hopkins map, there are 1,170 confirmed cases in Orleans Parish, but we're sure that number is already expired. In the New Orleans metro area, it's getting close to double that. New Orleans is experiencing the fastest growth in the world, and the highest number of deaths per capita, in a city where 24 percent of the residents are below the official poverty level and many are homeless.
---
Vice reported this week that their hospitals are in danger of "systemic collapse," and of course, like so many other places in America, medical professionals don't have the fucking equipment they need to protect themselves. New Orleans Mayor LaToya Cantrell, quoted by the New York Times, said the food pantries are going to be empty soon, and oh yeah, by the way, hurricane season is around the corner. They may end up putting sick people in the convention center again, just like they did after Katrina.
Collin Arnold, director of New Orleans's Office of Homeland Security and Emergency Preparedness, told CNN, "This is going to be the disaster that defines our generation."
Many of them knew it was coming, because as news of coronavirus started to spread, we personally heard many of them saying, "I swear to God I had this after Mardi Gras." They've been talking of a weird flu-like sickness, they knew they got it at Mardi Gras, and finally their anecdotes are being verified and reported. (Indeed, it's starting to look like a lot of people in a lot of places have already had it, going all the way back to January. Trump wants to open society back up? Fucking test for antibodies to see who's already had it!)
The New York Times cites Yanti Turang, an ER nurse, who says all the doctors and nurses are talking about the numerous most-likely-coronavirus cases they now realize they saw just after Mardi Gras, back when nobody knew. "We were blindsided by the fact that it was actually here in New Orleans already," said Turang.

More from the Times's report on Thursday:
"I think it all boils down to Mardi Gras," said Dr. F. Brobson Lutz Jr., a former health director of New Orleans and a specialist in infectious disease. "The greatest free party in the world was a perfect incubator at the perfect time." [...]

Dr. Catherine S. O'Neal, an infectious disease specialist and chief medical officer at Our Lady of the Lake Regional Medical Center in Baton Rouge, compared this year's Mardi Gras to the infamous 1918 "Liberty Loan" parade in Philadelphia. That gathering took place in the midst of an influenza pandemic, packed 200,000 people onto city streets and likely contributed to Philadelphia's grisly death toll, with more than 12,000 people dying within a six-week period.

But Dr. O'Neal blamed no one for failing to take action to limit Mardi Gras festivities. At the time, no cases of the virus had been identified in Louisiana and there were fewer than 50 known cases in the United States. "We were still talking about handwashing." [...]

"Everybody talks to everybody, which means you stop and you have a conversation and then you move on and have a conversation with somebody else," said [Tulane epidemiologist Dr. Susan Hassig], who rode in a Mardi Gras parade with the Krewe of Muses this year.
Of course she did. Of course the Tulane epidemiologist was on a Muses float during Mardi Gras, and is now serving her community during this, New Orleans's latest epic and tragic struggle. Nothing more New Orleans than that.
As the Times notes, we have since learned that Mardi Gras likely seeded the virus in Tennessee and Arkansas and Texas, and probably points much, much further. In Memphis, we know our first cases came from Mardi Gras. Just this week, it was reported that Virginia's first death was one of those wingnut street pastors who populate New Orleans pretty much ... all the fucking time. He had previously been real upset about the "mass hysteria" over this virus, which is clearly just a ploy to hurt Donald Trump.
He was in New Orleans cleansing all the sin.
Apparently he brought a souvenir back to Virginia.
Huh.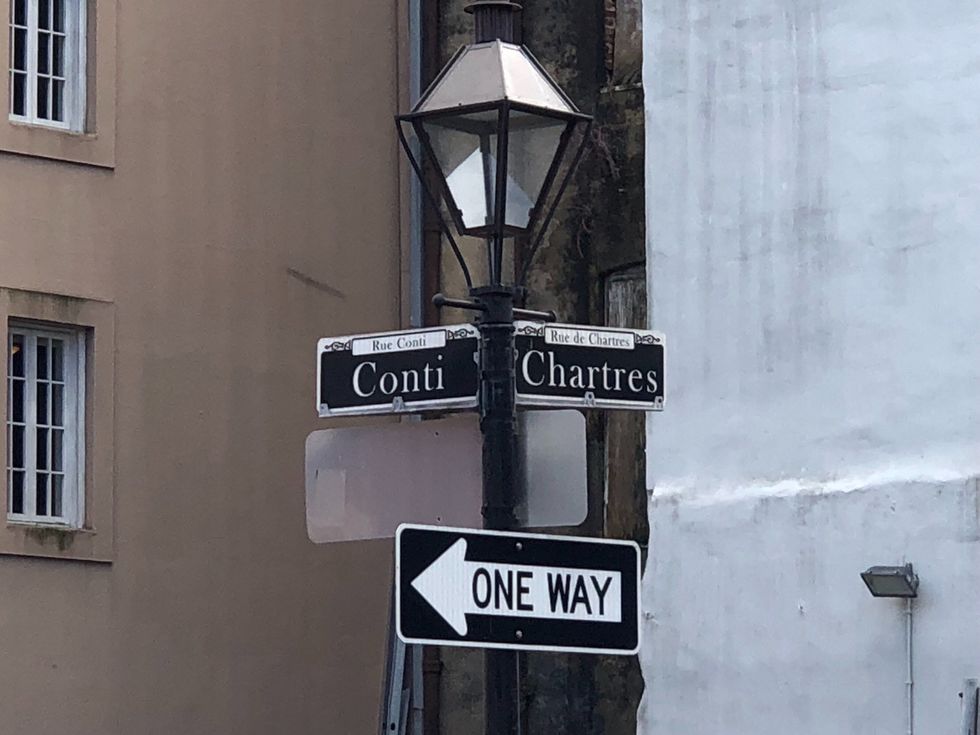 Photo by the author, all rights reserved.
I'm thinking about the places I've loved in New Orleans over the years, most of which are still open — well not right now, unless they're doing take-out and delivery food — and thinking about the people who work at those places and hoping they're OK and that they'll get back on their feet after this latest "This Too Shall Pass" passes. Everything I and so many others love about New Orleans wouldn't be what it is without the people who go to work every day to make it so.

Of course, part of it is selfish, because I want. that. food. in. my. belly.
Here, a few of my favorites, an ever-evolving list because you could live in that city for years and not experience everything it has to offer. I bet a couple of these places wouldn't hate it if you hit them up for a gift card, if you think you might be able to get to New Orleans in the next year:
Mandina's on Canal in Mid-City, where the locals eat on Sunday nights.
The best damn burgers in the world at Port of Call on Esplanade in the Quarter.
Elizabeth's in Bywater for brunch, for those boudin balls, and all the rest of it.
Adolfo's on Frenchmen in the Marigny, and when they ask you if you want "ocean sauce," the answer is yes.
Parkway Bakery and Tavern in Bayou St. John, for the best damn po-boy outside all the other places in New Orleans where you can also get the best damn po-boy, like the Erin Rose in the Quarter.
Cafe Degas in Bayou St. John for a charming and delicious brunch, and Liuzza's around the corner, where the gumbo never stops.
Ms. Mae's on Magazine in Uptown, because hello, it is, like so many of them are, a 24-hour bar, and the beer is like a dollar or something and so is the Fireball, god we don't even know, we were falling down at the time, every time. (MUST BRING CASH.)
And that's not counting all the random places you might stop on Magazine Street to day-drink (St. Joe's!) and the shops there and in every neighborhood where you'll buy either the most ridiculous shit you never needed, or never knew you couldn't live without, or both.
And for live music, we remember the best damn Aimee Mann show ever at Tipitina's, and all the brass bands literally everywhere; and then there are the cemeteries and the churches and the architecture in the Quarter and Bywater and Mid-City and Treme and the Lower Garden District and points beyond, each different, each showing another chapter of the long and weird and bloody and tragic and beautiful and rich history of the city of New Orleans; and the traipsing through Jackson Square and buying art there and at the Frenchmen artist market and more day-drinking and French Market coffee and staying up until 10 a.m. drinking wine on the patio of a house Uptown, before sleeping a few hours and then heading to the pool at the Country Club, back when that was a thing.
One time there we enjoyed a lovely cocktail while watching the most enthusiastic and hilarious naked woman beat the absolute SHIT out of this guy.
They were playing Connect Four. She beat the shit out of him at that.
We've seen the pictures of the empty streets. They're beautiful. Hopefully soon we'll find a cool local New Orleans photographer who's documented some of it, and we will buy their work and put it on our walls. (By the way, all these links? They go to local New Orleans merchants. They would love to sell you some shit right now.)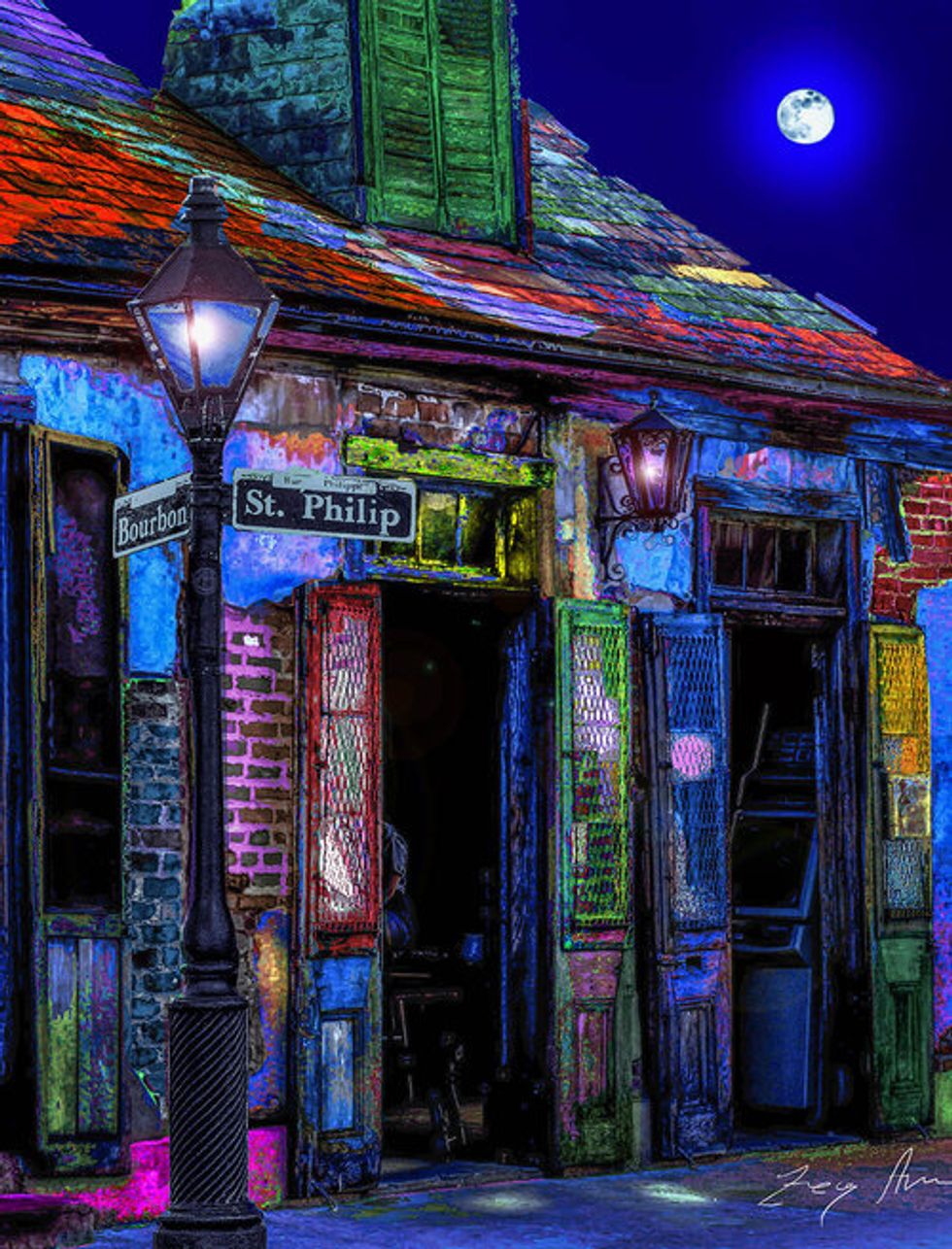 Credit: Zee Amer, a local New Orleans artist whose work, along with many others', can be purchased if you follow links from the Palace Market Frenchmen. Because you need better shit on your walls.
Of course, New Orleans has been here before, too many times, and New Orleans has been ignored before. Hell, we wouldn't even have the frame of reference for how much of a "heckuva job" Donald Trump is doing responding to coronavirus if we didn't first have George W. Bush "heckuva-job"-bing New Orleans after Katrina.
Louisiana Governor John Bel Edwards said this week that, at least with hurricanes, they have a handbook, and it's only happening in a small geographical area, so they have a chance to get the federal attention they need.
What happens when it's happening to literally the entire world?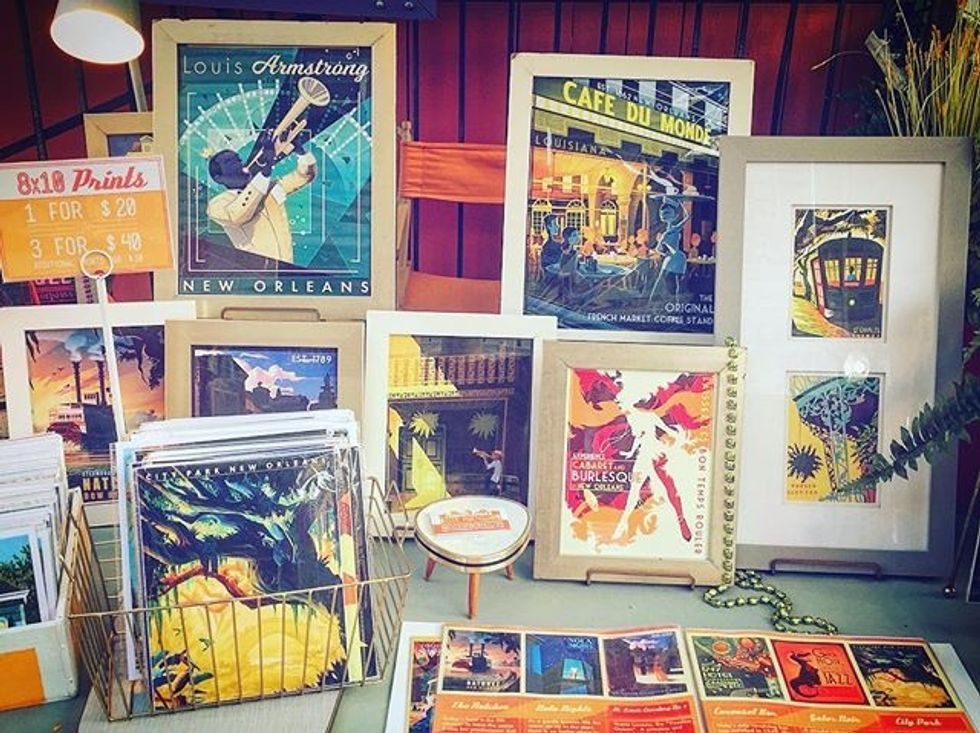 Credit: NOLA City Portraits, via Palace Market Frenchmen
Three days after the rug was pulled out from under America on November 8, 2016, I went with dear friends to New Orleans. The trip had been planned for a while, and at least a part of our thinking was that we'd be celebrating the election of Hillary Clinton. Instead, while we still did all our normal New Orleans things, based out of a tall house on Rampart in the Marigny near the corner of Elysian Fields, the city also served to cradle us during that scary week as we all walked around in a daze, shell-shocked. We tried not to talk about politics, but we talked about politics, and then stopped each other from talking about politics again.
On Sunday night, we went to Cafe Lafitte In Exile (or just Lafitte's) on Bourbon Street, a very old gay club (the oldest!) with a very old tradition called the "Napkin Toss." What happens is that they pass out stacks upon stacks of paper napkins to all the patrons, and at a certain predetermined time — we feel like it moves around maybe, or at least our sense of time does when we're down there trying to maintain a safe and elevated blood alcohol level — this cheesy 1978 song called "Love Is In The Air" comes on, and every time the chorus plays, everybody hurls their napkins into the air and they snow down throughout the place. It's mostly gay men of all ages, but it's other people too, and it spills into the streets, and weirdly and wonderfully it is one of the most joyous, life-affirming damn things I have ever experienced.
LaFiettes Napkin Toss Sunday Nightwww.youtube.com
You had to be there. No, really, you have to. I gave my friend side-eye every time he described it, and then I experienced it for myself, and now it is your turn to give me side-eye. If you experience it for yourself, your side-eye will STFU.
And maybe there was something more special than usual about it, coming five days after the election of Donald Trump. A joyous and defiant "fuck you."
That night, I helped a distraught twink find his way home from the world's friendliest gay dive bar, the Phoenix on Elysian Fields — as mature, responsible adults occasionally have to do! — and then retired for a few hours of sleep before it was time to go home to Memphis again. And as much as I am always glad to fall into my own bed after a long, wonderful and exhausting trip to New Orleans, there's always the deep breath that happens in the reverse direction, as I cross the long bridge next to Lake Pontchartrain going the other way.
Until next time, New Orleans.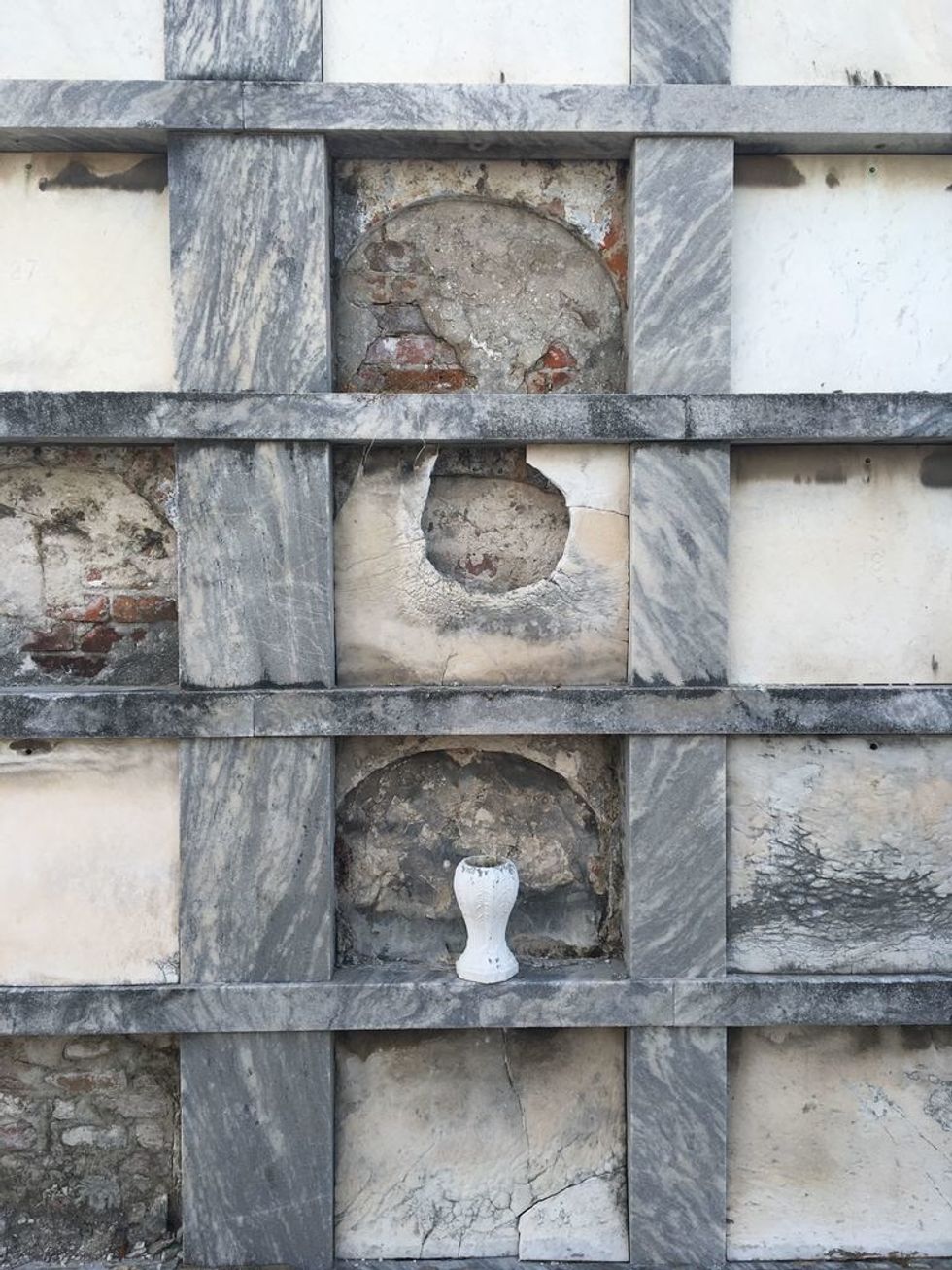 Mausoleum detail at St. Roch cemetery. Photo by author, all rights reserved.
New Orleans is already losing a lot of people. The Times reports that 11 of its deaths came from the same retirement home, more sacrifices to Texas Lt. Gov. Dan Patrick's god, we guess. Many more from that retirement home have the virus.
Meanwhile, The New Orleans Advocatereported last night that a 17-year-old promising football player named Jaquan Anderson has also died from the virus in New Orleans, though his father is not certain the virus was his son's cause of death.
More from the Times:
For now, the death toll continues its steady climb. A 39-year-old woman found dead in her kitchen before her test results had returned. A well-known 44-year-old D.J. who championed the city's bounce music scene. A 53-year-old man who drove for Uber and Lyft at Mardi Gras.

Ellis Joseph was friends with Oliver Stokes, the D.J., and also with Ronald Lewis, a New Orleans cultural icon who died on Friday of the coronavirus, as a test would posthumously confirm. In another time, Mr. Joseph would have walked with his bass drum behind the coffin at Mr. Lewis's funeral procession, leading a brass band in the traditional dirge "Just a Closer Walk With Thee." Hundreds if not thousands of people would have followed or lined the streets.
There were only 10 people at his funeral, including the pastor. You know, because the liberal media is trying to destroy Donald Trump's presidency by forcing everybody to do social distancing.
That's it.
Obviously.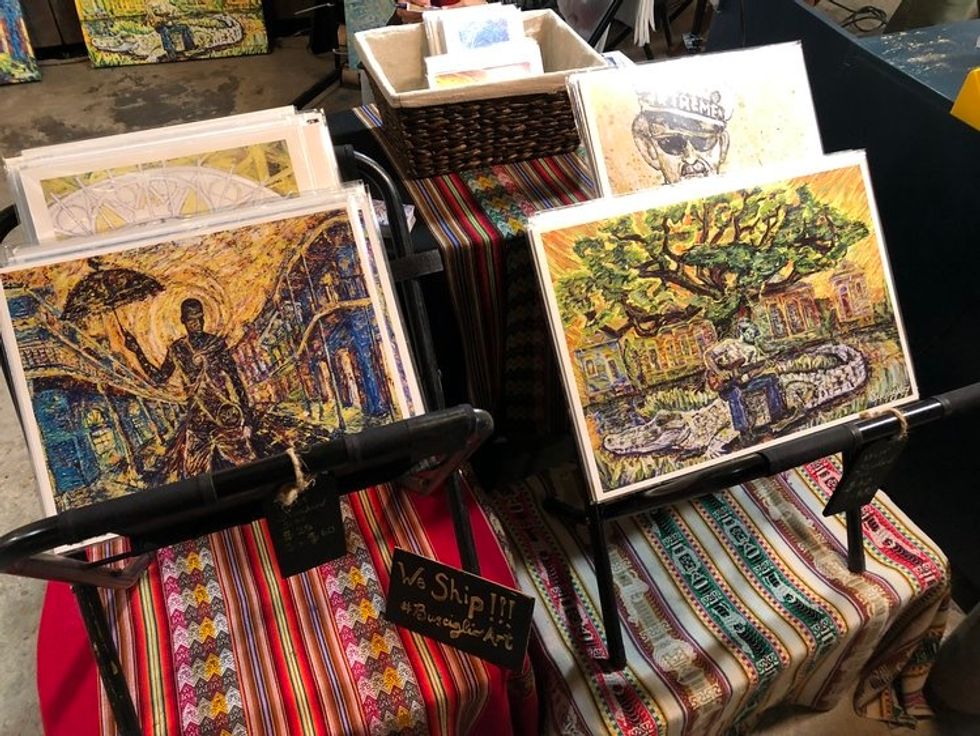 Credit: Work by Busciglio, also available through Palace Market Frenchmen.
I didn't go to Mardi Gras this year, though my brother and I talked about it. He, too, loves New Orleans, and has been thinking he'd like to make it family tradition for him, his wife and two young daughters to go to Mardi Gras every year, to raise those girls with New Orleans in their blood. (And before you object, yes, there is a family-friendly way to do it. It's a region-wide celebration, and you do know children live in New Orleans, right?)
Instead, I was supposed to head to New Orleans on April 10 to celebrate my 40th birthday with some of my my dearest friends, two of whom got together and booked the most beautiful house, once again in the Marigny, with a pool and hot tub, just a few feet from Frenchmen Street and Adolfo's. Beyond the obvious national holiday my birthday should be, suffice it to say it was a trip we kind of all desperately needed right now. Three weeks ago, we were still holding out hope that maybe, possibly, we could still do it. Maybe we could be safe, surely we would take all the proper precautions. And then of course a short time later, I knew it was time to call it, and so we called it.
A lot of my friends are turning 40 this year, and I go first. They are hereby put on notice that this trip is still happening, maybe in late September or something, and that it is still my birthday trip, mine. They can do other things for their 40th birthdays, even trips, and I will be there.
But this one is mine, dammit, as long as New Orleans is ready for us.
Whenever New Orleans is ready for us.
(This is your end-of-day open thread.)
Follow Evan Hurst on Twitter RIGHT HERE, DO IT RIGHT HERE!
Wonkette is fully funded by readers like YOU. If you love Wonkette, SUPPORT WONKETTE FINANCIALLY.

Evan Hurst
Evan Hurst is the managing editor of Wonkette, which means he is the boss of you, unless you are Rebecca, who is boss of him. His dog Lula is judging you right now.
Follow him on Twitter RIGHT HERE.