Anderson Cooper Falls For the Old 'Apes Say Put On a Bunny Suit' Trick
News
October 14, 2010 11:03 PM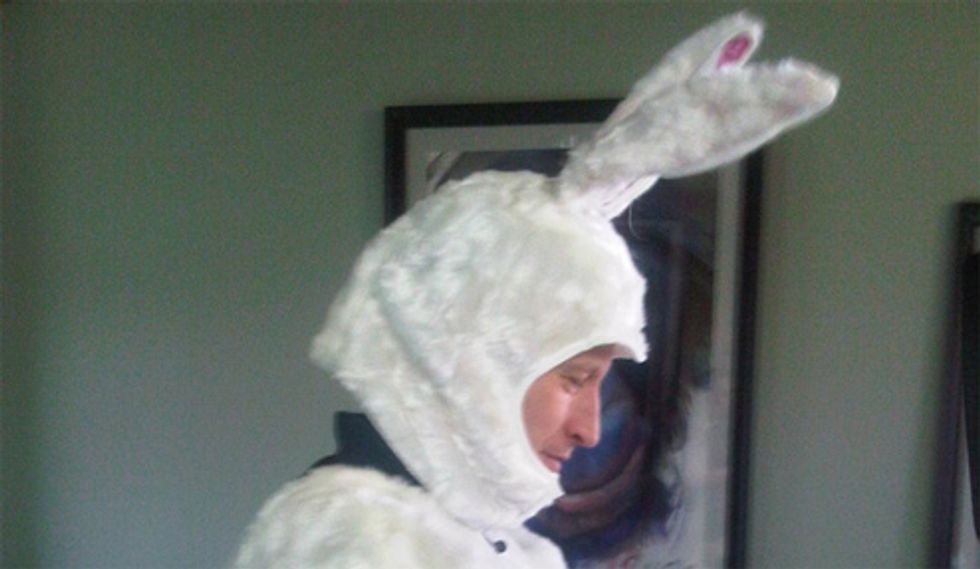 Kids, do you like the journalism? Of course not. You don't even know what it is. But if you did, you might think it's a respectable way to make a living. You would, of course, be wrong about that, too. Consider poor little rich boy Anderson Cooper, who actually worked hard for many years as an actual on-the-scene international war & disaster teevee reporter, and now is reduced to doing daytime talk shows for ladies and dressing up in fetish-furry gear. CLICK TO SEE ENTIRE HUMILIATING PICTURE.
---
The CNN personality says on his "Twitter Pix" website:
In IA for story on ape communication. The apes asked me to dress as a rabbit. Weird, huh?
"The apes asked me to dress as a rabbit," writes Anderson Cooper, who also claims to be in Iowa. Expect to hear this excuse a lot once the 2012 primary season gets underway, which apparently happened today.