Andrea Tantaros HIRED. A. DUDE. To Write Her Stupid Book About How Bitches Be The Worst
News
August 11, 2017 02:19 PM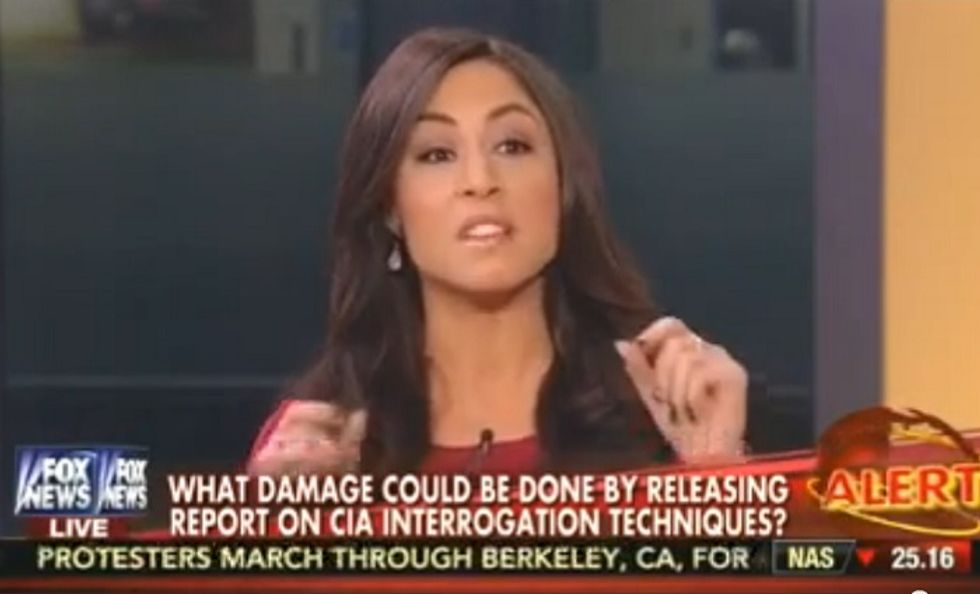 LOL YOU GUYS!
---
Holy hilarious Friday, everyone!
Andrea Tantaros is this lady who used to be on Fox News, and yr Wonkette just LOVED giving her shit, due to how dumb she is. For instance, one time she 'splained that we don't have to worry about terror threats from Islamic grandmas, because old Mee-Maw Muslim never does terror. HER GRANDKIDS DO, THOUGH. Another time she and her lady Fox News pals bemoaned how the godless minority was doing tyranny to them, because some redneck sheriff in Missouri was in trouble for putting Jesus stickers all over his department's police cars. DOESN'T IT SAY "IN GOD WE TRUST" ON THE DOLLARS THAT BOUGHT THOSE POLICE CARS? That is what Tantaros wanted to know.
The point is she is a TOTAL dipshit. Also apparently she wears a bikini sometimes, because Wonkette always gets search traffic for "Andrea Tantaros bikini." We always figured she was Googling herself during her lunch breaks at Fox.
But then last summer, she was one of the many Fox women to file a lawsuit about getting constantly sex-slimed by Roger Ailes, Bill O'Reilly and others, and she left the network. Her lawsuit is INSANE. All the sexual harassment stuff is super gross, but there's another part, about how Fox screwed her on promotion of her book Tied Up In Knots: How Getting What We Want Made Women Miserable. It was all bunch of legalese mumbo jumbo about how writing the book violated her Fox News contract, blah blah blah, we won't get into it.
What we WILL get into is how a lawsuit has just been unsealed, and it reveals that Tantaros hired A DUDE to write her lady-hating book about how chicks are the worst and should be home right now making everybody a sammich. YOU GUYS:
A New York federal judge has decided to lift the veil off of a case captioned as [Under Seal] v. [Under Seal]. It turns out that Michael Krechmer is suing former Fox News personality Andrea Tantaros for allegedly breaching an agreement for a ghostwriter for the book, Tied Up in Knots.

Here's how the book is described on Amazon:

"Fifty years after Betty Friedan unveiled The Feminine Mystique, relations between men and women in America have never been more dysfunctional. If women are more liberated than ever before, why aren't they happier? In this shocking, funny, and bluntly honest tour of today's gender discontents, Andrea Tantaros, one of Fox News' most popular and outspoken stars, exposes how the rightful feminist pursuit of equality went too far, and how the unintended pitfalls of that power trade have made women (and men!) miserable."
Oh, the sad ladies, crying all the time because they're trying to be men, by having lucrative Fox News careers of their own and writing books about them HAHA JUST KIDDING ANDREA TANTAROS HIRED A DUDE TO WRITE IT.
According to the Hollywood Reporter, at issue is an oral agreement Tantaros made with Krechmer to give him $150,000 to write Tantaros's alleged thoughts about how fuckin' dumb women are for wanting things like equality. Originally, they had made another deal that included a "don't tell anybody this dude is writing my book for me" clause, but they switched to the oral agreement because Tantaros strangely didn't want her editor and her publisher, Harper Collins, to know she was paying a dude to write her book about Fuckin' Ladies, AMIRITE?
Unfortunately, Tantaros has only paid Krechmer 30,000 ameros, and when he was like "gimme dollars," she instead "emailed him to demand he sign a non-disclosure agreement." Krechmer's response, allegedly, was "PFFFFFFFFFFFFFT." So he sued!
Here's why we're just finding out about this now:
The reason why this has been kept secret is that soon after Krechmer quietly brought the lawsuit, Tantaros moved for a preliminary injunction prohibiting him from violating the confidentiality provision during the pendency of a sealing order. Tantaros argued her career would be seriously jeopardized if word got out that he was the actual author of Tied Up in Knots.

That's not good enough for the judge.
Hooray for New York U.S. District Court Judge Katherine Forrest, for unsealing this so Wonkette can take a break from the utter terribleness of everything in Trump's America and go back to what we REALLY like doing, which is LOLing at Andrea Tantaros all day.
SHE.
PAID.
A.
DUDE!
TO.
WRITE.
HER.
LADY.
HATING.
BOOK.
OH.
MY.
GOD.
LOL!
Truly, Judge Forrest, you have done God's work.
Wonkette salaries are fully paid by lovely folks like you! If you love us, be generous and click below to pay our salaries!
Evan Hurst
Evan Hurst is the managing editor of Wonkette, which means he is the boss of you, unless you are Rebecca, who is boss of him. His dog Lula is judging you right now.
Follow him on Twitter RIGHT HERE.