Andrew McCabe Maybe Purged From FBI For Being Better Than A Common James Fucking Comey
News
January 31, 2018 12:45 PM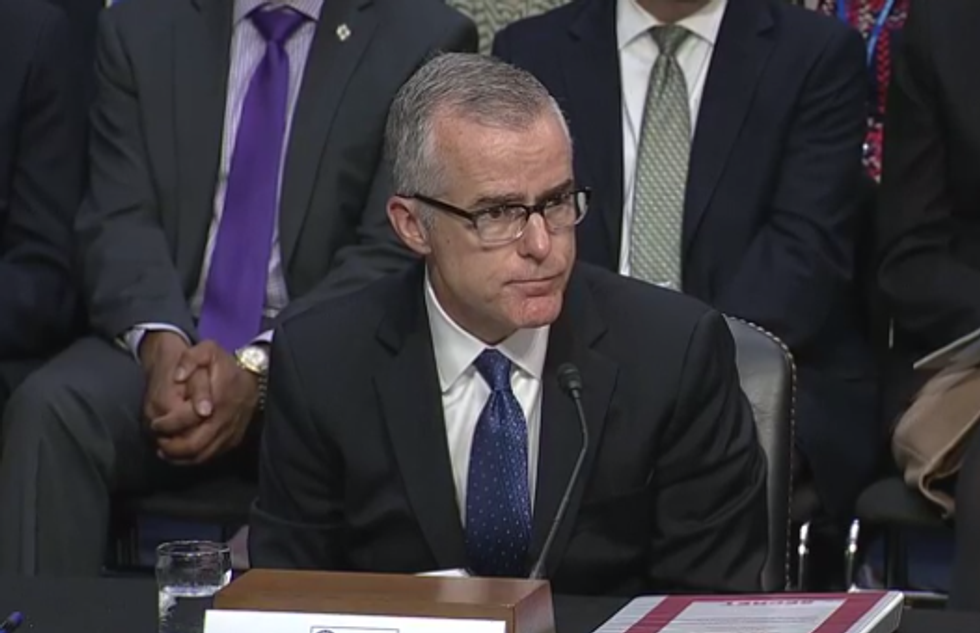 burn him!
---
Donald Trump gets very confused when he tries to figure out how Democrats can simultaneously STILL BE MAD at former FBI director James Comey for sticking Hillary Clinton's emails back into the campaign 11 DAYS BEFORE THE ELECTION, and also be furious that the barely elected president fired said former FBI director in a blatant attempt to obstruct justice in the FBI's investigation into whether his campaign committed conspiracies with Russia to steal the US presidential election. Not making some big statement here, just pointing out that Trump gets confused about things like that, because he's fucking stupid.
Turns out MAYBE part of the reason the FBI's number two guy, Andrew McCabe, was suddenly purged -- on top of how his wife is a known Democrat and Donald Trump hates him for irrational Stable Genius reasons -- is that a Justice Department inspector general's investigation of the handling of the Hillary Clinton email investigation may expose that McCabe is very guilty of trying to do his job BETTER than a common James Comey. In other words, McCabe may have sat on the "new" Hillary emails (which turned out to be a big fucking nothing, but were probably JUST enough to hand the election to Poopstain McOrange) for a few weeks, due to how the election was only a month off, and DOJ/FBI's longstanding policy is to refrain from commenting on investigations so close to elections.
The Justice Department's inspector general has been focused for months on why Andrew McCabe, as the No. 2 official at the FBI, appeared not to act for about three weeks on a request to examine a batch of Hillary Clinton-related emails found in the latter stages of the 2016 election campaign, according to people familiar with the matter.

The inspector general, Michael E. Horowitz, has been asking witnesses why FBI leadership seemed unwilling to move forward on the examination of emails found on the laptop of former congressman Anthony Weiner (D-N.Y.) until late October — about three weeks after first being alerted to the issue, according to these people, who spoke on the condition of anonymity to discuss the sensitive matter.

A key question of the internal investigation is whether McCabe or anyone else at the FBI wanted to avoid taking action on the laptop findings until after the Nov. 8 election, these people said.
LOCK HIM UP! FOR FOLLOWING BEST PRACTICES!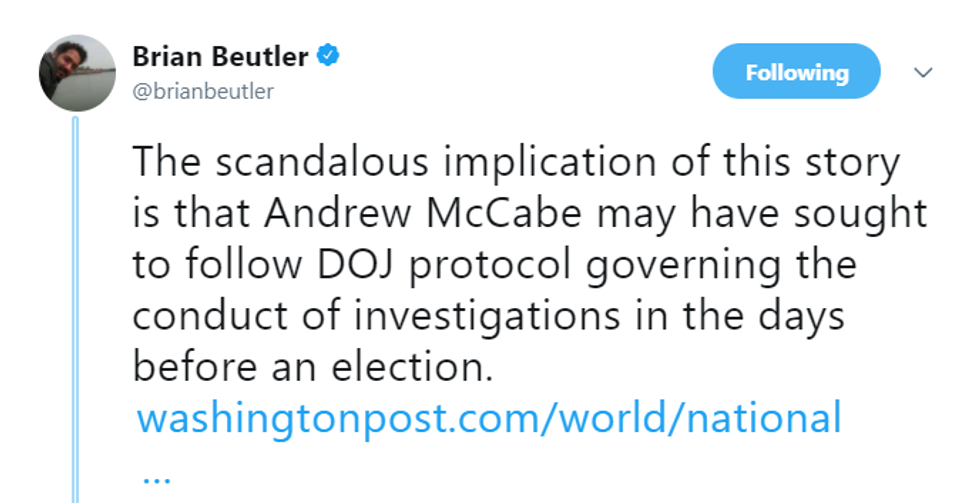 Now, to be clear, WaPo doesn't say the IG has determined that Andy McCabe did wrong here, though his abrupt exit did come just after a meeting with FBI Director Chris Wray about this very IG investigation. WaPo reports, though, that the IG is also looking into precisely why James Comey was so trigger-happy to tell the public about the "new Hillary emails" that were, again, a big nothing, but probably swayed an election.
Because please remember, gentle readers, that it was James Comey who decided, against DOJ/FBI practice, to send that very public letter to then-Rep. Jason Chaffetz ELEVEN DAYS BEFORE THE ELECTION, that said "LOL new Hillary emails, lock her up you guys!" And it was the same James Comey, mere days later, who sent another letter that said "LOL oops false alarm, hope this doesn't influence the election or something!"
Later reporting and Comey's own testimony on the matter suggest he was in a really fucked up position right about then, because rogue Rudy Giuliani-worshipping FBI agents in the New York field office were liable to leak the existence of the "new investigation" if Comey didn't say something. (Hell, they were leaking to Giuliani!) You'll also remember that, even though Comey did do that, Blackwater sadist Erik Prince still blabbered to the media about how these "new Hillary emails" contained the #SmokingGun about #Pizzagate child sex rings and all kinds of other shit he pulled out of his Aryan asshole.
In other words, time and new information have put Comey's actions into perspective. But #NeverForget that it was FBI agents in New York who were inappropriately inserting themselves into the 2016 election when people were already early-voting in many states, in order to hurt Hillary Clinton. From WaPo's reporting, it sounds like Andrew McCabe was a lonely voice at the FBI trying to do things correctly.
As Brian Beutler notes on Twitter, before James Comey was fired, he testified that the FBI was indeed investigating FBI agents leaking sweet nothings into Rudy Giuliani's ears about new Hillary Clinton email investigations.
Beutler adds: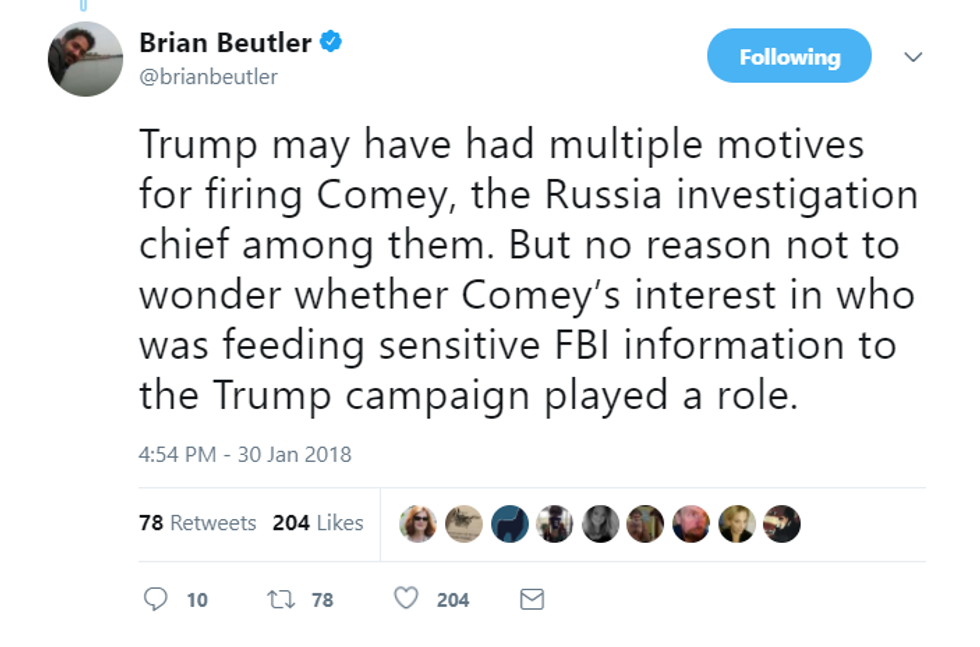 Anyway, isn't it pretty LMAO that Devin Nunes and Donald Trump are running around libeling the FBI and DOJ as being impossibly biased against Trump, considering this VERY RECENT HISTORY WE ALL WITNESSED, RECENTLY?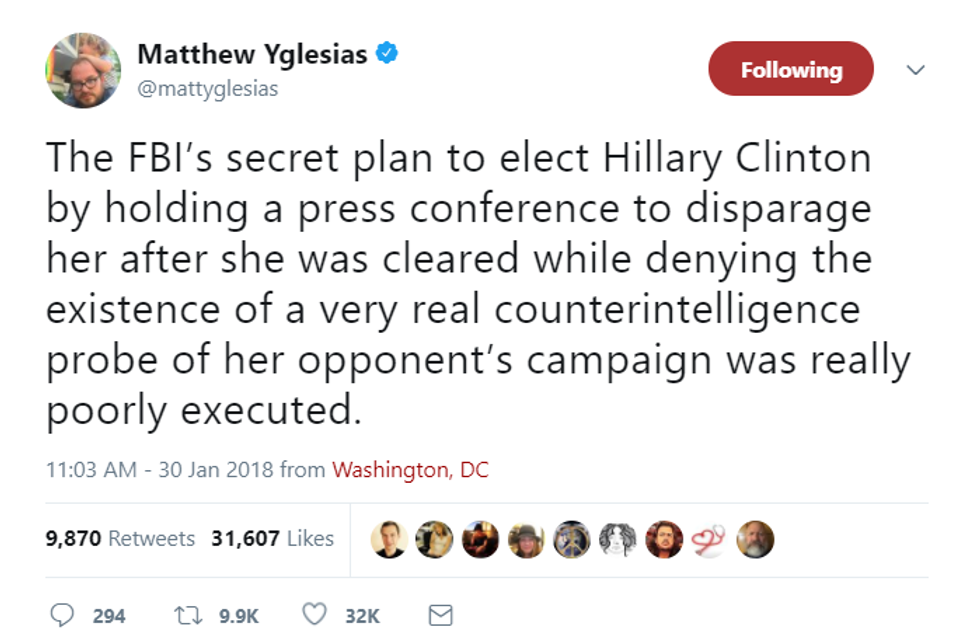 Fucking Christ, y'all.
Follow Evan Hurst on Twitter RIGHT HERE.
Wonkette salaries and servers are fully paid for by YOU! Please pay our salaries.
Evan Hurst
Evan Hurst is the managing editor of Wonkette, which means he is the boss of you, unless you are Rebecca, who is boss of him. His dog Lula is judging you right now.
Follow him on Twitter RIGHT HERE.