Are These The Three Dumbest Fucking Reactions To The Trump-Russia Dossier News? Sure Why Not.
Russia
October 25, 2017 04:22 PM
Definitely one of the stupidest
---
Time for a festival of stupids! Donald Trump has of course reacted to the BREAKING NEWS! that the Steele dossier was funded by Democrats, at least partially. (Of course, all literate people knew it started as traditional oppo research, partially funded by Democrats, but we are supposed to be like OMG anyway.) Trump told reporters Tuesday afternoon that Democrats are "very embarrassed" by the news (nope) and that the whole Russian "hoax" has changed (try again, President Donkeyshits), and now the "real story" is about Hillary Clinton and uranium, which he called "Watergate, modern age" (sure. you bet). All of that is too stupid for intelligent people to respond to, so go fuck yourself, Donald Trump, we're sure you have a war widow to shit on or something, BYE BYE, TRY THE RICE AND THE CHERRY PIE.
Here are three other hilariously stupid reactions to the dossier news. Let's spin our wheel and see where we land first ...
YAYYYY HELLO, HATE MONSTER, TOMI LAHREN! YELL US SOME BULLSHIT SEAN HANNITY WROTE DOWN FOR YOU!
Timmi Lawrence blabbered a lot of stuff on Fox News about "Hillary thinks she can get away with EVERYTHING," before getting mad about these tweets from Clinton staffer Brian Fallon: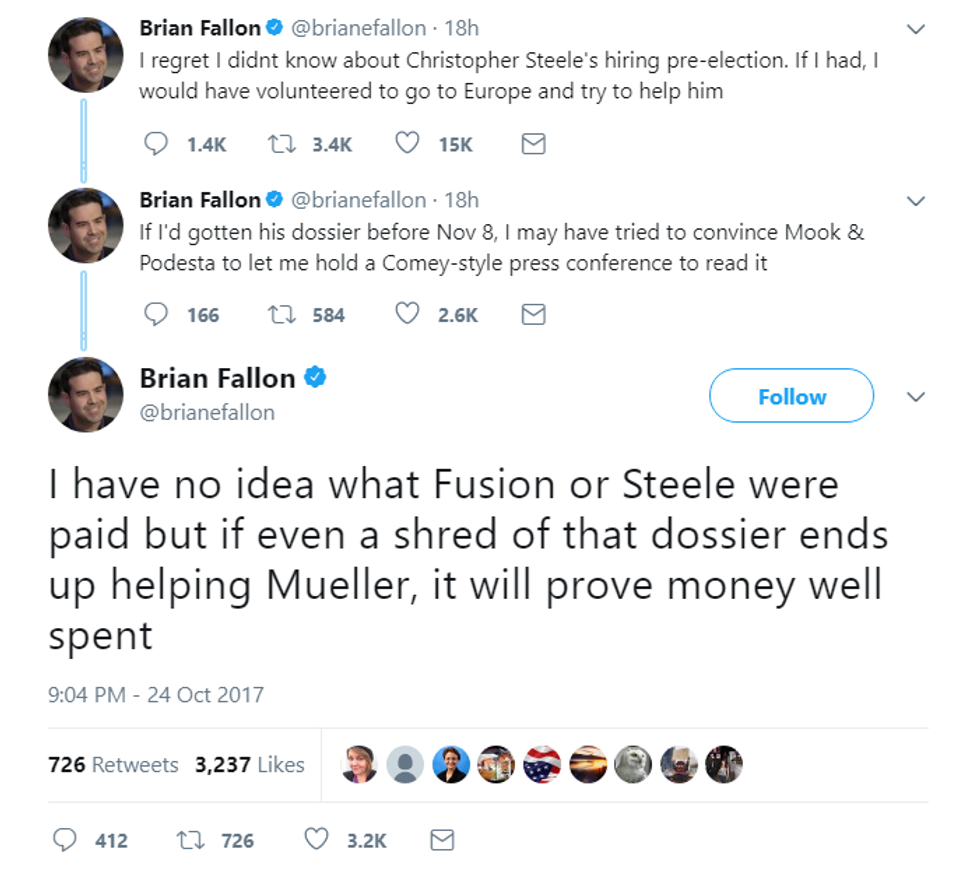 US TOO, BRIAN FALLON! One of Wonkette's hilarious commenters said today he was just pissed there wasn't a Kickstarter. You see, we feel that way, Tammany Lerner, because IF THE OPPO RESEARCH IS TRUE IT DOESN'T FUCKING MATTER WHO PAID FOR IT, YOU FUCKING DUMBASS.
Over to Timberlake Landshark:
My goodness, isn't it amazing how unapologetic they are? And for me personally, I want to know more.
Yes, well maybe if Tori Lobotomy had been a political pundit for more than five seconds, she would know they're unapologetic because ALL CAMPAIGNS BUY OPPO RESEARCH. Keep going, Terri Limbaugh:
The American people want to know more. This makes me more excited to see what are in 33,000 deleted emails!
Oh, you mean the mythological "33,000" emails that Michael Flynn buddy Peter Smith was trying to collude with Russian hackers to acquire, and that Trump data gurus Cambridge Analytica tried to collude with Julian Assange (and by extension Russian military intelligence, since Assange is merely their laundress) to get?
Let's all say a prayer for Tippi Longstocking that she may one day learn a thing about something. What's that, God? You just threw that prayer in the "unanswerable" bucket because not even you can fix her? Fair enough.
YAYYYYYYY HELLO, DONALD TRUMP JR.! ARE YOU ACCIDENTALLY DOING TREASON CONFESSIONS ON TWITTER?
Ashley Feinberg from Huffington Post, who is one of the funniest people on the internet, found this one, MUST CREDIT ASHLEY FEINBERG.
Enjoy the following tweets: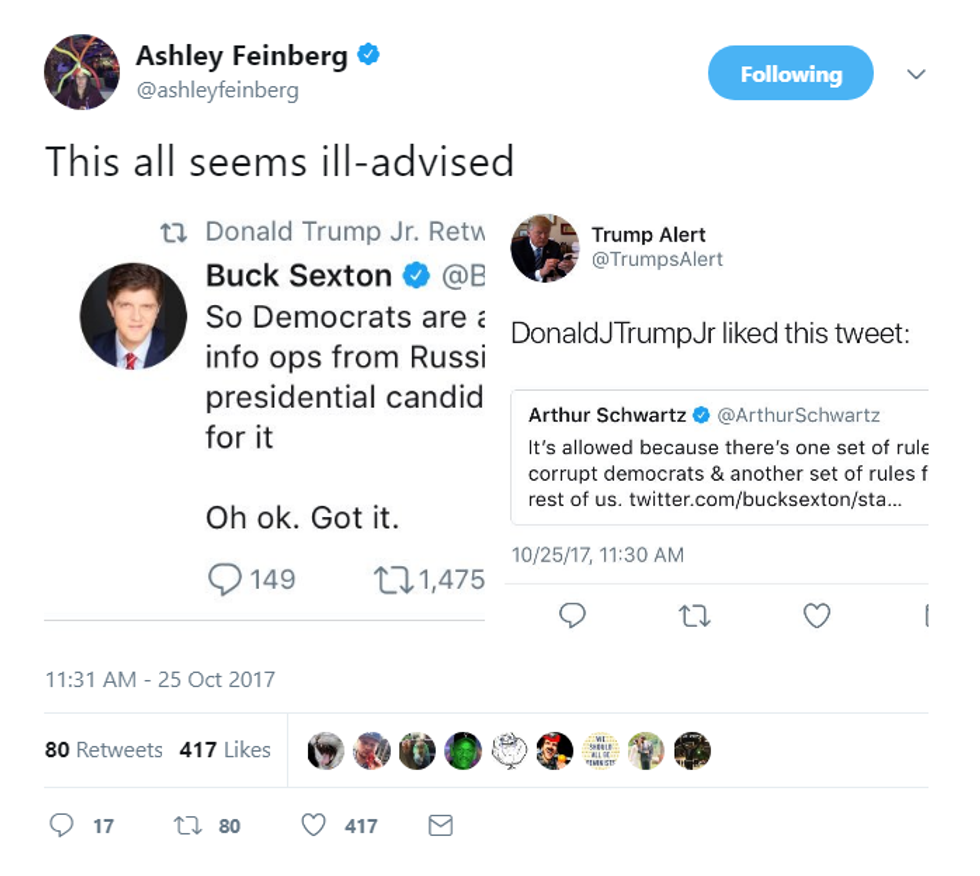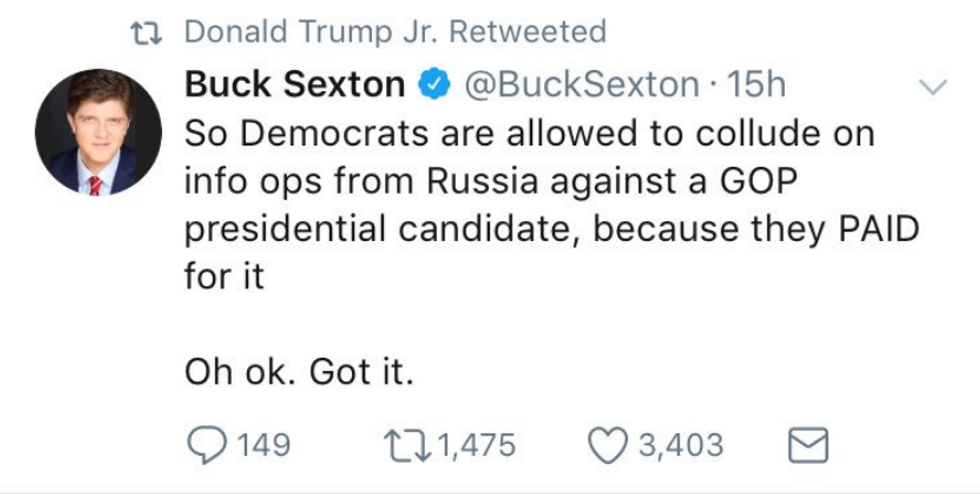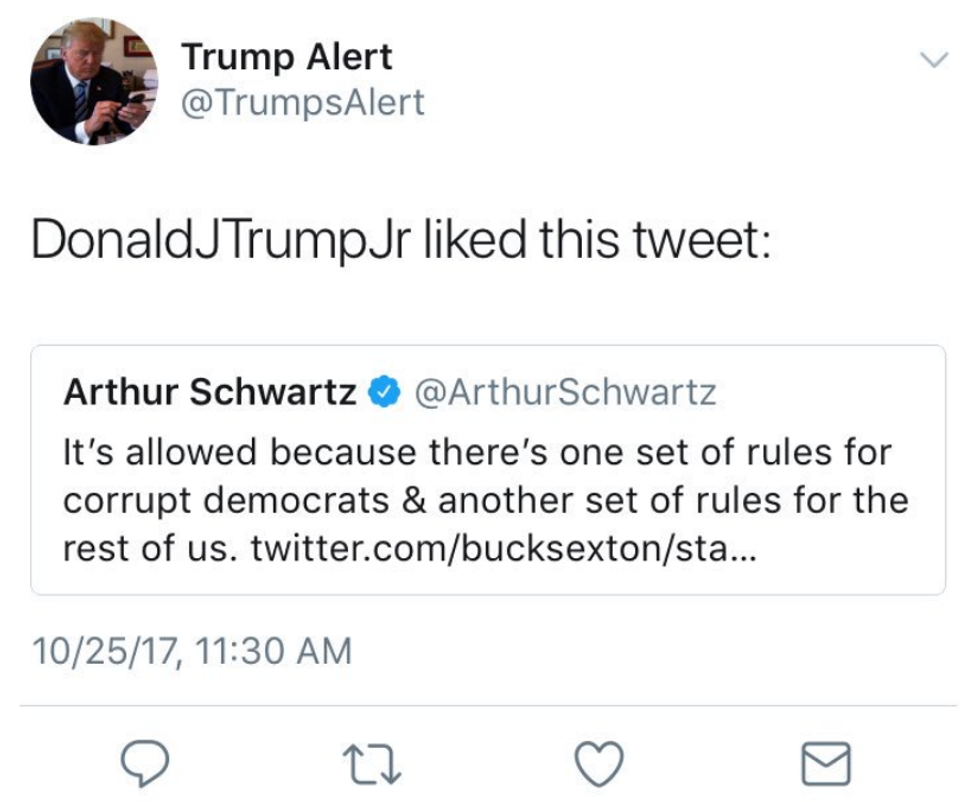 Junior really likes those tweets!
Those guys seem to be bitching and moaning that it's OK when Democrats collude with Russia, but it's not when the Trump campaign does. LONG HAIR, NO FAIR! Of course, the original tweeters' brains must be broken like Ben Carson's, because the Democrats didn't "collude on info ops with Russia." The company they contracted with hired a BRITISH PERSON who happens to be one of the best spies in the world (who was an MI6 Russia expert at that!), and IN THE COURSE OF HIS NORMAL WORK, he found evidence of a massive conspiracy operation between the Trump campaign and our greatest enemy Russia, to steal the American election for a flaming pile of possibly syphilitic dogshit.
But Junior sees their point! Wait, what do you mean he just might have admitted to something he's not supposed to say out loud?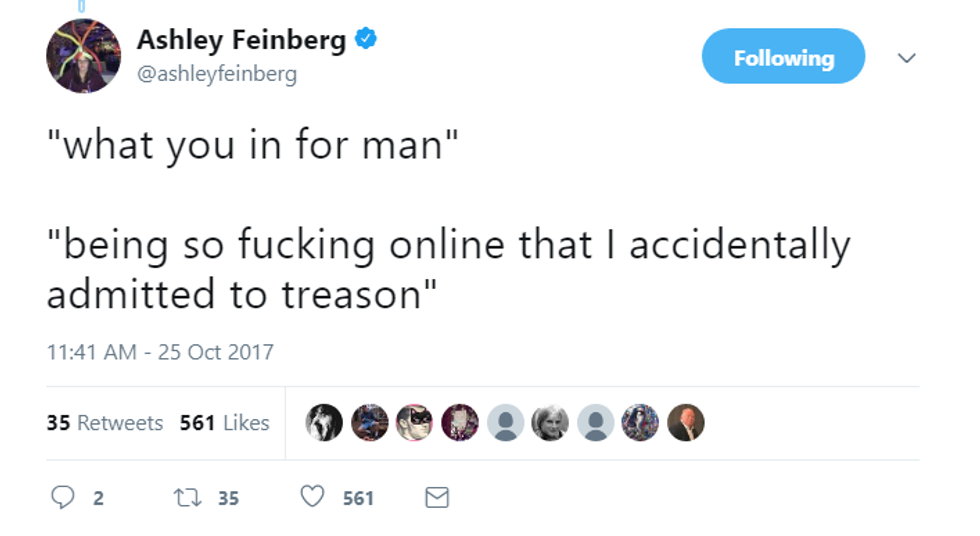 As always, we must marvel at the fact that Junior came about as a result of an orgasmic biological union between one of Ivana Trump's eggs and the SWIFTEST, BEST SPERM DONALD TRUMP HAD AVAILABLE. "Miracle of life," Wonkette's ass.
And because we are bipartisan, YAYYYYYYYYYYY HELLO, REP. TULSI GABBARD, THAT HAWAII CONGRESSWOMAN WHO IS ACTUALLY REALLY WEIRD AND A BAD PROGRESSIVE!
Tulsi Gabbard is weird. She's severely Islamophobic and really seems to like dictators, and Steve Bannon says nice things about her. She used to be a wingnut who hated abortion and spoke of "homosexual extremists," until suddenly magically BING BONG! her politics all mysteriously changed, and now people (ugh) speak of her as a possible Democratic presidential candidate and PROGRESSIVE SAVIOR. Read more about her here!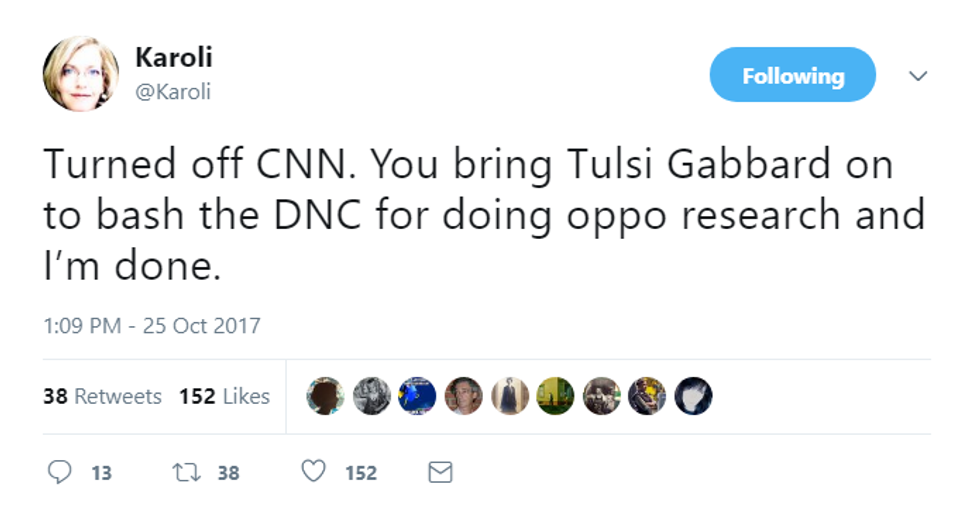 UGH.
Now, we have scoured the internet and cannot find video of this, but Karoli is the managing editor of Crooks & Liars and she is good and she does not lie, so we trust her implicitly when she says Tulsi Gabbard was on her TV saying TRIFLING BULLSHIT about the DNC and thereby helping to push Republican talking points on this stupid fucking dossier non-story. In conclusion, oh fuck off, Tulsi Gabbard.
So there you go! Are those the three stupidest reactions to the dossier news, or are there stupider ones out there? Who cares!
The point is that IT DOESN'T MATTER WHO PAID FOR THE FUCKING DOSSIER, YOU FUCKING ASSHOLES.
Follow Evan Hurst on Twitter RIGHT HERE.
Wonkette salaries, servers, and all of the things are fully funded by readers like you! If you love us, click here to fund us!
Evan Hurst
Evan Hurst is the managing editor of Wonkette, which means he is the boss of you, unless you are Rebecca, who is boss of him. His dog Lula is judging you right now.
Follow him on Twitter RIGHT HERE.