Arizona Gov Happy That Q-Anon Humping Racist Isn't A Democrat, At Least
State/Local Politics
February 25, 2022 12:30 PM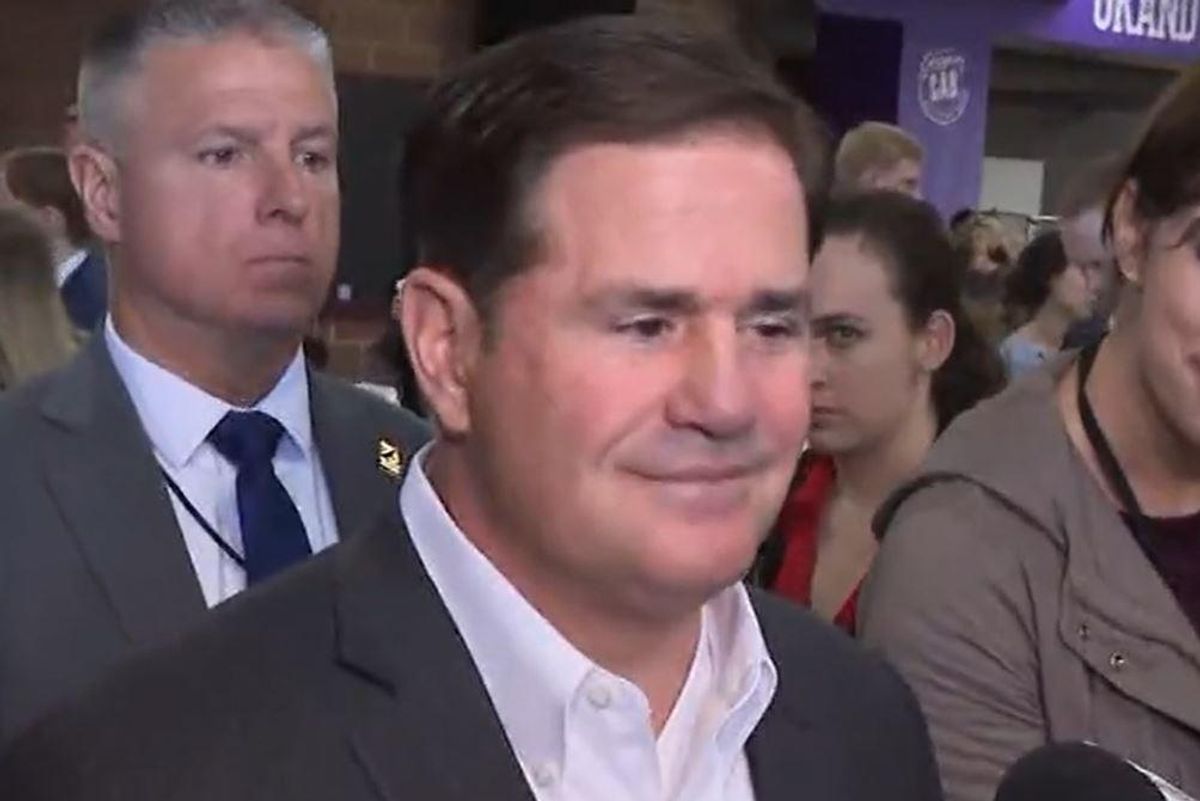 Something fun about Arizona (state motto: The Taint of Utah) is that if we told you that Republican Gov. Doug Ducey can't bring himself to denounce a prominent insane female Q-Anon-humping politician in the state government, you might need multiple tries to guess which one!
Nope, not the one who wanted to arrest an entire election board for refusing to investigate whether a bunch of ballot-eating chickens self-immolated to cover up their crime. Nor is it the lady determined to make sure that the children do not engage in Marxist sex, whatever that is. (Presumably no missionary position, the opiate of the masses of sexual positions.)
That leaves Wendy Rogers, the lady with the Robert E. Lee ornament on her Christmas tree and the children being eaten by cannibal Democrats in her heart. In 2020 a PAC that Ducey helped start spent about half a million dollars to help Rogers beat a Democrat named Felicia French for a seat in the Arizona state Senate.
Rogers has spent a great deal of her time since then hitting all the wingnut Stations of the Cross: questioning the integrity of the presidential election, praising the January 6 rioters, appearing on the podcast of sentient infected skin tag Steve Bannon, and cuddling up to anti-semitic Holocaust-denying racist Nick Fuentes and his "groyper" army of anti-semitic racist Holocaust deniers.
In fact, Rogers is speaking Friday at a Florida conference organized by Fuentes, in keeping with the tradition of lunatic white nationalist Arizona lawmakers giving talks to the organization. (Last year it was Paul Gosar.) A reporter this week asked Ducey if he is still happy with his PAC's investment in Rogers, given her open embrace of people who are A Bit Much, Even for Arizona. You'll never guess what he said:
---
Arizona Gov. Doug Ducey was asked today how he feels about state lawmaker Wendy Rogers in light of her recent embrace of the white nationalist movement. Ducey told reporters it's better than having a Democrat in office.pic.twitter.com/0azqpni1hp

— Nick Martin (@Nick Martin) 1645755829

"What I need as a governor are governing majorities."
Any old racist port in a storm!
"So that I can pass dollars into our social safety net."
Oh sure, Republicans are big on funding the social safety net, this doesn't sound disingenuous at all.
"So that's what I wanted to do, is move my agenda forward. I'm proud of what we've been able to accomplish."
None of this answers the question, which was essentially whether Ducey regrets empowering Wendy Rogers, even if she did give his party a slim 16-14 majority in the Senate.
"And she's still better than her opponent, Felicia French."
Ah, there it is. Doug Ducey, a man who vaguely resembles Charles Grodin if Grodin had been made of Legos, is totes fine with embracing the Q-Anon branch of his party so long as he gets a few legislative wins he can tout whenever he runs for president.
For her part, Rogers went right out and proved the reporter's point that she's infested with brainworms:
Ban the Arizona Mirror from all events. They are oppo research agents for Soros.

— Wendy Rogers (@Wendy Rogers) 1645755466
Soros! Drink!
[Twitter / Twitter / Media Matters / Phoenix New Times]
Do your Amazon shopping through this link, because reasons.
Hey it's Gary! Help us pay Gary.