Arkansas Senate Candidate Will Cleanse America of the Un-Christian, Un-American Barack Obama (the President)
News
July 23, 2009 01:08 PM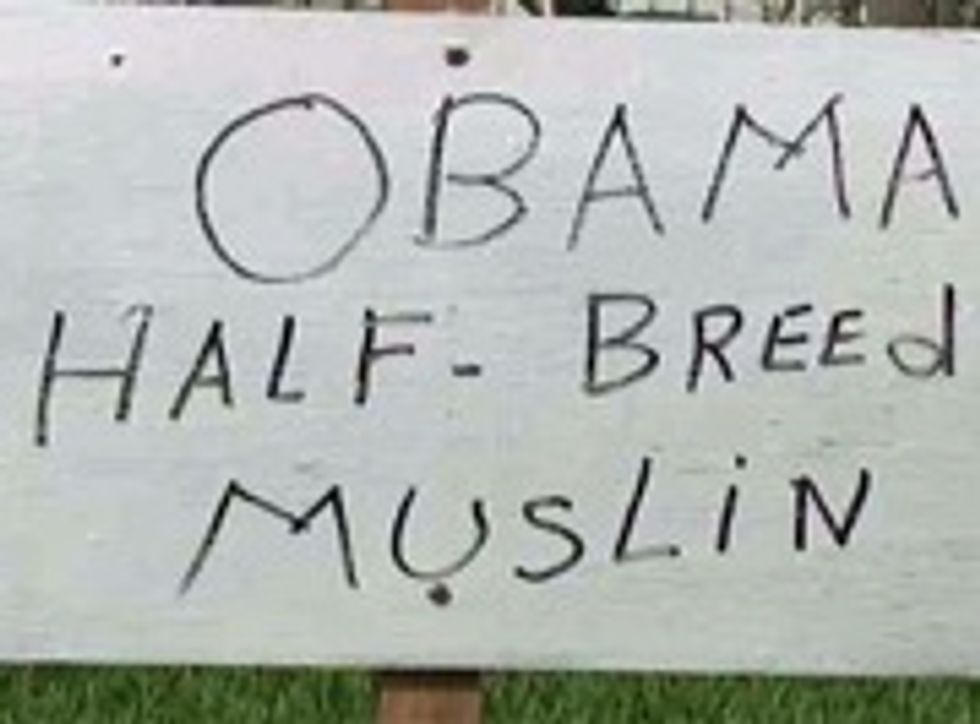 The last time an Arkansas Republican candidate for Senate made the news, it was for sneeringly referring to Senator Chuck Schumer as a dangerous Jew. But this new guy, he says "I don't want to do a Kim Hendren,"referring to Kim Hendren, the wingnut Senate hopeful who made the Schumer-Jew remark. And that's why this new character, Conrad Reynolds, tells the Arkansas Democrat Gazette he needs to be super careful with his answers! These days, it seems like even a harmless watermelon joke will make the headlines!
---
Conrad Reynolds, some Army guy, bravely served his nation in Central Asia, and even picked himself up a foreign bride in Uzbekistan! So, he is no longer worried about the foreigners. They're just like us! What Conrad is a-feared of is, obviously, that Hawaiian fella, the Communist Muslin.
Reynolds spoke to about a dozen people during a Central Arkansas Young Republicans Club meeting at a Little Rock restaurant.

"We need to change if we want to stop the way America is going toward socialism," Reynolds said. "We need someone to stand up to Barack Obama and his policies. We must protect our culture, our Christian identity."
That's right! White people got a special kind of culture in Arkansas, what with the Christian Identity. But it's a good thing Reynolds is very careful with his answers, so he doesn't get smeared in the press as some kind of white-power idiot.
As for his boyfriend Kim Hendren, who always keeps track of what the Jews are up to, you could describe their relationship as "precious," in southern wingnut terms.
Reynolds was referring to state Sen. Kim Hendren, R-Gravette, who also has said he's running for the U.S. Senate. Hendren, in a speech to a Republican group, referred to a U.S. senator from New York as being Jewish and during a legislative meeting referred to a black federal judge as being the "new minority" judge.

Hendren has since said he didn't mean anything by the comments. He said Wednesday that he has no response to Reynolds' comment.

"Conrad has bought me a Diet Coke before, and I appreciate that," Hendren said.
The 2010 campaign season is going to be fantastic.
Domestic 'enemies' worry GOP hopeful [Arkansas Democrat Gazette]