Badass Democrats Will Sit On House Floor Until GOP Does Something (ANYTHING!) About Guns
Guns
June 22, 2016 01:04 PM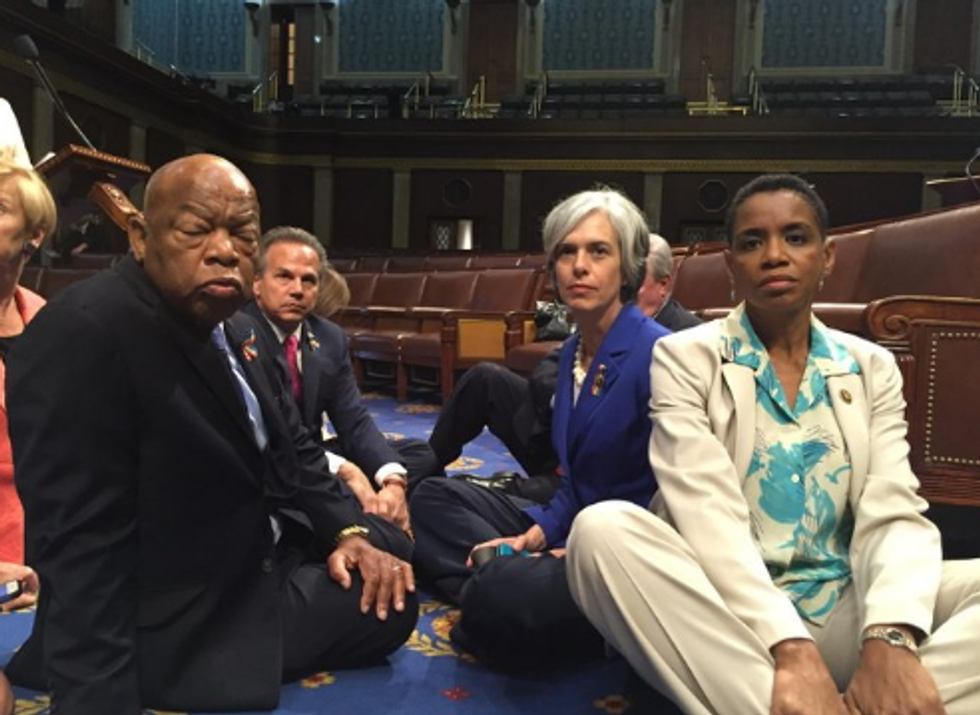 Amazing, all of them.
---
What's happening on the floor of the House Of Representatives right now? Oh nothing, except for how a team of badass Democratic representatives, led by Congressman John Lewis, the Civil Rights badass hero, are staging a sit-in on the House floor, demanding action on gun violence:
More than two dozen Democrats were participating in the sit-in shortly before noon, with some lawmakers seated cross-legged on the floor. [...]

Rep. John Lewis (D-Ga.), the veteran lawmaker who was brutally beaten by police in the civil rights march on Selma, Ala., began the sit-in with a speech on the floor where he was surrounded by dozens of his colleagues.

"We have turned deaf ears to the blood of the innocent and the deaths in our nation," he said. "Mr, Speaker, where is the heart of this body. Where is our soul?

"How many more mothers, how many more fathers have to share tears of grief before we decide to do anything?"
You are probably going to want to watch Lewis's entire speech, as it is incredible and a transcript does not do it justice, so here you go:
Lewis asked, "Do we have the courage, do we have raw courage, to make at least a down payment on ending gun violence in America? ... Not next month, not next year, but NOW! TODAY!"
And then they sat:
The answer to Lewis's question about courage was obviously "Fuck no we don't," because soon after, the House went into recess and all the cameras were turned off. Here is Rep. Chellie Pingree, tweeting in defiance of that: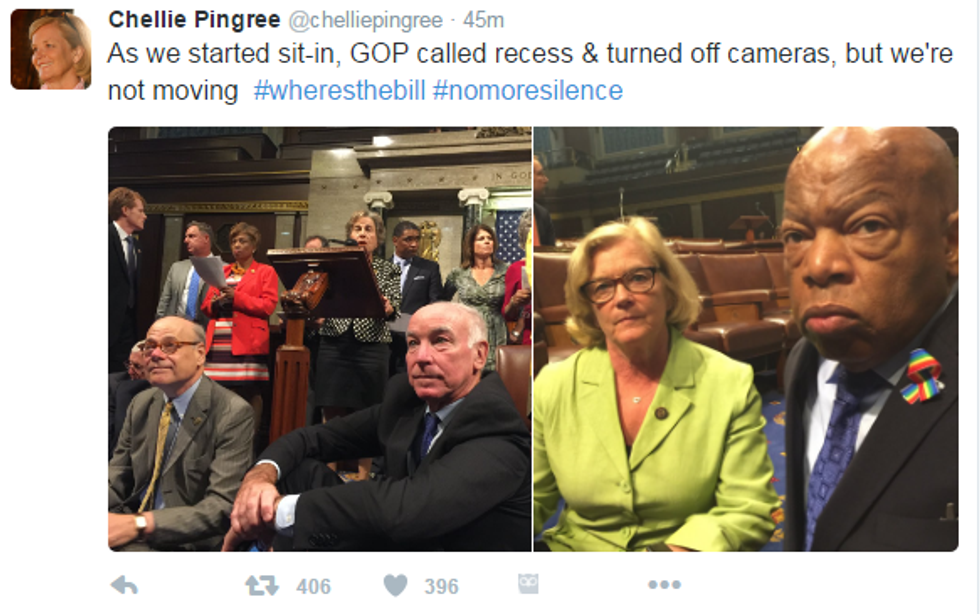 In the picture on the left, you can see Congressman Steve Cohen of Memphis, who we are proud to note is our own personal congressman. (Well, not our PERSONAL congressman! He represents all the citizens of Tennessee's 9th, #politicalfact)
Rep. Rosa DeLauro of Connecticut is there. Rep. Jan Schakowsky of Illinois is there. Reps. John Larson, Steny Hoyer, Karen Bass ... all sitting in.
Democratic California Rep. Scott Peters shared video of the congresspeople speaking out and chanting, "No bill, no break!" on his Periscope account, and tweeted this picture and statement: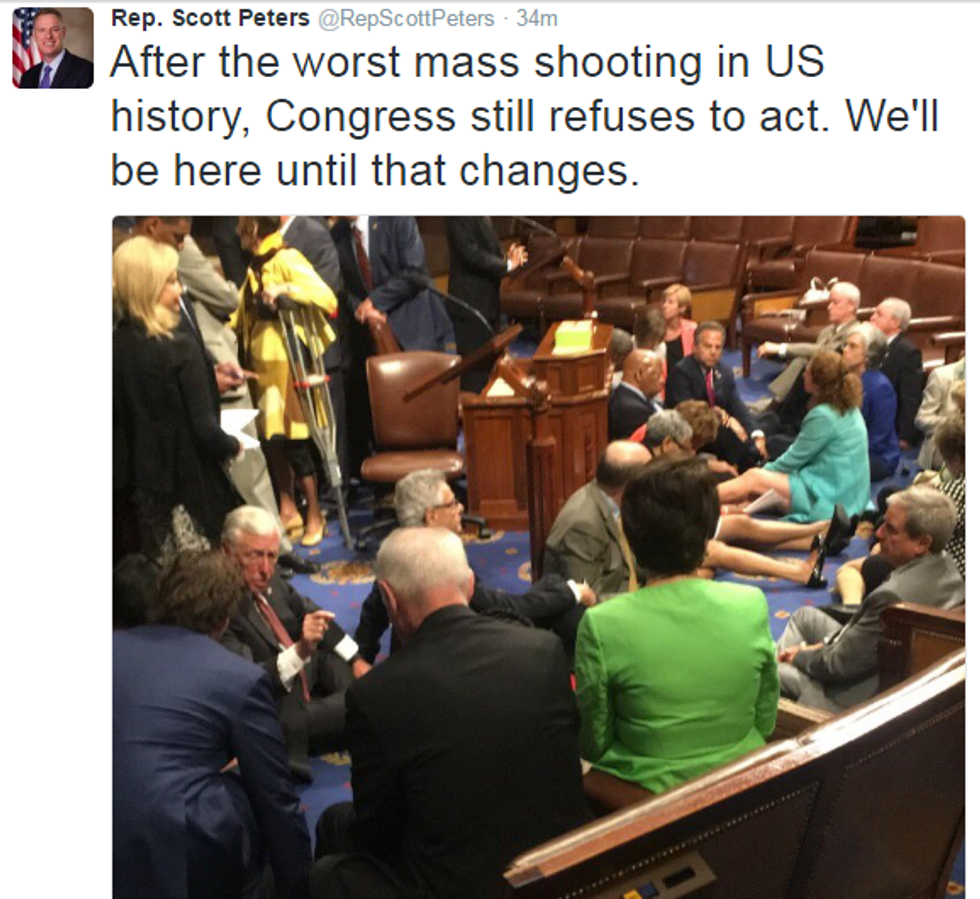 Oh, and here is former Rep. Gabby Giffords, who sadly knows too much about gun violence, tweeting her support: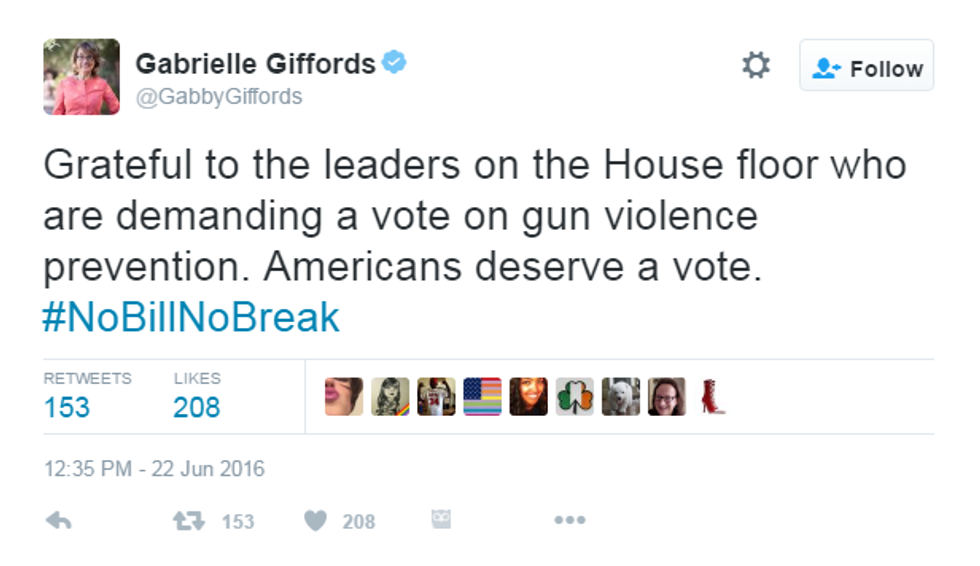 So many, raising their voices and planting their asses until something, GODDAMNED ANYTHING, gets done. Can you tell they are pissed, a little bit? You can keep up with their badass act of activism, defiance and love by following the hashtag #NoBillNoBreak.
[wonkbar]<a href="http://wonkette.com/603211/senate-republicans-vote-to-send-thoughts-and-prayers-to-future-mass-shooting-victims"></a>[/wonkbar]The Senate had yet another chance to do something Monday night, eight days after the worst mass shooting in U.S. history, at the Pulse gay nightclub in Orlando. The Senate failed, yet again. Maybe these fine Democratic reps might be able to get House Republicans to take real concrete action on HAHAHAHAHA can't finish that sentence. House Republicans are ginormous flaccid weenuses, eternally and pathetically beholden to the NRA. They do not care when people die in hails of gunfire.
But goddamn, at least these Democrats are raising hell.
[The Hill]
Evan Hurst
Evan Hurst is the managing editor of Wonkette, which means he is the boss of you, unless you are Rebecca, who is boss of him. His dog Lula is judging you right now.
Follow him on Twitter RIGHT HERE.