'Barack Obama' Person Dropping Hints He May Run For President
News
November 23, 2010 03:52 PM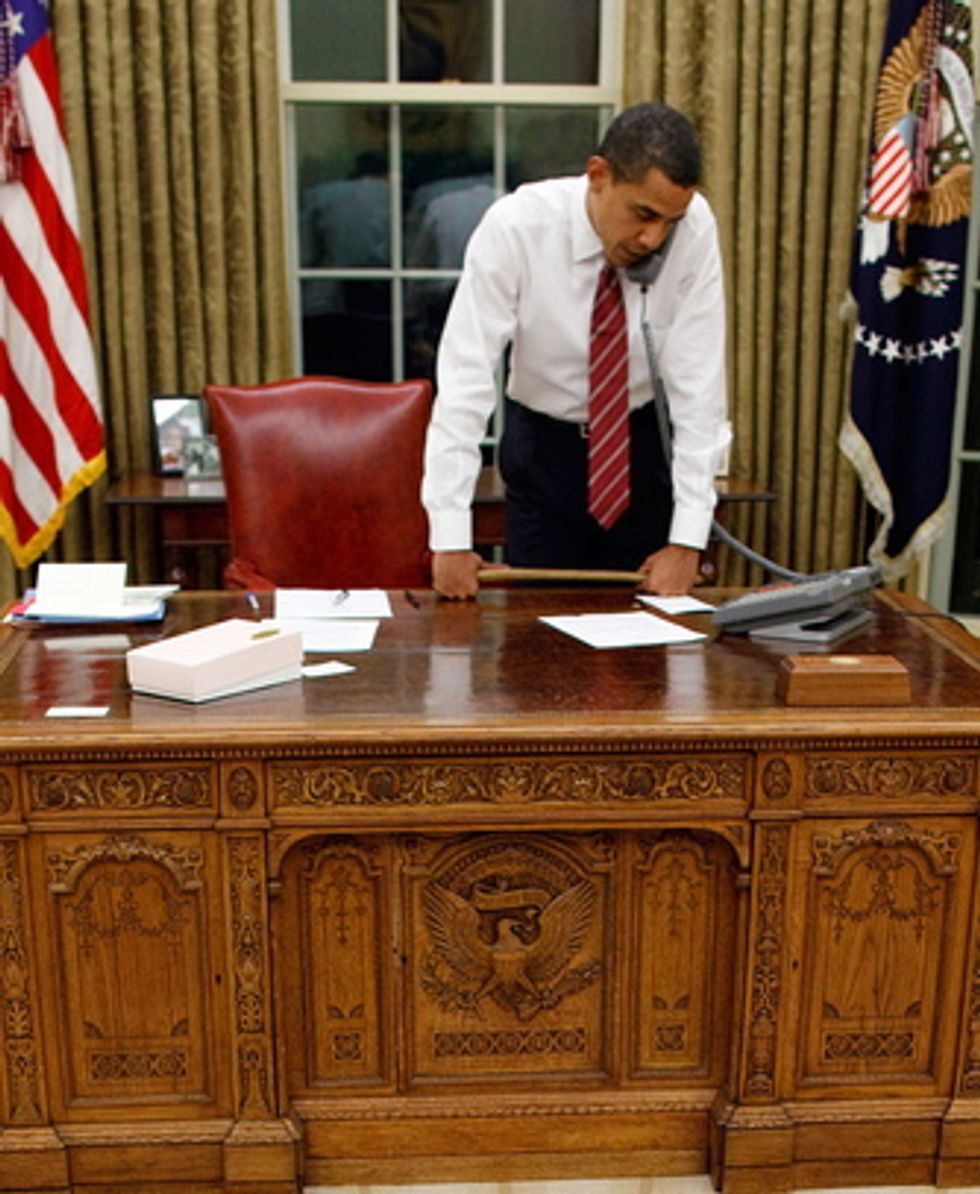 Because the 2010 elections are over, and the only part of politics that exists is campaigning, we have all moved our attention to the presidential election of 2012. Yes, being president is mostly a ceremonial position, and those who hold that job do not do any silly things like "institute and enforce policies" or "sign laws;" the whole point of being president is the getting-elected part. We already have some exciting contenders like Sarah Palin and Mike Huckabee and Mitt Romney and the entire Republican Party. But many observers have overlooked another individual whoseems to be very interested in being president of the United States: a fellow named Barack Obama. Is it possible this man will soon announce his candidacy for the job?
---
But somebody at the Washington Post noticed this too!
President Obama and Vice President Biden will visit a Chrysler transmission plant here Tuesday afternoon, a trip that the administration is billing as part of its "White House to Main Street" effort to highlight economic progress and tout the back-from-the-brink success of the automobile industry.

But with Republicans flexing their newfound power in Washington and gaming out their 2012 prospects, and the White House ready to put top political players back in campaign mode, it is hard not to see this visit as an opening argument for 2012.
Let's look at the facts:
This man is already referring to himself as "President Obama." That may seem a bit presumptuous, but it helps voters envision him in the role.
It appears, from hints in various press releases, that Obama will tap a man known as "Biden" as his vice-presidential nominee. We don't know who this man is, if "Biden" is his first or last name or just a codeword, or why Obama would feel the need to appoint him to the role so early in the race. Would "Biden" help Obama shore up the base in the primaries?
Obama acquired a private 747 less than two years ago, and has been crossing the country in mock campaign stops ever since in what looks like a dry run for 2012. The name of the plane? "Air Force One" -- the same name as the plane used by other United States presidents.
Sources say Obama has already assembled a team of military, economic, and diplomatic advisors to prepare him for a run and potentially serve in similar roles in a future administration. Obama is also said to have chosen a number of key allies to serve in a presidential cabinet.
According to government sources, Obama commands a paramilitary group of almost 1.5 million members that is known to possess advanced weapons technologies capable of mass destruction. If he is not elected in 2012, or if the election results in a drawn-out recount, he could conceivably attempt the nation's first coup d'etat.
Yep, that guy is probably running for president. You probably heard it here first! But will he or won't he? Will he or won't he?! WILL HE OR WON'T HE?!?!?!?! [WP]