Barack Obama Talks Lady To Death
News
April 02, 2010 03:54 PM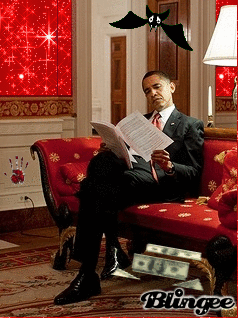 Barack Obama is a loser/nerd who lectures people out of arrogance. There once was a time when presidents "explained" things to Americans. But simply "explaining" is not elitist enough for elitist Starbucks liberals like Barack Obama of liberal Chicago. He lectures people because he is an asshole who thinks Real Americans are stupid. When people ask him questions and he responds with policy details, he is just bragging about how smart he is, in the form of a lecture. And today he lectured a lady for 500 years about his beloved taxes, which didn't even exist in this country until Nancy Pelosi made people vote for an abortion bill two weeks ago.
---
Toward the end of a question-and-answer session with workers at an advanced battery technology manufacturer, a woman named Doris stood to ask the president whether it was a "wise decision to add more taxes to us with the health care" package.

"We are over-taxed as it is," Doris said bluntly.

Obama started out feisty. "Well, let's talk about that, because this is an area where there's been just a whole lot of misinformation, and I'm going to have to work hard over the next several months to clean up a lot of the misapprehensions that people have," the president said.

He then spent the next 17 minutes and 12 seconds lulling the crowd into a daze. His discursive answer - more than 2,500 words long -- wandered from topic to topic, including commentary on the deficit, pay-as-you-go rules passed by Congress, Congressional Budget Office reports on Medicare waste, COBRA coverage, the Recovery Act and Federal Medical Assistance Percentages (he referred to this last item by its inside-the-Beltway name, "F-Map"). He talked about the notion of eliminating foreign aid (not worth it, he said). He invoked Warren Buffett, earmarks and the payroll tax that funds Medicare (referring to it, in fluent Washington lingo, as "FICA").
What a snob. Makes you long for the non-elitist days, when a president would respond to Doris' question with a quick slap on the ass and a winking, "you'll be alright, gorgeous, I'll get those taxes out of the way."