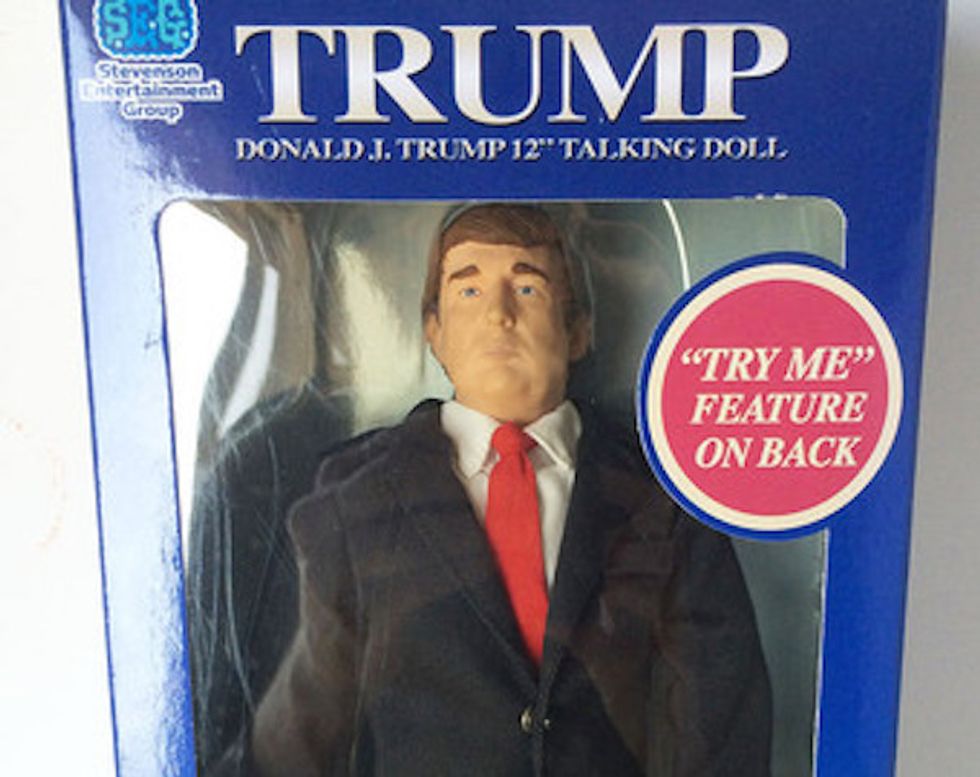 If you are anything like me, Garfield or The Boomtown Rats, you probably do not like Mondays. In fact, you probably dislike them so much that you don't even want to click on that #MondayMotivation hashtag on Twitter, ever, because you fear it will be filled with perky platitudes and kittens telling you to "Hang in there, baby!" and other unseemly things that will make you even more annoyed at being awake right now. I HEAR YOU. That is why I chose to host this cringefest on Mondays, so that we can all start our week out with something that is quite possibly worse than whatever is coming in the days ahead!
---
BUT, have you ever been Monday Motivated by Donald J. Trump? Probably not! So here is a super creepy Donald Trump Celebrity Apprentice doll that both encourages you and tells you that you are fired!
WHOOPS! Wrong evil talking doll! Here's the Trump one!
PILES of these dolls are available on Ebay, in their original packaging, for around $20-$40 bucks, so you can even have one of your very own if you like. Or several, should you like to use them for some kind of post-modern installation art piece or whatever.
As a special bonus this week, I've decided to include this video of Neil Sedaka singing his very treacly song "Oh Carol," which he wrote well after he and Carole King broke up. Specifically because I really love the faces of the women in the audience reacting, I imagine, to his super twerpy dancing.
And, for a palate cleanser for both of those nightmares, here is the ever-so-badass Carole King's response to that song -- which I think isprobably one of the greatest things ever in the history of the universe.
Robyn Pennacchia
Robyn Pennacchia is a brilliant, fabulously talented and visually stunning angel of a human being, who shrugged off what she is pretty sure would have been a Tony Award-winning career in musical theater in order to write about stuff on the internet. Follow her on Twitter at @RobynElyse