Being Tucker Carlson Means Never Having To Say You're Sorry For Defending Child Rape
popular
March 11, 2019 01:24 PM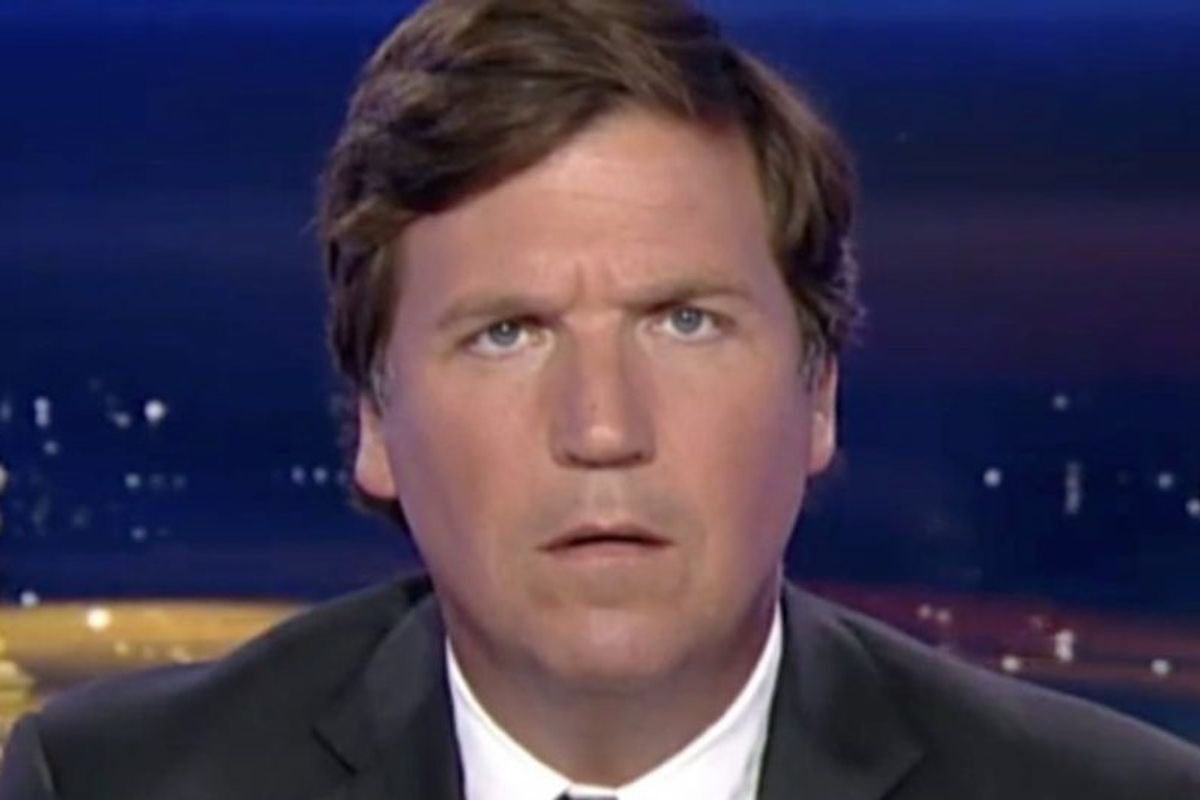 On Sunday afternoon, Media Matters For America released a series of audio tapes of Tucker Carlson making regular calls to the Bubba the Love Sponge show in which he made a variety of disturbing comments, not the least of which were several defenses of FLDS leader Warren Jeffs and his habit of marrying young girls himself or forcing them to marry other older men -- a crime Tucker Carlson does not consider all that bad if it is even a crime at all.
(If Bubba the Love Sponge sounds familiar to you, by the way, it's because Bubba, aka Todd Alan Clem, previously made the news after he filmed his wife, Heather Clem, having sex with Hulk Hogan -- a tape which then "somehow" found itself in the hands of Gawker Media. Also he was somehow involved with Howard Stern, don't ask us, we don't care.)
While most people in Carlson's position would apologize and do the whole "I know better now" rigamarole, he is refusing, and has instead released a statement telling people to watch his show.
Media Matters caught me saying something naughty on a radio show more than a decade ago. Rather than express the usual ritual contrition, how about this: I'm on television every weeknight live for an hour. If you want to know what I think, you can watch. Anyone who disagrees with my views is welcome to come on and explain why.
Hard pass!
The newly released tapes reveal that in 2006, Carlson defended Warren Jeffs by saying that he didn't do anything that bad because he didn't rape any of those underage girls himself, insisting that forcing a girl to marry an old dude and have sex with him the rest of her life just is not as bad as pulling a stranger off the street and raping her.
---
CARLSON: He's not accused of touching anybody; he is accused of facilitating a marriage between a 16-year-old girl and a 27-year-old man. That's the accusation. That's what they're calling felony rape. [crosstalk] That's bullshit. I'm sorry. Now this guy may be [crosstalk], may be a child rapist. I'm just telling you that arranging a marriage between a 16-year-old and a 27-year-old is not the same as pulling a stranger off the street and raping her. That's bullshit.

THE LOVE SPONGE: But Tuck, that's just a small little thing that they got him on. Now, this guy is a --

CARLSON: Wait, wait, wait. Since when do you believe everything the government says? Wait a second.

THE LOVE SPONGE: Hold on. You know what --

CARLSON: All of a sudden, like we're very skeptical about everything until like some prosecutor comes out and says, "This guy's bad," and the rest of us nod in agreement like a church choir, "Yeah, he's bad." How do we know he's bad? What do we know exactly? Nothing.

THE LOVE SPONGE: Tucker, Tucker, settle down, lover. I mean, come on. I mean, jeez.

CARLSON: Get excited.
Yeah. If Warren Jeffs had only ever forced underage girls to marry and have sex with old dudes, that would still be illegal. However, that was not the case. While the charges Jeffs faced in Utah and Arizona were for facilitation only, he was indicted in 2008b on felony charges in Texas for personally sexually assaulting two girls, ages 12 and 15 (the conviction on which he is currently serving time, as both the Utah and Arizona charges were thrown out so that Texas could pursue the more serious charge). In May of 2008, The Smoking Gun released "first anniversary" pictures of Jeffs, taken in 2006, with a girl he had married when she was 12.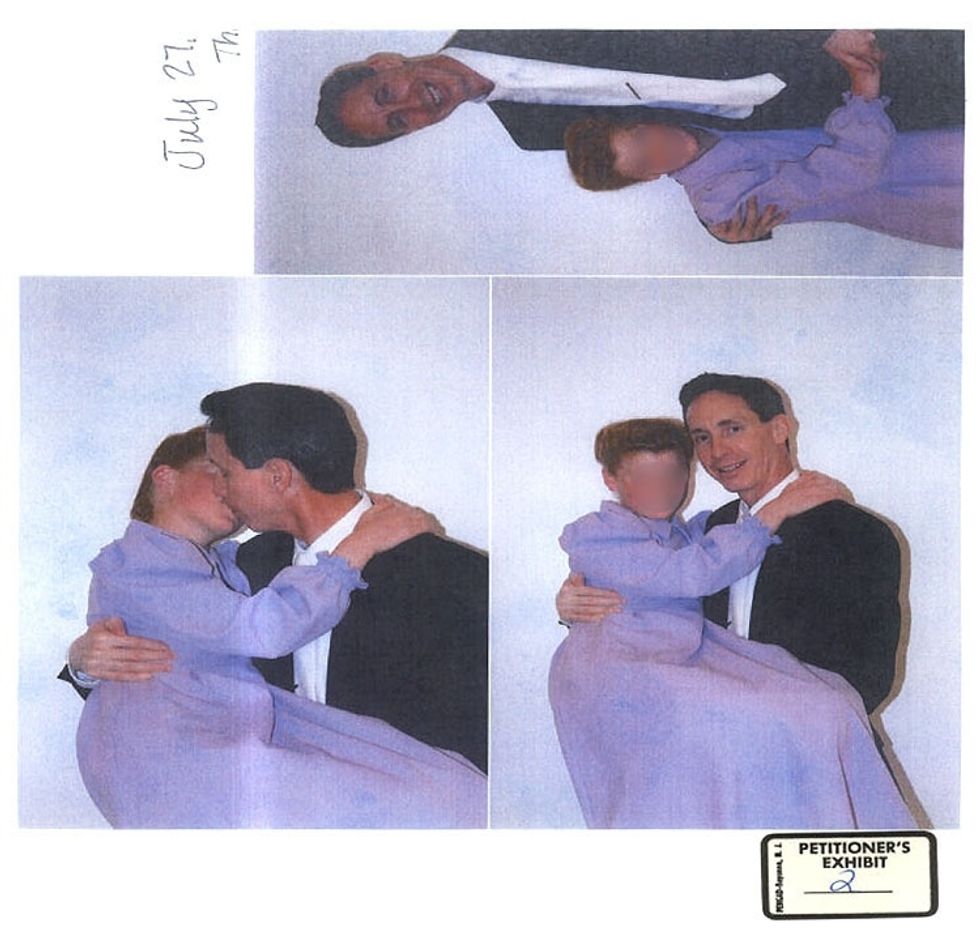 These were available and well-publicized at the time Carlson said Jeffs did not marry underage girls himself.
Now, had Carlson only said these things in 2006, it would have been fair for him to say "Well, that information was not available to me at the time." Yet, all of this information was available to Carlson in 2009 when he made these other statements about Jeffs, which repulsed even the shock jock hosts:
CARLSON: Look, just to make it absolutely clear. I am not defending underage marriage at all. I just don't think it's the same thing exactly as pulling a child from a bus stop and sexually assaulting that child.

CO-HOST: Yeah, it's -- you know what it is? It's much more planned out and plotted.

THE LOVE SPONGE: Yeah, it should be almost -- you almost should put a premeditation --

CARLSON: Wait, wait! Hold on a second. The rapist, in this case, has made a lifelong commitment to love and take care of the person, so it is a little different. I mean, let's be honest about it.

CO-HOST: That's twisted.
That is, indeed, twisted.
By no measure is rape somehow more OK if you marry a woman and rape her for the rest of her life. It's not more OK if the rapist "loves" the victim, it's not more OK if they buy the victim dinner first, or if that rape is part of their "religion." A father who rapes his daughter has also made a commitment to love and take care of her, and I don't think anyone would say that is somehow "less bad" than if he grabbed another girl "off the street." Jeffs forced hundreds of underage girls to marry adult men and have sex with them. He also married and had sex with underage girls himself.
In 2009 -- which was, I remind you, a full year after Jeffs' Texas indictment and the pictures released by The Smoking Gun -- Carlson continued insisting that Jeffs absolutely did not marry underage girls himself.
CO-HOST: Yeah, that's what Warren Jeffs' in prison for. He's not in prison for polygamy, he's in prison for child rape.

CARLSON: Well, actually, he's not in prison for that. He didn't -- Warren Jeffs didn't marry underaged girls, actually.

CO-HOST: No, he's in prison for facilitation of child rape.

CARLSON: Whatever the hell that means.

CO-HOST: That means that --

CARLSON: He's in prison because he's weird and unpopular and he has a different lifestyle that other people find creepy.

CO-HOST: No, he is an accessory to the rape of children. That is a felony and a serious one at that.

CARLSON: What do you mean an accessory? He's like got some weird religious cult where he thinks it's OK to, you know, marry underaged girls, but he didn't do it. Why wouldn't the guy who actually did it, who had sex with an underaged girl, he should be the one who's doing life.
Wait until he finds out about Charles Manson!
And then he said:
I should make the -- you know what, I should make the laws around here, and Michael Vick would have been executed, and Warren Jeffs would be out on the street.
For the record, of his own 78 wives, 12 were 16 when Jeffs married them, and another 12 were 15 or under. So not only was Carlson's defense of Jeffs "twisted," he was also incredibly factually wrong about what Jeffs was accused of doing.
Of course, Carlson's defense of Jeffs isn't that far off from what other conservatives have said in the past about rape. Notably, Todd Akin tried to argue that there was a difference between "grey rape" and "legitimate rape," while claiming that women could not get pregnant from "legitimate" rape.
These weren't the only horrific statements Carlson made on the program. He also defended a teacher sleeping with a 13-year-old male student by saying that the teacher was actually doing a "service" by raping a child, so that the girls in his class wouldn't have to have sex with them.
So my point is that teacher's like this, not necessarily this one in particular, but they are doing a service to all 13-year-old girls by taking the pressure off. They are a pressure relief valve, like the kind you have on your furnace.
Again, child rape is bad. It's not up for discussion.
Carlson also laughed gleefully at the idea of abusing women, called Martha Stewart's daughter "cunty" and offered to give her the "spanking" she deserves (Carlson notably flipped out over Samantha Bee using the word "cunt" to describe Ivanka Trump, saying that he didn't know any man who would ever dare use that word because of how degrading it is), he compared women to dogs and called them "primitive," he repeatedly accused Hillary Clinton of wanting to cut off all of the penises in the world, and claimed that there is "no Canadian woman" anyone would pay to sleep with.
Will Carlson face the same fate Milo Yiannopoulos faced after he defended child rape? That's doubtful. The fact is, none of this is any worse than what he says on a daily basis on his show. He says terrible things all the time, and that is why he is so beloved by so many terrible, terrible people. It's not surprising that he is standing by his statements, or that people like Erick Erickson think the real crime is unearthing the things he said many years ago in the first place, suggesting that defending child rape as an adult man is just some kind of youthful indiscretion that isn't worth being concerned over.
After all, what would you expect from the party that elected President Grab Em By The Pussy?
Wonkette is independent and fully funded by readers like you. Click below to tip us!
Robyn Pennacchia
Robyn Pennacchia is a brilliant, fabulously talented and visually stunning angel of a human being, who shrugged off what she is pretty sure would have been a Tony Award-winning career in musical theater in order to write about stuff on the internet. Follow her on Twitter at @RobynElyse