Beta Cuck Trump Cancels England Trip Because He's Scared, Blames Black Guy Obviously
Everywhere Else News
January 12, 2018 01:22 PM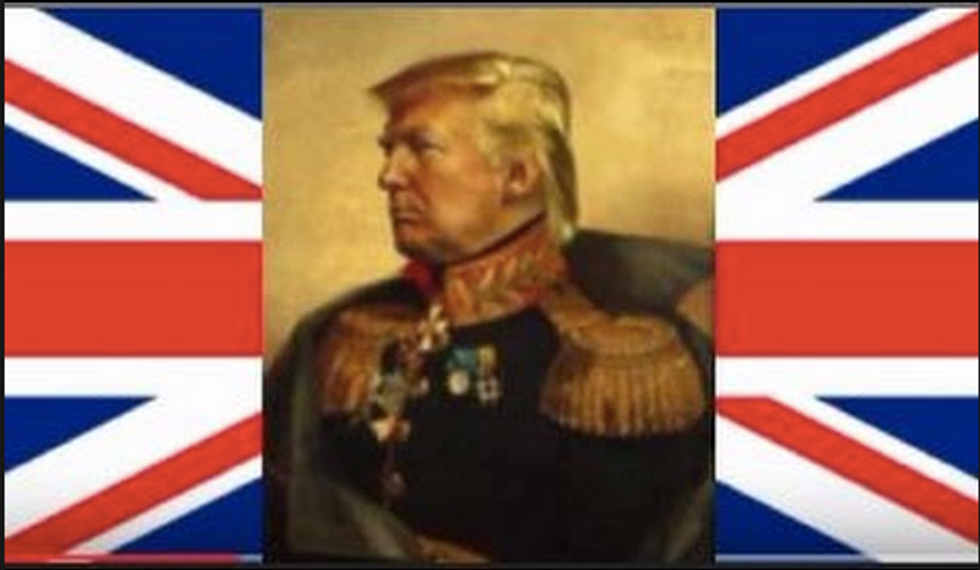 ---
Well, at least Trump didn't call England a shithole, right? Although he'll probably be feeling feisty after having his own shithole examined at Walter Reed today, so who knows what this afternoon's Executive Time will bring!
Reason I canceled my trip to London is that I am not a big fan of the Obama Administration having sold perhaps the best located and finest embassy in London for "peanuts," only to build a new one in an off location for 1.2 billion dollars. Bad deal. Wanted me to cut ribbon-NO!

— Donald J. Trump (@realDonaldTrump) January 12, 2018
BLOODY HELL! The entire world has recoiled in horror from our Racist-in-Chief, so now he can only travel to countries where they shoot protesters.
Faced with the possibility of tens of thousands of people in the streets of London screaming "FUCK TRUMP," the president canceled his planned trip to England to celebrate the opening of a new US embassy. Then he barfed up a bunch of lies on Twitter and blamed the black guy. Who coulda seen that one coming?
Remember that time London suffered a terror attack and Trump hopped on his Twitterphone to criticize its Muslim mayor?
At least 7 dead and 48 wounded in terror attack and Mayor of London says there is "no reason to be alarmed!"

— Donald J. Trump (@realDonaldTrump) June 4, 2017
Or that time he accused British intelligence agencies of conspiring with Barack Obama to "tapp his wires" based on a bullshit Fox News story by that lunatic Andrew Napolitano?
.@Judgenap: Three intel sources have disclosed that Pres. Obama turned to British spies to get surveillance on Trump pic.twitter.com/IghCFm7qhO

— FOX & friends (@foxandfriends) March 14, 2017
Or that time he retweeted British white supremacists, and even the wingnuts were like STOP THAT NOW?
Good morning, Mr President @realDonaldTrump - what the hell are you doing retweeting a bunch of unverified videos by Britain First, a bunch of disgustingly racist far-right extremists?

Please STOP this madness & undo your retweets.

— Piers Morgan (@piersmorgan) November 29, 2017
You know who remembers that stuff? THE BRITISH. Which is the real reason why Trump's official visit has been postponed to the 5th of Never. But instead of saying, "Sorry, I'll be washing my lavish, orange locks next month," he decided to crap all over another news cycle. Because he is very good at presidenting!
Okay, let's factcheck this shitpile real quicklike:
Did Barack Hussein Obama decide to move the embassy? No, the Obama Administration did not make the decision in 2008, since Obama wasn't president until 2009.

Did Obummer get conned and sell the building for "peanuts?" The old embassy was designated a historic property, restricting changes to the facade. This meant that the US could not upgrade the building to protect against terrorism, and also limited the ability of future owners to remodel it, depressing the sale price.

Is the new embassy in an "off location?" Said the guy who spends most weekends at a garbage palace in New Jersey. The location allowed the State Department to make appropriate upgrades to keep American personnel secure, which is a good thing with a leader who is dead set on turning the entire world against us.

Did we spend $1.2 billion on the new building? The cost of the property was entirely offset by the sale of other buildings in London.

Did "they" want him to cut the ribbon? No, literally no one wanted his orange ass there. It would have been a security nightmare.

Is our president a lying idiot who canceled his trip because everyone hates him? Yes.
Here are English politicians giving Trump the stiff upper lip.
Nope it's because nobody wanted you to come. And you got the message. https://t.co/9xV7bFZQgL

— Ed Miliband (@Ed_Miliband) January 12, 2018
Many Londoners have made it clear that Donald Trump is not welcome here while he is pursuing such a divisive agenda. It seems he's finally got that message. pic.twitter.com/YD0ZHuWtr3

— Sadiq Khan (@SadiqKhan) January 12, 2018
What a load of ********! You finally got the message that you'd be met by millions of us out on the streets protesting. https://t.co/L0Y4Q42bcT

— David Lammy (@DavidLammy) January 12, 2018
Dammit, there goes our plan to change the locks while he was away! Well, we can't really blame you, England. He is a racist piece of shit, and we bow to your superior trolling.
Londoners pose with a wax version of Donald Trump placed outside the new U.S. embassy after he tweeted he isn't attending its opening. IN-25FR pic.twitter.com/IvibDjGgAt

— CNN Newsource (@CNNNewsource) January 12, 2018
If we make it through this administration alive, we'll die of shame.
Follow your FDF on the tweetmachine!
Please give us money for salaries and servers and Groucho glasses to hide our shame!
Liz Dye
Liz Dye lives in Baltimore with her wonderful husband and a houseful of teenagers. When she isn't being mad about a thing on the internet, she's hiding in plain sight in the carpool line. She's the one wearing yoga pants glaring at her phone.