Because 2018 Was Mysteriously Lacking In ... Bigfoot Porn
Post-Racial America
July 30, 2018 11:00 AM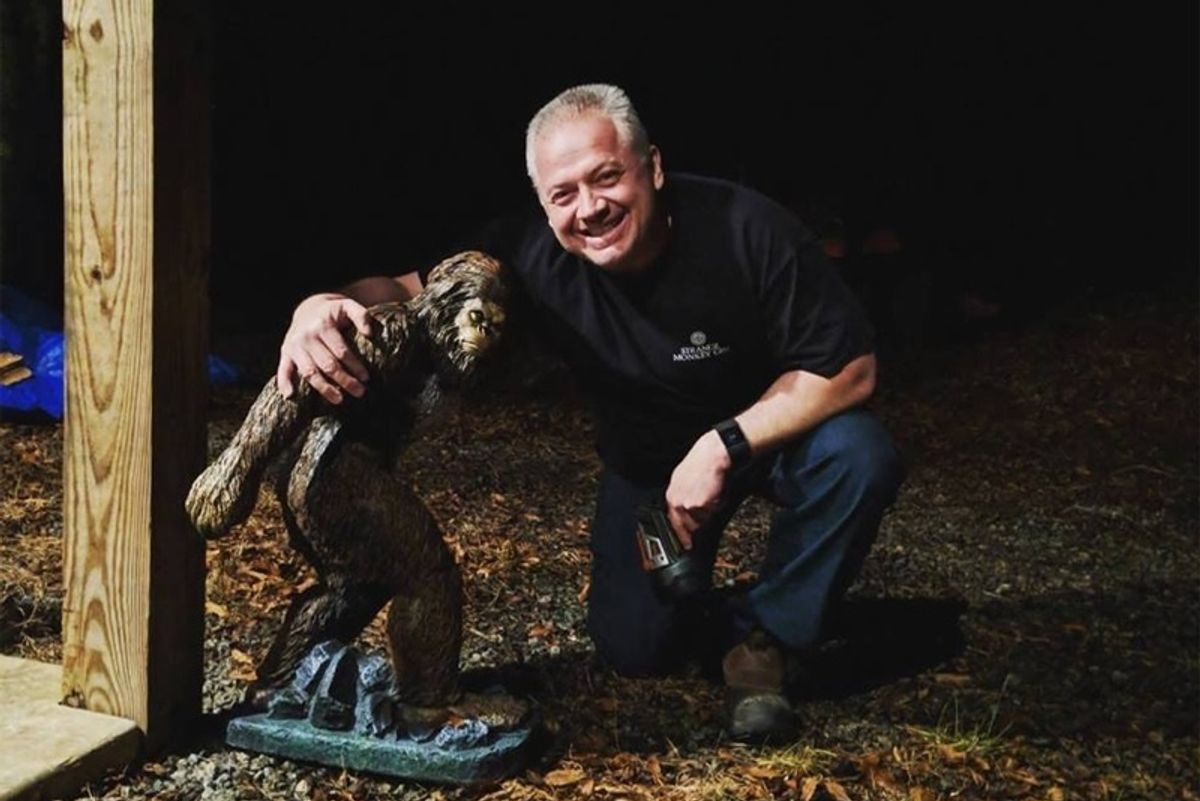 Facebook
Just in case you were wondering how 2018 was different from other years, apart from the whole thing where we have a "president" who thought taking children away from their parents was a terrific way to win the love of his party -- and was right -- you can always remember this as the year when a Republican congressional candidate's campaigning with a white supremacist got less attention than his fondness for writing Bigfoot porn. Not really much of a surprise -- with this year's crop of Republicans, white nationalists are a dime a dozen, so Bigfoot Peen is definitely a standout.
---
The Republican in question is Denver L. Riggleman III, the GOP candidate for Virginia's Fifth Congressional District. Yes, Denver Riggleman (he doesn't use the "III" in his campaign stuff, because he's a populist, you see). He's running for the seat held until May by Tom Garrett, who abruptly retired after Politico reported he had a habit of day-drinking and demanding his congressional staff do all manner of personal errands for himself and his wife. Those tasks also included keeping an eye on the family dog, which roamed Garrett's office, completely forgotten by the congressman, and sometimes clean up when the poor dog pooped on the floor, as will happen when a dog is left locked up in an office all day.
Riggleman's Sasquatch sexytimes came to light after a couple of Sunday evening tweets from the Democrat in the race, Leslie Cockburn, who found the images on Riggleman's Instagram account (which has since been set to private, go figure):
My opponent Denver Riggleman, running mate of Corey Stewart, was caught on camera campaigning with a white supremac… https://t.co/whqNSpafFF

— Leslie Cockburn (@Leslie Cockburn) 1532904392.0
From my opponent Denver Riggleman's Bigfoot erotica collection. https://t.co/ELe0TWJh21

— Leslie Cockburn (@Leslie Cockburn) 1532904505.0
Yup, that's Mating Habits of Bigfoot and Why Women Want Him, now apparently not coming soon to any bookstores near anyone. More about that in a moment, but first, what about the whole white nationalist thing? That comes from a website for Blue Virginia, which noted Riggleman has been very slippery when it comes to saying whether he embraces Confederate-flag hugger Corey Stewart's views. Riggleman is also pictured at a GOP campaign office "with white nationalist Isaac Smith." Here's what Blue Virginia says about Smith:
Isaac Smith, alongside Jason Kessler, founded Unity and Security for America, a white supremacist group that works to promote radical right goals and peddle anti-Semitic conspiracy theories. According to the Southern Poverty Law Center, the Smith and Kessler-founded Unity and Security for America has often appeared at political rallies "alongside known members and affiliates of the League of the South, a neo-Confederatehate group that wants to bring about a theocratic white nationalist state in the south."

Despite all of the hate and vitriol Isaac Smith stands for, Denver Riggleman proudly campaigned with him recently in VA-05.
And yes, Smith definitely hung out with Kessler, and the group they co-founded described itself as a "transformational movement within the Cultural Marxist hell that is Charlottesville." The Wayback Machine captured its now-deleted website, including a page on its mission to "Protect the West" through the careful deployment of white supremacist dogwhistles:
Unity & Security for America takes an America First approach to defending Western Civilization including its history, culture, principles and peoples. We believe that rampant immigration is bursting our civilization at its seams. Unnecessary foreign interventions and attacks on Western history and heritage are detrimental to the survival of the tradition which brought us reason, logic, medicine, human rights and took us into outer space.
You know, white people, nudge-nudge. The page called for restricting all immigration, and limiting what little immigration that would be allowed to people from "Western nations." If you know who they mean, and they were quite sure you do.

Isaac Smith was listed on the contact page as "USA Secretary & North Carolina coordinator." He and Kessler posed for this charming photo with Corey Stewart and his wife, too: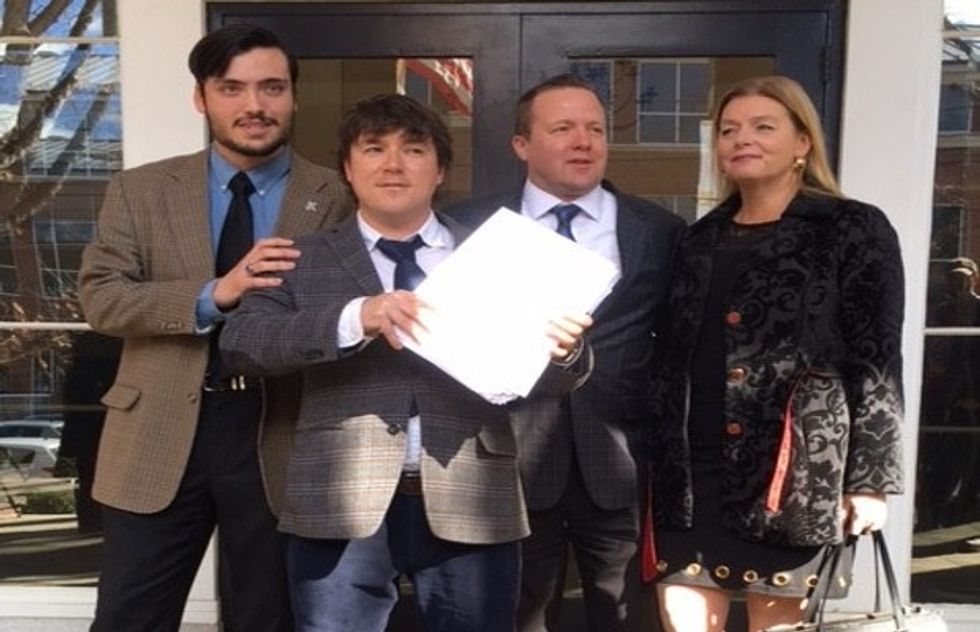 Left to right: Isaac Smith, Jason Kessler, Corey and Maria Stewart
But wait! Isaac Smith says he cut ties with Kessler after the night of the tiki-torch waving Nazis in Charlottesville, because White Nationalism Bad!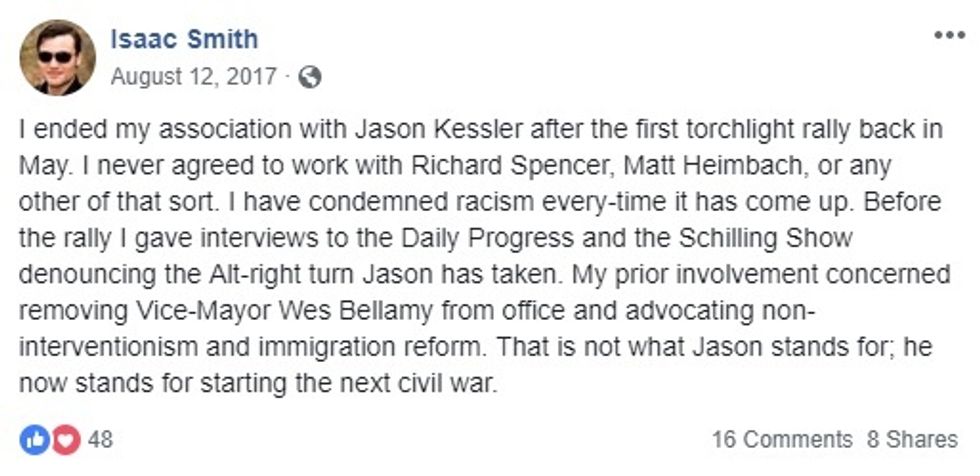 Shortly after the Virginia Democratic Party accused Rigglesworth Riggleman of hanging with a white nationalist, Smith muttered about suing them for defamation, but it doesn't appear he's bothered. Also, for all that distancing from Kessler, it's worth noting that the night of the tiki-torch march, Smith disavowed them -- mostly because he felt they'd besmirched the legacy of that great humanitarian Robert E Lee, who obviously detested racism: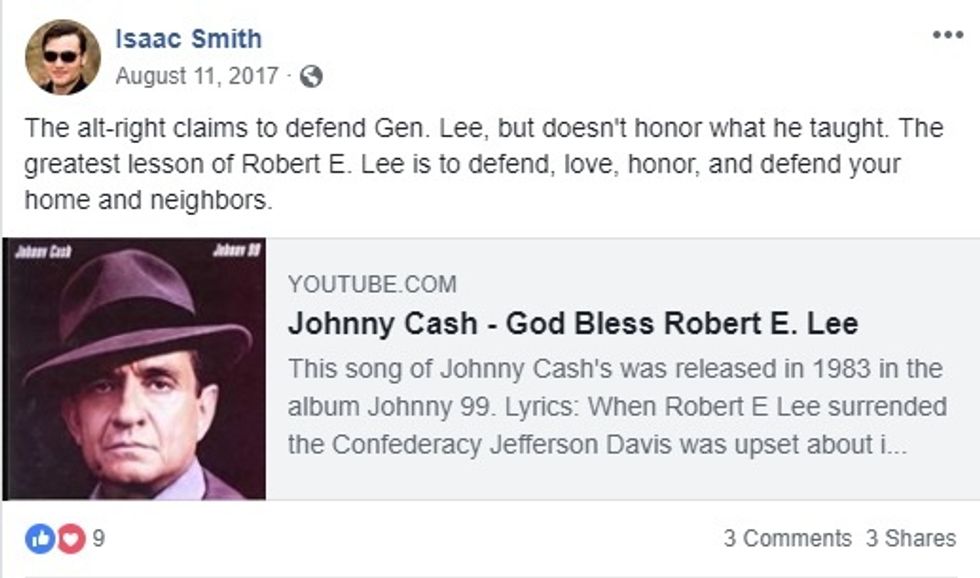 For his part, Riggleman also condemned the Unite the Right rally. No, not immediately after someone got killed last year. More like last Wednesday. So there you go, very credible wriggling away from white nationalists, and please don't hold against him all the comments calling him a weak sellout because he unfairly condemns only the far right, when everyone knows the counter-demonstrators violently put themselves in the path of a white nationalist's speeding car, too. WHAT ABOUT FREE SPEECH FOR NAZIS, YOU MONSTER?
So, yeah, the Bigfoot porn: It's a thing, too! It appears the first to notice was the Cook Political Report, which picked up Riggleman's Hot Sasquatch musings on Friday:
However, the most curious element of Riggleman's background may be a recently-deleted Facebook author page appearing to promote a self-published book titled "The Mating Habits of Bigfoot and Why Women Want Him."

At least one Republican attributes Riggleman's literary musings to his offbeat sense of humor. After all, his Instagram account profile reads: "Own a distillery, consult on DoD matters and had a fun run for Governor. Love whiskey, hate tyranny and embrace liberty. Whiskey Rebellion always!" But that account, since set to private, was once peppered with images of what can only be described as Bigfoot-themed erotic art.
It's not clear exactly how much Bigfoot erotica Riggleman produced -- was there more beyond the two images? Did it involve any fun Six Million Dollar Man cosplay?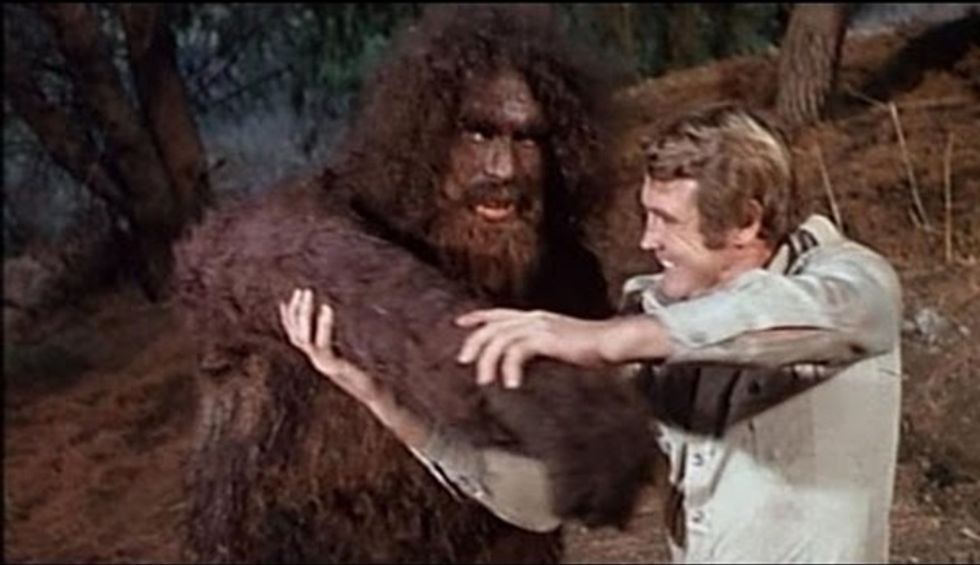 Riggleman told the Charlottesville Daily Progress the bigfoot porn is nothing more than a "joke his military friends played on him. Ah, but that doesn't ring true, given the mostly-scrubbed "Denver the Author" Facebook page.
Fortunately, we also learn, via Riggleman's previous literary output, of a non-erotic work he co-authored titled Bigfoot Exterminators Inc.: The Partially Cautionary, Mostly True Tale of Monster Hunt 2006.The formatting of that excerpt is pretty awful, and we'll confess we didn't get very far beyond the observation, "Chris is my daughter's boyfriend that my wife, Barb, says we really like a lot." Here's hoping the brave Republican's cryptozoophilia was better writing.
More to the point, we'd like to know a lot more about Mr. Riggleman's thoughts on, say, neo-Confederate political porn.
When the going gets weird, Yr Wonkette keeps you going. Click here to keep US going!
[Cook Political Report / HuffPo / SPLC / Blue Virginia / Charlottesville Daily Progress]
Related Articles Around the Web