Bill Barr, Come Explain Your Trifling Ass To Kamala Harris, Elizabeth Warren Or (And) GTFO
Trump
February 13, 2020 01:45 PM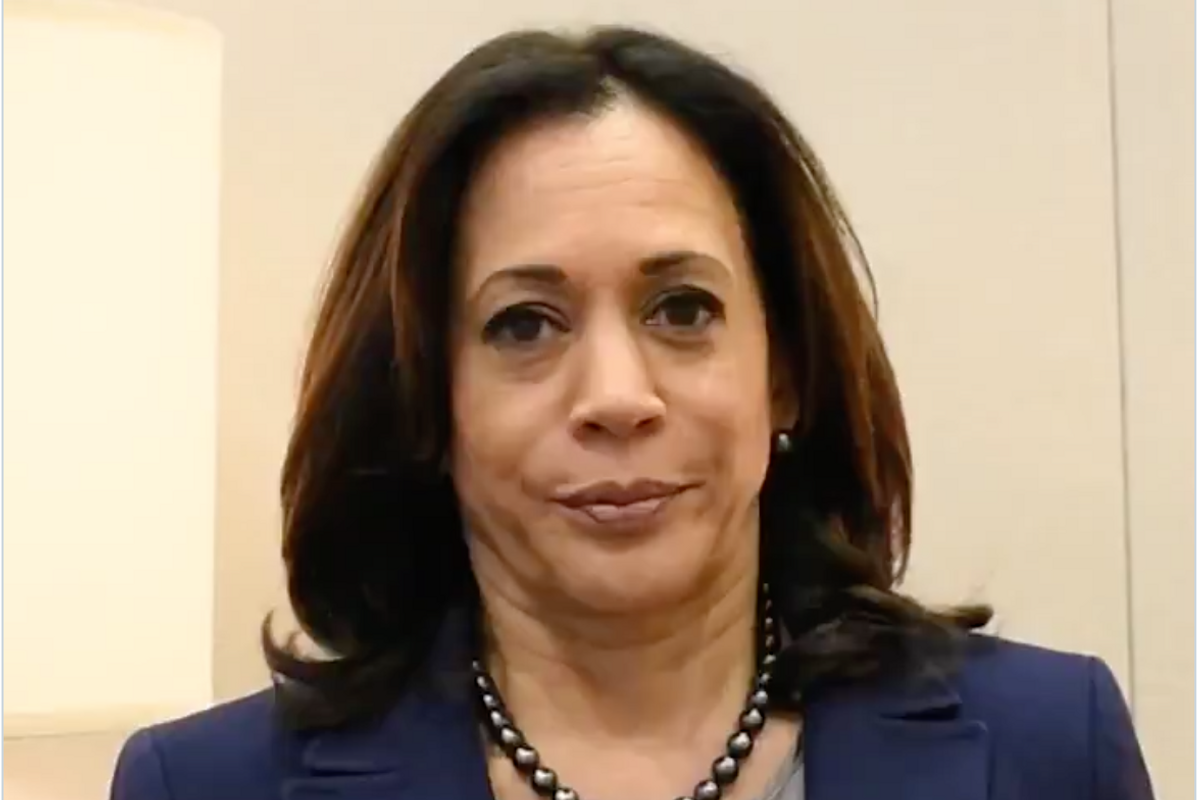 It's clear now that Bill Barr is Donald Trump's personal mob boss lawyer — Tom Hagen without style. Kamala Harris, who is a reputable attorney, isn't thrilled with this development. She demanded Tuesday that the Senate Judiciary Committee bring in Barr to account for how the Department of Justice skipped to Donald Trump's lou over Roger Stone's sentencing.
From a letter Harris sent to the chair of the Judiciary Committee:
The Justice Department's decision to overrule its career prosecutors, immediately after President Trump's tweet, calls into question the independence and integrity of our legal system. Failure to meet basic oversight responsibilities in the face of such alarming news would send a signal to this and future administrations that the Senate no longer conducts itself as a co-equal branch of government.
Unfortunately, the Senate Judiciary Chairman is Lindsey Graham, who is both corrupt and shameless. Graham said Wednesday that he had no intention of interrupting Barr's busy schedule of one-sided sentencing reform. Undaunted, Harris tweeted this message detailing in clear, concise legal terms why Bill Barr is an underhanded shady loser.
My message to Barr: we deserve to know why the DOJ reduced its recommended sentence for Roger Stone after Trump's t… https://t.co/AGgNWkYJtz

— Kamala Harris (@Kamala Harris) 1581549562.0
---
HARRIS: The United States Department of Justice announced that they were recommending that Roger Stone, who is Donald Trump's friend and ally and ... guy ... be sentenced to seven to nine years in prison for the crimes he committed. Well, guess what happened? Donald Trump then of course tweets his disagreement with the recommended sentence. Trump's boy, Bill Barr, who is also the attorney general ... and who runs the Department of Justice, retracts the sentencing recommendation.
I love that she calls Barr "Trump's boy." She's demoted him from wartime consigliere to random thug in an Oakland gang.
HARRIS: So, what we have is yet again is our Department of Justice ... doing the personal bidding of Donald Trump ... So I am saying that the Chairman of the Senate Judiciary Committee, Lindsey Graham, needs to call Bill Barr in so the Senate Judiciary Committee, which I serve on, can ask Bill Barr some questions, like "What's going on? What's up with that?"
I would give anything to see Harris ask Barr those exact questions and with the same Cali girl inflection. Alas, it's not to be, although Rep. Jerry Nadler confirms that Barr will testify before the House Judiciary Committee, the one that cares about the law, at the end of March.
Here's where I slightly disagree with Harris, who'd requested Twitter pull the plug on Trump. It is perhaps to our benefit that Trump wantonly tweets his corrupt and often criminal intentions for all to see. He could've just walked over to Barr's office or, more likely, just asked Ivanka to convey the message, but the message would've gotten there. Maybe that's cold comfort but it gives us something to fight, and even better, it makes Susan Collins squirm for our entertainment.
Elizabeth Warren, who still exists, demanded that Barr resign or face impeachment.
Congress must act immediately to rein in our lawless Attorney General. Barr should resign or face impeachment. And… https://t.co/649iIGgWaz

— Elizabeth Warren (@Elizabeth Warren) 1581527736.0
We don't deserve it, but Warren's still rocking those plans for us. House Speaker Nancy Pelosi, at present, isn't hot on the idea of impeaching Barr, who she believes lied to Congress.
"It's lying to the American people under oath... But that doesn't mean that we're going to spend all of our time go… https://t.co/aZ29KeSvzR

— Manu Raju (@Manu Raju) 1581611128.0
I appreciate that House Democrats want to pass laws that actually help Americans and not just serve as a full-time RICO task force, but it's not a huge stretch to argue that Barr is an active threat to the nation. He's demonstrated his willingness to pursue any bogus charge against the president's political opponents. If he's not reined in, Jane Sanders or even Amy Klobuchar's Uncle Dick (the one with the deer stand) might have to retain legal counsel.
Follow Stephen Robinson on Twitter.
Wonkette is independent and fully funded by readers like you. Click below to tip us!
Stephen Robinson
Stephen Robinson is a writer and social kibbitzer based in Portland, Oregon. He writes make believe for Cafe Nordo, an immersive theatre space in Seattle. Once, he wrote a novel called "Mahogany Slade," which you should read or at least buy. He's also on the board of the Portland Playhouse theatre. His son describes him as a "play typer guy."