Bill O'Reilly's New Book About 'American Values' Grabs NY Times Bestseller List Right By The Pussy
News
April 06, 2017 02:15 PM
You'd be surprised how many hits you get for 'Bill O'Reilly angry.' Actually, you wouldn't.
---
Now this is one hell of a way to kick off Sexual Harassment Awareness Month: Just days after the New York Times detailed multiple harassment cases against Bill O'Reilly, which have cost Fox News some $13 million to settle, a new book-shaped object with O'Reilly's name on it will debut at the top position on the upcoming New York Times Bestseller list.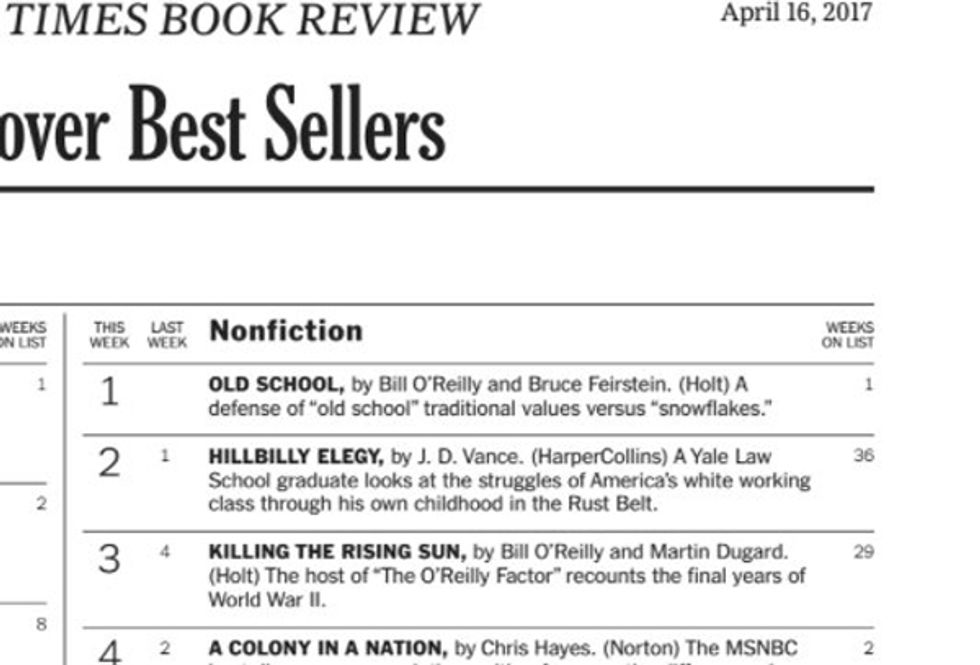 That means two entries on the bestseller list's top five for O'Reilly, who complained last June that the NYT list is unspeakably rigged since the book he'd just published then only debuted at #6. They must have cleaned up their act in response to his righteous outrage, huh? That, or there's a huge market out there among hardcore O'Reilly fans who'll buy his crap, no matter how cheesy.
The new book, Old School: Life in the Sane Lane, co-authored with Bruce Feirstein, is all about the real division in American culture, between "Old School folks" and "Snowflakes." Why, yes, we believe we would have to ask for a significant bribe to review that thing. The marketing copy at the publisher's website makes clear this is a book assembled by feeding random lines from internet comment sections into a computer, mixing them around, and hitting "print":
You have probably heard the term Old School, but what you might not know is that there is a concentrated effort to tear that school down.

It's a values thing. The anti–Old School forces believe the traditional way of looking at life is oppressive. Not inclusive. The Old School way may harbor microaggressions. Therefore, Old School philosophy must be diminished.

Those crusading against Old School now have a name: Snowflakes. You may have seen them on cable TV whining about social injustice and income inequality. You may have heard them cheering Bernie Sanders as he suggested the government pay for almost everything. The Snowflake movement is proud and loud, and they don't like Old School grads.
Oh, so it's pretty cutting-edge stuff, isn't it? CNN notes there's a chapter on dating in which O'Reilly (or probably just Feirstein) explains that even with all this crazy Political Correctness at colleges these days, consent is actually an Old School value:
"It would be easy to make fun of all the hoops college administrators expect their students to jump through today before they engage in any kind of intimacy," he writes. "But there's no middle ground here. It's all about the Old School tenets of respect and responsibility. No means no."
That is actually a huge relief!
On the other hand, "Bill, I'd rather talk with you in the bar than in your suite because, you know, we're both married," means "I am willing to throw away my career because I won't let the Alpha Male do me, and if I say anything about this I'm asking to
receive lawsuit threats
and have my name dragged through the mud like the slut I so obviously am."
As of yet, the advertiser boycott of O'Reilly's show on Fox, which has now racked up over 40 companies, doesn't appear to be hurting book sales. It might even be helping, since obviously Mercedes-Benz, Hyundai, BMW, Allstate, Esurance, T. Rowe Price, Bayer, Orkin, CARFAX, and a whole load of other companies are run by snowflakes. O'Reilly helpfully explains the difference between Old School companies and Snowflake companies, and the people who work for them:
In a chart that compares "Old School" businesses to "Snowflake" businesses, O'Reilly notes that the most powerful person at a Snowflake company is the head of HR -- not the CEO.

"You're a Snowflake if you use the word mansplaining," he writes.

O'Reilly extolls the value of hard work, and tells readers that he himself "played no corporate games" to get to the top.

"I had a big advantage in climbing the TV news ladder: I stayed single," he said. "I did not have financial obligations to anyone. So, if a newsroom boss was abusive or stupid (not a rare thing), I could move to another situation -- which I did."
Guess if Fox decides it's losing too much money from ads and cancels him (fat chance!), Billo will take it like a man and go home to all his money without any whining about being a victim of the Snowflakes, you bet.
Yr Wonkette is supported by snowflakes like you, you pathetic worms. Man up and give us some money, will you? And if you don't, we'll fucking destroy you.
[Julie Bosman on Twitter / CNN / Media Matters / Fortune]